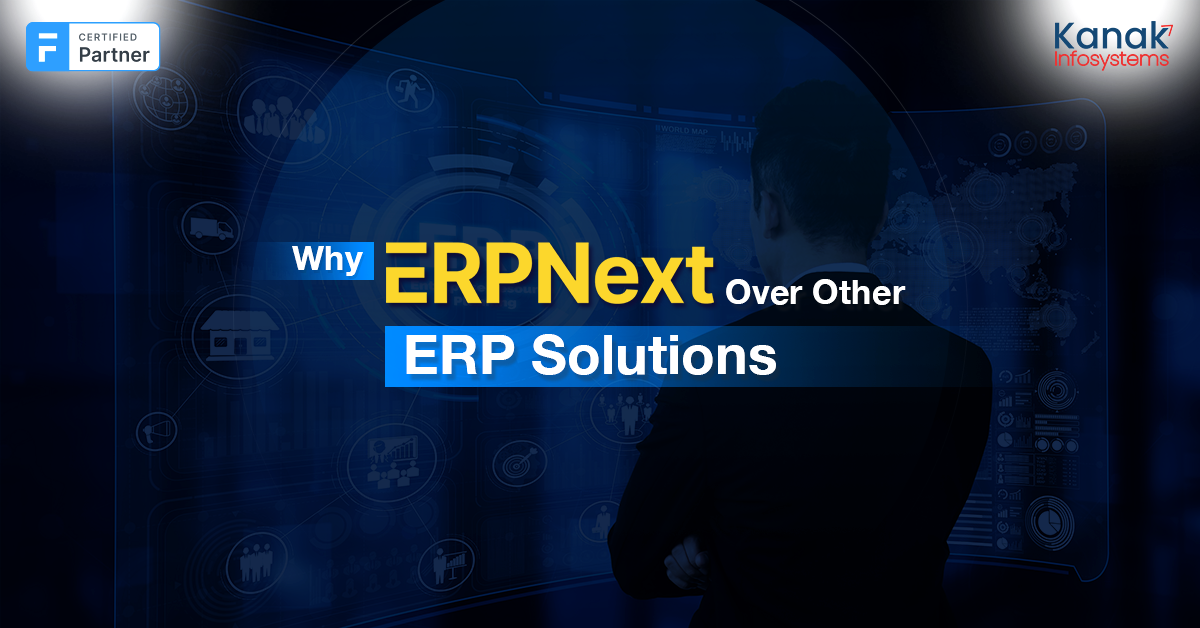 Is ERPNext better than other ERP? 11 Reasons to Consider
In every organization, an Enterprise Resource Planning software plays a very pivotal role for streamlining the operations of the business. An ERP will surely smoothen out the processes, improve the efficiency and would help in achieving a greater control over their process.
We are aware that there are plethora of ERP solutions available in the market, and choosing the right one for your business could be a daunting task. That is exactly why Kanak Infosystems is here with this blog, let us guide you through. 
There's one solution in the market that has been gaining traction, especially here in India, The Revolutionary ERPNext! 
Now let us tell you.....
Why ERPNext could be better than other ERP solutions:
1. Open Source and Pocket Friendly
ERPNext is an open source system, which basically refers to the fact that the source code of this software is available to anyone who wishes to use it and inspect it. 
This is beneficial for businesses, specially startups and SMEs, looking to streamline their process and minimize IT expenditure. ERPNext allows you to get started without a financial burden like Licensing fees and subscription costs.
2. Frappe Framework
Frappe Framework, on which the ERPNext is built, is a versatile and robust web application framework. It provides a foundational base for developing custom web applications. 
Originally developed to create ERPNext, Frappe Framework has evolved into a powerful platform for developing a wide range of custom web applications, making it a powerful choice for businesses, developers and users across the globe. 
Frappe is a full stack framework, which means it provides tools and libraries for both, frontend and backend development. This framework includes a set of user interface components and widgets for building web forms, dashboards, reports, and other interactive elements. 
These components can be customized and extended to match specific design and functionality needs.
Using the same framework, Frappe has also introduced individual products at Frappeverse 2023, like, Frappe Books, Frappe HRMS, Frappe Healthcare, Frappe LMS, and many more. 
3. Easily Customizable
The most standout feature of ERPNext is its ability to be customized. This feature is important because all businesses have unique processes and requirements. 
ERPNext allows you to tailor the system to align with your specific requirements. Whether you are in Manufacturing, Distribution, or services, ERPNext can suit your industry and workflow seamlessly. 
For customizations, you can consult with the experts at Kanak Infosystems LLP. and get it done in no time!
4. Active Community and Local Support
ERPNext has a thriving Global Community of developers, functional experts and users. This active community ensures that the system is continuously updated and improved, bugs are being addressed, and new features have been added and updated. 
Moreover, there are many local ERPNext developers and service providers like Kanak Infosystems LLP. who makes it easier to get support and assistance when needed. This support could prove to be invaluable in ensuring the success of the ERP Implementation. 
5. User Friendly Interface
Usability is the success defining factor of any ERP Implementation. ERPNext is well known for its User-Friendly interface that is easy to navigate. 
This simplifies the process of learning and using the system for the users, further reducing the training time and ensuring a smoother transition to the new ERP system. With a friendly interface also means that your employees are more likely to embrace the system. 
6. Integrated CRM
CRM is a vital aspect of any modern business operations. ERPNext comes with an integrated CRM module, allowing you to manage customer interactions, sales leads, and customer support, seamlessly within the system. 
This integration eliminates the need for a separate CRM software, further saving you money and simplifying tasks. 
7. Comprehensive Features
ERPNext and Frappe Framework stores a plethora of features and added features which covers almost every aspect of business operations including Accounting, CRM, HR & Payroll, and many more. 
This comprehensive suite of features allows you to manage all your operations in one single software, reducing the tedious task of managing multiple softwares.
8. Cloud Hosting and Scalability
The parent of ERPNext- Frappe- also provides you with the flexibility of Cloud Hosting. Whether you are a small startup or a large enterprise, ERPNext can simply accommodate your needs. You can start with a minimal setup and then scale up as your business grows.
9. Frappe Marketplace
Frappe offers an extensive marketplace where you can find a variety of add-ons, extensions, and many integrations to add up more functionalities to your system. 
This marketplace provides a vast ecosystem of tools and solutions that can be seamlessly integrated with ERPNext instances.
These add-ons are developed and published by Frappe Partners who uses the versatile Frappe Framework as the basis of these apps. 
10. Integration Capabilities
In today's interconnected world, integration with other softwares applications is very critical. ERPNext provides smooth integration capabilities, allowing you to connect with other essential tools such as e-commerce platforms, payment gateways, and so much more. 
11. Localization for Businesses
ERPNext is well-suited for Indian Businesses. It offers unique localization features that cater to specific requirements of the Indian Market. 
These features include GST Compliance, Multi Currency transactions and Multilingual Support. This makes ERPNext a reliable choice for businesses operating in India or serving Indian Customer Base.
To wrap it up, ERPNext is a compelling ERP System that offers numerous advantages to businesses. Its open source nature, high degree of customization, active community, and user-friendly interface makes it a strong contender in the ERP Market. 
To know more about the Frappe Framework products, check out the following Blogs:
2. Frappe LMS
3. Frappe Books
If you are considering implementing an ERP system or looking to switch from your current ERP system, look no further and reach out to the experts at Kanak Infosystems LLP. today!
Leave a Comment
---
Your email address will not be published.
Your comment is under review by our moderation team.