What Is Moodle - LMS Software
Moodle, an open-source Learning Management System (LMS) that will allow educators and administrators to create, conduct, and manage online courses. The name "Moodle" is an acronym for "Modular Object-Oriented Dynamic Learning Environment," which reflects its flexibility and adaptability.
Moodle is widely used for educational and corporate training. Moodle widely offers course management, collaboration tools, customization, assessment, multimedia support, and integration with third party apps and software's. Because of its open-source nature it allows customization. Moodle also has an active community, while its user-friendly interface makes it versatile for various learning environments.
As per the records of 2022, Moodle has over 200 million registered users worldwide.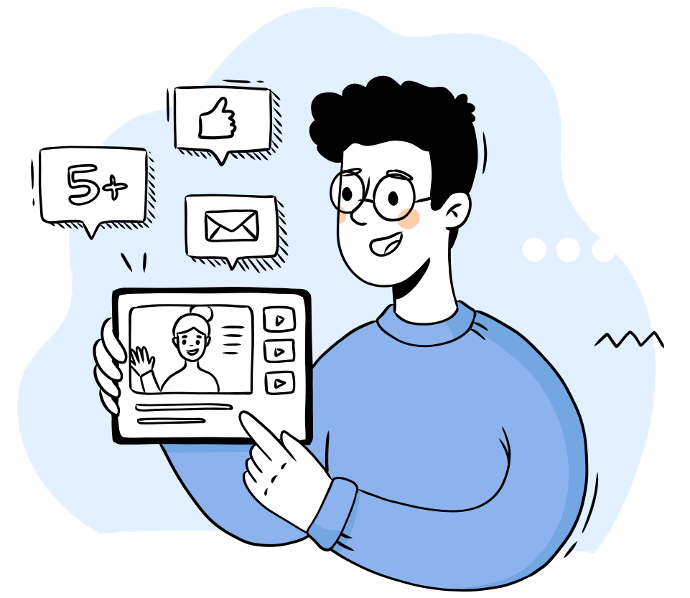 Key Benefits of Moodle ( Learning Management System)
Let us look at some of the major benefits of Moodle:


Course Management
User-friendly interface for educators to create and manage courses. Organize course content, set up assignments, quizzes, & track student progress.


Customization
Customize the appearance of your Moodle site to match your organization's branding and modify the course structure to your needs.


Multimedia Support
Integrate multimedia content (videos, images & audio) into your courses and make learning interactive.

User Management
Educators can enroll and manage students, assign roles and permissions, and control access to course materials.


Mobile Accessibility
Moodle is accessible on various devices, including smartphones and tablets, through its mobile app, making it convenient for students on the move.


Assessment and Grading
Create quizzes, surveys, and assignments with diverse question types. Make use of grading tools and analytics for monitoring student performance.


Integration with Other Tool
Moodle allows integration with third-party applications and plugins, allowing you to expand its functionality.


Collaboration Tool

Choose from a variety of collaboration features, including forums, chat rooms, wikis, and blogs.
Ready to embark on your Moodle journey or need assistance with your existing Moodle instance? Contact us today to learn how our Moodle services can transform your eLearning and training initiatives.

Moodle Services Offered by Us


Moodle Installation and Hosting

We offer Moodle installation services, including setting up the Moodle software on a web server and providing hosting solutions. We can also help you choose the appropriate hosting environment based on your requirements.


Moodle Customization Services
We will customize Moodle to match your specific needs. It includes creating custom themes, adding plugins or modules, and adapting the platform's appearance to your branding.

Moodle Integration Services
We can also integrate Moodle with other tools and systems, such as single sign-on solutions, video conferencing platforms, and content management systems, to enhance its functionality and user experience.

Moodle - User Training
Providing training and support for educators and administrators on how to effectively use and manage Moodle, including creating and managing courses, monitoring student progress, and utilizing the platform's features.


Technical Support for Moodle
Offering ongoing technical support to address any functional or technical issues or concerns that may come up during the use of Moodle. This may include troubleshooting, updates, and maintenance.

Implementing Security
Implementing security measures and best practices to protect your Moodle platform and user data, such as setting up firewalls, encryption, and regular security updates.
Why Choose Kanak Infosystems for Moodle Services
Kanak Infosystems LLP. is a leading Company that specializes in providing Moodle services and solutions.

Expertise in Moodle
We are a team of skilled professionals with extensive experience in Moodle development, customization, and support. With a deep understanding of Moodle, we can be a reliable choice for implementing and managing your e-learning solution.


Customization and Integration
We offer tailored solutions to meet your specific needs. Whether you require custom plugins, themes, or integrations with other tools and systems, we have the expertise to deliver a personalized LMS experience for your organization.


Open Source Commitment
We understand the value of open-source technology. By choosing us, you align with a company that values open-source principles, contributing to the continued growth and development of the Moodle platform.


Scalability
We can adapt Moodle solutions to suit the scale of your organization. Whether you're an educational institution, a corporate entity, or an individual educator, we will create Moodle setups that meet your specific requirements, accommodating both small and large user bases.

Mobile Accessibility
With the growing importance of mobile learning, we ensure that the Moodle solutions we provide are mobile-friendly. We will help you optimize your Moodle site for mobile devices, making learning accessible on the move.


Technical Support
We offer reliable technical support services, ensuring that your Moodle platform runs smoothly and is available to users without interruptions. Our support team can troubleshoot issues, provide updates, and offer guidance when needed.


Security Measures
We prioritize the security of your Moodle site. We can assist in configuring and maintaining security features to protect sensitive data and user information, including regular updates to eliminate vulnerabilities.


Training and User Support
We provide training for educators/admins to maximize Moodle features. We conduct Online and On-site training sessions for your team to ensure that you have the knowledge and skills necessary to effectively manage and use the platform.

Cost Effective Solutions
We offer cost-effective solutions that provide value for your investment. Our services are competitively priced, for organizations and institutions looking to optimize their e-learning capabilities without breaking the bank.

Embark on a journey to transform your learning experience with Moodle!
Frequently Asked Questions