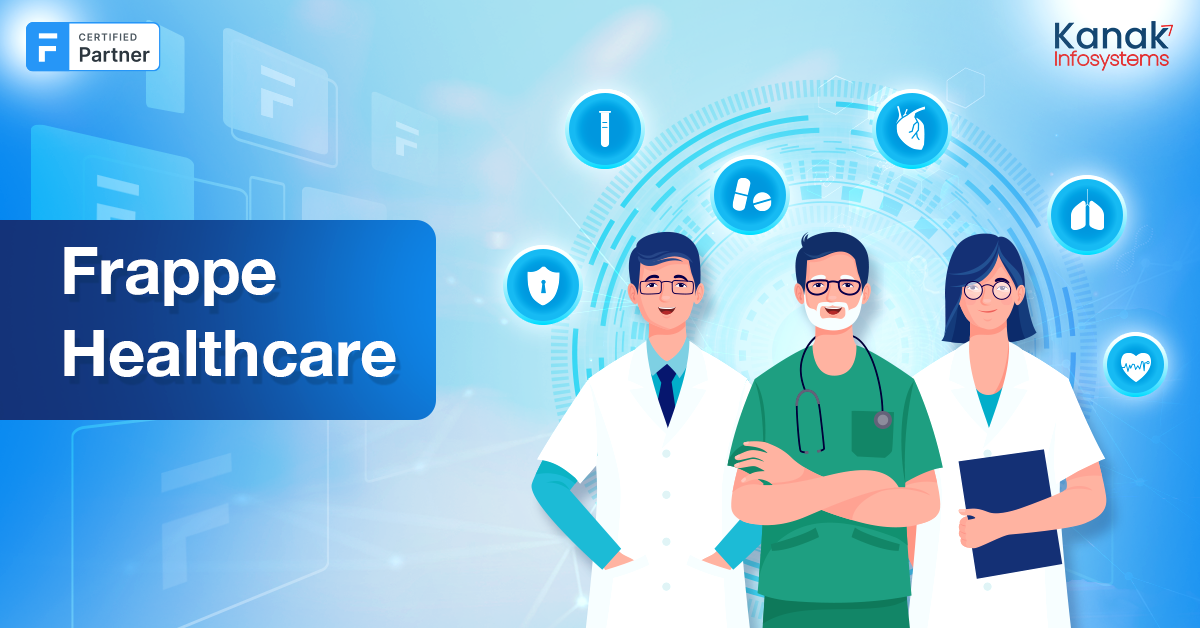 Frappe Healthcare: Open Source Hospital Management System
In recent years, technological advancements have permeated many industries, healthcare wasn't left behind either. Among many innovative solutions  that have emerged over the years, Frappe Healthcare by Frappe Technologies is surely a game changer.
With cutting-edge technology, Frappe Healthcare has transformed the way for medical professionals to deliver patient care and manage operations.
Let us now take you through the features, benefits, and potential impact of Frappe Healthcare on the healthcare industry.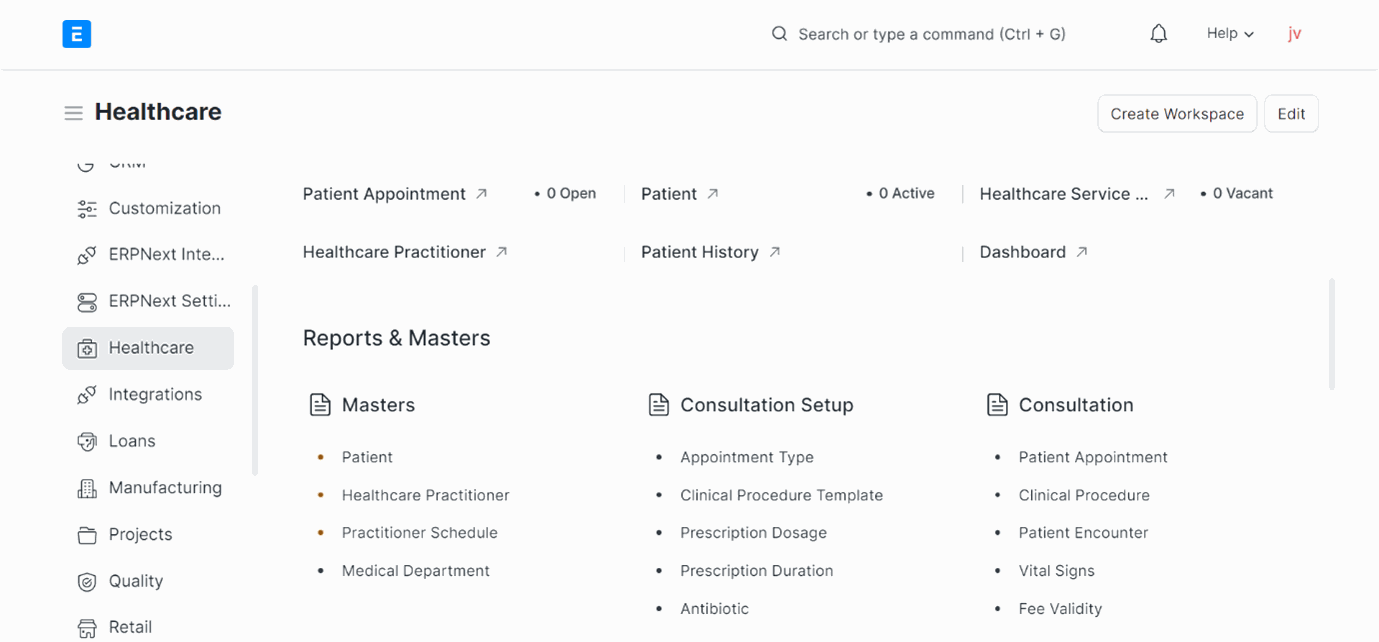 ​1. Streamlined Patient Management
One major advantage of using Frappe Healthcare is the robust Patient Management System. The software offers a comprehensive collection of tools which further streamlines the various aspects of Patient Care. From appointment scheduling to electronic health records (EHR) management, Frappe Healthcare simplifies and accelerates administrative tasks, allowing healthcare providers to focus more on delivering quality care.
2. Efficient Appointment Scheduling
With this software, the hassles of managing appointments are greatly reduced. Frappe Healthcare would allow you to enable patients to schedule their appointments online, eliminating the need for lengthy phone calls and manual scheduling. Additionally, it provides real-time availability updates, ensuring efficient utilization of healthcare providers' time and reducing patient waiting times.
​3. Seamless Electronic Healthcare 
Frappe Healthcare's EHR (Electronic Health Records) System offers a centralized and completely secured repository for patient information. Medical professionals would be able to easily access the patient records, inclusive of medical history, test results and treatment plans from any authorized device.  Such accessibility enhances the continuity of care, as healthcare providers generally have access to comprehensive patient information which further results in more accurate diagnoses and personalized treatment plans.
​4. Advanced Analytics and Reporting
One system that goes beyond the basic patient management is Frappe Healthcare- with its Advanced and Accurate Analytics and Reporting.The software collects and analyzes data from various sources, enabling healthcare organizations to gain valuable insights into patient outcomes, operational efficiency, and resource utilization. These insights empower healthcare providers to make informed decisions, optimize workflows, and identify areas for improvement.
5. Enhanced Communication and Collaboration
Communication and Collaboration are two integral parts of the healthcare industry. Frappe Healthcare would facilitate you with seamless communication amongst the healthcare professionals by providing secure channels for messaging and file sharing features. Whether it's sharing test results, seeking a second opinion, or collaborating on treatment plans, Frappe Healthcare enables healthcare providers to connect and collaborate effortlessly.
​6. Patient Engagement and Self Service
Frappe Healthcare understands the importance of patient engagement in achieving the best healthcare outcomes. The software offers patient portals and mobile applications that would empower patients to actively participate in their own care. Patients can access their health records, request prescription refills, view test results, and communicate with their healthcare providers conveniently and efficiently. This increased patient engagement would foster a collaborative approach to healthcare, resulting in improved patient satisfaction and adherence to treatment plans.
Also Read: ERPNext for Healthcare Industries


What Do You Get With Frappe Healthcare?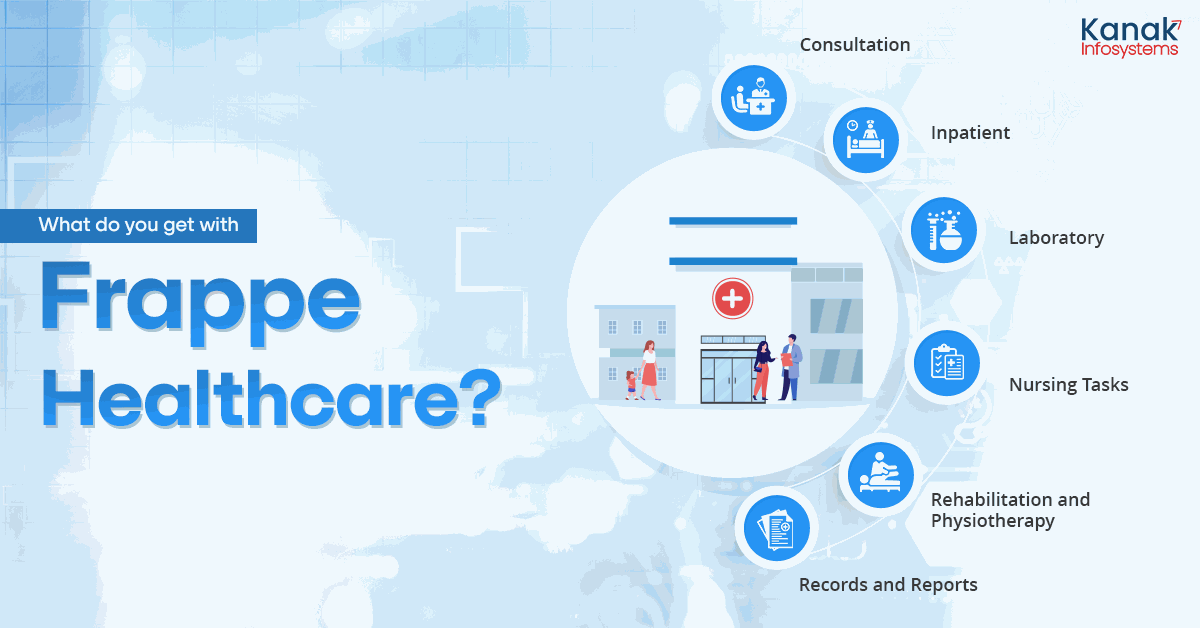 1) Consultation
● Patient Appointment- Frappe Healthcare allows you to book Patient Appointments and alert the patients via SMS and/or Email.
● Appointment Type- With Frappe Healthcare, you would be able to create Masters for various types of Appointments. Appointment Type would allow you to predefine the duration of Appointments, specify if it's inpatient or outpatient and even colour code to differentiate the types of appointment for analysis.
● Practitioner Schedule- This feature of Frappe Healthcare will help you configure the availability of Healthcare Practitioners. Users would be able to select multiple applicable schedules for each Health Practitioner.
● Clinical Procedure- Frappe Healthcare would allow you to create and map Clinical Procedures like Cataract Surgery or Wound Stitches. The platform would allow you to preconfigure Clinical Procedure Templates, so that you don't have to set the default properties like the consumables, rates, items every time you conduct a clinical procedure. 
● Patient Encounter- Frappe Healthcare would allow the user to record every encounter with the patient through Patient Encounter Documents.
● Vital Signs- Users would be able to capture the Vital Signs of patients at any point in the treatment process. 
● Complaint and Diagnosis- In order to smoothen out the data entry while recording the Patient Encounter, Frappe Healthcare would allow you to save every Complaint/ Diagnosing data you enter - as a master.
● Fee Validity- There are many healthcare facilities that do not charge for follow up consultations within a time period after the first visit. You would be able to configure the number of free follow ups allowed as well as the time period for free consultations in Healthcare settings. 
2) Inpatient
● Inpatient Record- The system allows you to capture the details about a patient admission using the Inpatient Document. The Inpatient record is automatically created when a practitioner orders an admission. 
● Inpatient Medication Order- An Inpatient Medication Record (IPMO) is created to easify the nursing process. When patients are admitted to a hospital, there are medications that are supposed to be provided to the admitted patient with the service unit information, the drug, the dosage, the dosage form, and the date and time when the drug has to be consumed.
● Inpatient Medication Entry- An IPME is created to process Inpatient Medication Orders in bulk depending on the filters and to optionally update the stock on dispensing drugs.
3) Laboratory
● Lab Test Template- Lab Test Templates would allow you to create all types of Lab Tests rapidly.
● Lab Test- The Lab Tests feature allows you to record multiple laboratory test details including organism, sensitivity, etc.
● Sample Collection- It is very important for a laboratory to manage collected samples and print labels for those samples, automate sample collection, etc.
4) Nursing Tasks
Nursing Checklist Template users would be able to create Nursing Tasks in various healthcare workflows. From as important as patient documents such as lab tests, clinical procedures, users would be able to directly go to the relevant nursing tasks.
5) Rehabilitation and Physiotherapy
● Exercise Type- Mapping Exercises for a patient is an integral part of any rehabilitation and physiotherapy service. And the Exercise Type feature in Frappe Healthcare helps you to templatize the Exercises based on their difficulty levels and the steps involved for the same.
● Therapy Type- The therapists of the facility would be prescribing a number of different therapeutic exercises for a patient. Frappe Healthcare would allow you to create templates for those therapies using the 'Therapy Type' doctype. You would be able to create and link to Healthcare Service Units, add standard rates and Item details for billing.
● Therapy Plan- Therapy Plans would list all the required therapies along with the number of sessions being conducted for each of those. It would also keep a track of the progress with each of the sessions being completed.
● Therapy Plan Template- Therapy Plan Templates could be used by the healthcare facilities for prescribing therapy plans as packages. In such a case, the number of sessions to be conducted and the total cost would be fixed. A therapy plan which would be created using the Therapy Plan template will not be billed for individual sessions, instead, it will be billed as a whole package.
● Therapy Session- With Frappe Healthcare, you would be able to track every session conducted with the patients in the Therapy Session Doctype. Booking an Appointment for the session would be an optional feature. This will help you map the patient's progress.
● Patient Assessment Template- Frappe Healthcare would provide you with over 20-25 evaluation forms that users would have to fill out during a patient's rehab therapy to track their progress. Users would be able to create all such Patient Assessment forms smoothly with Frappe Healthcare by creating the Patient Assessment Templates.
● Patient Assessment- The Patient Assessment feature in Rehabilitation provides evidence to help support the development of the rehabilitation plan. The healthcare professionals will have to record assessments at regular intervals. The Patient Assessment doctype will help you capture assessments like Motor Assessment Scale, Functional Mobility Scale, Stroke Rehabilitation Assessment of Movement (STREAM), etc. 
6) Records and Reports
● Patient Medical History- Maintaining accurate and complete medical records of patients is one of the basics for the healthcare professionals. Another important aspect is the ease at which the information is accessible by the healthcare provider. Frappe Healthcare would help you access the medical history of the patient any time by quickly searching and selecting the patient.
● Patient Appointment Analysis- Frappe Healthcare would provide you with Patient Appointment Analytical Reports which would further help you in getting the insights about the number of appointments created according to the Medical Departments and Healthcare Practitioners. 
● Inpatient Medication Orders Report- These reports would show you all the data related to the medication orders from the patients. This report would be based on the Inpatient Medication Order Doctype.
Also Read:  Frappe HR- Open Human Resource and Payroll Software
Who all can benefit from using Frappe Healthcare?
1) Healthcare Providers
It doesn't matter if you are a small clinic, a renowned hospital or a specialized healthcare facility, Frappe Healthcare will effectively benefit the healthcare practitioners of all institutions. It would help in streamlining the patient management, automating the administrative tasks, and providing easy access to patient records, further enabling the healthcare professionals to deliver best healthcare facilities.
2) Physicians and Specialities
This software would empower physicians and specialists by equipping them with a comprehensive electronic health records (EHR) system. They would be able to access patient information, including medical history, test results & treatment plans, from any registered and authorized device in order to facilitate more accurate diagnosis and treatments.
3) Nursing Staff
The nursing tasks would be simplified by using Frappe Healthcare since it offers features like nursing checklists and inpatient medication management. It will help the nurses in efficiently managing patient admissions, recording vital signs, tracking medication offers, and streamlining the nursing processes.
4) Laboratory and Diagnostic Services
Frappe Healthcare would provide you with features specifically designed for laboratory and diagnostics. It would allow the creation of lab test templates, recording lab test details, managing sample collections, and generating lab test reports. 
5) Rehabilitation and Physiotherapy Centres
This robust software offers specialized features for the rehabilitation and physiotherapy units. This would enable therapists to create exercise templates, therapy plans, and track the patients' therapy sessions. The software would also provide patient assessment templates to monitor the progress.
6) Administrative staff
This system would simplify the administrative tasks like appointment scheduling, patient registration, and billing. It automates the appointment reminders, tracks patient appointments, and provides analytical reports. 
7) Healthcare Organizations and Management
Frappe Healthcare would provide advanced analytics and reporting capabilities, further enabling the organizations to gain valuable insights into the patient outcomes, operational efficiencies, and the overall resource utilization. 


Conclusion:
Frappe Healthcare demonstrates a significant transformation in Healthcare Technology, completely revamping the way healthcare providers deliver care, cure and manage operations.
With its streamlined patient management, organized appointment scheduling, robust EHR system, detailed and accurate analysis and reporting, enhanced communication and collaboration, and patient engagement features, Frappe Healthcare has the potential to improve patient outcomes, optimize workflows, and enhance overall healthcare delivery.
As the healthcare industry continues to evolve, embracing innovative solutions like Frappe Healthcare is key to achieving better healthcare experiences for both providers and patients alike.
Are you ready to revolutionize your healthcare practice? Experience the transformative power of Frappe Healthcare today and unlock a new era of patient care and operational efficiency.
Contact Kanak Infosystems now and explore how Frappe Healthcare can revolutionize your patient care and operations. Don't miss out on this opportunity, get in touch today!
FAQ'S
Frappe Healthcare is known to cater to a wide range of healthcare providers, ranging from small clinics to large hospitals. You can customize it to meet your specific requirements.
Frappe Healthcare offers numerous benefits to the healthcare providers. The system helps you improve your operational efficiency, helps in reducing unnecessary paperwork, helps in enhancing the quality of patient care while simplifying the crucial process of billing and insurance. Frappe Healthcare also makes sure to keep all your patient records safe and secure.
Frappe Healthcare has been built in such a way that it can be integrated with any existing healthcare systems and infrastructures seamlessly. This can be made possible using APIs and interoperability systems such as laboratory information systems, pharmacy management systems, etc.
Yes, it is very much possible to support telemedicine and remote patient consultations with Frappe Healthcare. It offers features like scheduling a virtual appointments, conducting video consultations and storing telemedicine records with utmost security within the system.
Leave a Comment
---
Your email address will not be published.
Your comment is under review by our moderation team.