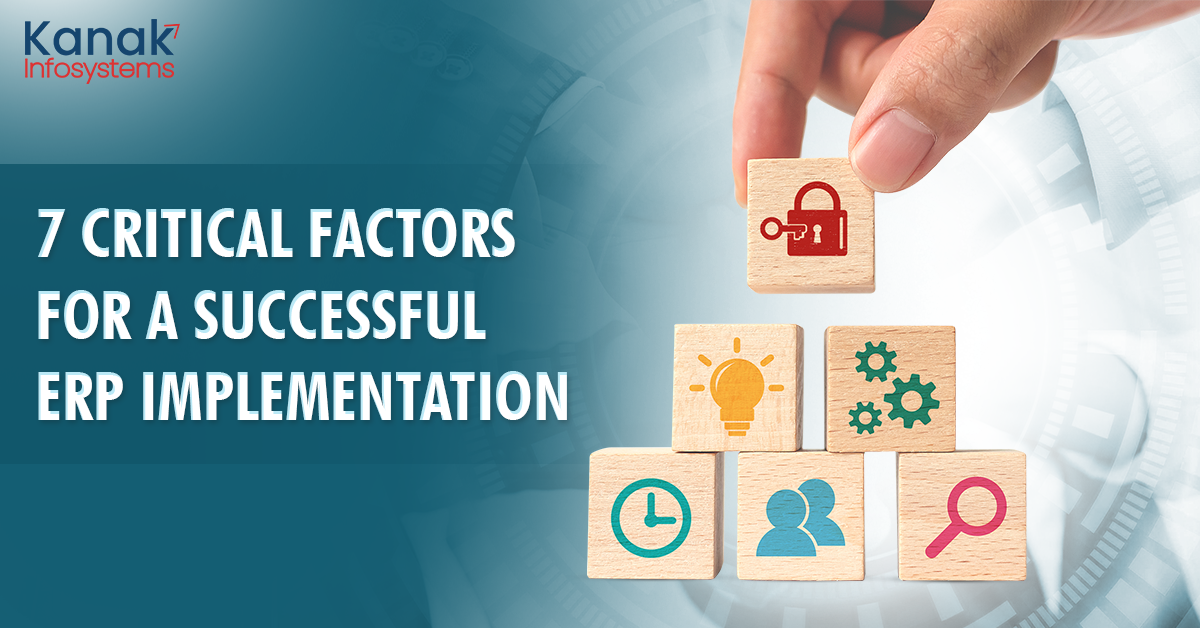 7 Critical Factors for a Successful ERP Implementation
Companies in the modern day are faced with new data-driven challenges that have the potential to be unimaginably complex, and dealing with this data using disparate legacy systems is becoming an increasingly difficult task.
Enterprise Resource Planning (ERP) systems allow businesses to organize and consolidate business data, documentation, and communications into an easy process.
In the era of technology, businesses may turn to ERP systems for assistance in organizing this data.
As a result, an organization could potentially increase its Return on Investment (ROI) as well as its operational efficiencies by leveraging the information it has collected using this innovative new system to arrive at business decisions that are both profitable and well-informed.
Nevertheless, putting these systems into place can be a challenging endeavor. Organizations frequently fail to adequately prepare for ERP implementations, which is one of the most common causes of problems with these kinds of projects.
For this to be accomplished effectively, organizations need to be aware of and comprehend several critical success factors (which will be detailed further down). It will allow them to formulate a sound foundational strategy that can be referred to throughout the process.
Primary Factor Consideration for a Successful Implementation of ERP
1. Crystal Clear Strategic Goal Understanding
The ERP implementation was considered a success if it was completed on time, within budget, and generated a return on investment that exceeded expectations.
Project managers need to consider the goals, requirements, and processes to develop a foundational ERP strategy to derive actionable first steps.
Before any work is started, preparation of all necessary information, communication of that information to the appropriate personnel, and gaining management approval are all the steps required to get the project off to a good start.
Recommendations:
● Create an ERP strategy and determine the scope of the project.
● It is essential to construct a robust strategic base before implementing an ERP.
● Be sure to prepare the organization for the upcoming process changes and the new system by utilizing the appropriate change management strategies and techniques, which will significantly affect your organization.
2. Project Scope Well-Defined
Your ERP system may initially be unable to fulfill all of the requirements for your organization.
Create an implementation strategy for your enterprise resource planning (ERP) system so that it is well-tailored to the initial priorities of your company. Specify in great detail the components of your project and those that may fall under the purview of subsequent iterations.
Recommendations:
● Gain an understanding of the fundamental needs of the company, devise a strategy for meeting those needs, and figure out how to implement that strategy. When defining your project's scope, emphasize the most critical business use cases and how users will participate in those processes.
● Align yourself with the organization and prioritize according to it. Which delivery brings the implementation between 85 and 90 percent of the way toward its goal, allowing immediate benefits to be derived? Then, pursue those initial benefits with all your might.
● Think about how other business needs, like data management, business intelligence, social media, and so on, could be satisfied in the future or with future enhancements.
● Document the items not included in the scope and how they could be included in a subsequent release. Because of this, individuals involved in the project will have the opportunity to feel their opinions and feedback are valuable and potentially deserving of implementation.
3. A Solid Implementation Team
Full-time employees, including a capable project manager and others representing the core areas of the business and information technology, should make up most of the core project team.
If a consulting integrator is utilized, the core project team should have a productive and harmonious working relationship with the integrator's consultants. Also, identify a set of resources that can provide subject matter expertise when it is required to make significant project-focused decisions.
These resources should come from different parts of the business and IT. A strong team with clearly defined roles from the beginning will increase the likelihood of successful implementation.
Recommendations:
● Utilize tried-and-true implementation methodologies and tools for the project while giving the implementation team the authority to make decisions.
● Because it will help with communication, the core project team should try to be in the exact location.
● The members of the project team and the consultants ought to have a productive working relationship.
● When it comes to ERP implementation projects, having a well-organized consulting team that works together effectively can significantly benefit.
Ready to harness the full potential of ERP Software? Contact us for expert ERP services today.

4. On-Point Project Management
The ERP project will result in changes not only to the system but also to the underlying processes and organizational structures.
Therefore, the organization needs to have a dedicated team or workstream focused solely on a change to deal with the volume of the impact and change. The size of the team will vary depending on the scale of the project and the number of changes.
This type of training is provided by software vendors or consulting integrators. Although this strategy is frequently the most successful for the vendors in reaching the first and second levels of the organization, implementing it to achieve it for the entire organization requires a significant investment of time and effort. Get yourself ready.
Also Read: Leverage Best Suited Project Management Methodology to Ensure Business Success
Recommendations:
● Have an honest and open communication process between the project team and the rest of the organization by utilizing different communication channels such as internal websites (SharePoint, Yammer, etc.), road shows, newsletters, learning opportunities, and office hours to help you get your message across.
● Important customers should get involved with the correct project and its development, as this will facilitate more accessible adaptation to the alterations.
● Continue to emphasize the defined business case and ERP strategy, which details the alterations to system functionality, the processes they affect, and the benefits resulting from these alterations. Discussing the business case with the appropriate people within the organization is essential.
● You might want to look into hiring a third party to conduct an organizational readiness assessment.
● Be ready to conduct training not only during the project but also after it has been completed.
5. Partner Who Knows Industry Insights
ERP rollouts, particularly for consumer goods manufacturers, involve many moving parts that affect every facet of an organization.
Therefore, working with a partner who is familiar with your business sector in addition to the software is something we recommend doing if you want to help monitor and steer the success of your project.
Since the initial release, we have altered the solution's configuration to make it more suitable for Dynamics 365 deployments. We could incorporate every feature of quick start because it was based on our experience working on real-world case studies.
We will leave no stone unturned to continue improving and updating Quick Start as new customers continue to go live and the industries in which we operate change.
6. Accuracy of Data
On the day of go-live, your new ERP won't apply to your staff unless you provide it with a certain amount of data.
Determine what aspects of that data are required for the new ERP solution, and then take the necessary steps to clean and format that data before importing it there.
In this regard, your implementation partner may be able to offer advice and templates.
7. Education & Training
Implementing ERP systems requires extensive employee training to familiarize workers with the new software being deployed across an organization.
The development of these training courses may come at a cost, but it is money well spent to ensure that your ERP implementation will be successful. 10 to 20 percent of the total budget for ERP implementation may be required for training.
You will be unable to maintain the training costs if the top management does not provide their support.
Conclusion
Implementation of ERP is not a cakewalk but rather very complex. Not many understand the importance of a successful ERP implementation.
The ERP system is huge and diverse and includes multiple branches such as finance management, supply chain, procurement, human resource management, etc.
Hiring experts who have worked on prior case studies is essential, as the system affects the entire organization. The professionals help in a thorough analysis of the business and make the implementation process of ERP seamless.
Leave a Comment
---
Your email address will not be published.
Your comment is under review by our moderation team.