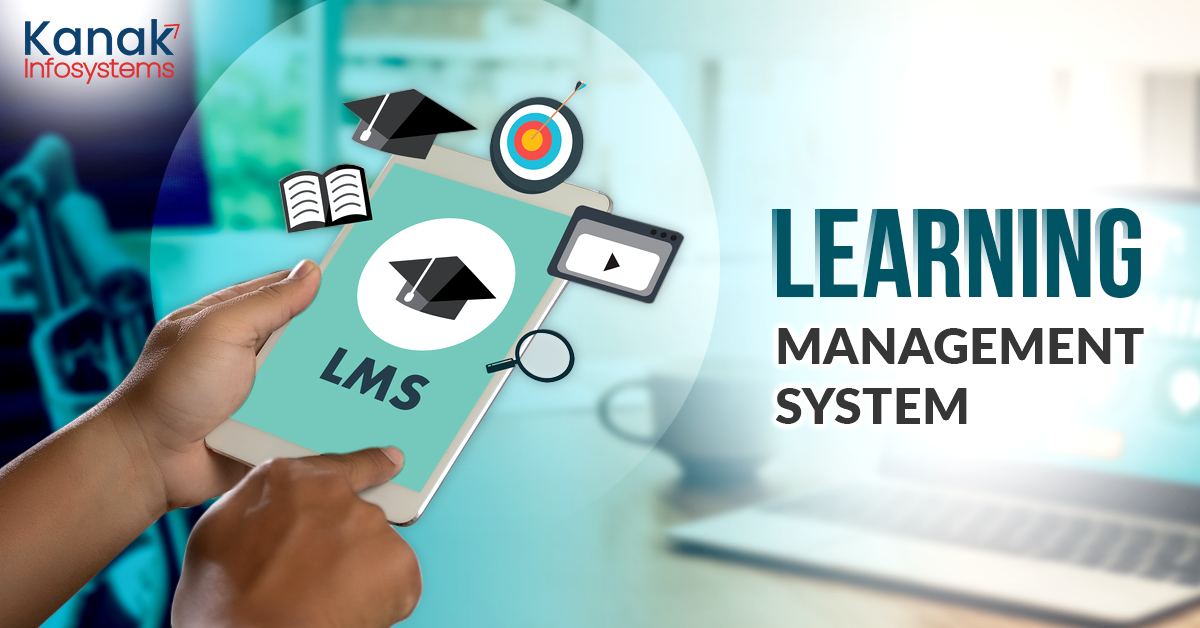 What Is a Learning Management System?
A Learning Management System is either a SaaS platform or software-based, which helps you support your automation, administration, and presentation of educational courses or training programs. It basically helps you deliver training materials to varied audiences. What is more beneficial is that it can now be accessed through your smartphone.
A Learning Management System is referred to as the "powerhouse" of a complete learning technology solution since it is considered best when a LMS is scalable and flexible to cater to the varied needs of your learners.
The main aim of a Learning Management System is to entrust Learning and Development departments or organizations with training and development for their learners in order to promote the Company's growth, and success and ultimately gain more profits. 
What is a LMS used for?
In a very general sense, a LMS helps you centralize, deploy and measure learning activities. A good LMS supports a variety of internal and external organizational uses: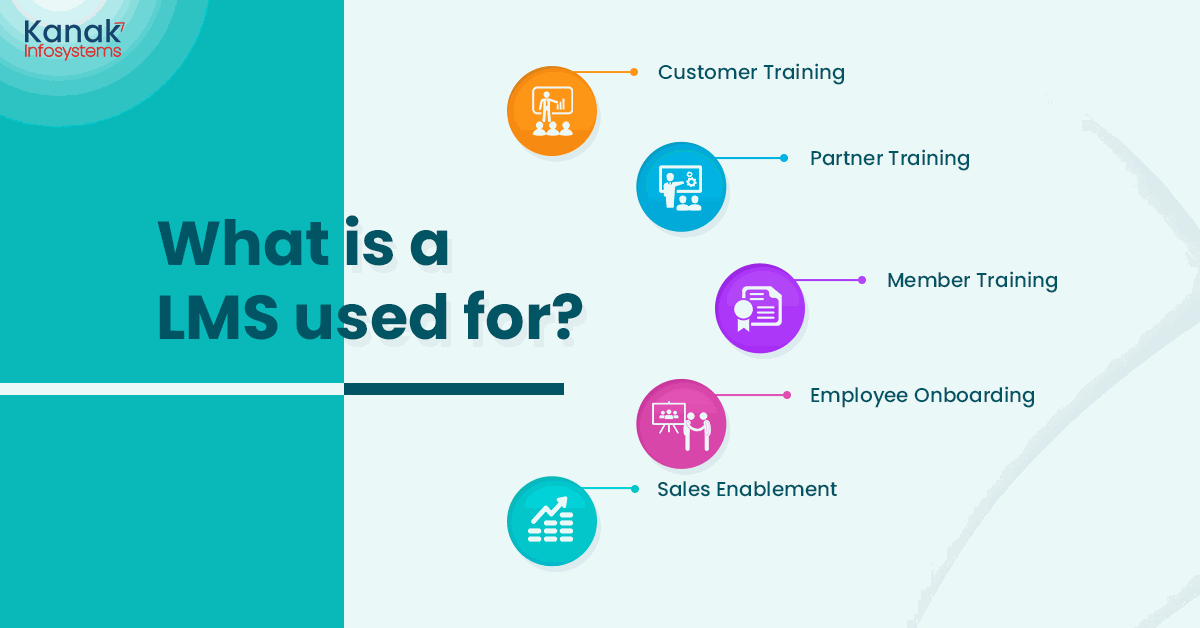 1) Customer Training- a LMS could be used by an organization to train its customers. This is common for the IT and Software industries. An Ongoing customer training will also provide more value to the customer.
2) Partner Training- a LMS could also be beneficial to train the organization's partners and channels, this would help you build a more trustworthy relationship with your partners.
3) Member Training- a very common use of a LMS is to grow more membership value by creating common training content and providing more engagement with your members with digitized learning.
4) Employee Onboarding- the most common use of a LMS is to support new employees with their initial onboarding so they can efficiently and smoothly learn how to go about their job.
5) Sales Enablement- to help your sales team with the knowledge they need, and the resources they need, a LMS proves to be a great information and training deployer.
Empower Educators and Learners Alike! 🎓 Learn how our top-notch Learning Management Software enhances edu​cation. Dive in!
What are the Main Features of a LMS?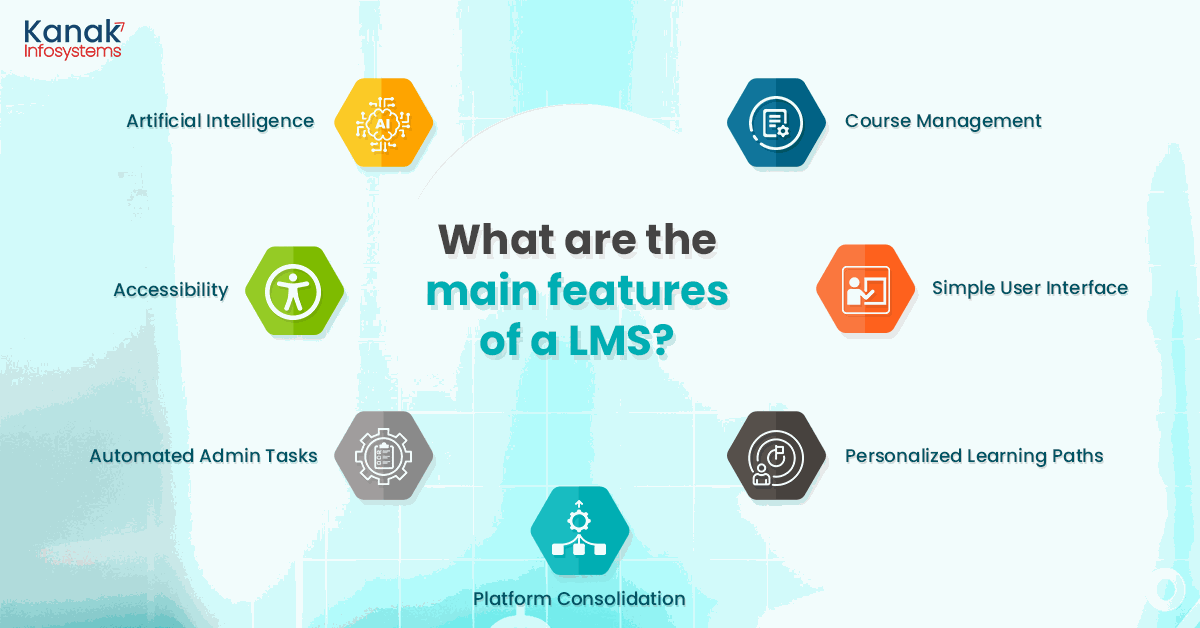 ● Artificial Intelligence- an AI under the umbrella of a LMS helps you personalize the learning experience for each of your learners by offering them with the best-suited and relevant courses.
● Accessibility- making e-learning accessible is more than just following the web content accessibility guidelines. It is more about developing content which creates the best learning experience.
● Automated Admin Tasks- LMS software allows administrators to automate recurring tasks such as new user population, user grouping, group enrollment, and deactivation.
● Platform Consolidation- This means that you can get all your use cases- internal and external- in one single LMS. That would help you in saving time, money, and extra human effort.
● Personalized Learning Paths- Since in an organization, everyone has a different job role, there are certain skill sets which are often shared, and certain courses are mandatory for all employees, so an organized learning path allows you to create courses accordingly. A LMS understands your learner's needs and helps you create a tailor-made learning experience for all of them.
● Simple User Interface- Learning itself is not an easy task, and if a LMS has a difficult-to-operate interface, it might become difficult for the learner. LMS should have a simple and easy-to-navigate interface.
● Course Management- a LMS helps you with course creation, categorize those courses, enroll your users, and generate reports in a quick and efficient manner so the admins wouldn't have to spend extra time and effort on tasks that can be easily automated.
What are the Advantages of having a LMS?
| | |
| --- | --- |
| Benefits for the Organization | Benefits for the Learners |
| ● Reduces learning and development Costs | ● Helps in increasing knowledge retention. |
| ● Cut downs on the training and onboarding time for your customers, employees and partners. | ● Helps you in acquiring skills and knowledge needed for your career advancement. |
| ● Helps you track the learning progress. | ● Improves your overall performance |
| ● Scalable to measure how certain training and learning impact your organization's performance. | |
Who Needs a LMS?
LMS integration has certainly seen a great boom lately. LMS platforms are now being used globally, for several industries like Corporate Companies, Schools, and Universities- and for a variety of different learning use cases. And there are mainly two types of LMS users- 
1) Administrators- they are the people responsible for managing the LMS system for the organization which basically includes the combination of multiple tasks-overseeing course management, creating content, managing the content, assigning specific learner groups to specific learning plans, and tracking their learning progress and their overall growth.
2) Learners- Learners are the employees or the partners of your organization. Learners will have the access to the LMS to view their course files, complete their assigned courses, and observe if any evaluations have been made by the admin, and to measure their own progress. Learners could also be assigned training on an individual basis or according to their job function.
Which is the Best Learning Management System for 2023?
It might be a multi-dollar question, but the answer to the question is pretty simple- Frappe LMS.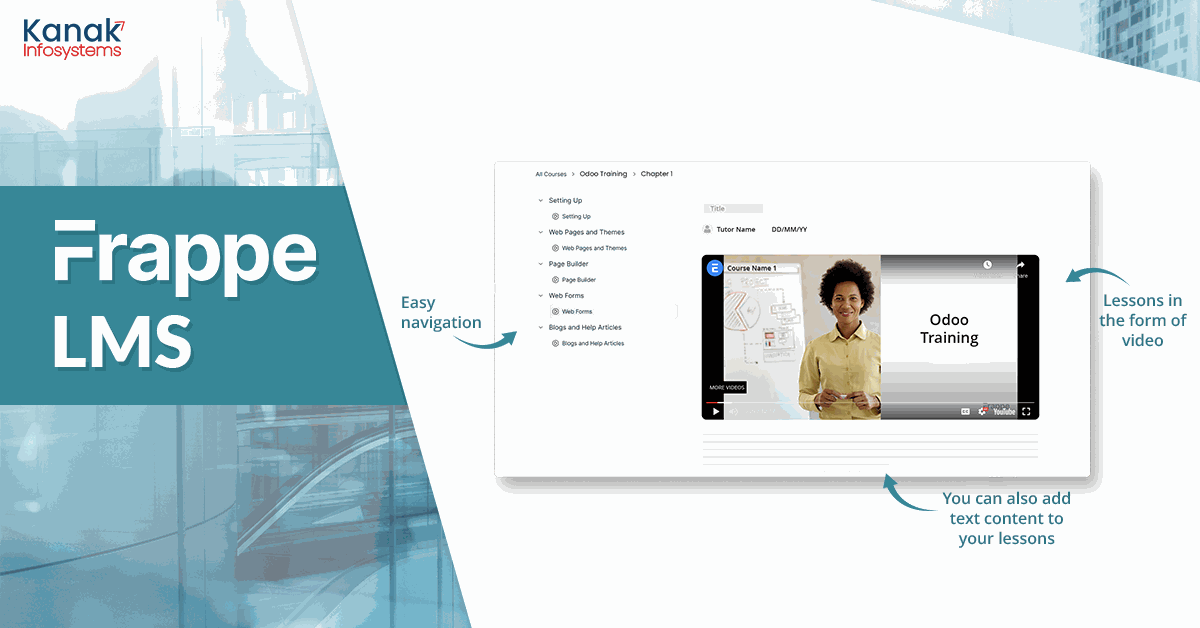 Frappe LMS is known for its simple and efficient backend and UI, which ensure an open-source learning management system. 
The program in this LMS Software can contain rich text articles, videos, and even quizzes. The progress of individual learners at your organization can be tracked through this software as well as the portal. Frappe LMS will allow you to :-
✅ Set up LMS.
✅ Publish Learning Management System Masters, including programs, portal settings, courses, topics, and content masters. 
✅ Navigate the portal for the home page, program page, course page, topic page, and content pages. 
How is Frappe LMS better than other LMS?
Frappe LMS offers a meta-driven framework and allows rapid application development. It has additionally added features of setup, hosting, maintenance, and support. If you are looking for the best ERP solution for LMS, Frappe is the best example of a Learning Management System.
Frappe LMS offers the following feature, which makes it stand out-
a) Create Courses with ease.
b) Lessons in various forms- Videos, Articles, Quizzes, Infographics, etc.
c) Direct contact with Learners- through the discussions section available for each lesson.
d) Clean UI and Backend.
Kanak Infosystems LLP. has been using ERPNext and Frappe Framework for quite a few years now. Our experts are strived to enhance your business with ease and efficiency.
If you wish to explore the possibilities of transforming your business with ERPNext, reach out to us!
FAQs
One of the most important components of a LMS is Course Management. Course Management refers to the list of courses, registration, credit information and syllabus and other pre-requisites.
An LMS is a software application that would enable the users to design, create and deliver their own course content through a website or a mobile application. Whereas, E-Learning platforms are web-based applications that would allow users to design online courses and then share them with learners.
The topmost function of a LMS is to facilitate and enhance the learning process. A LMS doesn't only deliver content, but takes care of the entire functionality- from registering courses to course administration, analysis, tracking and reporting.
One of the most loved and robust LMS is Frappe LMS. It helps you in creating courses, provide lessons in various formats and have direct and frequent contact with the learners.
Leave a Comment
---
Your email address will not be published.
Your comment is under review by our moderation team.