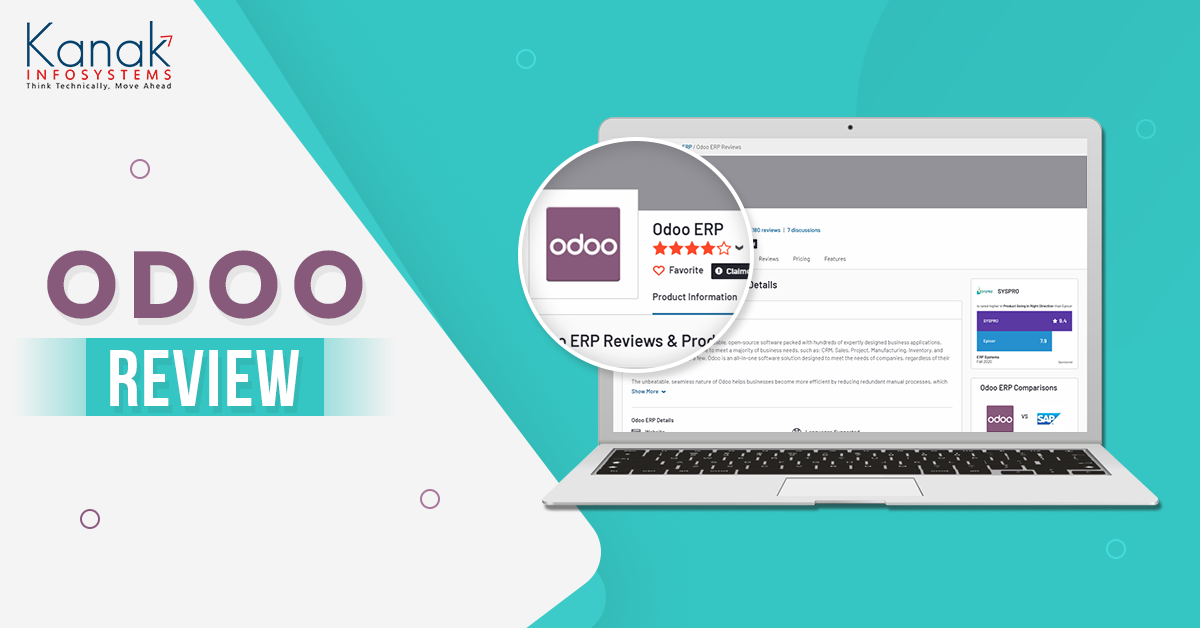 Odoo Review: Features, Pros, and Cons of the ERP Platform
Enterprise Resource Planning (ERP) is the backbone of a business, and thus it is essential to choose a professional ERP platform these days for both small and large enterprises. You need a scalable and reliable platform for planning and managing resources. Odoo can be such a platform, which boasts of having over 4 million users worldwide.
With such a high number of users, Odoo ERP is one of today's most trustworthy platforms. The incredibly comprehensive platform has been exquisitely designed to serve small and medium enterprises. So, is it worth investing in Odoo? Find a detailed and unbiased Odoo review in the following section.
What Is Odoo? History and Uses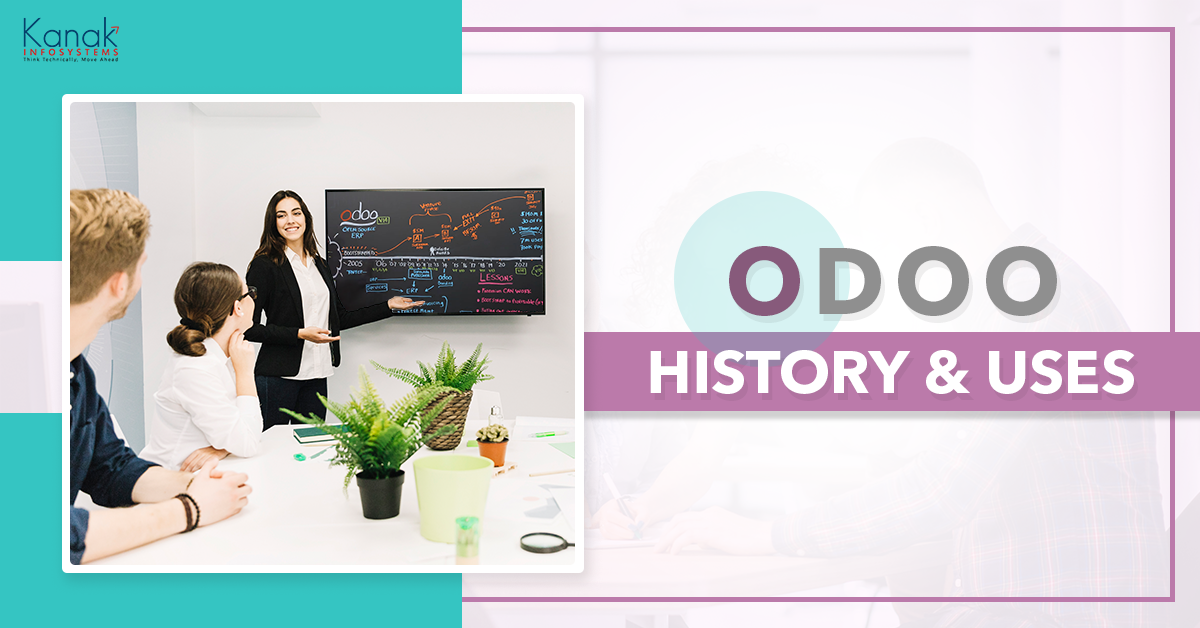 Fabien Pinckaers founded Odoo in 2005. Initially, the creator named the platform Tiny ERP, though the name was changed from Tiny ERP to Open ERP in 2010. In 2014, Odoo emerged, with multiple new features added to the platform.
The concept behind the name Odoo is the On-Demand Open Object. Users can integrate the Odoo tools with the other Odoo applications.
At the same time, users can integrate the tools with various other third-party applications. In this Odoo review, you will learn more about this ERP platform.
Odoo is a flexible and modular platform for enterprise resource planning. The platform offers arrays of applications and modules for business management.
Using these applications helps business owners improve efficiency. At the same time, they can adapt to the standardized practices of enterprise resource planning.
Using this ERP platform, a business can manage marketing, accounts, inventory, automation, customer relationship, and other business aspects. Overall, Odoo is an open-source platform for dealing with multiple business tasks. Some of the key highlights of the platform are listed below.
A platform with multiple apps.
One can customize certain features.
Cloud-based data management.
Responsive platform.
Integrated backend and front-end tools.
 Subscribe for Odoo tips, technical insights, and more!

In the following section, you will find a detailed discussion on Odoo applications and features.

Top Odoo Features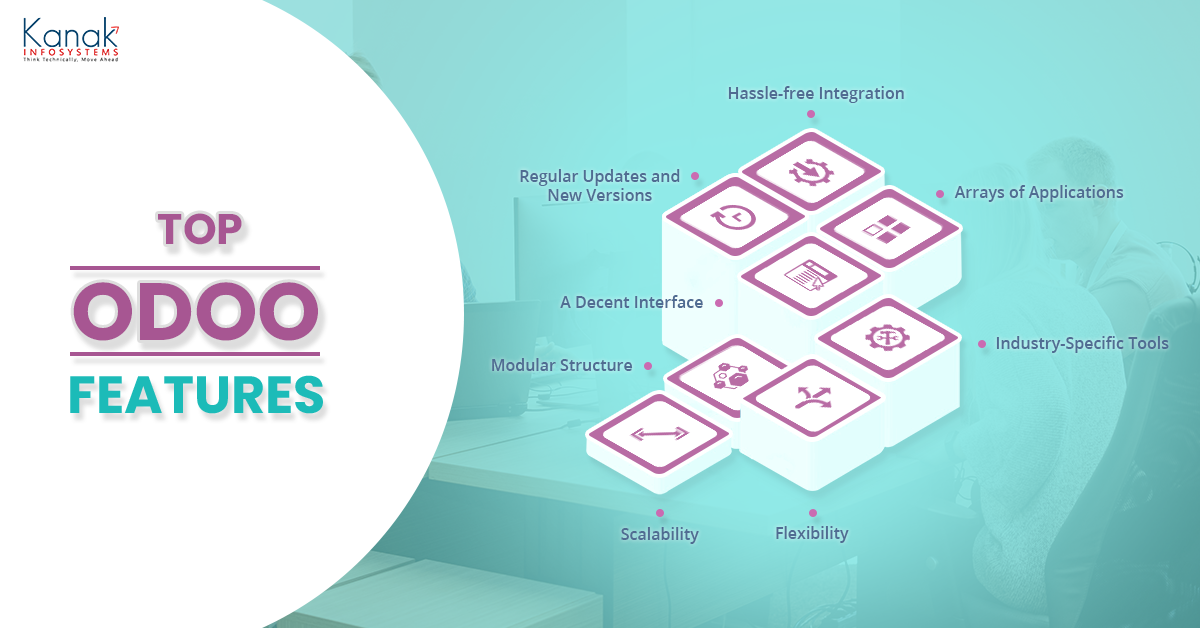 Users need to learn about the Odoo features to know what is odoo. Users can try the Odoo demo to get well-versed with the platform's tools, apps, and various features.
1. Modular Structure


Odoo is an ERP platform with a modular structure that includes a large variety of applications and software. The platform is a compilation of multiple modules such as inventory, marketing, sales, purchase, CRM, manufacturing, etc.
The best thing about the modular system is that businesses can integrate modules according to their organizational requirements. For example, businesses can manage human resources by integrating time off, timesheets, payroll, recruitment, attendance, and many other modules.
Odoo has a dedicated developers' team to understand modern business requirements and introduce new features to the modules. Nevertheless, new modules are added to enrich the platform for rendering high productivity to the users.
2. Flexibility


Odoo open source offers excellent flexibility, which eventually helps businesses customize the platform according to their requirements. Odoo applications and modules are customizations to fit the requirements of people.
Since it is an open-source platform, any software developer can access the source code and customize the tools to meet the business requirements.
3. Scalability


Odoo ERP is suitable for small to large enterprises, as the platform is scalable. Depending on the data size, businesses can scale the data server.
As a result, it becomes cost-effective for businesses to manage their ERP tasks on this platform. On the other hand, scalability helps businesses increase data server space anytime, according to their business requirements. Users can call Odoo support and obtain assistance on the scalability of their data server.
4. Industry-Specific Tools


Odoo offers multiple tools, modules, and applications. Therefore, different industries can operate their enterprise resource planning on this platform without hassles.
You can get industry-specific tools and applications. You can integrate different modules depending on the industry-specific requirements.
5. Hassle-free Integration


Odoo offers hassle-free integration of various modules. After integrating all the modules, the users can easily integrate applications into the modules.
The platform comes with many industry-specific apps for managing various tasks. Additionally, users can integrate various third-party applications into the system to perform various tasks.
6. A Decent Interface


Odoo offers a user-friendly interface, making the platform more popular among small and medium enterprises.
The platform's simple interface gives access to various themes and templates. The ERP platform allows list, pivot, and graphic views of various statistics and reports.
Moreover, users can customize the interface by downloading various templates and themes.
7. Arrays of Applications


The presence of multiple Odoo apps makes the platform suitable for various industry-specific uses. The partners and community of the platform frequently contribute to improving the efficiency or productivity of the application.
At present, Odoo offers more than ten thousand applications to users. Moreover, you will find compatibility of the platform with many third-party applications.
On average, the platform adds ten to twelve applications daily. Therefore, users have access to more applications to manage their salient organizational operations.
8. Regular Updates and New Versions



Thanks to the budding Odoo community, you will get regular updates and applications for the platform. Till now, Odoo has released 14 versions to meet the changing requirements of the enterprises.

With a new version, new features and modules have been added to the system. Odoo takes regular feedback from the users and improves certain features to render more satisfactory experiences.

Moreover, the Odoo support team is actively identifying bugs or glitches and omitting them from the system quickly.




Experience the benefits of Odoo for your business. Get started with our expert implementation services today!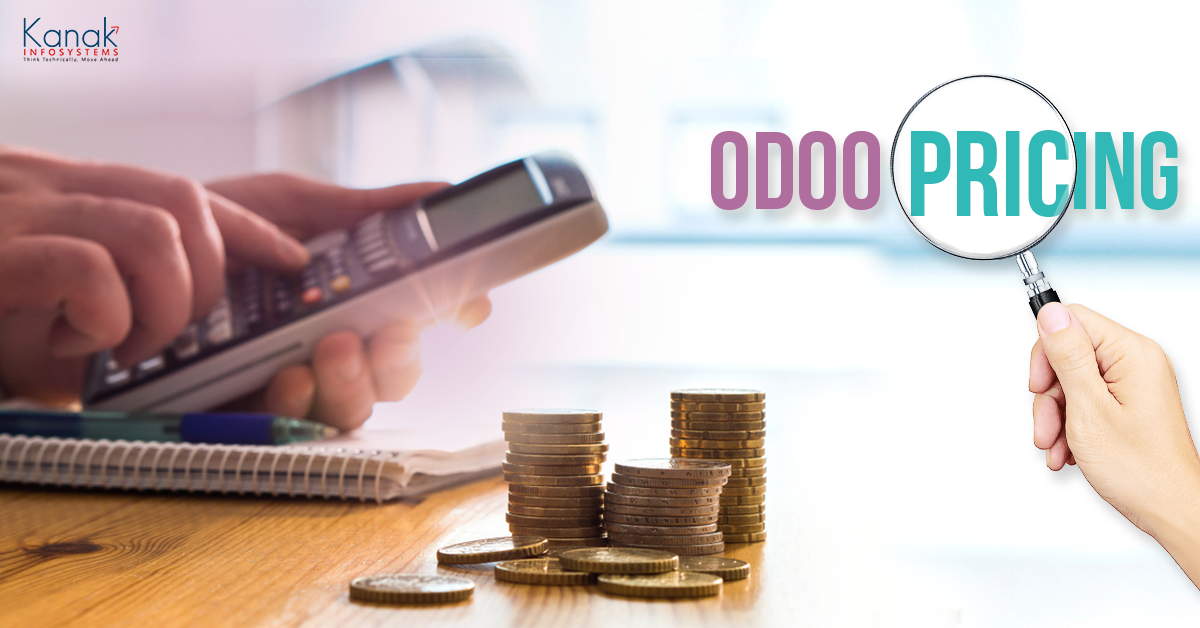 Since it is a free edition, users must implement it for their businesses and add modules according to their requirements.
You can migrate to the Enterprise version anytime from the Community version if you wish. The Enterprise version is a licensed version that one can implement with the support of Odoo Partners.
Odoo offers a 15-day free trial to the users, and the trial period comes with limited features. The idea of the trial is to render the look and feel of the platform to the enterprises.
If you find the trial period satisfying, you can switch to the premium edition. The cost of the premium edition depends on many factors. Choosing a single-user platform is cost-effective, and the cost will rise with the number of users added to the system.
Besides the number of users, you need to add applications to the system. Every application comes with a specific price, and thus the price of the selected apps will add to the monthly cost of using Odoo.
While customizing the pricing plan for the platform, users must also choose the hosting type. You will get three options for hosting.
Firstly, you have standard cloud hosting, which comes at zero cost. Secondly, you can choose self-hosting, available at zero cost. But, you may have to pay the price to your self-hosting operator.
Lastly, Odoo.sh cloud platform allows custom modules. The Odoo.sh is a premium service, and thus you have to pay as per the plans you choose for this service.
In the end, users need to choose the Implementation Service. Choosing self-service will save you money, though implementation needs technical expertise. If you have lesser than 50 users, you can choose the Success Packs by Odoo for the integration service. Odoo recommends choosing a local partner in case of more than 50 users.

🎯 What is the Best Odoo Web Hosting Solution? Read Here: Odoo Web Hosting Provider


Odoo App Store
​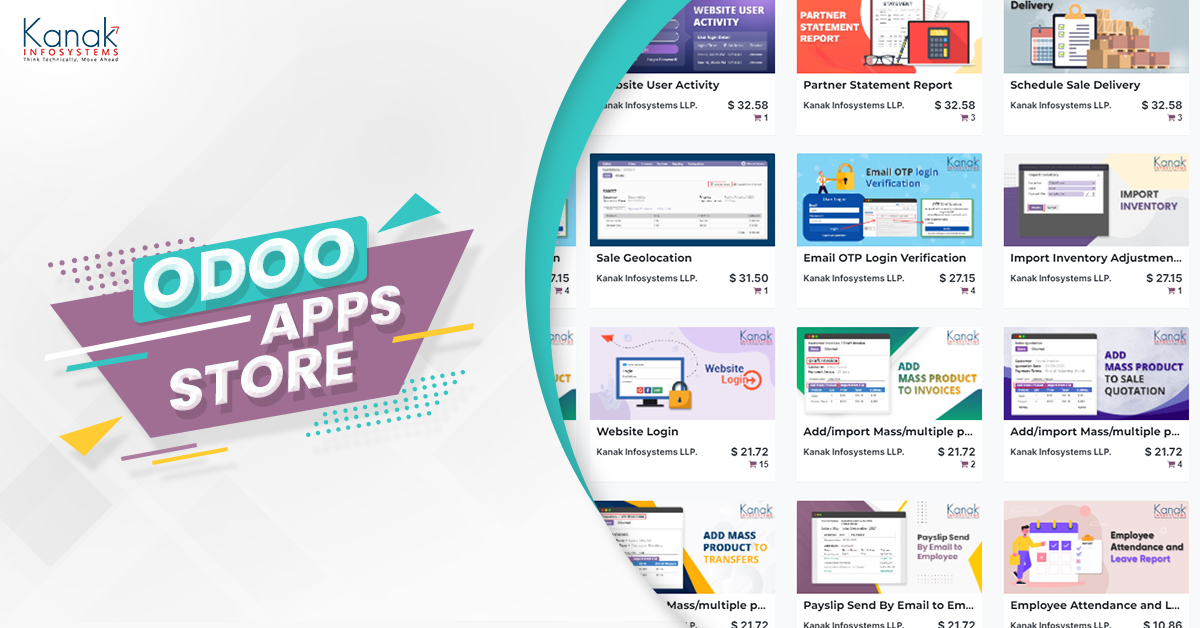 Odoo is an open-source platform with a large and active community. The developers can use the Odoo forum to get technical assistance from skilled users.
Moreover, the community contributes rapidly to the growth of the platform. Thanks to the thriving community, the platform has received many useful and advanced features.
At the same time, modules have become more user-friendly and industry-specific due to the efforts and contributions of the community members.
Most importantly, Odoo has a dedicated team for dealing with updates and upgrades for the system.
You will find more than 14000 applications on the system, and the number keeps growing with the advent of time. The dedicated developer team puts relentless effort to keep the system user-friendly and glitch-free.
Kanak Infosystems LLP. is an Odoo Ready Partner, and the company has developed and contributed multiple applications to the system.
The developer has contributed around 300 premium applications to the system. Businesses can easily integrate these applications into their system and enjoy seamless business operations.

Kanak Infosystems has developed applications that keep many industries in mind, and thus you can easily find an array of industry-specific applications from this developer on Odoo.
Odoo Customer Support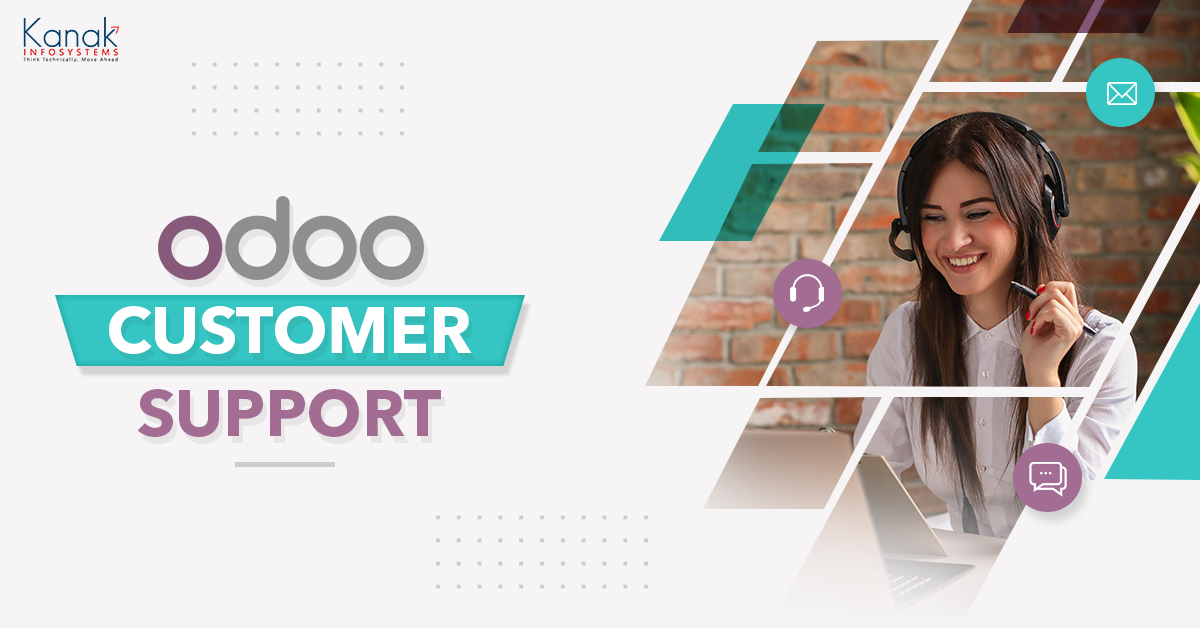 ​

Odoo has a dedicated customer support team, and users can communicate with the Odoo support team whenever they face any technical glitches with the system. Most importantly, Odoo offers multiple-tier customer support services.
Firstly, the Odoo website hosts many educational content and resources. Users can access the resources for free and learn various features and implementations of the platform.
If you face bugs and technical hiccups, you can write an email to the customer support team. Alternatively, you can join the live chats to express your concerns with the system. The customer support team will try to resolve the issues.
The USA users will not find any hassles in communicating with the customer support team, as the communication language is English. Unfortunately, the customer support team does not accept reports or queries in other languages.
Don't let issues slow you down. Reach out for expert Odoo support now
What Makes Odoo Better Than Its Competitors?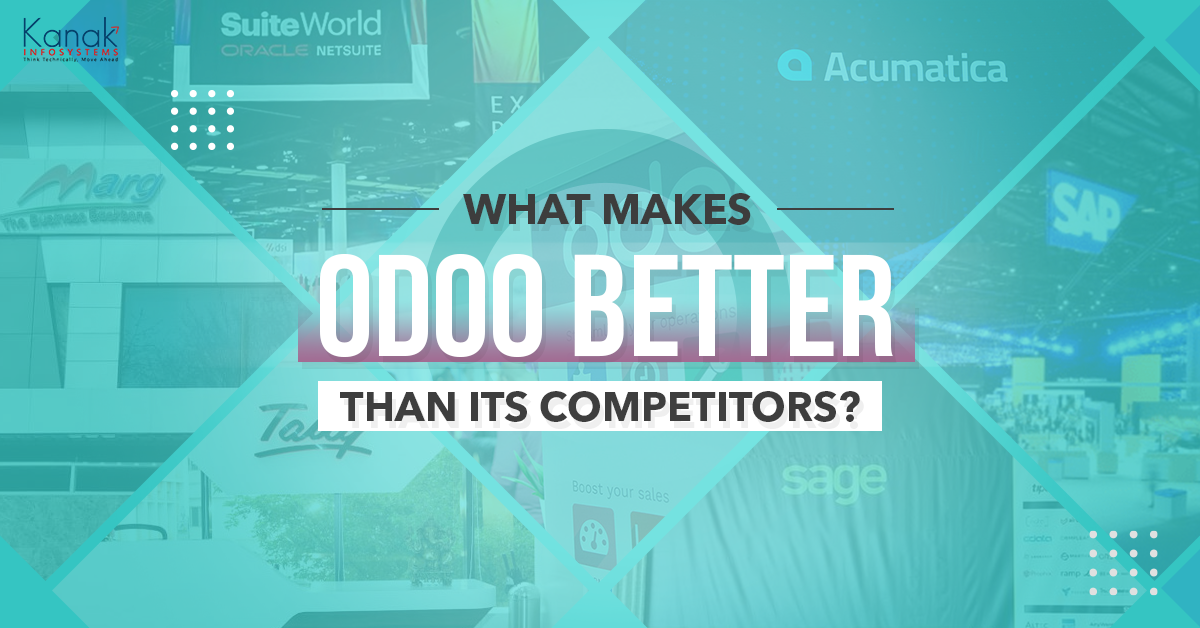 ​

There are multiple options for implementing an ERP system for enterprises. Odoo is a popular option among entrepreneurs for salient reasons. Find those reasons below.
Cost-effectiveness: Odoo is cost-effective compared to its competitors. The Community edition is completely free for users. You will need a professional service provider for implementation, though the cost is not too high.
User-friendly: Odoo has a user-friendly interface with easy access and navigation features. One of its competitors, SAP, has a complex user interface.
Security: Compared to other enterprise resource planning platforms, Odoo offers advanced security. The Enterprise edition has a cloud-based scalable data server, offering optimum data security.
Support: Odoo's open-source community is active and thriving with the addition of new users. Therefore, users can find technical support and advice from the community forum.
Modular Architecture: The modular architecture makes Odoo a unique ERP platform. Businesses can add modules according to their requirements. Other significant Odoo competitors do not offer such unique modular architecture.
Benefits and Shortcomings of Od​oo
Now, it is time to check Odoo ERP's pros and cons. The review will remain incomplete without understanding the benefits and shortcomings of the platform.
✅  PROS:


Extensible module-based architecture.
No-license version available for free.
A thriving and active open-source community.
A dedicated customer support team.
More than 14000 applications.
Third-party application integration compatibility.
Responsive or mobile-friendly platform.
The secured and scalable cloud hosting server.
✅  CONS:


Customer support team is only available on weekdays.
Customer support service is slow.
Hard-to-maintain no-license community version.
No separate packages for small and large enterprises.


The Bottom Line: Should You Use Odoo?
Enterprise Resource Planning is a complicated task, and thus businesses should search for the cutting-edge tools for planning their resources.

Inefficiency in resource planning leads to financial losses for the enterprises. At the same time, it restricts the business to optimize the growth.

In such a scenario, every enterprise should use a top-quality resource planning platform. Odoo has been developed, keeping small and medium businesses in mind. However, it is equally good for large-scale enterprises.

The platform has multiple modules, which users can integrate to manage their businesses. Besides multiple industry-specific modules, the platform offers more than 14000 applications to perform multiple tasks.

Overall, the platform is cost-effective. Small-scale businesses can also find a version that comes without a license.

However, the premium licensed version of Odoo is not expensive for small enterprises. To keep the platform cost-effective for your business, you can choose the apps and scale the hosting space according to your business.
Simply book a call with our experienced team of developers if you need assistance with Odoo implementation or customization.

Frequently Asked Questions (FAQs)
Odoo can be bought either directly from the odoo.com website or through channel partners. It is always recommended to opt for the services of a channel partner as they can help you with the implementation & best practices.
Odoo can be best hosted on the Odoo server called Odoo.sh, but then it can also be hosted on any cloud platform like Amazon EC2, Digital Ocean, Linode, and others.
To compare the services described above, visit our blog "A Key To Odoo Web Hosting Provider"
Yes, the Odoo Community version is free and can be used after downloading, but the enterprise version has a rich UI, more features, provision for upgrades, support from the Odoo team, and a lot more. Click To Download Odoo
The programming language used for implementing Odoo is Python, an open-source language compatible with all contemporary operating systems.
Odoo Community Version - Odoo Community edition is Odoo's free and open-source version. It has all of the capabilities of the Enterprise edition but with certain restrictions on the number of users, concurrent internet connections, and storage capacity.
Odoo Enterprise Version - Odoo Enterprise is a premium and enhanced version better suited for high-value specialist markets. The Odoo Enterprise version, provides unlimited functional support, version upgrades, and public or private cloud hosting. In addition, high speed and performance distinguish the Odoo Enterprise edition from the Community Version.
Yes, you get the code when you download Odoo.
Leave a Comment
---
Your email address will not be published.
Your comment is under review by our moderation team.