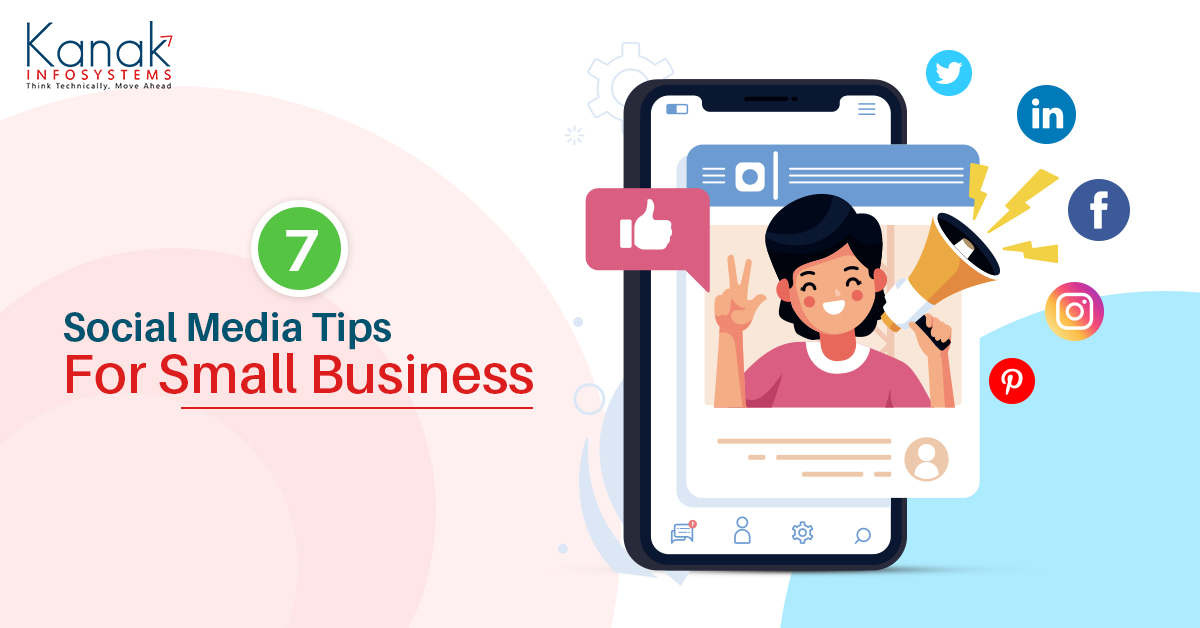 7 Social Media Tips for Small Business 
Social Media is an essential way to reach out to your potential audience and convert them into your customers. Social Media also provides you with a platform where you can directly contact your existing customers. To getting maximum ROI (Return of Investment), Go through below mentioned Social Media tips that help you to promote your business services & products in a better way.

Go through the below Infographic template to know more details:
If you are new to Social Media or have just started your business, follow the mentioned Tips in the infographic to get better results. Read more details below:-
Know About Your Competitors

This tip applies to all the industry & profiles. It doesn't matter which industry or job background you belong to. If you don't know about your competitor; you can never suppress them. Knowing about what your competitor is doing is the first thing you should know about in Social Media Marketing.

Choose Right Social Media Platform To Target

There are lots of social media platforms that are available at the current time. Each platform has a number of visitors and is used to promote content in its own way. Like if we talk about YouTube is all about Videos and Pinterest is all about images. 

There are also other platforms where we can share multi-type of content like images, videos, collections (images/slides), run ads, etc. So you must know about the popular platform & also which platform suits best for your business.

Save The Time with Social Media Tool by Scheduling the Postings

Handling different Social Media channels & share your content on them is time-consuming. To save your time and easily handle your social media accounts in one place, you should use Social Media Tools. They allow users to manage multiple accounts at one place and provide a lot of features like scheduling posts, analyze your insights & many more.

Engage Your Audience with Different Types of Content

Content sharing is not only the one thing that you need to remember to gain more visitors or users to your social media account. Increasing engagement on your content is also important. There is a lot of content that share every minute on social media, but only content with more engagements goes viral or shows above searches on social media or SERP.

So, it's important to share content that users like, share, or make comments. There is a variety of content you can post on share media like photos, videos, GIFs, PowerPoint Slides, Ask Questions, Infographics, Contest, Special Offers, Video Shorts, Download or purchase links, informative blogs, or any other content.

Focus on Building Relationship

Social Media is not a place that is all about selling your product or promoting your brand. Social Media is a great platform where you can interact with your customer, new users, and other industry specialists. It helps you to make your business a brand name that numbers of people know.

It also helps you make your brand reputation online as well as offline more powerful. So, building a relationship with the user or visitor and helping them with sharing useful & helpful information via Social Media plays an important role.

Be Humble & Helpful To Others

When you are using Social Media for your business or personal brand, try to be helpful to others. For example, help your visitors by solving their queries or replying to their comments, share valuable content, provide them a platform where you can interact with them.

All this activity plays a vital role in social media marketing. It helps you to increase traffic, and followers, build a good relationship with your audience and increase the value of your brand reputation.

Be Patient & Measure Results

After creating your profile & sharing content on Social Media, measure the results. Go through the insight to know which type of content is performing better than others. Which specific time & days most peoples are online and share your content on that particular time/day/format?

Don't forget to Be Patient, as social media or any other things take some time to show results. After analyzing the insights, make your strategy according to to get better results.
Let us know via comments if there other any tips you need to mentioned.
If you want to find more infographic templates you can visit Visme and check tons of their free infographic templates.
If you looking for Social Media Marketing for your business, Contact Us

Leave a Comment
---
Your email address will not be published.
Your comment is under review by our moderation team.