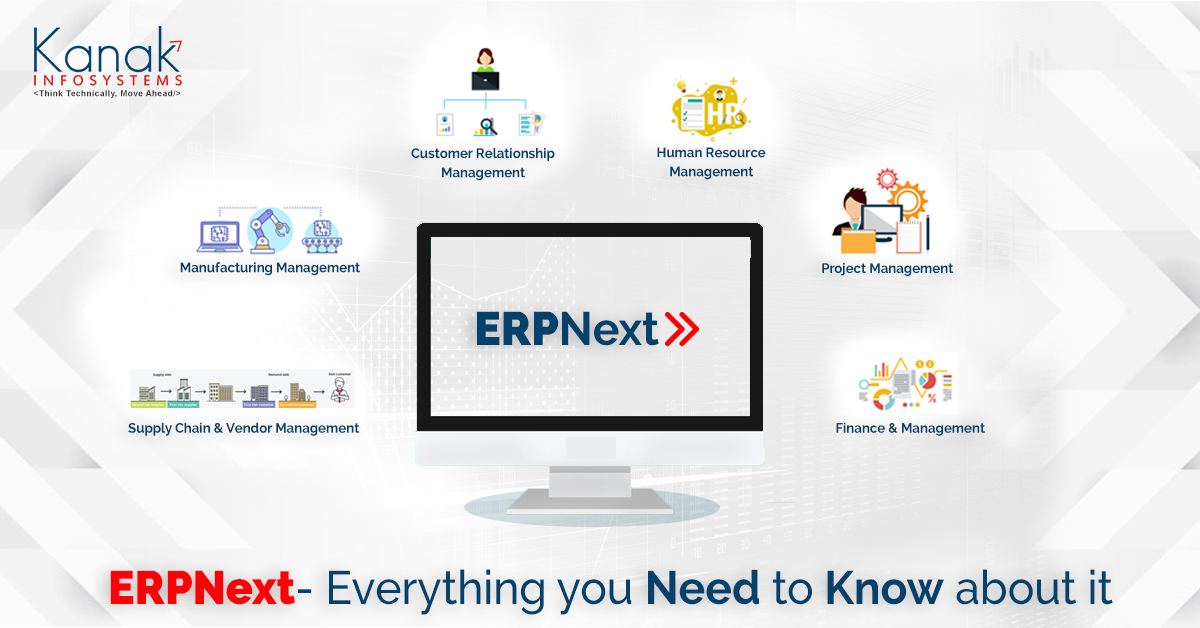 ERPNext- Everything You Need To Know About It
What is an ERP?
Every business is comprised of different tasks/processes such as production, inventory, accounting, Human resource, sales, etc. For each task/process, there are specialists on each level. Now it is very important to maintain and manage these tasks efficiently to survive in Industry. 
ERP  integrates all these tasks/departments together to enable better management, control, Increased Productivity, and reduction in duplication of work or errors, which results in cost reduction and an increase in Profit.
What is ERPNext?
ERPNext is an open-source cloud-based ERP Software. It helps you to take full control of the actions taken in your business.

While a few ERP solutions are considered to be complex in usage and expensive due to the input in the system itself, along with the hardware and expertise, a web-based ERP solution is preferred by the majority of companies. It is also less costly and comparatively easy to use and maintain.

Thus, this makes ERPNext capable of helping you in managing Accounts, Data, Inventory, Purchase, Selling, Production, Manufacturing, CRM (Customer Relationship Management), Finance, HR (Human Resources), Project Management, Task Management, and Employee Training.

These functions can be completely customized and controlled by the business owner. Moreover, easily accessible from desktop and mobile interfaces.
How It Can Revolutionize Your Daily Work by Enterprise Automation?
ERPNext is said to offer all features which an organization needs in order to run a business. The software has proved to be helpful in not just one but each department of a business organization. Majorly the system of ERPNext is designed for small to medium-sized businesses.

ERPNext is not complex or heavy, yet effective in its performance. The web version of the ERP solution does not deprive it of any specific feature or restrict its power to be effective and efficient. It smoothes the operations of any business organization as it increases efficiency in inter-department communication.

It is most preferred by businesses dealing in the distribution, manufacturing, and retail sectors. The underlying framework of ERPNext i.e. Frappe (which is a contraction for Framework + Application) helps businesses to custom the software according to their needs. This feature is enabled via the API and the technical adjustments made to create fully featured extensions of business functions.

The daily functionality of the organization is easily managed through the system. This has a directly proportional relationship with the profitability of the business since the operations become much more effective. Following are a few operations which the ERPNext handles in different departments:
Human Resource Management
ERPNext successfully records leave and attendance. It also handles expense claims, submission, payroll, transfers, appraisals, etc. Full customization enables the software to store complaints of employees in the organization. The software also supports over 30 languages which help in networking with hundreds of companies in multiple industries around the world and growing the business on an international level.
Finance
The ERPNext supports multi-currency when billing for clients. The features allow it to perform powerful accounting, which includes tax calculations, various charts of accounts and cost centers, redeeming payment vouchers, setting quotations for the new range, keeping track of sales/ purchases, making reports for all the company's sales, and various other reports for bank and payment reconciliation, calculate profit/loss accounts.
Customer Service
The software manages daily requests for consumers on the web and sends them newsletters by mail. The best feature is that it is capable of managing and communicating with both existing and potential customers. Resolving consumer problems keeps them happy.
Operations and Management
The calendar, company social networking, and messaging service in simply managed by ERPNext's built-in tools. Other than that, to-do lists, company projects, client files, project data, time log entries, embedded reporting system, and integration system is also managed by the system.

The daily inventory management, which is a tough task for the staff, is also operated by this cloud-based ERP solution. The tasks handled are such as inventory warehousing, inventory valuations, stock management, and sorting by batch or serial numbers. The built-in Production Planning Tool helps to forecast production and procure materials for the manufacturing process.
Website Building
The system of ERPNext Python and MySQL software as its database backend. The features are so well built-in, with all the necessary tools required for the business. This allows users or business owners to build a customized website for their business.

The functionality and style created by ERPNext attract consumers to the site. The add-ons, such as shopping carts and product catalogs, can also be monitored on ERPNext.

The features do not end here, the list goes on. To study in detail the daily functions of ERPNext, which helps to enhance business productivity, contact us. Kanak InfoSystem will offer ERPNext Consulting and ERPNext Implementation service and other services like Integration Services for Mobile, Web Shop, E-Commerce interface, and CRM). All in all, a rich, robust, and cost-effective ERP solutions blend.
ERPNext Integration With Third-Party Applications

Having an e-commerce business makes it even more important to integrate ERPNext software in your organization. An ERP software that can connect with multiple external services to smoothen your business operations.

When a customer visits your website, adds an item to the cart, and makes the payment for it, several external systems are used.

You can connect to different services using ERPNext and have better control over your business. Systems like payment integrations, for example, PayPal, RazorPay, etc., Emails for Yahoo, Gmail and others, SMS center, Social logins, Dropbox, Shopify, Google applications, and other development tools.
ERPNext Implementation requires thorough professional support & guidance. That's where Kanak Infosystems LLP. Comes into the picture. Being in the industry for a long we understand the customer needs & offer them the chosen ERP Solutions.
Ready to revolutionize your business processes? Start your Odoo implementation journey now.
Leave a Comment
---
Your email address will not be published.
Your comment is under review by our moderation team.