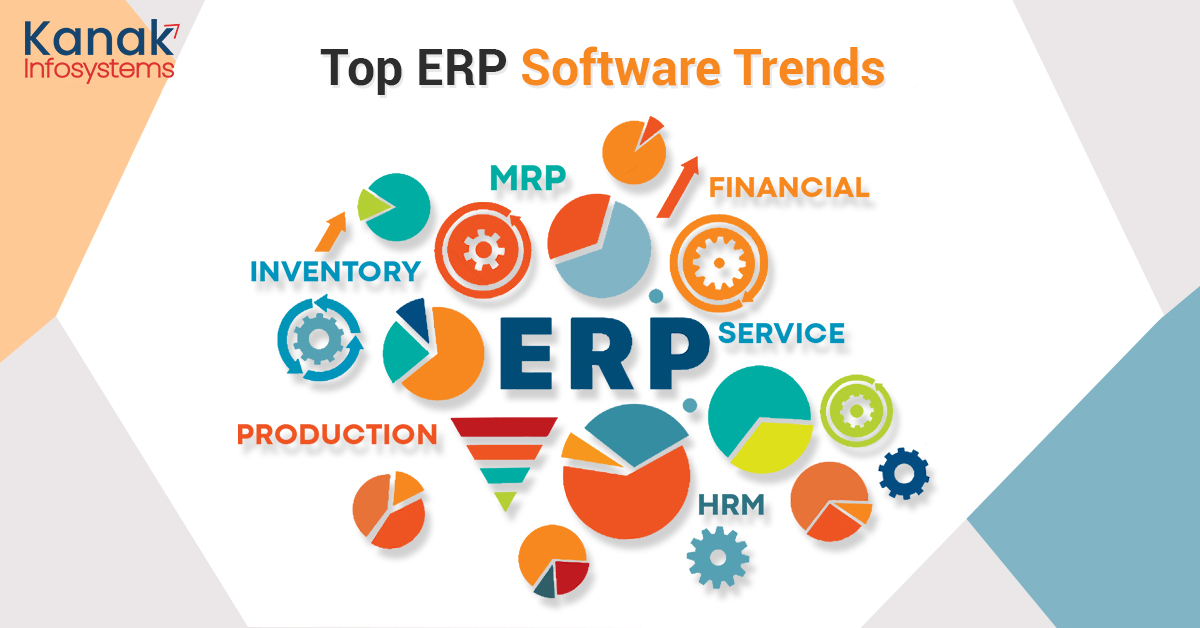 Top ERP Software Trends (Updated 2023)
Enterprise Resource Planning (ERP) systems enable businesses to reach their full potential. They assist with all aspects of the company, from finance and sales to marketing and customer service.
In addition, they tear down the information silos that enable businesses to work together as a unit. On the other hand, Legacy ERP systems rely on spreadsheets, store business-critical data in silos, and have various security issues.
However, current market dynamics indicate that ERP Systems are undergoing rapid change, with new updates and integrations expected in 2022.
70% of the big organizations are according to ERP for business processes, and this ratio will upsurge in 2022. The industry share of ERP is estimated to develop by $47 billion by 2022 end.
Therefore, it is especially important to adapt the newest technologies of the ERP to keep up competitiveness in the market. Listed here are the newest trends in ERP in 2022.
ERP Patterns You Must Be Aware of...
The importance of ERP systems has never been greater than it is now. And, given the massive adoption rate, the trend is only expected to accelerate in 2022 and beyond. The following are some of the most important items to keep an eye out for:
Cloud-enabled ERP systems
IoT-enabled ERP systems
Personalized ERP solutions
Digital marketing solutions for ERP system
↳ Cloud-Enabled ERP Systems
Cloud-enabled ERP systems aren't new in the market. They've been there for a long time. But businesses, mainly small-scale ones, are implementing it quickly.
Earlier, companies implemented on-premises ERP solutions that have been expensive and required a very skilled IT staff to operate.
However, with the advent of cloud-enabled ERP systems, the deployment costs have decreased, and everyone can now use the ERP framework with ease.
Additionally, you can enable new ERP updates at any time. As a result, companies are increasingly opting for a hybrid model, which combines on-cloud and on-premises ERP systems to compensate for each other's shortcomings.
↳ Artificial Intelligence Integration
Artificial Intelligence Integration is a popular trend across many businesses, and it's been a popular issue in the ERP industry for years.
Companies have an increasing quantity of complex and unstructured data to collect. To use it effectively, they must find better methods to analyze it. It is exactly what the integration of artificial intelligence offers.
With the explosion of data, having resources that collect, evaluate, and provide actionable insights has become critical.
Unfortunately, unstructured data abounds in the modern world, and businesses need a tool or methodology to retrieve valuable information. Here's where AI-enabled ERP systems come in handy.
They auto-populate information, keep track of changing market patterns, monitor competitors, and reduce data.
Intelligent ERP systems integrate historical data with current data to assist senior management in developing more effective strategies.
Integrating ERP systems with emerging technology increases company efficiency, maximizes profits, reduces expenses, and streamlines processes.
According to reports, new technologies such as Robotic Process Automation (RPA) can develop at an exponential rate.
↳ Mobile Accessibility
In the present world, ERP systems will need to have basic functionality as well as mobile support, and there are several benefits aside from accessing data on the go.
The capacity to undertake business operations anywhere and anytime is an evident benefit. So, mobile phones like smartphones and tablets provide both front-end and back-end activities and help to improve overall productivity.
In addition, it makes the process of capturing data far more convenient and accurate. Finally, it enhances communication, thereby reducing the danger of delay in production. These benefits will help increase efficiency, make decisions quicker, and enhance the workflow.
Many years back, salespeople could add or update customer-centric information only after reaching their offices.
Nevertheless, when ERP systems became mobile, they may do this from the customer's place itself. There is no need to write down notes and carry bulky diaries.
Today, salespeople can perhaps work from outside their offices and during non-office hours because of mobile ERPs. They may access mobile ERP applications from cell phones, tabs, or some other electronic device.
Mobile ERPs also help employees to communicate using their team leaders and managers easily. They could require essential resources anytime and from any place. Another benefit of mobile ERP is in the inventory department.
Whenever the number of raw materials goes below a particular threshold, distribute the information to the concerned authorities in real-time and use appropriate measures to lessen the negative impact.
Research by the Aberdeen group tells us that firms that implemented mobile ERP systems saw a 40% upsurge in their operational efficiency.
↳ IoT-Enabled ERP Systems
The Internet of Things (IoT), also known as direct machine integration, is the network of computers and other devices that connects them.
Better asset management, increased productivity, improved forecasting, real-time market insights, improved connectivity, improved business intelligence, and more are all benefits of the IoT.
In addition, autonomous vehicles, real-time analytics, AI, e-commerce shopping, and other features are also supported.
However, this is not an exhaustive list, and an increasing IoT presence in the business world has been necessitated by customer demand, among other factors. As a result, in 2022, IoT integration will be ubiquitous in the ERP software industry, and it will become a valuable commodity for ERP software buyers.
↳ Robust Data Analytics Functionality
ERP systems are excellent in collecting unstructured data; however, they aren't outstanding when analyzing and extracting business insights from market trends.
As powerful analytics becomes an important section of ERP systems, companies will gain the capacity to draw actionable insights.
The data visualization capabilities and usage of business-centric information in real-time allow organizations to create decisions linked to finance, manufacturing, and marketing without much effort.
It will also enable them to gain valuable insights from customer reviews and make appropriate product modifications. In addition, managers would be able to grasp market swings and formulate an appropriate plan using data analytics.
According to The Hackett Group, companies that use automated reporting need 49 percent fewer reports and save 20 percent -40 percent of their closing time.
↳ Personalized ERP Solution
Organization's structures tend to be more complexed nowadays, so they want something that may match their requirements. This something must be flexible enough to create changes based on the latest trends and updating of the organization.
A tailored solution can aid in increasing the productivity and efficiency of the business and the consumer experience. The same as customers love personalized services, and employees also love the device that may focus on their fingertips.
↳ Linking with Social Media Platform
From students to the retired person, all exist on social media. In reality, many employees or any entrepreneur also access social networking sites in their free time.
Linking with social networking platforms simplifies the job of the marketing department, which will be very hectic by sharing their products and services directly through ERP and generate precise reports to produce strategic decisions.
Not just that, there are lots of latest trends which are yet in the future on ERP modules so that companies can update themselves following those trends and make themselves one step ahead of the competitors.
Therefore, before choosing and implementing the ERP system, an organization needs to do lots of research and select a system that best suits the organization.
↳ Hyperautomation
With the onset of Pandemic, there was a surge in automation in order to make everything as contactless, safe and efficient as possible. Hyperautomation is where the businesses automate processes using AI, Machine Learning, and Robotic Process Automation. By using these three, companies can automate processes which weren't "automatable" in past.
By increasing the use of more advanced automations, companies can now handle the problem of talent scarcity- by freeing up available staff & resources and allocating them to more value-added activities. 
↳ Composable ERP
In a composable ERP, various pieces of the software are assembled in the way that meets the need in order to address new opportunities, challenges or threats.
Let us take a scenario- If there's a certain rise in the demand of Product 2 instead of Product 1 from a specific region, the composable ERP would make it possible to rapidly source & buy more of the relevant & necessary materials, redirect workloads, move workforces, build more of the demanded product and deliver where it is needed. This provides the company with more agility.
List of a few recommended ERPs: -
1. ORACLE NETSUITE - It's a cloud-based, unique, and powerful ERP that enables companies to streamline business processes. It brings business intelligence available globally. It also helps to grow revenue, stay organized. I
t is much more authentic and empowers modern, fast-growing companies to unlock their growth potential to scale up a business.
2. ODOO - Odoo is an extensively open-source business management ERP software. It can encircle the entire business process -- sales, inventory, manufacturing, e-commerce, projects, etc. It exists 30 main updated modules.
Odoo is a leading ERP vendor reliable, adaptable and convenient to meet unique demand. Inventory and sales can easily be retained with an integrated e-commerce platform. Is highly customizable, offers both free and paid versions.
3. SAP - SAP ERP module is a well-organized presentation of 3690 captions into the ERP configuration with clear modules. It facilitates Enterprises to organize business processes through a unified system.
A user-friendly module delivers an alternative for business process mutation. Provides the user with a 360-degree supplier courtship accomplishment. Aspects that improve the capacity hike proceeds of SAP are automation, data visualization, human resource management, budget development.
4. Microsoft Dynamics NAV - A highly scalable and compatible app from Microsoft helps small and medium-sized businesses to automate and relate their sales, purchasing operations, stock management, and accounting. It deploys a premises cloud solution that reduces your upfront investment.
5.   ERPNext - ERPNext is a free and open-source Enterprise Resource Planning Software. Built on the Maria DB database system, it uses Frappe- a python based server-side framework.  It provides solutions for almost all of the business processes- including HR, CRM, Accounting, Sales, Manufacturing, etc. 
It is a robust ERP software, which suits almost all of the industry and company sizes. It is one great software for the Indian Market.
Wrapping Up


The Enterprise Resource Planning software has made it easy to run a business. It has broken down information silos so that all departments can work simultaneously. Authorized employees can access business-critical data, add and upgrade data at any time and from any location.
The CRM (Customer Relationship Management) module of the ERP system allows companies to discuss with customers in real-time, solve their queries on time, and understand their needs and aspirations.
In 2022 and beyond, ERP adoption is going to rise. Companies favor on-Cloud solutions that can be agile, mobile, powerful data-analytics features, and integrated with other hi-techs.
Leave a Comment
---
Your email address will not be published.
Your comment is under review by our moderation team.