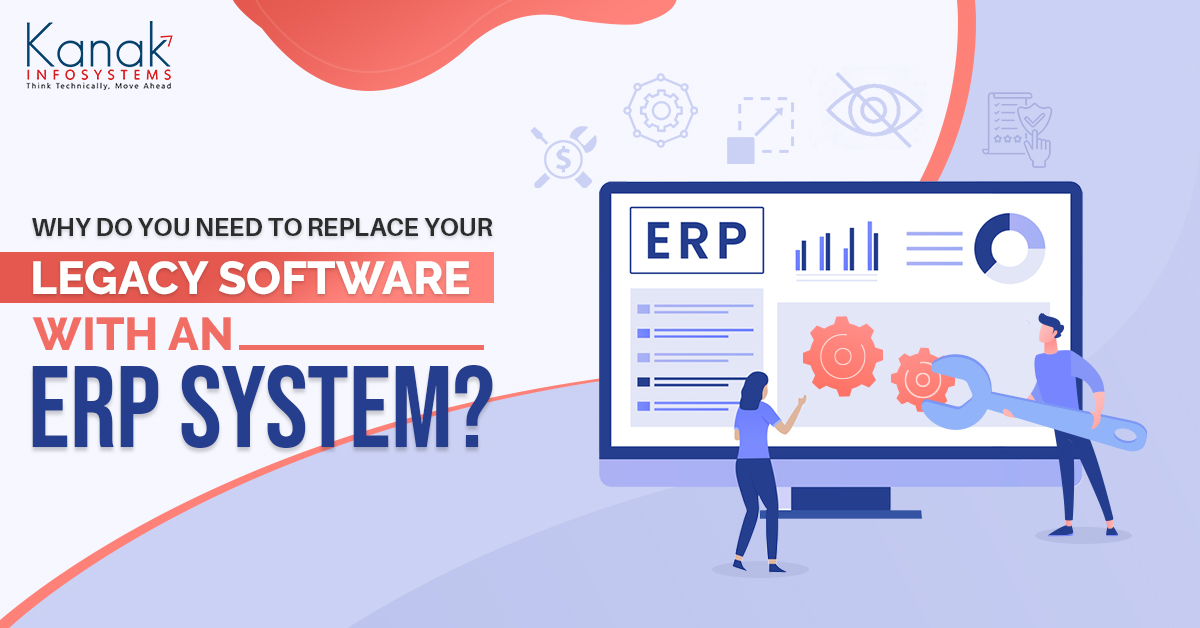 Why Do You Need to Replace Your Legacy Software with an ERP System?
With the advancement of technology, the business landscape is coming up with more demands every day to deal with the massive market demands. Organizations of every vertical and size need to keep pace with these new requirements and evolutions. It is one of the key reasons0 companies should move from legacy software to advanced ERP solutions like Odoo ERP.
Business-critical information might get handled and stored in outdated systems but are somehow working till today. With legacy software systems, businesses can face issues like:
Risk of maintaining old and obsolete legacy systems.
Slow and lagging procedures and manually managed tasks lead to decreased productivity.
Legacy software is not compatible with modern technologies like Artificial Intelligence (AI) and the Internet of Things (IoT).
On the other hand, ERP solutions are created to help organizations manage massive data and other business activities more effectively and efficiently. ERP Systems also store data in a centralized location, giving data access to the employees of departments.
With this, businesses can now make real-time decisions and offer prompt customer service. Implementing ERP software can also automate all business processes, ultimately causing increased productivity in less time.
Apart from this, there is a number of other factors to replace your legacy software with the right ERP solution.
Restricted Growth and Low Scalability
With the expansion of a business or company, more scalable software is required. However, your outdated software might not be that scalable, and this is again where an ERP system comes into play.
ERP software solution is scalable and can adapt to your changing business needs with your business growth and expansion.
A legacy framework is made up of many on-premises systems that work together. Still, most of them do not interact with one another, necessitating integrating features to make them work together.
If you can accept that you have faced this challenge, in that case, a solid ERP system comes with pre-built integrations such as MES (Manufacturing execution system), quality control, CRM, sales, and accounting.
Maintaining your old legacy ERP system is becoming prohibitively costly, specifically if the manufacturer no longer supports the software. The hardware is old and unstable, or you are constantly making changes.
Consider the overall cost of ownership of the existing legacy ERP system; installing a new cloud-based ERP system is always less expensive in the long run.
Lack of Ability To Interact with Other Systems.
The failure of your legacy applications to communicate with other systems is one of the most compelling reasons to replace them. As a result, organizations must interact with several methods to retrieve data and handle processes.
On the other hand, modern ERP Solutions are stand-alone software solutions incorporating several systems to support all business activities and operations.
For example, accounting, manufacturing, sales and order management, quality control, customer relationships, and other processes are all managed by separate modules in ERP systems. As a result, businesses can encounter fewer errors with an automated framework and faster delivery.
Functional Discrepancies are a common issue that most businesses face as their company expands and their old enterprise systems become obsolete.
Your business model changes and new processes emerge at a quicker rate than your outdated applications. The current software eventually slows down, becomes painful to use, and can disrupt ongoing operations by crashing frequently.
Limited Information Access
Older systems tend to be full of information that you cannot access without a significant investment of time and energy. For example, in several companies with a legacy ERP system, people may still use spreadsheets to have their jobs done.
If you cannot accomplish a particular function in your company within your ERP system, you will not get the advantages you paid for, and the system is not supporting your business needs.
Legacy ERP software solutions are filled with features that can handle critical business challenges and manage vast volumes of data efficiently and effectively.
To address the business enterprise challenges and tedious business tasks and to allow the business systems to function correctly, you need to take care of several things and require different customizations in your system.
Overseeing these processes manually or using your legacy software can be expensive or time-consuming. Businesses that rely on old software must spend a significant amount of time and money managing daily operations and customizations.
Unlike outdated legacy software, ERP systems have features that help businesses to own better control over all the processes. These solutions come with thousands of different integrated applications and modules which help automate and manage all business operations efficiently.
And the best part is that these modules are fully customizable to meet specific business requirements. Also, with ERP, businesses need to invest in a single software, which reduces operational cost.
Lack of Visibility into Critical Business Data
Since different data is processed in different places, companies using a legacy information system cannot quickly access business data, and it's challenging to make decisions.
On the other hand, the next-generation ERP system stores all data in a single database, allowing quick access to all data while still providing consistent and complete visibility.
With the continuously evolving business landscape and the reasons mentioned above, it's time to upgrade to advanced ERP software to replace your out-of-date legacy software to meet the enormous market demands, manage vast volumes of sales, data, automate processes, exceed cross-departmental collaboration, increase productivity, and streamline the whole workflow with a specific database.
ERP Migration to the Cloud
Companies with legacy ERP systems are migrating to the cloud to take advantage of the flexibility and responsiveness that results from Cloud ERP's centralized data storage, internet-based use of resources and services, sharing of data-processing tasks, etc.
Well, partnering with an experienced ERP Solution provider company will help you avoid all the difficulties.
Kanak Infosystems LLP. is the leading ERP Solution provider that offers the best ERP solutions to boost your company's operational efficiency and drive business growth. We help you in your endeavor to replace your legacy systems.
Our free prototyping and initial consulting services can help you understand our principles and processes better. With our modular replacement approach and firm adherence to agile principles, you will enjoy the benefits of your new postmodern ERP framework in no time.
Leave a Comment
---
Your email address will not be published.
Your comment is under review by our moderation team.