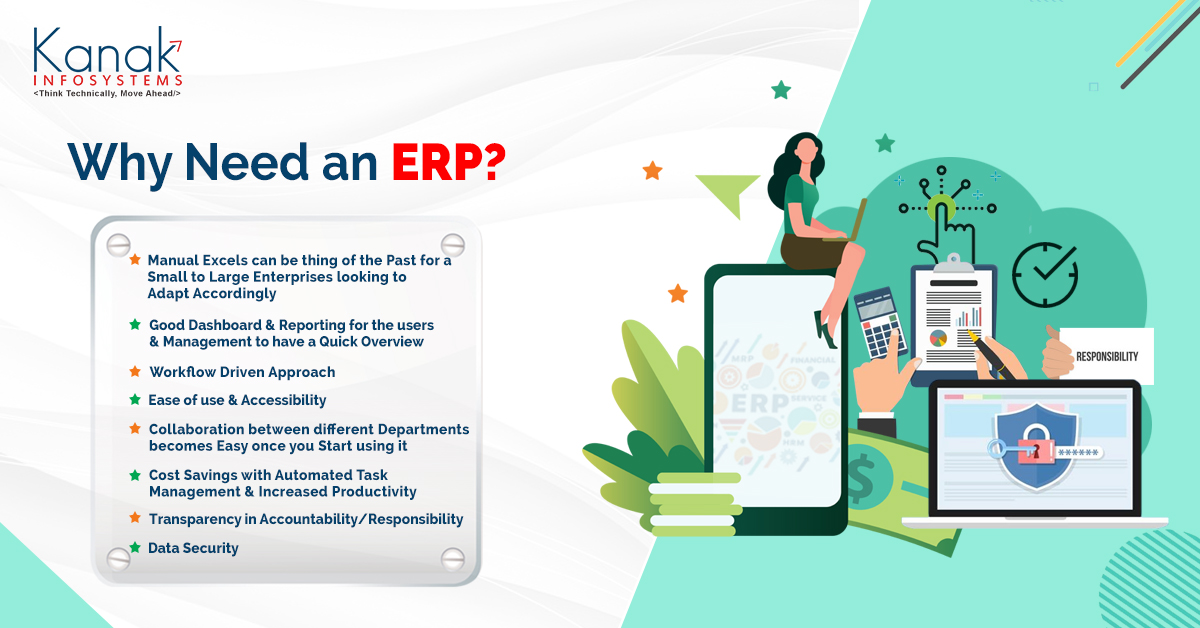 Why Need an ERP?
Enterprise resource planning(ERP) is the process of utilizing company assets(tangible or intangible) to increase the productivity & growth of Business which is basically done using a single piece of software integrating different departments called an ERP.
Enterprise Resource Planning is the widely accepted process by all sized companies.
Companies invest in ERP for many purposes and a wide range of ERP software are available in the market. because of this versatility, many of us found puzzled with a variety of questions such as "how ERP help companies to expand their Business?", how it can help the end user, what are the pros & cons of ERP, how to find that u really need an ERP or not? & lots more questions create an illusion for us. In this blog we are scattering some light over ERP & its aspects, to find all solutions of the above-mentioned questions and to better understand ERP. Let's have a look of this in below:
How it can help the end User :
1- Manual excels can be thing of the past for a small to large enterprises looking to adapt accordingly
2- Good Dashboard & reporting for the users & management to have a quick overview 
3- Workflow driven approach
4- Collaboration between different departments becomes easy once you start using it
5- Cost Savings with automated task management & Increased productivity
6- Transparency in accountability/responsibility
7- Data security
8- Ease of use & accessibility
How to Decide, if you really need an ERP?
1- All work now done is using the excel sheets...which is too bulky and difficult to manage considering being used by different staff members
2- There is no way different departments can coordinate with each other for the daily work
3- Security of data is a major concern
4- There is no proper tracking system
5- Not able to focus on sales & customer service
6- Lack of mobile access as the trend demands..these days
What are the Next Steps :
1- Identify your ERP Needs
2- Write down/Draw the flowchart of your 
3- Hire a Business Analyst
4- Make a list of probables, Identify the vendors & ask them for the quote based on your key requirements.
Hope you will find this a helpful blog for you and it will solve all of your confusions related to ERP or Why say yes to ERP?
Stay in Touch with Kanak Infosystems LLP, to get the ERPNext Services & news related to it.
Leave a Comment
---
Your email address will not be published.
Your comment is under review by our moderation team.