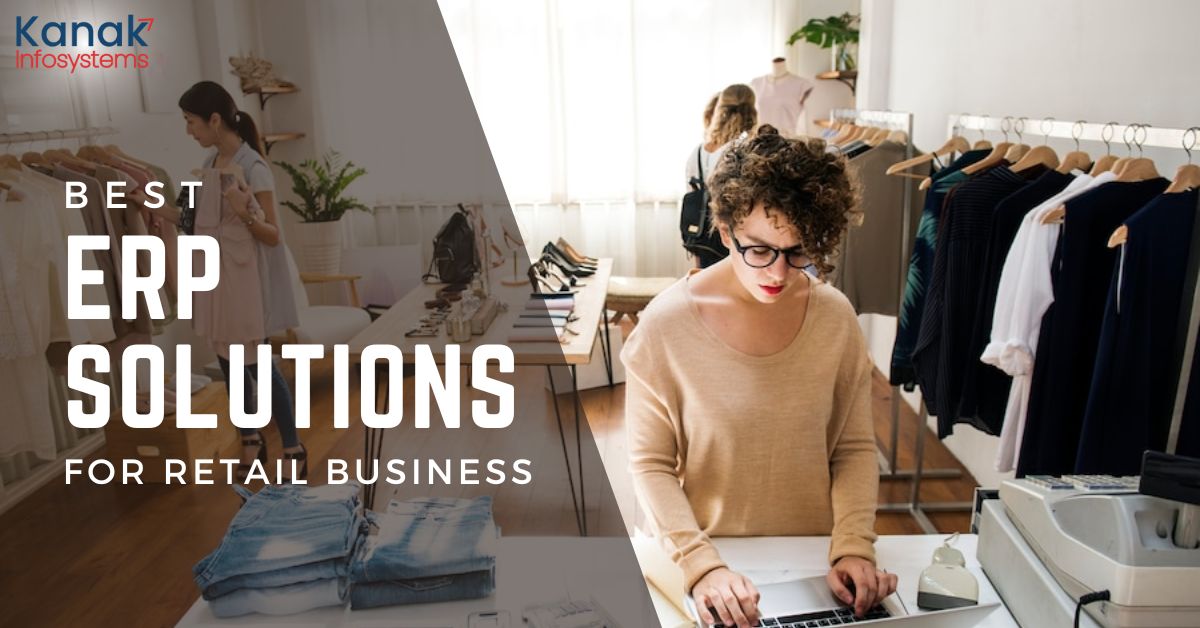 Retail ERP: The Ultimate Top 10 ERP Solutions For Retail Businesses
Manufacturing companies have a long history of using ERP Software. However, the retail industry also utilizes this technique extensively. Retail ERP software offers advantages that assist firms in meeting their total company needs. But not all ERP programs are made equal. Retailers must choose the best retail ERP software to maintain efficient operations and respond quickly to client requests. 
Retail ERP software gives business owners complete control over retail operations, including order and return management, distribution, supply chain tracking, on-demand scalability, and point of sale (POS) operations.
The switch to cloud-based management solutions is one of the most significant changes in ERP systems in recent years. Small and large enterprises are focusing on utilizing the cloud environment best and making it the innovation platform.
Also Read: How To Find The Best Cloud Server For Small Businesses?
ERP systems have developed from mere instruments for organization and management to become the intellectual hub of every corporate operation, where innovations are generated through analytics and automation. 
Data quality has become more critical due to cloud solutions, encouraging businesses to develop their procedures constantly.
Software providers must adapt to keep up with changing business practices in light of these changes. 
With ERP systems, clients pay closer attention to the value management systems generated for the entire ecosystem and clients. As clients search for the best ERP solutions, vendors must also be carefully chosen, which brings attention to vendor strategy.
This article by Kanak Infosystems LLP. offers a list of the top ten retail ERP products together with information on the distinctive features of each product to make it easier for you to select the one that best suits your company's needs.


Benefits Of ERP Solutions for Retailers
Retail ERP systems offer many advantages that influence concrete and abstract KPIs for businesses.
1. Inventory Management

Retail ERP software offers real-time stock management and Inventory counts, enabling you to automate routine processes like acquiring low-stock items and giving real-time stock counts to your clients via your e-commerce portal.
2. Customer Satisfaction

Customer satisfaction eventually rises when businesses can seamlessly transfer data between departments, as this enables them to respond to customers' questions and concerns more quickly and improves daily operations. Stock-outs can be prevented, and retail customers can enjoy their shopping experience at every stop.

3. Omnichannel Sales

Using retail ERP software, you can combine sales information and orders from several sources, including retail point of sale systems, your online shops, and marketplaces like eBay and Amazon.

4. Offers Real-Time Information and Centralization

Whether through social media platforms for customer care or automated delivered package notifications, the contemporary retail environment is designed for businesses to respond directly and rapidly to client requests.
ERP interacts with a company in a dynamic and integrated way, which aids executives in developing a strategic understanding of their retail industry. Faster information transfers are made possible by centralized data and functionality.
Without such a system, a store may have perplexing user interfaces, disjointed pricing systems across channels, and inconsistent KPI management.
Ready to unlock the potential of ERP in retail? Reach out to us for a personalized consultation.
Top 10 ERP Solution for Retail Businesses
We were able to select the top solutions in this category after completing a thorough search. For more information and a detailed assessment of each ERP program on our list, continue reading below.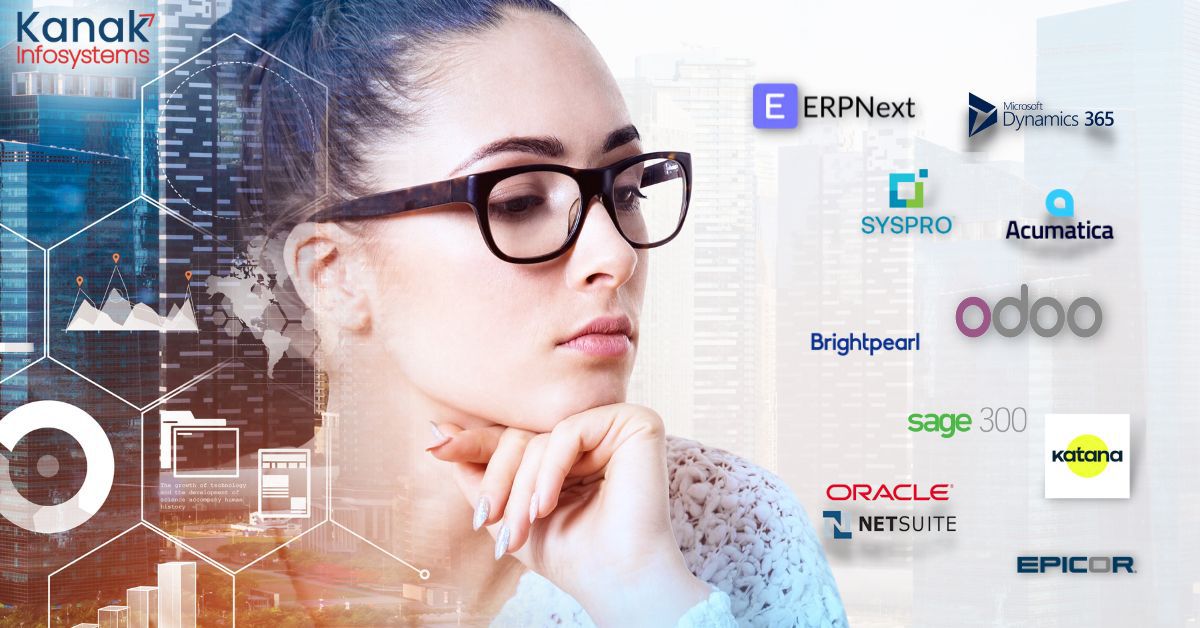 1. Odoo
Businesses can use various open-source company management applications from Odoo , including those for CRM, e-commerce, inventory control, point-of-sale, accounting, project management, and human resources. 
• The business provides 30 applications that can be added to the platform. 
• These applications cover many functions, including timesheets, websites, purchases, and everything. 
• Odoo is an affordable option for expanding businesses looking for a solution that can scale with them, with several price points for varied purposes.
• It is a simple and light software that gives a set of apps that are completely integrated and handles everything from the front end to the back end.
• Both an on-premises and a ready-to-use SaaS environment are supported by Odoo.
• The programme is adaptable and can be used by both small and large businesses.
2. Oracle Netsuite

The growth-supporting Oracle Netsuite software is completely customizable. As your company grows, it is simple to add features and resources. As a result, they're excellent for mid-sized businesses that hope to expand soon.
• The order management, financial planning, financial management, and production management features of this solution's ERP are only a few of the best ones. 
• Even supply chain management demands, warehousing requirements, and fulfillment requirements can be met by the program. 
• Real-time management of your whole inventory, as well as all of your logistics, will be possible. 
• There is built-in business intelligence in Oracle Netsuite. 
• Consequently, all of your data will be accessible to you for visual analysis. You can take appropriate business action based on these reports.
Also Read: What is NetSuite? Full NetSuite Review 2021 - Details, Pricing, Features
3. Acumatica

Customers can choose from various integrated apps for financials, manufacturing, project accounting, retail, distribution, construction, and CRM through the Acumatica ERP solution. 
• These applications are all built on and run by a single cloud-based platform. 
• Small and medium-sized enterprises can use the business management software solutions from Acumatica, which are cloud-based and browser-based. 
• The company's retail features include inventory management, business intelligence, commerce connectors, sales order management, dashboards, reporting, warehouse management, a customer self-service portal, and more.
4. Syspro 

Syspro offers ERP solutions for small, midsized, and large businesses. Their ERP system is, however, tailored for production and distribution. This is the one for you if those describe your sector of industry. 
• Syspro has more than 40 years of experience in this field and is familiar with the requirements for success in these fields.
• To make better business decisions, you'll receive actionable insights and reporting.
• Syspro will allow you to fully customize your workspace based on your roles and requirements and customize your software. This way, you and your team won't be overwhelmed or bombarded by irrelevant information.
• Syspro offers the adaptability and strength to scale your business as it expands. Syspro ERP is your best choice if your business is in manufacturing or distribution.
• Other business models will unfortunately not be supported by this software. For instance, you'll need to go elsewhere if you work in retail, professional services, or e-commerce.
5. Epicor

The manufacturing, distribution, retail, and services industries can rely on the business software offered by Epicor Software Corporation. 
• The company provides solutions that can be used either on-premises or in the cloud.
• Epicor provides retail management functions for retailers, including payment processing, e-commerce, inventory forecasting, customer service, loyalty programs, customer data management, and more. 
• Eagle and Propello are two of Epicor's retail-related solutions. 
• Propello is designed for independent stores, whereas Eagle is a fully integrated retail management system for neighborhood retailers.
6. Sage 300

Your finances are made simpler using Sage 300. For companies that handle different currencies, it's a fantastic option. If you have franchises or subsidiary enterprises, you can even use them for several businesses. 
• Sage 300 is made to help you improve your company's overall visibility while increasing ROI, from managing finances to operations and inventory. 
• Sage 300 for ERP allows you access to a wide range of Sage's products. 
• Sage provides a few services: Sage CRM, Sage Inventory Advisor, and Sage Payment Solutions.
• You'll get real-time data in addition to the flexibility to follow and complete orders from any location. 
• The capacity to manage vendor relationships is yet another outstanding feature of Sage 300. 
• Your ordering procedure, invoicing, receipts, and returns can all be automated. 
• When you order inventory or other materials, this will help you save a tonne of time and money. 
• Sage Business Cloud X3 has more features than Sage 300, so you can upgrade if you want more. 
• The best ERP solution available from Sage is this one. 
• It is more focused on larger businesses' sales and supply chain management.
• Sage Business Cloud X3 is fantastic, but it's probably unnecessary for medium-sized businesses. 
• But if your business expands, it's nice to know you can upgrade later.
7. ERPNext

The ERPNext system is an open-source integrated Enterprise Resource Planning (ERP) software built on the MariaDB database system and Framework, a server-side Python framework.
• It consists of modules for accounting, customer relationship management (CRM), sales, purchasing, websites, e-commerce, point-of-sale systems, manufacturing, warehouses, project management, inventories, and services.
• It has domain-specific modules for industries including non-profits, healthcare, and agriculture.
• With its Model-View-Controller architecture and metadata modeling tools, ERPNext allows customers to customize the software for particular uses without knowing the programming.
• A View can be created directly in the browser for every object in the ERP, which uses DocTypes instead of HTML DocTypes.
• On their website, ERPNext is available both as a user-hosted solution and as a Software as a Service (SaaS).
Also Read: ERPNext- Everything You Need To Know About It
8. Katana 

With Katana's ERP software, you can manage all aspects of your manufacturing process, from raw materials and inventories to performance analysis and automating manufacturing costs. 
• This will help you enhance productivity and profits. 
• With Katana, you can manage real-time information, plan production, schedule, and resources, as well as manage omnichannel orders, all from a simple platform with minimal learning curves.
• With Katana, even task management is simple. 
• The app allows you to submit and assign tasks, schedule operators, assign and view real-time material tracking, and add notes to orders rapidly from a single location.
• Cloud-based software is simple to set up and use, and if you need help, Katana's customer support team is available to help. 
• Additionally, it is simple to link with the most well-known business platforms, such as Hubspot, QuickBooks, eBay, Shopify, Amazon, and Zero. 
• Utilize the Developer Portal and the open API of Katana if you require custom workflows.
9. Brightpearl

For retail and wholesale organizations, Brightpearl is a distinctive Retail Operations Platform. 
• Its solutions cover a broad spectrum of skills, from retail accounting to purchasing and supplier management to sales order management and inventory management. 
• Brightpearl's SaaS architecture is built to scale with a company as it expands. 
• Each merchant will receive the appropriate infrastructure and assistance for their business thanks to the many Service Tiers it offers users. 
• Brightpearl offers several services, including implementation, training, support, and a dedicated client success team.
10. Microsoft Dynamics 365

Integrating familiar Office 365 programs with extensive enterprise resource planning capability in a single, cloud-based service.
• Dynamics 365 goes above and beyond conventional ERP systems. 
• The Dynamics 365 platform allows retailers to predict customer intent, and create omnichannel commerce experiences.
• Roll out loyalty programs, unleash a 360-degree picture of their customers, and make use of real-time inventory visibility.
• Create a single source of truth for your company, and so much more. 
• Both small and large enterprises can use Dynamics 365 since it can be customized to meet their needs.
Transform your retail business with the best ERP solution. Contact us today!

Key Features Of ERP ( Enterprise Resource Planning)
Retail ERP systems provide various business functions, including CRM, accounting, and inventory control. It's critical to comprehend the fundamental components of this system before comparing several retail ERP solutions.
1. CRM
The optimal CRM criteria ensure that you put clients first and make the best judgments, whether handling client feedback, examining specific demand periods, or producing in-depth reports. 
Furthermore, you'll understand how to use more effective social media, email, website, and other marketing and campaign strategies to attract new customers.
2. Point of Sale (POS)
POS streamlines how you collect customer payments, whether you use mobile applications, self-service kiosks, or workstations in salons, restaurants, or other locations. 
This is true whether you need standalone software or add-on features and hardware. Additionally, this system can manage staff, reports, customers, and inventories.
3. Purchasing/Supplier Management
Keep track of quotes, source-to-pay cycles, pricing lists, purchase approvals, etc., in a single, centralized system. To ensure suppliers are shipping goods and stock to the appropriate places, you can supervise and evaluate them.
You can follow the paths trucks take if they transport flour, eggs, milk, and other essential components from Florida to your Tennessee cookie business. Additionally, you can rate providers to separate the good from the bad and the ugly and determine how successfully they deliver things.
4. Reporting
It's challenging to keep up with analytics and reporting if you don't have the necessary tools. Whether you invest in an independent enterprise reporting software or specific function needs, you may bid farewell to second guesses, filing cabinets, and incorrect data.
5. Sales Order Management
From creation to delivery, track every step of the sales order process. One purchase includes ten shortbread cookies, five frosted strawberry biscuits, and twelve chocolate chip cookies. 
This system can review that order to determine quantities, overall costs, payment options, and shipping times. You can submit the order to the process manufacturing sector to be cooked or processed after you have collected the payment.
After that, you can decide how to distribute it along your supply chain and keep an eye on it until it arrives.
Conclusion
Business management software includes enterprise resource planning software. It is a collection of integrated applications. The ideal ERP to deploy for a firm depends on several variables, like the organization's size, associated costs, etc.
ERP systems are heavily influenced by corporate objectives, such as growth, efficiency, and time-to-market targets. During the selection process, it's also essential to consider the functional software requirements, underlying technology, future scalability, budget, and resources.
The best ERM products have been discussed in this post. We strongly suggest Sage 300, Microsoft Dynamics 365, Odoo, Oracle ERP Cloud, NetSuite, and Epicor ERP as the top ERP solutions.
Ready to supercharge your retail operations with ERP? Let's talk.
FAQ's
Although there aren't any set timelines for ERP implementations, they often take 4 to 6 months, sometimes even longer. The size of the business is just one of several variables that will always play a role.

Both large and small retail businesses use ERP software. ERP system users in the retail and e-commerce sectors include companies like Zalando, Sephora, Gap Inc, Prada, Burberry, and others.
The most well-known ERP programs for retail are Microsoft Dynamics, Netsuite, and Odoo, some of which you can see in the list of our ERP suggestions for small retail firms above.

Leave a Comment
---
Your email address will not be published.
Your comment is under review by our moderation team.