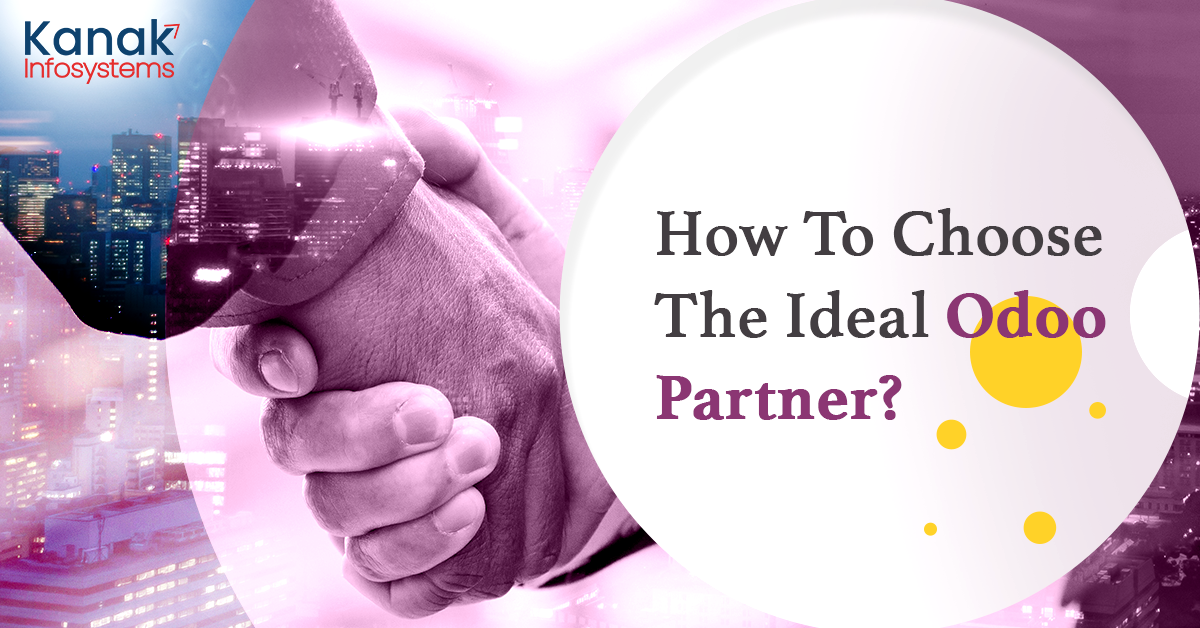 How To Choose Best Odoo Partner For Your Business: A Comprehensive Guide
Using technology to gain a competitive advantage is commonplace in today's global marketplace. But selecting the best software solution for your company presents the actual challenge.
For more extensive software like ERP, choosing the right partner is crucial to preventing future errors. We can provide you with an unbiased opinion on how to go about selecting the best Odoo Partner.
Outsourcing software is undeniably economical and speeds up the time to market. When picking the best Odoo partner, business owners should not focus solely on these benefits. Organizations often choose an Odoo partner with a relatively typical set of services and little understanding of the customer's company and product goals.
Nobody wants to collaborate with a business that they don't feel confident in or that has the necessary knowledge or enthusiasm. One of a business's most critical components is even integrity.
Benefits Of Hiring Odoo Partners For Technical Services Outsourcing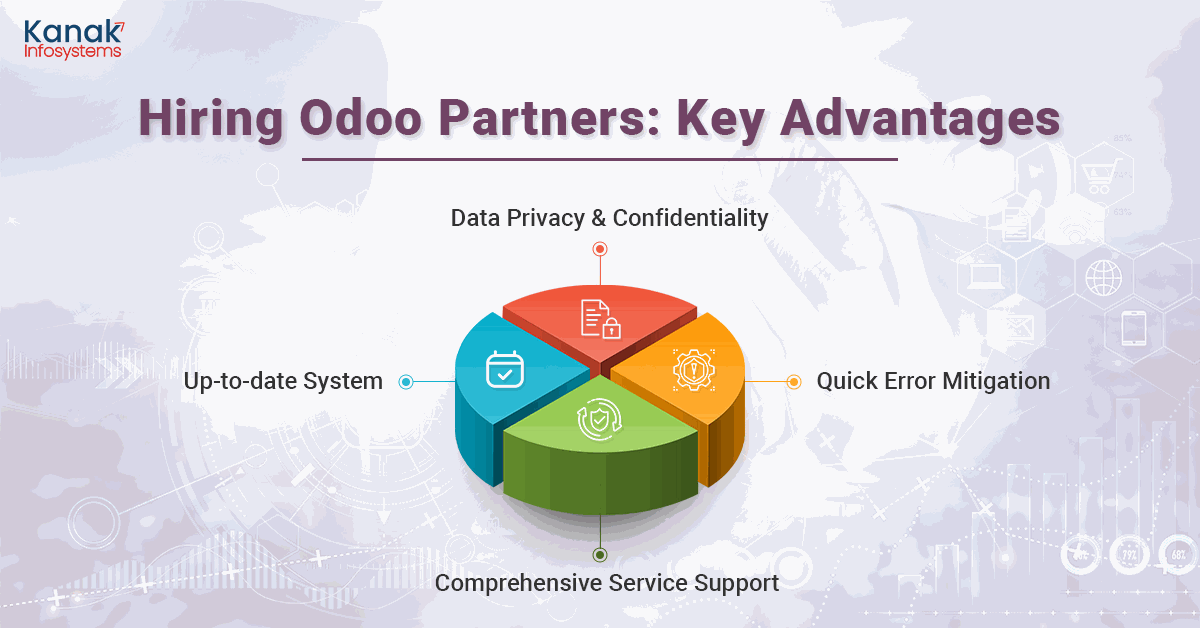 The following benefits will accrue to the firm when a client selects the best consultant.
1. Up-to-date System
At breakneck speed, everything is changing. In other words, there's a chance the software you're using now won't be the same in a few days. As a result, outsourcing the complete solution guarantees that your system will always be current.
2. Data Privacy & Confidentiality
The requirement for having a reliable consultant who not only assures data privacy but also provides thorough confidentiality increases when everything is operated online, and one can get their PC repaired remotely.
Therefore, employing a certified Odoo Partner is their guarantee that their client's privacy will be protected. Contrary to this, independent contractors and one-time consultants do not maintain the same level of security or guard against privacy violations.
3. Comprehensive Service Support
The third benefit of outsourcing or hiring a consultant is receiving an immediate response. If software integration is being hampered by updates at all levels, from executives to workers, one can request module training.
4. Quick Error Mitigation
Fast error correction and immediate service support are the primary advantages. So, this is a blessing. Imagine reporting an issue to your software developer and having it fixed before the client might find it. You manage to save a boatload of money.
Additionally, outsourcing entails having a dedicated resource to manage your account, which protects the customer's time by avoiding the need to start from zero when introducing new consultants to the project.
Additionally, the developer can quickly fix the issue rather than sharing papers, wasting time on document previews, and learning the backend procedure. 
When Choosing An Odoo Support Partner: Things To Consider
The intangibles include things like integrity, enthusiasm, and trust. However, these are the elements that, over time, enable every firm to succeed. Business owners should consider all aspects of a project but choose the most reliable Odoo partner before considering the following factors.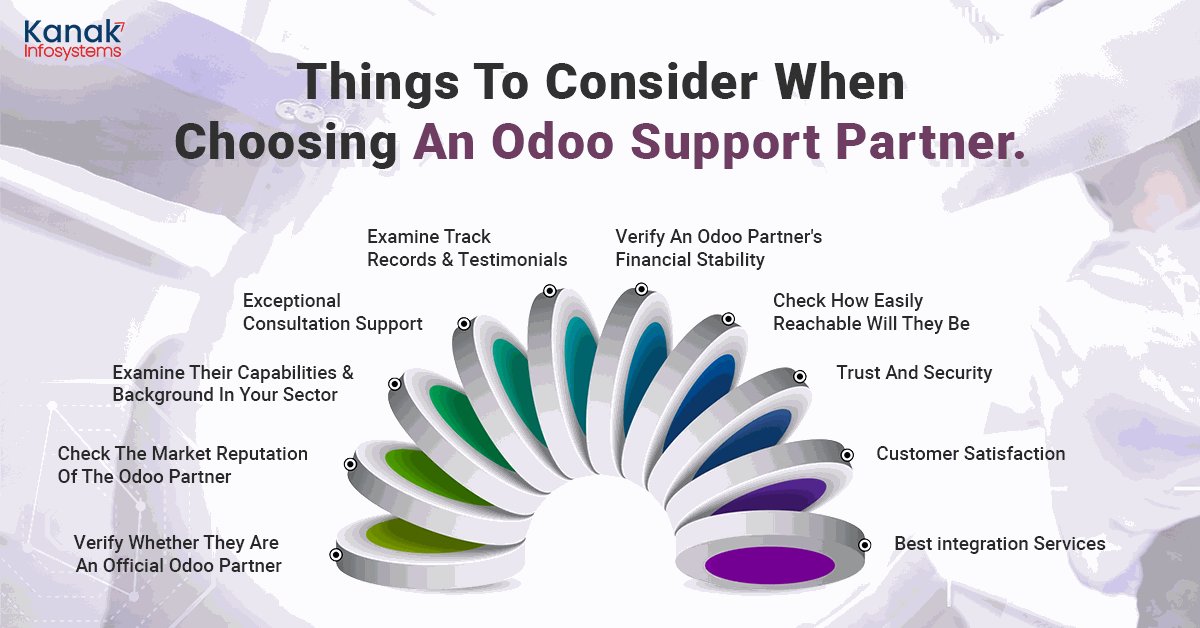 Let's discuss the characteristics you should seek in your Odoo support partner when choosing your ERP system.
1. Verify Whether They Are An Official Odoo Partner
Odoo selects its ERP implementation businesses as Official Partners based on their customer care level. The entire Odoo team trains the company's official partner. Their direct connection with Odoo is their main selling point of being an Official Partner of Odoo. They can solve problems quickly and effectively as a result. 
Teams from Official Partners of Odoo get a direct opportunity to participate in the weekly update training sessions. Additionally, they have access to Odoo's Enterprise source code, which enables their team to quickly integrate apps to ensure the creation of reliable ERP system solutions.
2. Check The Market Reputation Of The Odoo Partner
Would you like to collaborate with a group of people who are rude or unprofessional?
No, nobody desires. Before you sign the contract, do you know how scaleable their solutions are? That is something that you ought to be aware of. Do you know how flexible they are in dealing with complicated business problems?
You should ask yourself these crucial questions. Always check the market reputation before signing any paperwork with an Odoo Partner.
Examine the clientele and track record of completed projects for the Odoo Partner. Look for customer endorsements and reviews on the business's website or social media. You can get in touch with one of their clients on social media to move things forward and listen to what they say.
Consider each of these before deciding whether or not to hire the Odoo partner. After weighing all the advantages and disadvantages, you can determine which disadvantages you can overlook in favor of the company's benefits that are more compatible with your business needs.
3. Examine Their Capabilities & Background In Your Sector
Distinct industries will have different resource needs for their businesses. As a result, it pays to confirm that the Odoo partner you select has a proven track record of success implementing for businesses of a similar size in your specific industry.
Do they have the expertise and resources necessary to carry out a global implementation identical to yours if you are a multinational business? Has anyone else seen them perform this before? What happened as a result?
As said above, you should research the partner's background to ensure they are a good fit for your company. They will ultimately save you time, bother, and money by providing the appropriate ERP solution for you due to their understanding of your industry and the difficulties you encounter.
One that will minimize the internal adjustments that must be made to "fit" the platform, minimizing disturbance and accelerating your path to optimum production. It's also crucial to confirm whether an Odoo partner directly employs resources internally or outsources them to third parties.
Many partners outsource a large portion of their technical requirements to foreign countries, which unavoidably impacts the consultants' consistency on a project and the caliber and consistency of the work performed.
4. Exceptional Consultation Support
The work involved in ERP deployment extends beyond only implementation. The moment you have the thought of using ERP, the procedure starts. The most crucial step is to contact a reputable ERP service provider whose advice may assist you in choosing the best ERP system and customizing it for your company.
Only an experienced ERP supplier can help you with the ERP integration process in a way that best meets the demands of your industry.
5. Examine Track Records & Testimonials
The experience you require should be available through an approved Odoo partner, but it's always a good idea to double-check. Can you verify if they have a proven track record of successful implementations elsewhere? You might quickly get the answer by downloading case studies from their website or reading testimonials posted there. You can, however, also enquire about client recommendations. Your expert Odoo partner will be more than happy to address any concerns.
Additionally, it's helpful to speak with happy clients to establish that your prospective partner is dependable and capable of doing the job. It also helps you understand how to collaborate with them most effectively and what they will require of you to make the most of your working relationship.
6. Verify An Odoo Partner's Financial Stability 
Check out any potential Odoo partners' financial standing before signing a contract. A single aspect may significantly impact the outcome of your project and future business arrangements with the partner.
Think about the following scenario: You and your partner sign a contract, but at some time, while you are working on your project, they fail to operate. Businesses must consider the costs and effects they will incur within a specific phase.
When deciding whether or not an implementation partner is an appropriate fit for your business, it's crucial to consider its stability. This choice can take into account the length of the company's existence, whether it is a startup, the identity of its investors, and the nature of its assets.
7. Check How Easily Reachable Will They Be
Because of the shrinking size of the earth, international business interactions are now more common than ever. Nothing, however, compares to being able to phone a person in your time zone and knowing you'll get to speak to them. Alternatively, you might have a face-to-face conversation to find out the problem and fix it immediately.
Find out how some of their past customers felt about the level of support they received and the level of communication they received. Calls and emails received were promptly returned? Did the partner hear their worries and offer practical solutions? And to what extent did they make themselves accessible for talks and problem-solving on the spot?
8. Trust And Security
You must provide confidential business data concerning revenue while working with an Odoo partner for your company's needs. This could be abused to the benefit of a rival if handled improperly.
Stakeholders in the business should make sure they choose an Odoo partner who audits security and complies with data privacy laws. Private information must be protected to evaluate any provider.
If you are pleased with the security aspects of the Odoo partner after reviewing their security characteristics, you can move on.
9. Customer Satisfaction
Instead of only considering the financial advantages, an Odoo support partner always works hard to give guaranteed client happiness. The implementation team, for whom client happiness is the goal, will handle the implementation of ERP Odoo in every area with 100% devotion & dedication. 
Appropriate talks and two-way communication will ensure long-term association between the client and the Odoo support partner.
10. Best integration Services
Utilizing your Odoo Partner Support, you may synchronize the operations of your numerous departments. Multiple departments' interactions will be more straightforward, and your projects and quotes will be approved quickly.
When many applications are integrated without creating any technical hiccups, the implementation and solution of an ERP system becomes a proper support system for organizations. 
You can speak with Odoo's support partner in advance to discuss the difficulties and learn about every potential integration to prevent hassles later.
Odoo Partners Vs Freelancers: Who Should You Choose To Work With?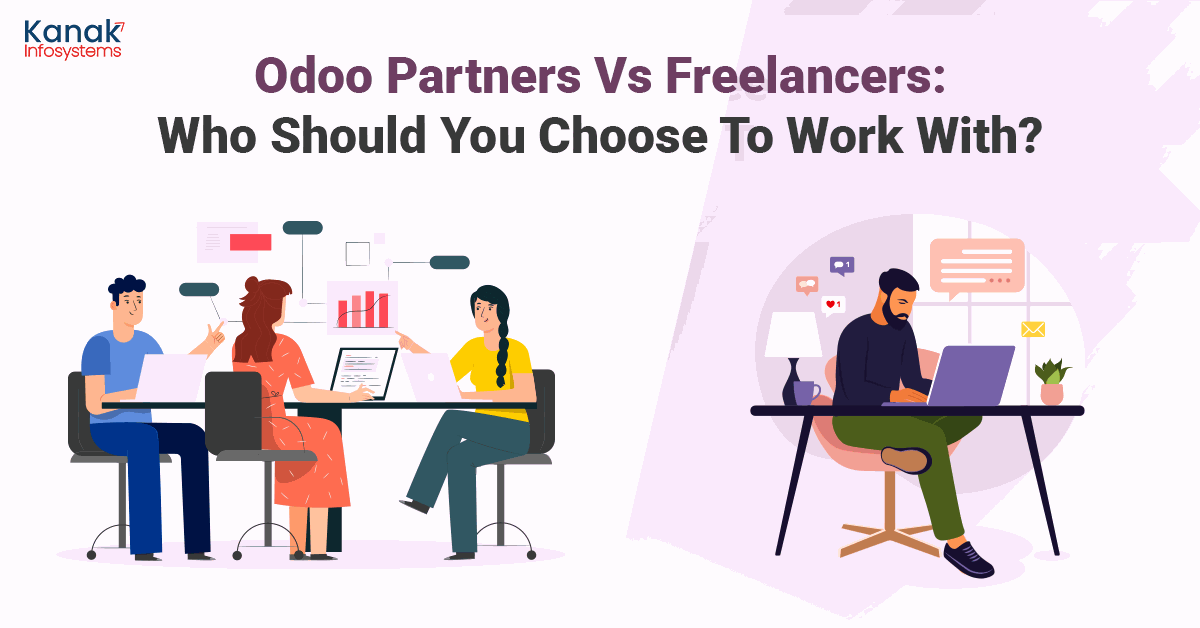 When choosing an Odoo partner or freelancer to implement your ERP system, you could be trying to decide who to trust. The end user decides based on several variables, including the cost of implementation, developers' availability, and the job's flexibility. Because of the system's features, needs, and requirements, every project is unique.
The best Odoo (offshore) development partner organization or individual should be selected for several factors, including the cost of production factors like maximum return on investment (ROI), work flexibility, future adaptations, etc. The quality of software deliverables between a freelancer and an Odoo partner company varies; therefore, a customer should be aware of this.
Scalability in the workplace and approved Odoo partner organizations will offer Odoo software Apps. Freelancers have restrictions because they are the only ones capable of installing, integrating, and customizing Odoo.
It is impossible to guarantee his availability in the future for any development or maintenance, much alone the difficulties that may arise later. On the other side, customers have confidence in the services of Odoo-approved partners. The authorized partners will keep up their clients' trust and credibility at all costs and without fail.
A professional staff of offshore developers who are highly qualified, certified, and trained in Odoo openERP is also used by certified Odoo Partners Organizations.
They are experts in both technical and functional areas. In addition to sales, buy, CRM, accounting, POS (Point Of Sale), warehouse, integration, and surveys, Odoo ERP partners and service providers will be active in these areas. A freelancer may only specialize in one dimension instead of all of them, making them less competitive than an Odoo ERP licensed partner.
Take the first step toward Odoo success. Discover your ideal partner here.

Why is Kanak Infosystems the Best Open Source ERP Provider?
By considering the success rate of implementation in the prior operational years, one can estimate the partner's success rate. The operational capabilities of each Odoo partner will be revealed by customer feedback, which will assist in determining the capacity.
These are some things to think about when choosing an Odoo partner to help you run your company's operations with Odoo, as well as other things like migration, integration, and other implementation, support, and maintenance-related things.
One of the well-known ready partners of Odoo, Kanak Infosystems has earned a reputation as the best contributor in the community. Our multiple successful implementations have made us one of the best partners Odoo has ever had.


What sets us apart from other Odoo partners is...
✔ Certified Developers
✔ More than 12 years of experience
✔ Industry Experts
✔ Over 500 apps published on the AppStore
✔ Dedicated team
✔ Countless Successful Implementations
Kanak Infosystems is the ideal solution for small and medium-sized businesses because of its experience implementing ERP systems across various sectors, including education, manufacturing, textile, supply chain, logistics, steel, real estate, and cosmetics. Knowing Kanak Infosystems guarantees successful application integration, which immediately helps the business's workflow management.
The company will grow with better coordination, communication, and documentation of processes involving customers, employees, and vendors. You can get an economic ERP platform from Kanak Infosystems, the best open-source ERP software provider. Our affordable prices will make it easier to implement without going over budget.

General FAQs
Odoo partners have staff with both technical and functional expertise who guarantee the ideal deployment. They provide complete assistance if you run into problems carrying out complicated activities.
Due to its open-source nature, Odoo ERP is developing more quickly than any other proprietary ERP. The Odoo platform will have the most significant effect on the developing market because it is open-Source. With over 2 million users globally, Odoo has a very bright future.
Yes, SAP is superior to Odoo if you are in charge of a Fortune 1000-listed global company and need to manage thousands or millions of orders daily. This is because SAP specializes in handling enormous amounts of data processing.
Odoo has a module or application to manage every single need, whether it be managing customer relationships with its CRM module, managing human resources with its HRM module, managing finances and accounting with its accounting software, managing sales, orders, purchase management, inventory, invoices, supply chain, warehouses, or be it anything else.
Odoo has expanded to numerous industries in a short period. Several of these industries include ECommerce, Auto dealers, Trading businesses, Healthcare, Real Estates, Education sector, and Electronics businesses.
Leave a Comment
---
Your email address will not be published.
Your comment is under review by our moderation team.