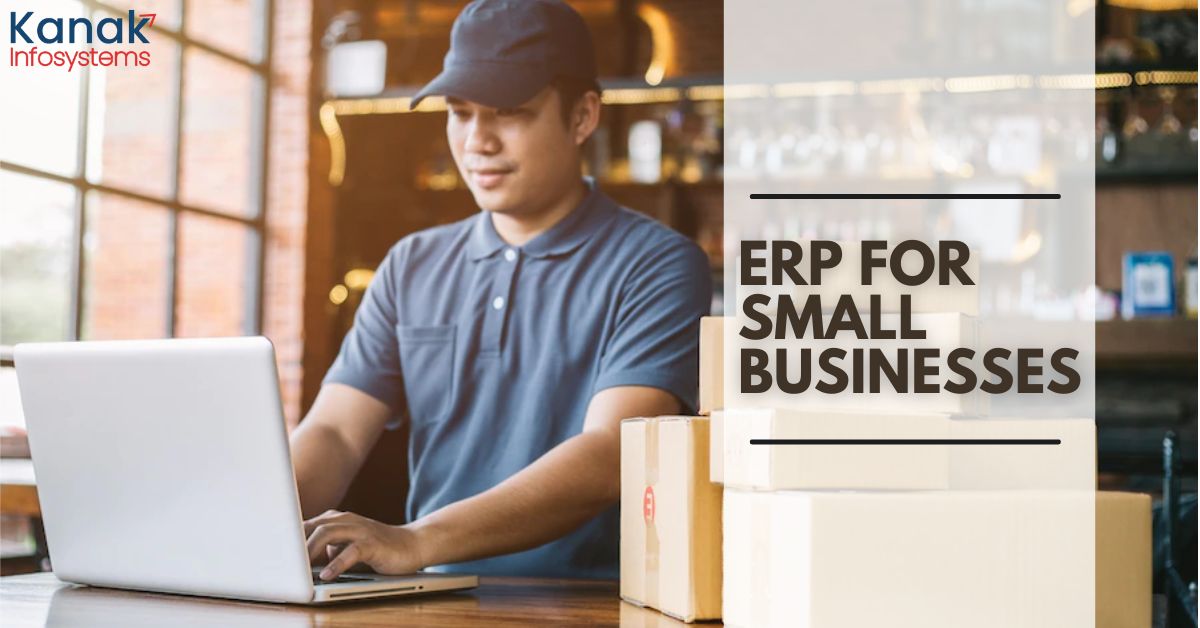 ERP For Small Businesses
Small businesses are ever-growing and forever dynamic. To manage the fast-paced growth and processes, these businesses use a number of software and applications. And unlike big businesses, they struggle to manage it smoothly like a piece of cake.
While it feels good to see that the mess of work and processes shows a much-desired growth in businesses, it also hampers the smooth and efficient workflow. With rapid growth, small businesses often struggle to maintain consistency and efficiency.
It is very important for such businesses to have a uniform system that does the job for them at one stop so that they can focus more on growth and profitability.
Also Read: Why Is Odoo ERP A Great Choice For SMEs?
One Such Solution To These Obstacles Is ERP! 
Now let us get into the details of what an ERP is and what it would do for your business.
In the broadest term, ERP refers to Enterprise Resource Planning. An ERP is a consolidated application that would centralize all of your workflow processes in one dashboard.
An ERP would allow you to view, analyze, manage and generate reports on all your business operations under one roof. You wouldn't have to toggle between multiple spreadsheets, applications, or software. Once you've configured all your data into the software, all of that data would be interlinked with each other. For instance, if you make a sale, you can use that information directly within the system to update your inventory.
An ERP Helps You:
1. To manage quotations and sales, purchases and the entire billings, your inventory, your leads and customers and your employees and their payrolls.
2. With an ERP, you have all of your data safely secured under one umbrella. You wouldn't have to keep jumping from one software to another.
3. There would be minimal chances of repetitiveness or duplicacy in the data.  It would also reduce redundancy since you wouldn't have to keep entering the same data in multiple software.
4. It will increase transparency in the workflow. 
5. ERPs will give you the power to make fact-based decisions. It will provide you with consistent data that will help you improve the quality and the momentum of your decision-making.
6. ERP systems will help your production departments to effectively overlook and manage the stocks depending on the number of orders and delivery schedules.
7. An ERP system will give you competitive advantages. That is because an ERP can help a small business to-
● Optimize all the available resources in parallel to the competitive strategies.
● Provide swiftness in the differentiation for products and services.
● Improve customer service and customer retention.
8. It will centralize all the information about your business. Different data centers disorganizes and distorts the information. An ERP system helps you gather all the information and data and store it in one single database. 
This helps in reducing logistical blunders when accessing data and saves time in retrieving and analyzing data.
Also Read: Retail ERP: The Ultimate Top 10 ERP Solutions For Retail Businesses
With everything happening in itself, the ERP would become the driving force of your business. It will keep all the data in one place and every member of the organization on the same page. No matter how rapid the growth or increased work pressure is, it will make the entire workflow and records consistent.
But Aren't ERPs Meant for Big Businesses?
If you think your business is too small to be using an ERP, you need to get that thought out of your head right away! Over 75% of small businesses are now using ERPs to build a better and bigger future for their company.
It doesn't matter what's the size of your business, you will have lots of information and data. And an ERP would definitely help you make sense out of that data.
No matter how much data it is, you would need a system to organize and analyze it, make your communication flow easier, and manage your entire workflow in a much more efficient manner.
Did you know that there are ERPs which are specifically designed for midsize and small size businesses?
They will help you record all of your data in the database and will help you manage your business by managing the CRM, Purchasing, Accounting, and even Supply Chain Management. With an integrated database, your business can improve its visibility and cash flow while reducing inventory costs.
Automation of such manual processes helps you focus your staff time to concentrate on business development and growth rather than administrative duties.
If you are running a profitable business, you would need a system to handle your business resources, i.e. , matters of cash, raw materials, working hours, invoices, etc., and an ERP would make that process a smooth sail.
Another biggest proven advantage is that it will provide you with the utmost transparency and insights into the entire operation of your company.
Top 5 ERP Softwares for Small Businesses


1. Odoo ERP - Odoo is an open-source, fully integrated ERP Software. Its intuitive database is designed to serve major business processes like CRM, Sales, Purchase, Inventory, Accounting, etc.
The open-source software is equipped with thousands of professionally designed applications to support your business needs.
The most distinctive feature of Odoo is that it gives you the option of picking it out from Odoo Community and Odoo Enterprise. Odoo Community is a free branch of odoo with a limited number of applications, while Odoo Enterprise is a paid version that gives you access to innumerable applications.
✍ In order to get into the details, read our full review blog on-  Odoo Review
2. ERPNext - ERPNext is a full-blown open-source ERP software. It is designed to serve business processes like Manufacturing, Sales, CRM, Purchase, Accounting, etc.
The main USP for ERPNext is that Frappe has specifically designed this ERP software for each of the industry's needs. It offers systems for Healthcare, Educational, Agriculture, etc.
Another distinctive feature of ERPNext is that due to its fully open-source nature, it can be integrated with any application, and further, that application could be included in the ERPNext dashboard.
✍ Wish to know more about ERPNext? Read our blog on- ERPNext Review
3. Acumatica- This ERP software offers cloud and browser-based business management software. Acumatica cloud ERP is considered to be the best option for business management solutions for digitally resilient companies. Acumatica strives to deliver flexibility, efficiency, and continuity of operations to growing businesses.
4. Sage- Sage offers cloud business management solutions for small and medium-sized businesses. It offers services for companies working in the fields of professional services, wholesale distribution, building, manufacturing, nonprofit, and food and beverage.
5. TallyPrime- TallyPrime is a business management software that helps businesses in managing services in the domain of invoicing, accounting, cash and credit management, payroll, etc. TallyPrime aims to automate all business processes to make your workflow efficient and easy. 
An ERP is a one-time investment toward consistent and efficient growth for your business. With the hassles of management being at bay, you would be able to focus more on your business and how to take it to new heights.

With ERP, you would be eliminating factors like manual maintenance, data duplication, communication difficulties, and a lot more when using it. And this will only help you focus your efforts in expanding the business.

Also Read: Top 10 Benefits of ERP For The Manufacturing Industry
 Kanak Infosystems LLP. is an ERP development company with a decade of experience and meets all company requirements, including Customization, Implementation, Upgradation, Support, and Integration. You can reach us via email or call and will connect with you immediately for effective help.
We are also the official partners of powerful ERPs like Odoo, Oracle Netsuite, and ERPNext.
For any consultation or demo, don't be hesitate to contact us.
Leave a Comment
---
Your email address will not be published.
Your comment is under review by our moderation team.