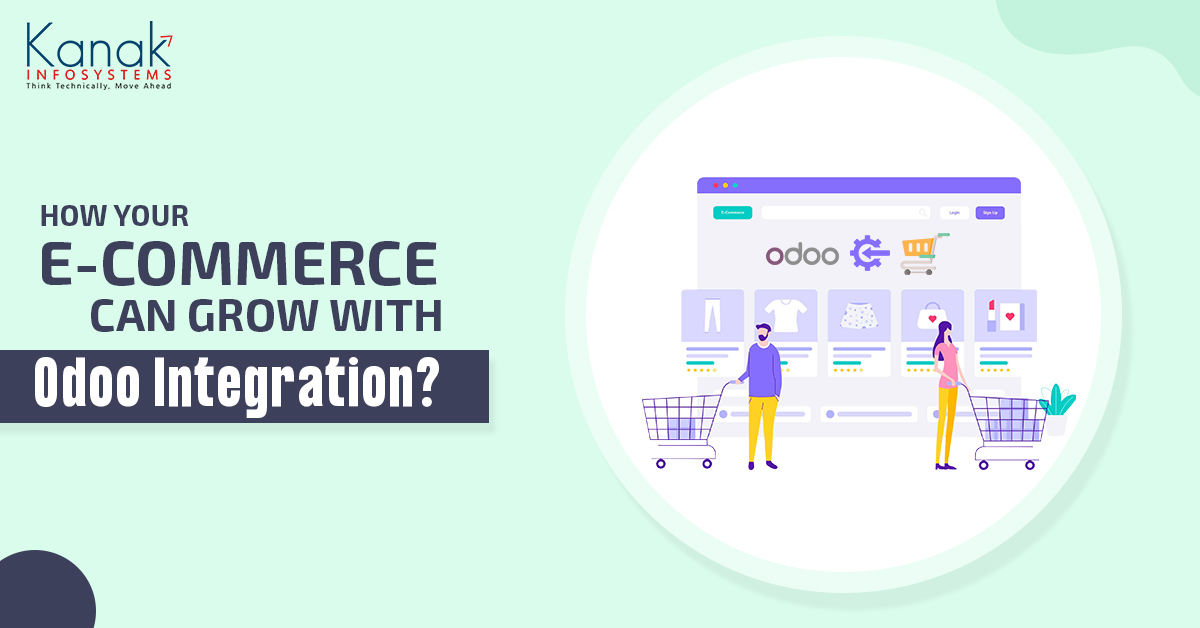 How Your E-Commerce Can Grow With Odoo Integration
If you are an E-commerce business owner, you must ensure you've gone through installing the business software and assuming that it is not sufficient for your business. Well, running a business excursion is not child work. Every business owner struggles to find a corporate system that can expand business operations in this digital era. To get free yourself from this software frame, often referred to as "software hairball".
Odoo – a suite of open source business apps that can help you run operations, boost productivity, promote sales growth, and empower human resources. Previously known as Open ERP, it is an easy-to-use software that involves an integrated set of apps to manage your frontend and backend seamlessly.
Odoo ERP provides a complete package of enterprise applications, including CRM, warehouse, accounting, HRM, and project management.
At Kanak Infosystems LLP., we provide Odoo services to streamline and automate business processes. Now, Let's discuss the peculiars of enhance your E-commerce store with Odoo in this blog post.
Boost Your Ecommerce with Odoo Integration
The ERP that one selects will describe the values, components, and road maps that manage a unique usage.
Whenever you choose and implement a pre-prepared solution, then you are likely to have a unified development and execution. There are numerous such solutions, but Odoo is possibly the best ERP available in the market.
Selecting an Odoo Solution will help your organization flow and accumulate to developing technologies. Besides, Odoo E-commerce businesses offer robust software that makes the merchants get scalable business.
Odoo ERP is consequently beneficial for the retail industry. It eliminates all complex, lengthy tasks, taking the management's burden, which is imperative to gather profits and make products sale.
Below given are some of the significant benefits that every retail business gets after using this software.
Benefits of Using Odoo ERP System in Retail Business
Being one of the fastest-growing sectors, Odoo ERP has become a predictable requirement for the retail business. The significant tasks get integrated into a unified and cohesive system, moving stocks, handling multiple store locations, price changes, product discounts, shipments, and many more.
| Manage Your Business with Single Software
Integrating eCommerce with Odoo ERP allows you to manage from a specific location. Odoo CRM, Odoo Website, Odoo Sales, Odoo Accounting, Odoo Manufacturing, Odoo Inventory, and more are fully integrated with Odoo E-Commerce to manage everything with just one software.
|  Gather Data/Information at a Particular Place
After integrating with Odoo ERP, you will see the Product information, shipping information, inventory levels, and all related information in E-commerce. Additionally, it saves time and raises the productivity level by not considering different departments and manually inputting the data.
|  Handle Multiple Stores from Single Software
Odoo ERP Integration with E-commerce stores provides you access to multiple store management. It is easy to manage the standard inventory for all the stores.
|  Lead Generation
You can see the lead generation feature of the Odoo platform in the E-commerce integration, which will help you generate leads based on customer activity and website visitors. Moreover, you can take up these leads with various activities and tools available in Odoo and make it a potential business opportunity.
|  Make Your Business Cost-Effective
E-Commerce Integration and Odoo ERP make your business beneficial by analyzing inventory levels. Both sales, as well as inventory, can be easily supported via reporting an​d automatic stock adjustments. Dedicated client portals allow the customers to download invoices and delivery orders from one location and keep customers' data organized with order claims and tracking.
|  Manage Shipping Services
For shipping integration, you can place an add-on-connectors in Odoo E-Commerce Integration. From Odoo ERP, you can easily track your orders and integrate them with famous shipping delivery such as UPS, FedEx, DHL, USPS, ePacket, and many more.
| 
Payment Gateway Integration
When you come down with Odoo integration, you will have total control over your business processes. When you proceed with software integration, every step of the process can be taken care of, including the initial stages of taking orders and case handling. Every business has its payment method so that you can select any one among- Adyen, Paypal, Ogone, Stipe for your comfort zone.
| 
Reduce Replication Time
With Odoo software Integration, Odoo enterprise can reduce the time spent copying data from one system to another. You can easily exclude redundant and inefficient tasks, and your employees can take on more challenging tasks and test their skills.
| 
Social Media
Social media is a massive part of an E-Commerce company's marketing strategies. With Odoo Integration, your merchants will operate social media channels seamlessly. Odoo has multiple social media tools and more significant data integration, increasing the online presence and creating more conversions. The above given is all about the benefits of Using Odoo Software in the Retail business.
What to Do If You Encounter Technical Glitches while using Odoo Integration?
If you want to do Odoo Integration on your E-commerce store and have no knowledge about the coding part, you can get in touch with any Odoo Development Company such as - Kanak Infosystems LLP. and Hire an Odoo developer to finish your Odoo Development project.
Here, at Our Kanak Infosystems, you get an all-out bundle deal. We enhance the functionality of Odoo by integrating third-party software using web services and a rich API library. Also, we offer implementation services to streamline the business process.
We have a skill set of doing multiple ERP implementations with industries varying from the hospital, manufacturing, online E-commerce, retail, and financial sector. We provide smooth integration while keeping your data safe. Our ERP implementation services redefine scalability, flexibility, and user experience.
Also Read: 7 Critical Factors for a Successful ERP Implementation
Kanak Infosystems LLP. is also offering standard-based connectivity by integrating Odoo with various devices using SDK. We have proven our expertise by combining devices like Biometric applications. We see the ERP Integration stage as one of the most significant achievements of our business.
After proceeding with a thorough assessment and evaluation of your business, we achieve a valuable, comprehensive understanding of your best practices, business activities and arr​ange pre-requisites to devise a perfect integration.
We offer you the hassle-free execution process of user-friendly Odoo platforms as per the requirement of your business in Odoo Implementation. The clear-cut approach is given below:
1.) Analyze Your Needs: The first step is to analyze your needs. After that, only the providers can recommend the appropriate solution to the clients.
2.) Assign Budget: After getting the proper resolution, clients need to assign a budget for their ERP Implementation.
3.) Choose the Best Suitable ERP: We need to choose the best suitable ERP for our business from all the available ERP's, and after selecting it, our focus is to select the best ERP implementation, partner.
4.) Identify Implementation Phases: We describe all the different implementation phases and how to execute every stage.
5.) Installation and Configuration: As per the requirements, we install and configure our ERP.
6.) Data Migration: We migrate our crucial old data to our new ERP.
7.) Testing: Now, coming on the Testing, we will do Testing on the whole ERP.
8.) Training and Go-Live: Before going live, we will always provide successful Odoo Training to end-users.
9.) Assistance and Maintenance: If any service and maintenance are required, we will provide you.
If you get any technical bugs or errors, you can get in touch with us at any time. Our Odoo Developer always deals with different parts of specialty business that incorporate bookkeeping, distribution center administration, fabricating, buys, client relationship the board, contracts the executives, solicitations, human asset arranging, membership the board, installments, and different others which you can alter to line up with your specialty business necessities.
Ensure you don't miss the opportunity to transform your E-commerce business! Book a demo call today to check out our Odooshoppe mobile app.

See firsthand how our app from can transform the way you do business, increase sales, and improve customer satisfaction. Let us show you how Odooshoppe can take your E-commerce game to the next level. Book your demo call now!
Leave a Comment
---
Your email address will not be published.
Your comment is under review by our moderation team.