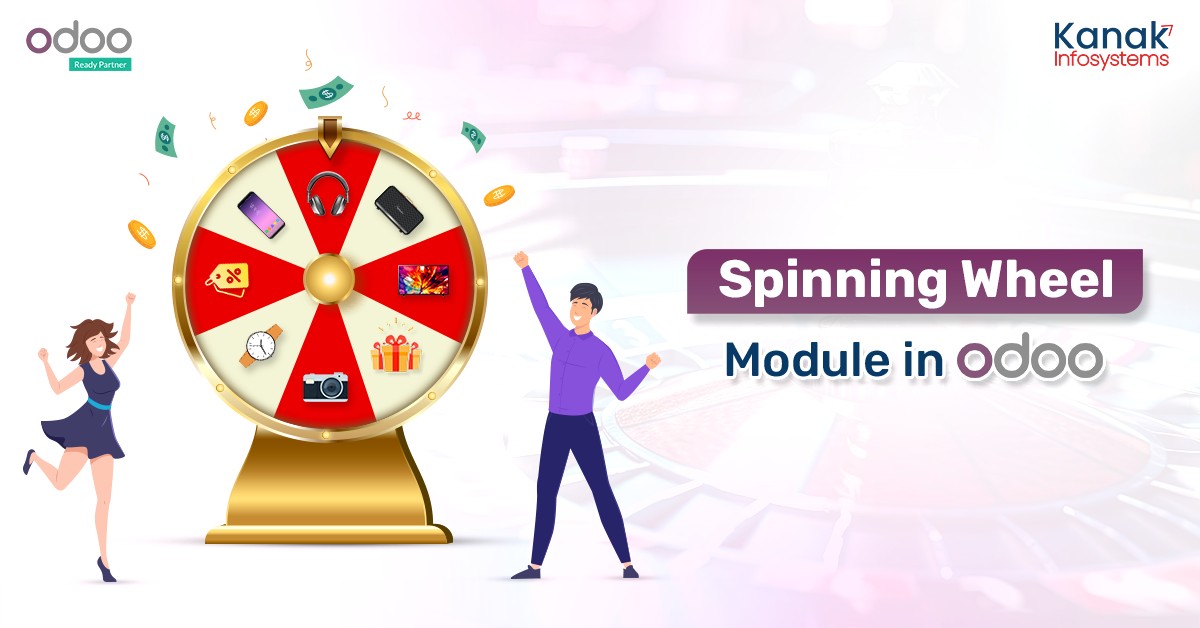 Odoo Spinning Wheel Module : Engage Users with a Strategic Game

With the ongoing digital and technical transformations, businesses are continuously on the find for new and interesting methods to grab and retain the attention of their customers. We have developed a tool called 'Spinning Wheel module, which can ease out this concern.
This promotional module enables businesses to attract visitors in a unique way, further helping them increase the traffic on their website, and producing an captivating experience for their users. 
In this blog post, we will dive into all the features offered by this entertaining module and explain how it can boost up your business growth exponentially.
Engaging and Captivating Users: Spin The Wheel module possesses the ability to engage website visitors into an exciting game of luck. We live in an era where attention spans are shrinking drastically.
Our module provides a reward for users to stay around on your site, ultimately improving traffic and boosting overall business growth. 
By trusting one's luck and offering the chance to win enticing rewards, including attractive discount coupons and free products, the business can ignite a sense of excitement as users are incentivized to explore further.
Also Read: How To Display Discount and Ribbon on Odoo Website
Personalized Rewards: By adding rewards as per customer preferences, you will be able to build a stronger bond between your company and your customer base, building up trust and loyalty. 
With this promotional tool, you can assign / customize your own rewards, for example: personalized discount coupons and exclusive items. This allows for an opportunity to display your most coveted and high-profit margin products.
Adaptable Configuration: Adaptability is a key trait of the Spin The Wheel module. You will be able to alter the wheel's dimensions, layout, and section count to seamlessly fit your desired presentation, visual aesthetics, and brand identity. 
This distinctive feature of adaptability increases customer engagement, allowing for a smoother application of this tool as per your choice. In addition to this, you have got the ability to oversee prize dispersion by stating a win-frequency for each wheel segment.
Strategic Win-Frequency Approach: The most unique win-frequency feature of Spin The Wheel adds a strategic advantage to the entire promotion process. Wheel areas can be assigned different win-frequencies, i.e., deciding after how many spins a specific prize will be won.
For segments with a win-frequency of 0, the prize can be won randomly, adding an element of unpredictability. On the other hand, segments with a win-frequency more than 0 require a particular number of spins by distinct clients, before the corresponding prize can be won.
Spin the Wheel's win-frequency feature allows businesses to strategically calculate prize assignments and boosts the regular user engagement.
 Subscribe our Newsletter for Odoo tips, technical insights, and more!

The wheel will appear as shown below & according to your customization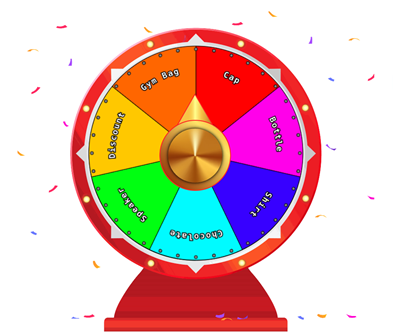 Key Features of Spinning Wheel Odoo App:-
1. Attract and Engage: Use Spin The Wheel to entice customers and drive website visits by offering the chance to win incredible prizes.
2. Easy Customization: Customize the wheel to align with your branding and preferences effortlessly.
3. Personalized Rewards: Generate your own unique products and discount coupons to offer as prizes.
4. Flexible Configuration: Adjust the wheel's size, height, width, and number of blocks to fit your desired layout. Easily manage the number of products to include and create distinctive backgrounds for each block.
How to go about the Spinning Wheel Module?
Basic Configuration
• Open General Settings, Navigate to Permissions and check the 'Free sign up' option. This enables customers to create a new account / sign up on your website.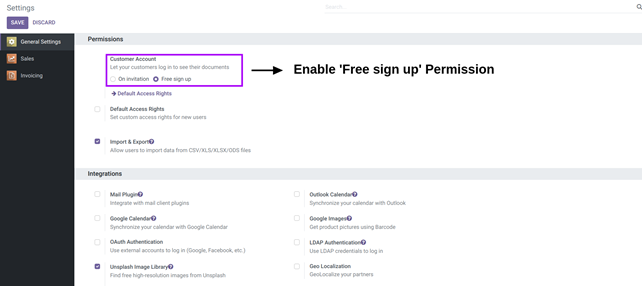 • Go to Website, navigate to 'Configuration'. Click on 'Spin' as shown below. Here, you can configure the wheel accordingly.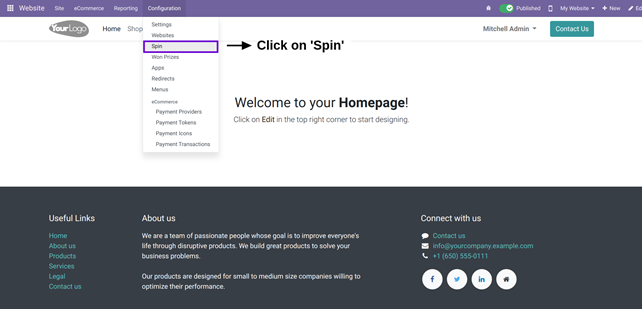 Configure Your Spinning Wheel
First, add spin name. whatever you want to give.
• Add a Background image for your wheel.
• Add the products for your wheel.
• Set a fill color for the particular section related to the product.
• Set a winning frequency for each section of the wheel, i.e. Number of spins after which the section is won. If frequency for a section has been set to 0, then it can be won at random. However, if winning frequency for a section > 0, then that section can only be won after a specified number of spins, made by different users.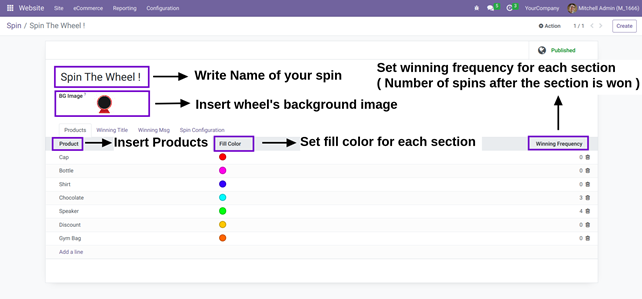 Here, you can set your wheel's outer radius, inner radius, and size.
• Add text colour, font size etc.
• Set in which direction your wheel should move.
• Set pointer which will show the winning price.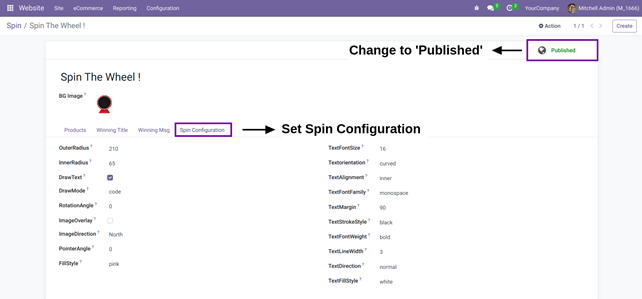 Here, you can insert won title and winning message for your wheel.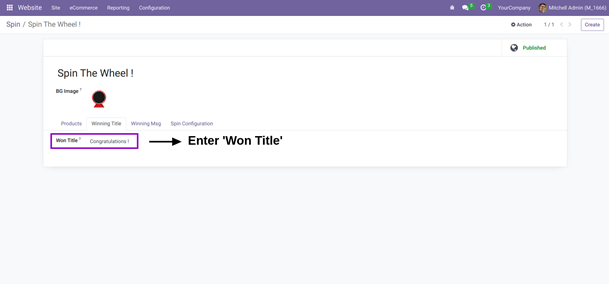 Wheel Interface
• When a new user signs-up, the wheel will be available for a spin as shown below.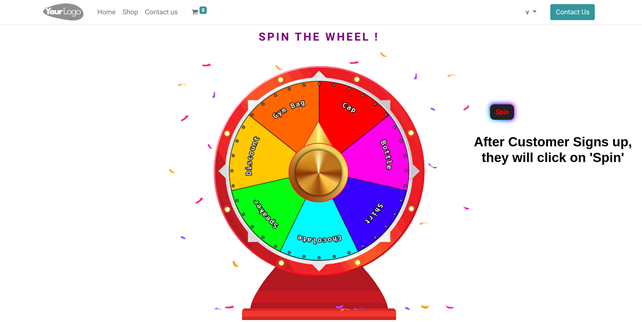 The outcome of the spin will depend on the 'win-frequency' field that has been set for the individual sections of the wheel. If win-frequency for a section has been set to 0, then it can be won at random.
However, if win-frequency for a section > 0, then that section can only be won after a specified number of spins are made by different users.
For example, if win-frequency of the section 'Bottle' is 10, the wheel has to be spun 10 times by different users, for the prize 'Bottle' to be won, or else some other prize with frequency = 0 will be won at random.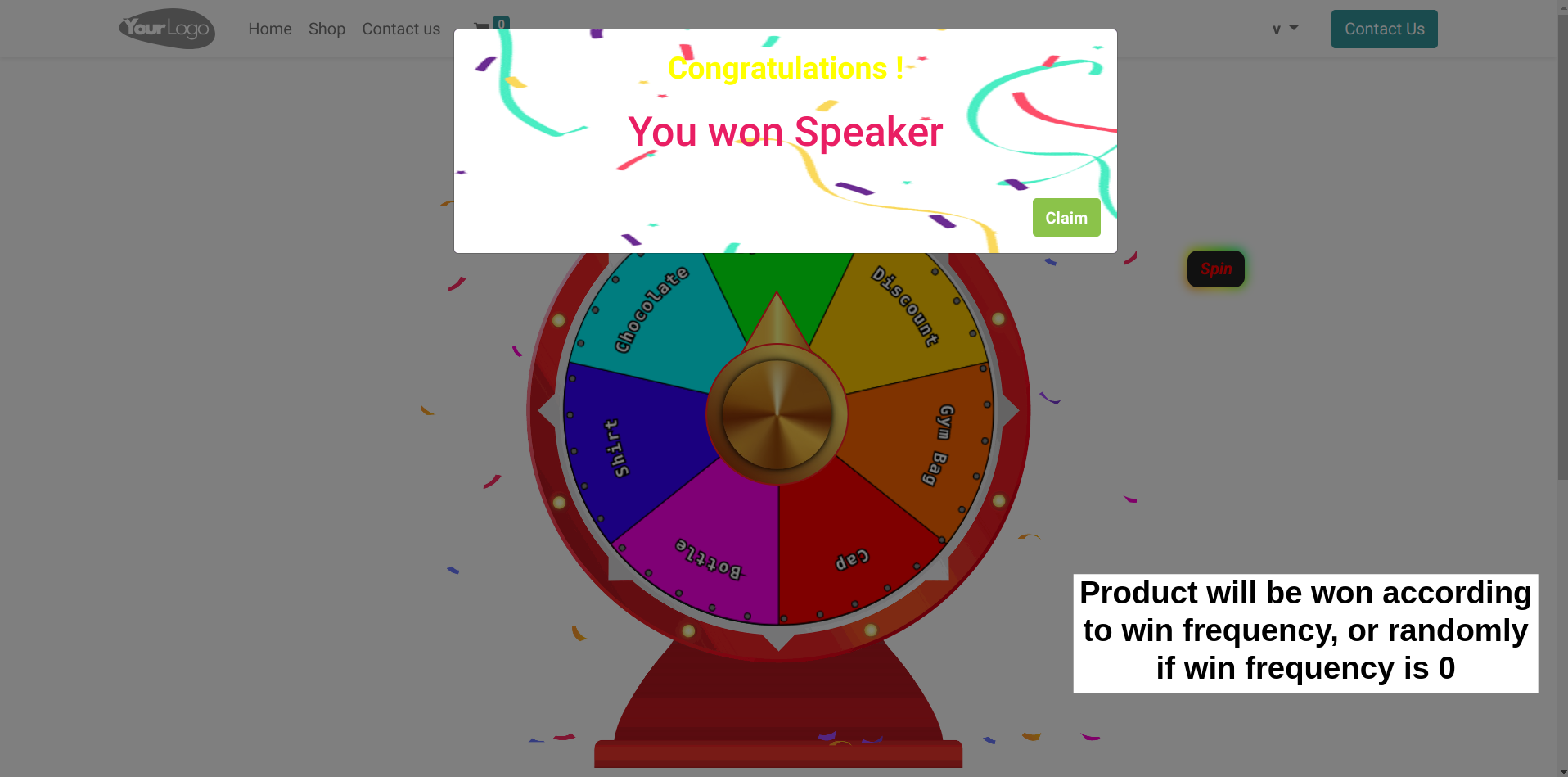 Won Prizes
• Go to Website -> Configuration. You will see a 'Won Prizes' option, as shown below.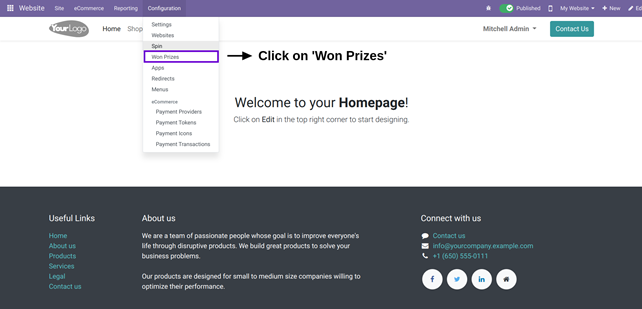 Here, you will get to know the winner detail & prize they won in the spin.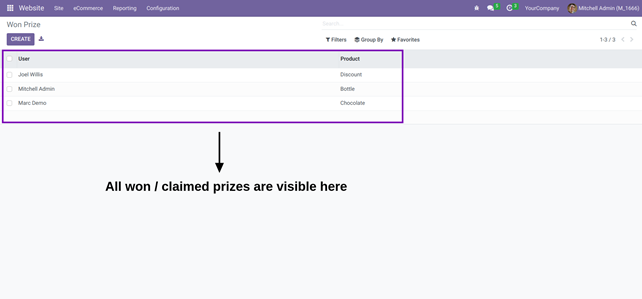 Businesses can boost their performance by Integrating the 'Spin The Wheel' module into their Odoo-based website, by adding tailor-made rewards, an engaging and interactive experience, and a strategic win-frequency setup. Purchase Spinning Wheel module and test its abilities on your website!
Watch the Spinning Wheel Odoo Module in action and revolutionize engagement!

Leave a Comment
---
Your email address will not be published.
Your comment is under review by our moderation team.