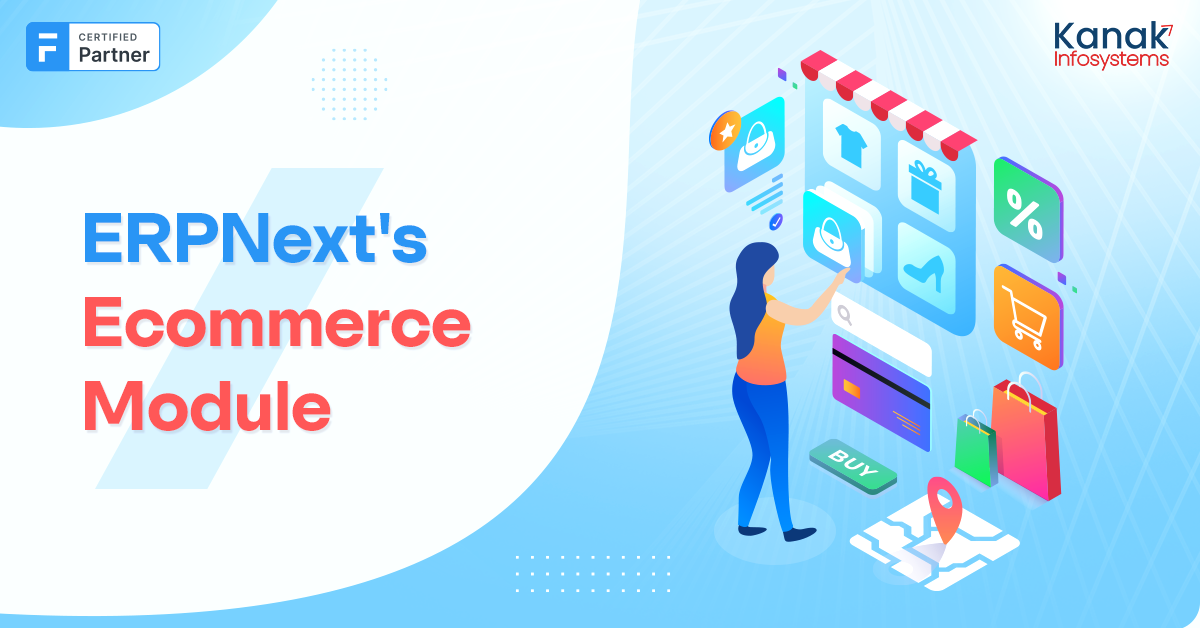 7 Ways ERPNext's Ecommerce Module Drives Business Transformation
A great way to catch your reader's attention is to tell a story. Everything you consider ERPNext is considered to be one of the best Free and Open Source ERP Softwares. The reason for its popularity is the fact that it is super versatile and can be fit for any domain of business. 
ERPNext provides a modular structure, through which, segregating the various processes and functionalities of the business is super easy. 
Nowadays, having a robust e-commerce platform is crucial to boost growth and stay ahead of your competitors. ERPNext is a complete solution which offers almost everything that you may require to manage a firm with the help of its multilingual website builder that can manage content and e-commerce needs.
Integrations with Google, Paypal, Slack and Shopify are readily available as built-in features which helps to streamline Retail Management, Manage Customers, Track Inventory and can provide increased Return on Investment. 
In Today's Blog, we will explore...7 Transformative Ways in which ERPNext's Ecommerce module can change your business 360.
7 Transformative Ways ERPNext's Ecommerce Module Can Help!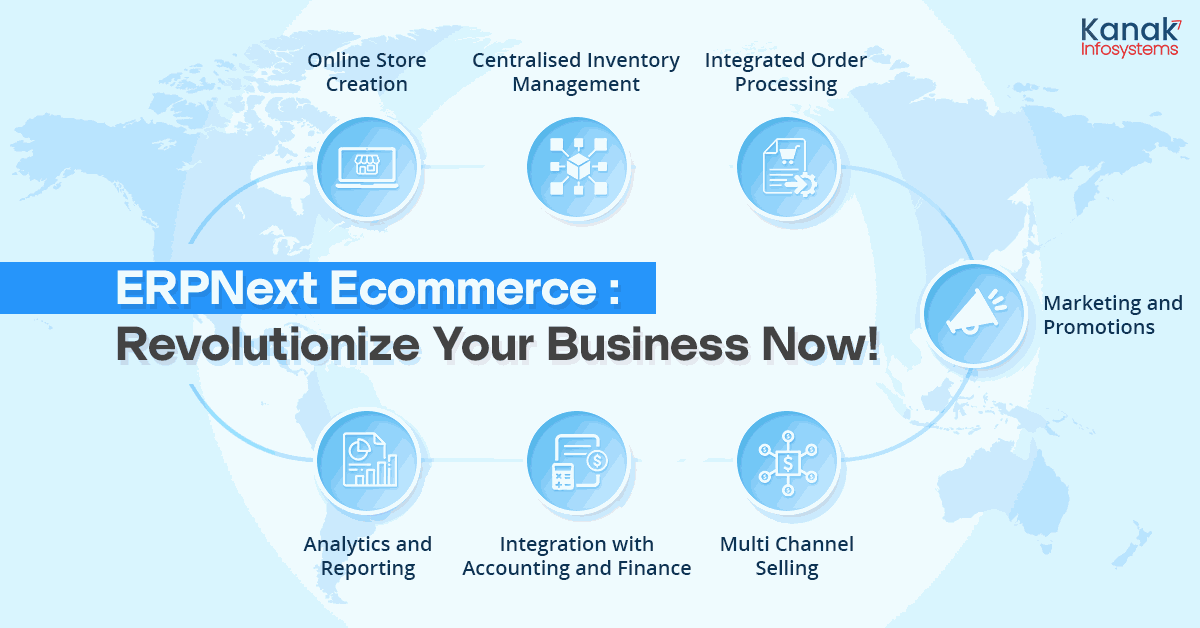 1) Online Store Creation
Having a strong online presence is important to reach a greater customer base. The Ecommerce Module present in ERPNext will help you establish an online store with ease.
It offers customizable themes and templates which further allows your business to create visually appealing and user- friendly online stores that will exactly align with your brand identity.
A smooth online shopping experience will attract and retain customers along with driving higher conversion rates and sales. 
2) Centralized Inventory Management
Managing an Inventory is vital to run a successful ecommerce store. The Ecommerce Module in ERPNext can be easily integrated with the Inventory Management Module which provides users with a centralized platform to track and manage inventory levels accurately.
This would then eliminate the risk of overselling or stock outs and even enhances order fulfilment and makes sure that the user experience is smooth and efficient.
Real time inventory updates across all your sales channels would reduce manual errors and optimize inventory replenishment.
Also Read: ERNext v14: New Features 
3) Integrated Order Processing
A streamlined order processing workflow is crucial to deliver exceptional customer service. Ecommerce in ERPNext offers integrated order processing capabilities, allowing businesses to automate their order fulfillment processes along with tracking and customer notifications.
May it be Order Placement or Delivery, businesses can efficiently manage the entire process, which results in faster order processing times and reduced errors.
4) Marketing and Promotions
Ecommerce Module empowers businesses to implement effective marketing strategies to boost more sales and increase customer engagement. Campaigns, Discounts and Promotions are all built-in features to attract and retain customers.
This module also has features like Personalized Product Recommendations and Abandoned Cart Recovery to boost the conversion rates. By analyzing such consumer behaviors and choices, your business can accordingly plan your marketing strategies and improve your sales.
5) Analytics and Reporting
Data-driven analytics are one of the key tools for a business to run efficiently and make decisions accordingly. ERPNext provides robust and accurate analytics and reporting capabilities.
This allows businesses to gain deeper insights into their ecommerce business's performance. You will get access to generate reports on sales, customer behavior and product performance. 
And with those, you can identify trends, optimize pricing and promotions and identify areas of improvement. This data driven approach would help your business strategic decisions to boost growth.
Also Read: ERPNext Notifications: Tailoring Your Business Alerts to Your  Needs
6) Integration with Accounting and Finance
Accounting and Financials are the backbone of any business. You would be pleased to know that the Ecommerce module present in ERPNext seamlessly integrates with the Accounting and Finance functionalities of ERPNext which would streamline your business processes.
This will automate the tasks like generating invoices, tracking payments and even reconciling accounts. This integration would eliminate manual data entry, reduce errors and ensure accurate financial records, enabling businesses to make more data-driven decisions.
7) Multi Channel Selling
Expanding the sales channels of your business is essential to reach a wider audience. This module would support multi-channel selling by integrating it with various online marketplaces.
You can easily manage your business by managing the inventory, orders and customer data across multiple channels on a single interface. This would streamline operations, reduce complexity and allow your business to maximize their sales. 
Conclusion:
To wrap it all up, ERPNext's Ecommerce module is a complete solution for your business to completely transform your ecommerce operations.
Whether it is establishing a powerful online store to control inventory management, streamline order processing, marketing and finance- ERPNext would empower your business to optimize the ecommerce operations and root for a sustainable growth in business in this digital marketplace.
Transform your ecommerce operations with ERPNext's powerful Ecommerce module. and To unlock the full potential of your online store.
FAQs
ERPNext Ecommerce can completely transform your business by providing a range of advantages. Some of them are Centralized Data Management, Improved Efficiency, Enhanced Customer Experience, Real-Time Inventory Updates, Integrated Financials and Seamless Order Fulfillment.
ERPNext is an open-source ERP. It is flexible in creating and customizing product listings, including product descriptions, images, prices, variants and attributes, making sure that your online store reflects your brand and offerings.
ERPNext's Ecommerce Module integrates with the Inventory Management System, which would further provide you with real-time updates on product availability and prevent over-selling or insufficient stock crisis. You would be able to efficiently track the stock levels, manage warehouses and streamline inventory replenishment.
Leave a Comment
---
Your email address will not be published.
Your comment is under review by our moderation team.