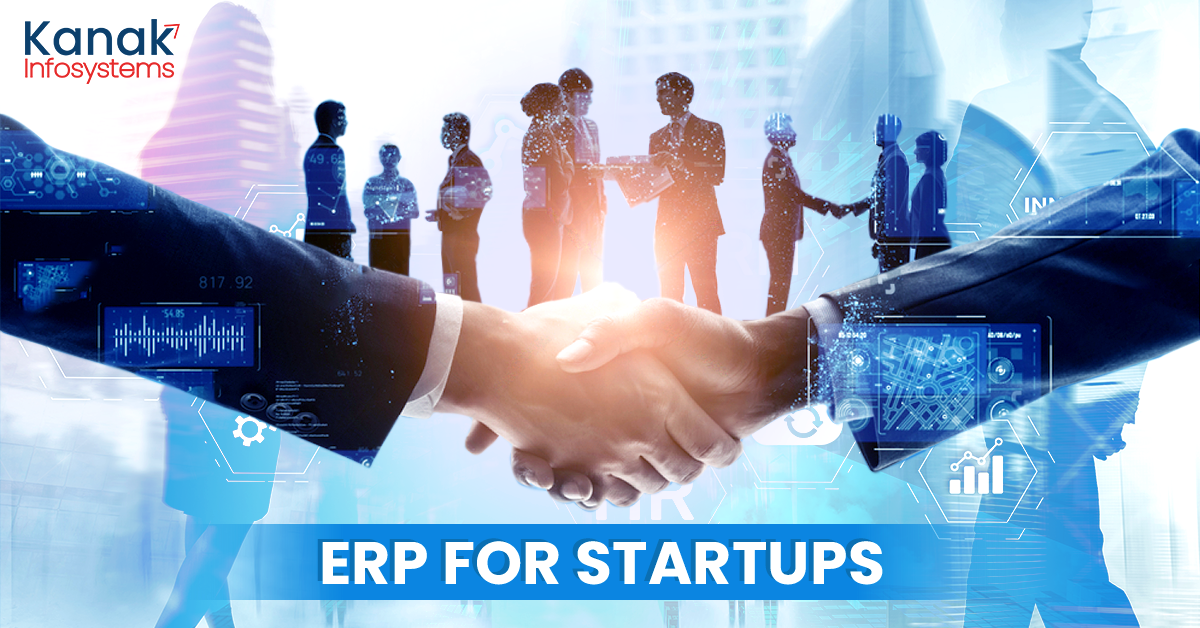 ERP for Startups

An ERP or Enterprise Resource Planning system helps an organization to streamline and integrate all functional processes such as human resources, finances, logistics and compliance. An ERP has proven to be effective from handling huge amounts of data to increasing the organization's efficiency in all aspects.
And today we are here to burst the common myth about ERPs, that they are only meant for big, multinational companies. That is a straight up lie! With so many small business ERP solutions available in the market, businesses can use one to gain optimum benefits.
Now, let us give you an overview on how a startup can benefit by using an ERP system for themselves.
Why do Startups Need an ERP?
It is widely observed that organizations implement an ERP to increase efficiency and gain cost advantage, both of which are crucial factors for a startup to get a foothold in the market.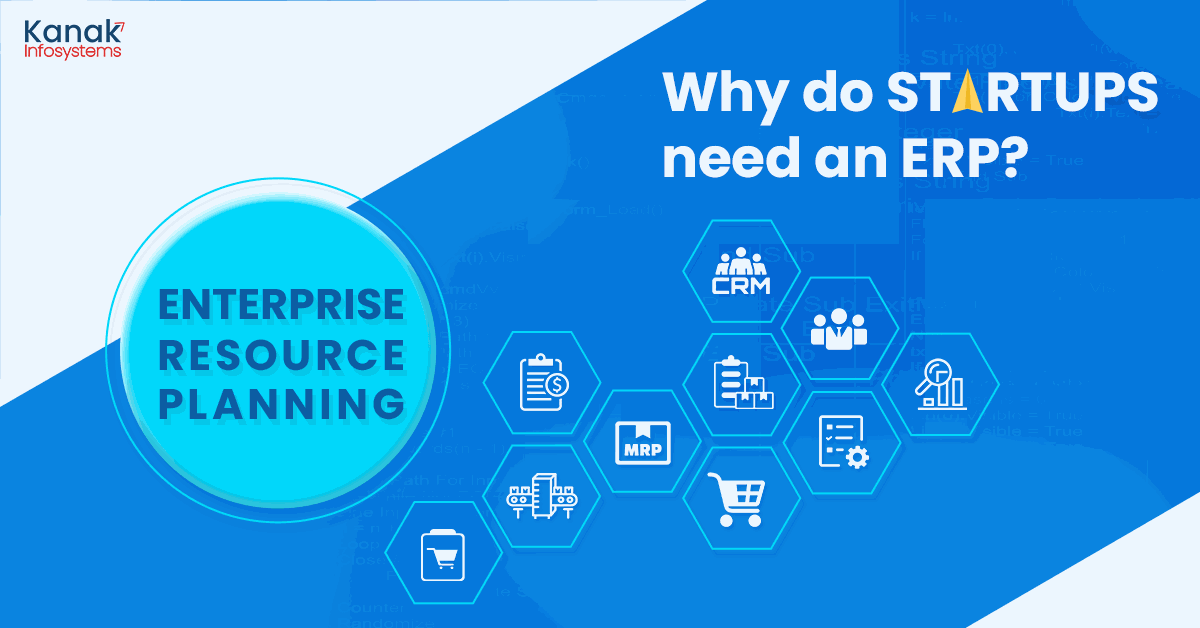 An erp for a startup will help you in tackling and managing the following challenges:
🔷 Decision Making- The startup work environment is usually based on quick decision-making for business opportunities and to cash in those. And for that, the leaders of the start-up need to have access to reliable data and reports from all the departments of the start-up. Having an ERP will help you get some insights accurately and in no time.
🔷 Investment- initially startups need investors to generate more capital for the startup to grow. And what usually attracts investors is a combination of factors like customer base, company structure, revenue model, etc. and with an ERP for startups, you would be able to present all of that data to your prospective investors in a very streamlined manner.
🔷 Cost- at an early stage in a startup, the resources are pretty limited. Hence, cost is a very crucial factor. So while a startup may need a technological solution, they need it under a strict budget. Hence, a startup needs a solution that will be inexpensive, scalable and easy to use.
How will a Startup Benefit from Using an ERP?
An ERP system gathers data from all the business functions in a much more centralized location. By sharing standardized, real-time and accurate data, the ERP system would increase the efficiency in all the departments of the startup:
(1) Financial Management- An ERP would help you to monitor and track financial data. This includes data related to accounts payable, accounts receivable, budgeting, tax management, cash flows, profit and loss among the others.
An ERP would streamline the financial and accounting processes, which would help you create forecasts for business growth and would also enable integration with banks and financial institutions.
(2) Human Resource Management- An ERP system provides the HR Department with valuable insights and data about the employees of their organization. This information includes salary details, employee contract information, leave management, performance management, etc.
This information will help leaders to allocate resources accordingly, create better employee management strategies and work towards building a much more efficient and healthy work environment.
(3) Customer Relationship Management- Managing your existing clients and their needs is a crucial factor of a successful startup. It is important for a startup to maintain a healthy relationship with its clients to grow and generate more profits.
An ERP system would gather all the customer-related data from all the departments and would ensure swift responses and grievance resolution. It will also help in lead management, market analysis, and keeping a track of customer preferences.
(4) Supply Chain Management- Supply Management is the core need of any company. And this is a necessity when it comes to startups, since they work on tight deadlines and require their partners and suppliers to provide them with the resources at the right time.
An appropriate ERP system would be able to provide you with supply chain management by handling all the processes from material acquisition and manufacturing to product delivery and billing.
(5) Inventory Management- Regardless of the firm's size, inventory is the backbone of the organization. ERP for startups allows them to track each and every inventory movement throughout the manufacturing processes. And the ERP would help you in automating all of the paperwork involved in the process.
(6) Project Management- automating your Project Management is one of the most crucial tasks for the startup owners. By using an ERP system-product launches, marketing campaigns, customer support, employee training events, important meetings, etc can all be scheduled and managed easily.
(7) Compliance and Quality Management- One can never compromise on quality if they wish to establish their foothold in the market. In order to ensure that, one has to make sure that they perform timely quality checks and record and strategize accordingly.
An ERP would help you aid your quality management to ensure quality control, from audits to SPC Management.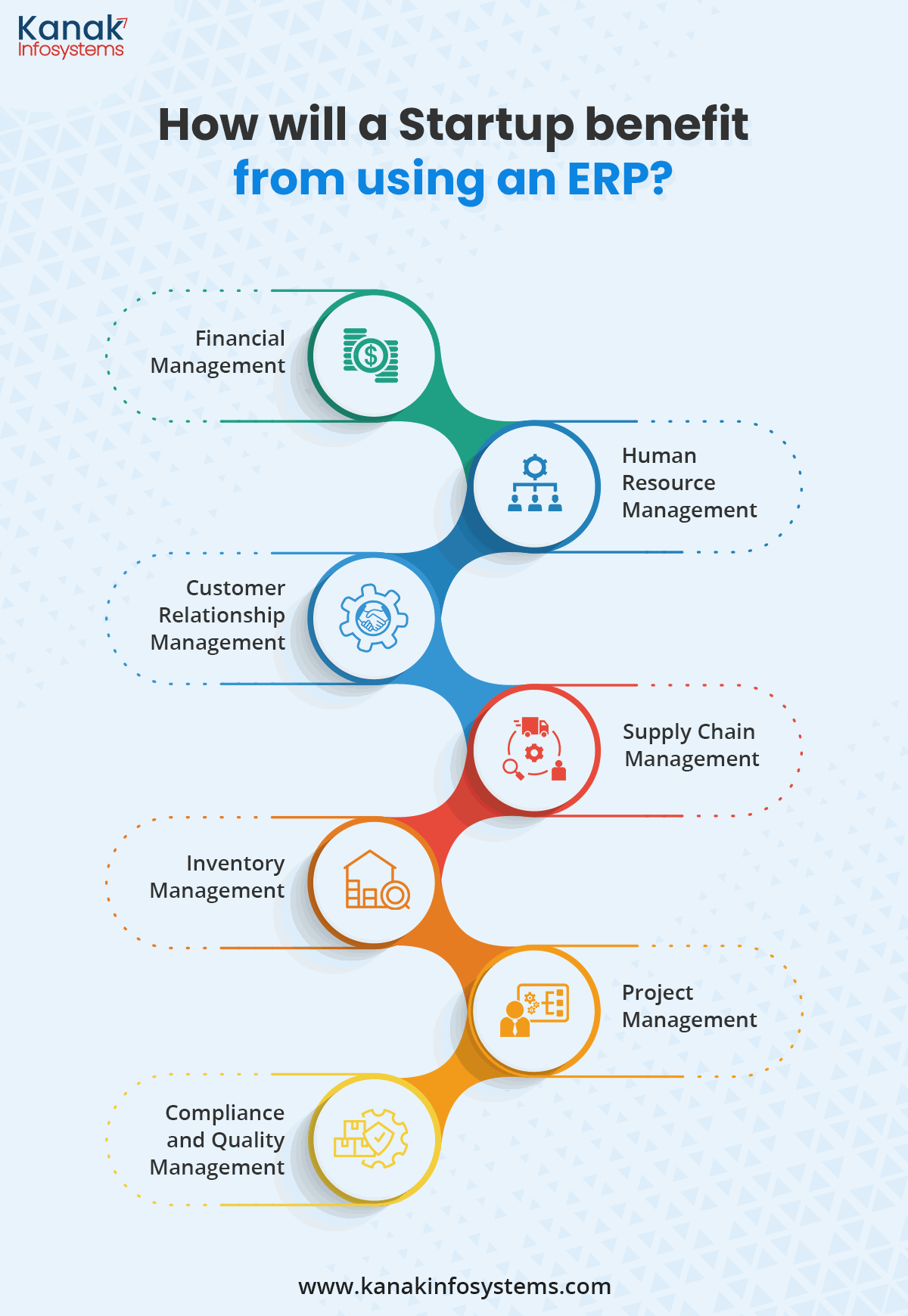 Things to keep in mind while Choosing an ERP:-
With so many ERPs in the market, it can be a tough decision to make. While there is no one-size-fits-all ERP solution, there are several considerations that one should make before finalizing which ERP solution to invest in:
Budget Friendly- an ERP could be a costly investment. Usually, the cost of an ERP depends on the complexity of the ERP you expect from the product and the number of users sometimes. Looking at a startup's constrained budget and resources, they should totally go for cloud-based ERPs.
Scalable- it is important to make sure that the ERP system that you choose is scalable with your business. It is important to make sure that the ERP system that you may choose for your business is able to accommodate changes in requirements and resources with the course of time. Cloud based ERP systems are easy to scale to fit the needs of the organization.
Simple- Don't opt for the functions and features which you don't require just because they come at a fancy price. Make sure the ERP system that you choose is easy for you to navigate around and is fitting the needs of your organization. A user-friendly UI is the first thing you should look out for while making a decision. A cloud ERP with a modern and clean design and straightforward and logically arranged menu structure is crucial.
Secure- Data Breach and CyberCrime are the two perpetual threats to any business and a startup is no exception. Many cloud-based ERPs offer security safeguards, just make sure you choose a solution that makes data security simple.
Responsive- Make sure you choose an ERP provider who is there to support you at all times. Having a trustworthy vendor or partner saves you most of the trouble and also helps in ensuring that your adaptability to the new system is smooth. One such ERP vendor is Kanak Infosystems LLP. Our clients are our first priority.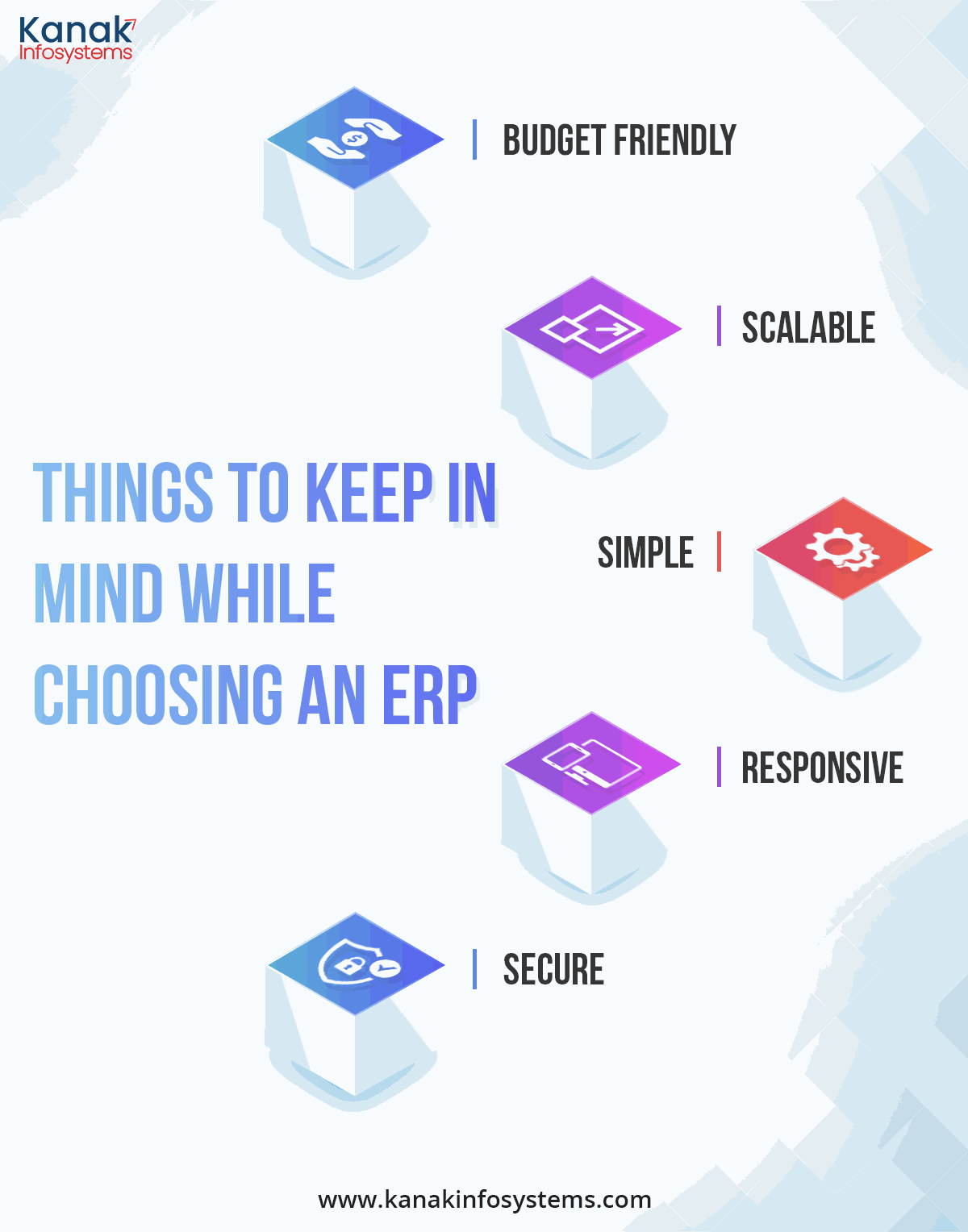 It is up to you to decide which ERP solution would suit your organization and how much money are you willing to invest in. we wouldn't deny the fact that the ERP implementation is more of a necessity. It may be tough for startups to balance out between the technology and the budget, but that is where we come! Book a consultation with us now and find the best possible solutions!
Frequently Asked Questions
Mostly cloud-based software are more beneficial for startup companies, ERPNext and Odoo aims to provide a great customer experience with solutions and values to help them operate in a better way. Both of these beloved ERP softwares are open-source which makes them flexible while being pocket-friendly.
ERP or Enterprise Resource Planning, is software-as-a-service focused on managing and integrating the functions of a business. Startups would benefit using ERPs since all of their functioning would be automated which would reduce the possibility of extra human efforts and time spent on them.
Leave a Comment
---
Your email address will not be published.
Your comment is under review by our moderation team.