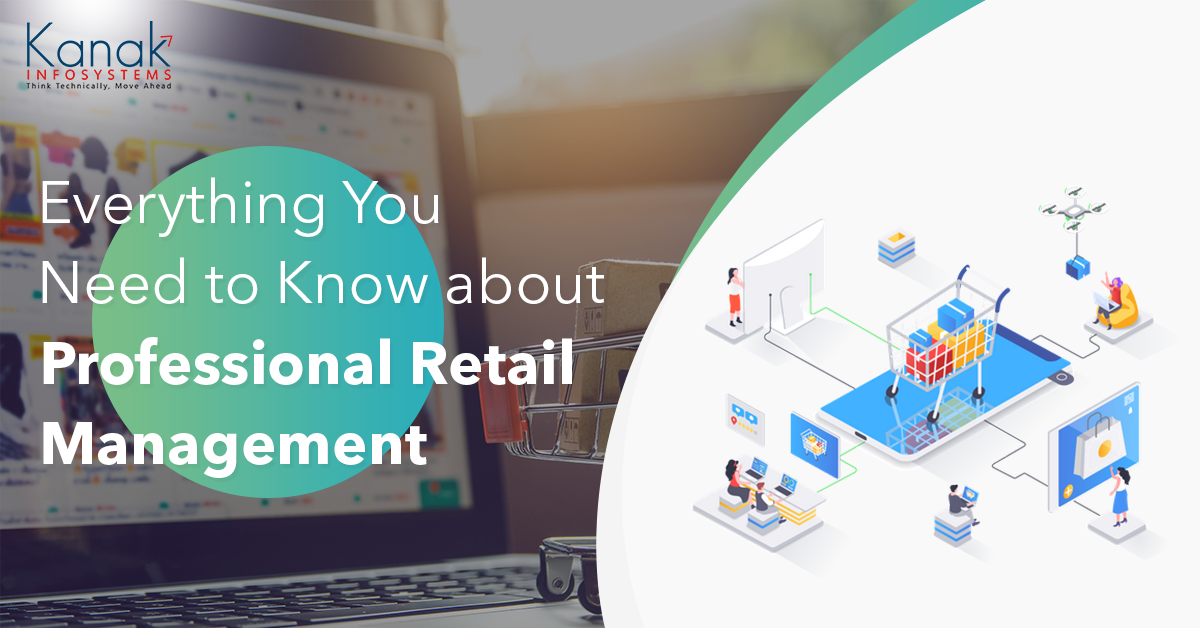 Everything You Need to Know about Professional Retail Management
Managing a retail unit should be a systematic process. Otherwise, there is a chance of messing up things so severely that the consequences will bring financial losses to the retail stores.  Today, retail management is a professional course, and people pursue such practices to become experienced retail managers.
However, small retail stores cannot afford to hire multiple employees or professional retail managers. Therefore, such businesses need technology-driven retail management solutions.
Broadly, the retail management process consists of four stages. First, a business owner has to find a perfect place to open a retail shop.
The following stages are managing retail operations, monitoring the performance through analytics, and planning expansions. In the next section, you will find a guide on managing a retail business.


The Three Essential Components of Retail Management

Professional retail management is a process that has been developed on the three foundation stones. In the following section, essential components of managing a retail store have been discussed.
A. Inventory Control and Management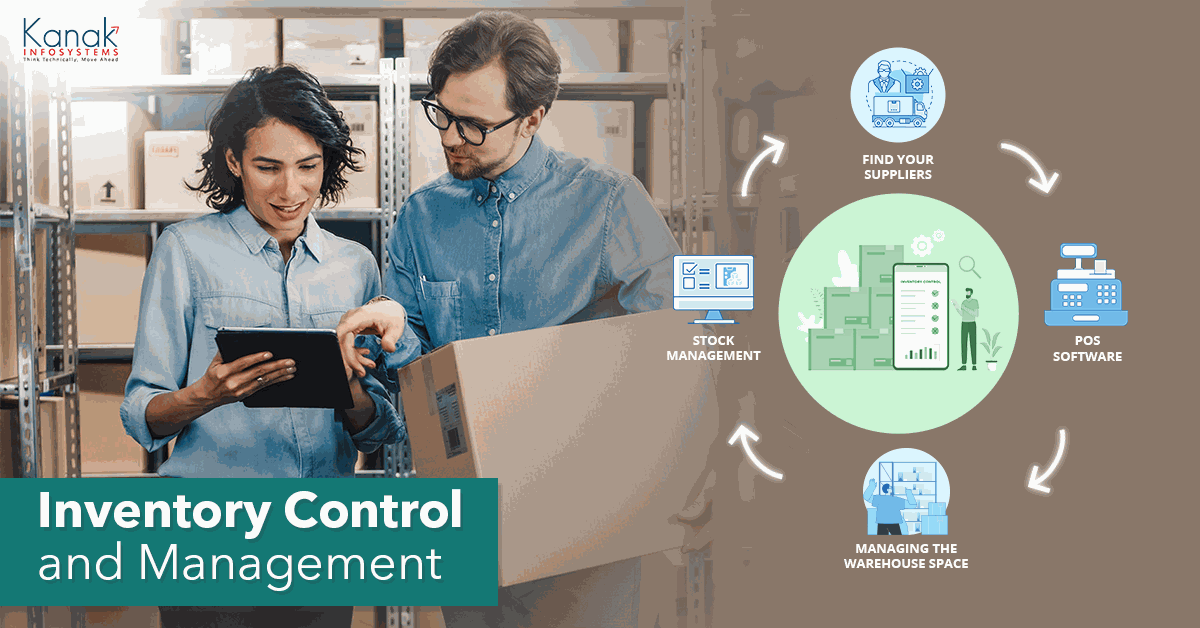 1. Find Your Suppliers
A retail shop owner should work in partnership with multiple suppliers. If you develop a multiple-brand retail store, you will have various suppliers.
On the other hand, there could be only one supplier for single-brand retailers. You can check the yellow pages to get phone numbers and physical addresses for nearby suppliers.
2. POS Software
What is a retail store? A retail store is where people come and purchase products according to their requirements. Typically, every retail store should have a point-of-sale (POS) counter. Such a dedicated counter is essential to render convenience in checkout to the buyers.
Moreover, an advanced checkout counter saves time for the buyers. When buyers find a satisfying experience at a store, they tend to return to the store sooner.
Today, most retailers invest in top-quality POS software, which helps them track inventory, process payments, and assign jobs to store executives.
Odoo POS is the leading point of sales software used by some of the largest retailers and restaurateurs owners. Book a Demo Now
3. Managing the Warehouse Space
Every retail store must have inventory space for storing the goods. The warehouse or inventory will store the goods that come from the suppliers. The goods move to the store from the inventory. Therefore, inventory or warehouses have a crucial role in retail operations. You can rent or buy a warehouse according to your convenience and affordability.
4. Stock Management
Stock management also referred to as inventory planning, is one of the most crucial aspects of dealing with retail operations. The retailers have to track the products in stock to optimize the sales. Inaccurate stock management leads to financial losses for the retailers.
Moreover, you may lose a few loyal customers. For example, a customer likes to purchase a particular product at your store. The buyer can get annoyed if he finds the product is out of stock. When such things repeatedly happen to the loyal customers, they search for the other stores where they can find their favorite goods in stock.
Manual stock management is often faulty; thus, it has become obsolete. Resource planning tools, developed on Odoo, come with inventory tracking and stock management features. Small retailers should also use digital platforms to track and manage their stocks.
B. Resource Planning and Management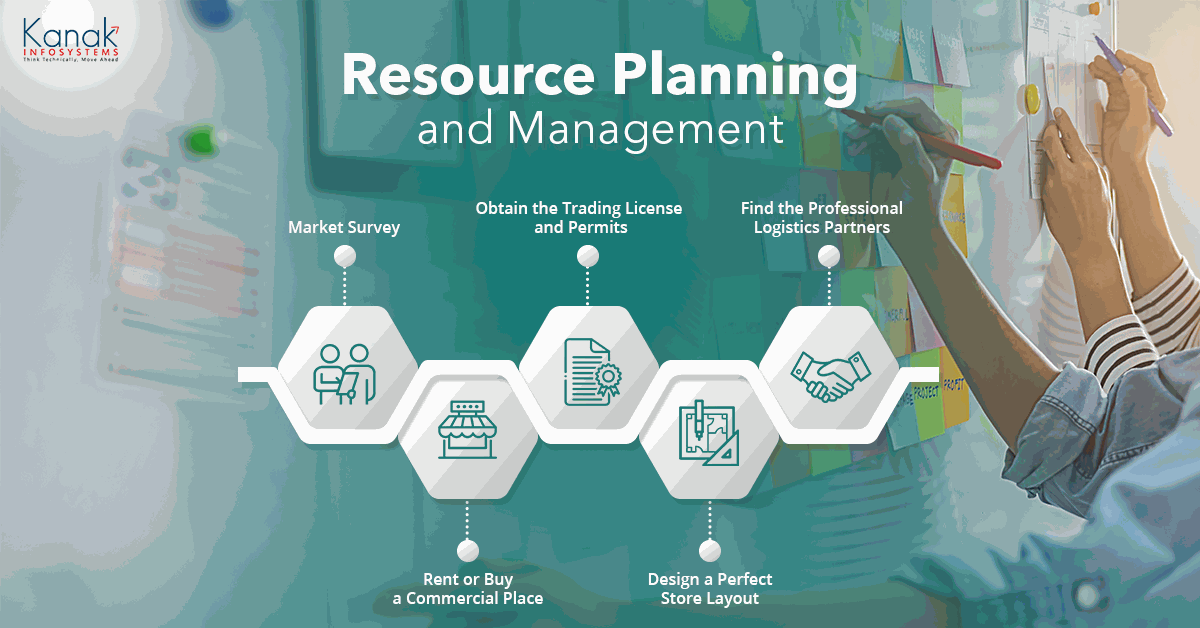 Every retail store must plan the resources with precision. Mistakes in resource planning will lead to costly errors. Nevertheless, resource planning helps a retail store optimize the uses of various resources. As a result, a business can be run more proficiently.
Today, resource planning is not a manual job anymore. Small and large retailers use top-quality resource planning tools to manage resources proficiently. Using a robust tool helps the retail managers to track the resources from a uniform platform.
Moreover, it helps them distribute tasks to employees according to their merits. Therefore, overall retail operations become smoother with the use of such tools. However, since small retailers often have to deal with a cash crunch initially, they remain in a dilemma when investing in a retail management tool.
Small retailers can find cost-effective resource planning solutions on Odoo, one of the leading open-source frameworks for developing custom resource planning tools. The following section lists all the resource planning tasks that retailers need to manage.
1. Market Survey
The first is conducting a market survey to assess the requirement for a retail store in a particular location. Then, when you open a store, you consider the people in the neighborhood your potential customers. For the online stores, a specific city or town could be the potential customer initially.
A detailed survey and market assessment will help you know your retail business's chance of success in a particular location. So, you need to survey the potential customers to assess their requirements. Furthermore, it would be best if you determined the competitors.
Also Read:  Survey In Odoo.
2. Rent or Buy a Commercial Place
What's a retail store? A retail store is a commercial place, and thus you need to buy or rent such spaces. In most countries, you cannot turn a residential area into a commercial one. However, there are exceptions to the law for small retail stores. Therefore, you need to consult a lawyer before purchasing a property.
Before investing in a property to develop a retail store, you must understand the legal provisions. Moreover, you need to check the location and size of the property according to your business requirements.
3. Obtain the Trading License and Permits
Procuring the necessary permits for commercial operations in a retail unit is essential. Without having them, you cannot legally run a business. Moreover, it is crucial to have a trade license for running a retail unit. You may need a professional business lawyer's consultation in this regard.
4. Design a Perfect Store Layout
What is a retailer? Today, you can find two types of online and conventional retailers. Conventional retailers have a physical store, and thus they should invest money in developing the store interior. The store layout is also crucial for storing goods systematically without any hassles.
On the other hand, a decent layout quickly draws the attention of potential buyers. Online retailers do not have physical stores, as they operate from virtual platforms.
Therefore, they should invest in their online selling platform. The website should be visually attractive. On the other hand, it should be user-friendly to render a smooth service to the buyers.
5. Find the Professional Logistics Partners
Finding a suitable logistics partner is crucial for expanding your retail business. Online retailers must ensure a quick and hassle-free delivery service to customers. The retailers that offer faster delivery can become more successful than others.
Opening a retail outlet is not all about finding a suitable property and converting it into a retail shop. So, what is retail? How can you start a retail store business?
Investors should know the answers to these questions before investing in retail stores. In the following section, find the steps for opening a retail store.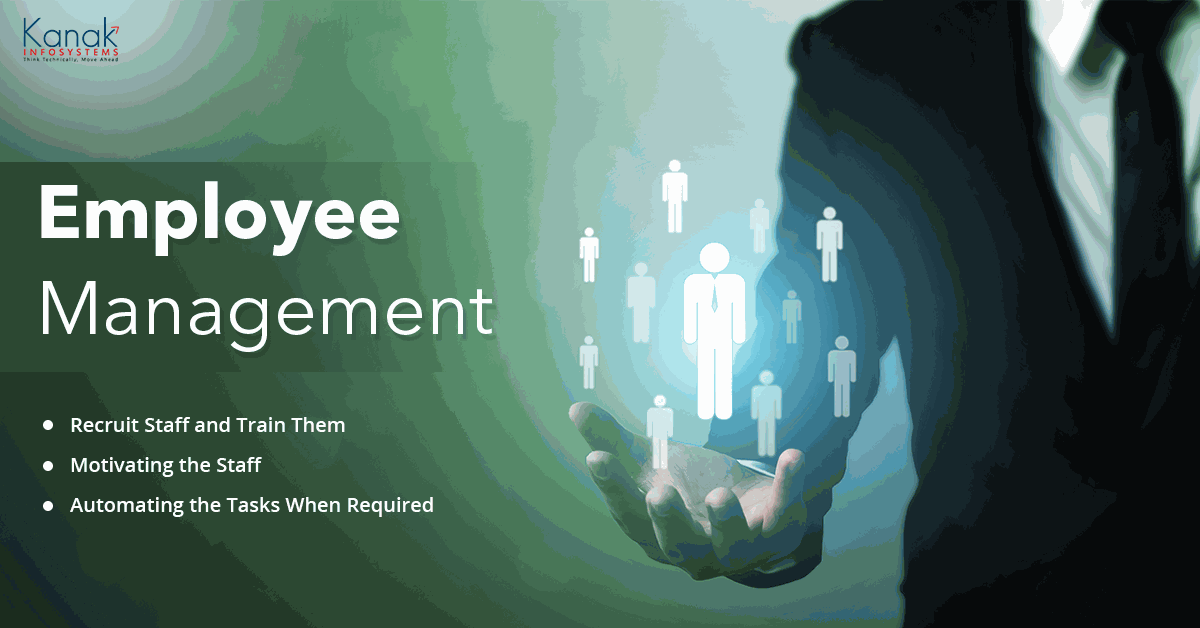 A retail manager has to manage the employees or human resources. Employee management involves multiple tasks, and most retail stores have POS software to track employee performances and assigned tasks. Task distribution and monitoring the performance of the store's attendees are the most crucial jobs.
A retail store has employees depending on its size. Typically, a small retail store has around 2-10 people employees. As the store expands, the number of employees increases. In such cases, employee management is crucial even if you have many employees.
Employee management includes assigning tasks, tracking performance, calculating wages and incentives, and many more. In such cases, the resource planning tool can help you manage things on the virtual platform.
1. Recruit Staff and Train Them
With the advent of time, the retail business keeps growing. Therefore, you need more employees to manage the store and deal with the customers. Typically, a retail store has a store manager, POS executives, warehouse managers, store attendants, etc.
The store manager plays a vital role in managing the store; thus, skill and experience matter for the success of retail stores. But, how much do retail managers make?
Depending on the size of the retail unit, the managers get their salaries. Besides recruiting a professional and skilled store manager, the retailer should recruit floor attendants, POS executives, etc.
Typically, the retailers recruit freshers and train them to manage these tasks. However, hiring experienced persons is also helpful, as it reduces the cost associated with employee training.
2. Motivating the Staff
The manager's role is to keep the staff motivated in their jobs. When employees remain motivated, they perform with more dedication.
Nevertheless, motivated employees create a healthy work culture where everyone competes with each other to prove their competencies to the management.
The performance of the employees has an impact on the revenue and reputation of the retail store. The retention rate of a store improves when employees are well-behaved and supportive of the buyers.
Moreover, well-trained employees improve the conversion rate of the business. In other words, they turn store visitors into buyers.
3. Automating the Tasks When Required
While skilled human resources are crucial for a retail store, human resources can sometimes become burdensome. All retail units want to operate with minimal employees without compromising the customers' comfort.
Therefore, businesses look for innovative approaches to replace human resources with machine intelligence.
The retail manager should update the store with modernized technologies that reduce the business overhead.
In addition, automating the retail operations will help retailers obtain better efficiency and reduce the burden of paying wages to many employees.
Other Retail Management Tasks
A retail manager must handle many other tasks mentioned in this article. Find those additional tasks of the retail managers in the following section.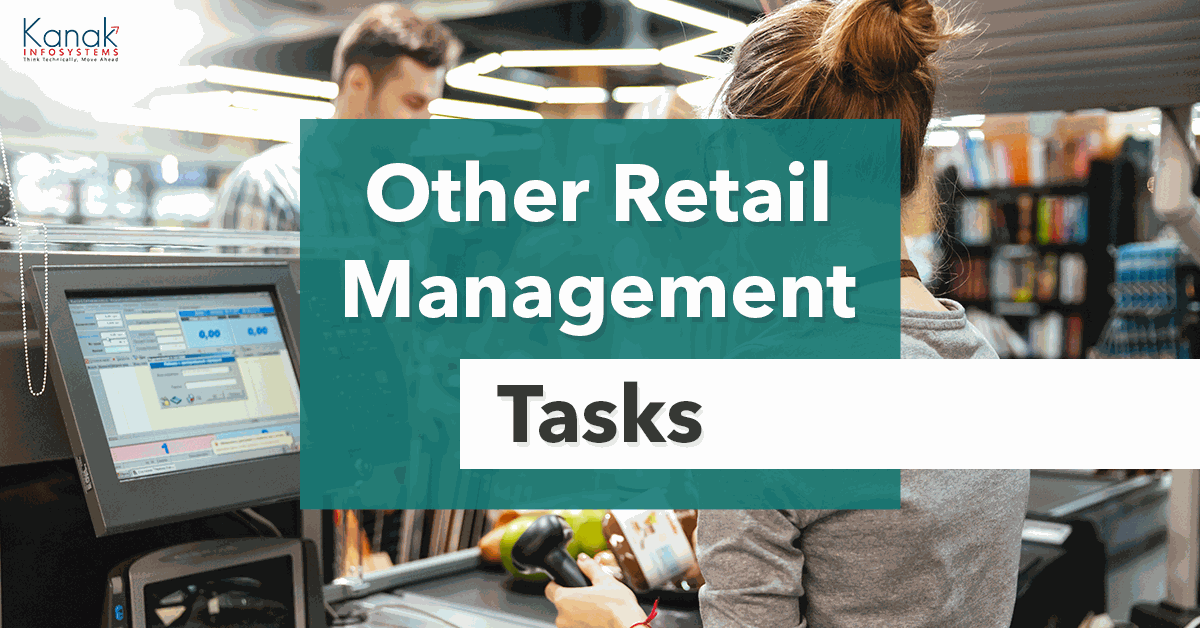 1. Developing an Omni-channel Retail Store
It is essential to define retailers with the changing global situations. Today, people have become well-accustomed to online shopping.
Therefore, buying online is advantageous, as it makes shopping convenient for goods anywhere. Therefore, retailers should develop an omnichannel retail chain for the buyers.
In other words, you should have both online and conventional buying facilities. Then, when your store starts doing well in a particular locality, you can invest funds in developing an online store. The good thing is that creating an online store is affordable for everyone today.
The online store will help you to find a better brand exposure. Moreover, an online platform is not limited to a particular region. Therefore, people from different parts of the country or city can explore the goods at your online store and place orders.
2. Marketing Campaigns
One of the crucial parts of retail operations is dealing with business marketing. The retailers run various product and brand marketing campaigns to optimize sales. Running such movements should be a systematic job; thus, you may need to outsource the job to a professional marketing company.
Small retailers may not afford to hire professional business marketing services. Therefore, they can run and manage their marketing campaigns through a cutting-edge resource planning tool.
3. Brand Franchising
Many retail brands adopt brand franchising tactics for business expansion. However, such ideas come with both risks and rewards.
The trouble is that your brand value will deteriorate if the performance of the vendors is consistently poor. On the other hand, the prize is that partnering with good vendors helps your business increase.
4. Customer Satisfaction
Customer satisfaction is crucial for a retailer as it helps the store find loyal customers. Retaining loyal customers allows the business to overgrow. Tracking customer requirements and delivering them a better experience are crucial tasks of retail managers.
It would help if you followed customer satisfaction by obtaining customer feedback and collecting other information. An advanced resource planning tool can help you in this regard.
Don't wait! Transform your retail operations today. Reach out to us now.

Developing Resource Planning Software Using Odoo
Every retailer needs an advanced tool for smoother operations and expansion. You can develop a unified virtual retail management tool using Odoo, an open-source framework for developing enterprise resource planning tools.
Odoo is recommended to retailers, as it is free. However, it would be best if you had a professional Odoo partner or developer to create and implement a resource planning tool for your retail shop.

Stock Management: The resource planning tool helps achieve more accurate and effortless stock management.

Employee Management: The tool offers a platform to track employee performances, activities, assigned tasks, etc.

Customer Management: The resource planning software can create customer profiles and manage their preferences.

Analytics: The platform can develop reports and analytics to provide detailed insights for retail store management.
Elevate your retail business with a custom mobile app. 
Conclusion
Managing retail stores is challenging. But, it is an exciting job at the same time. The meaning of the retail experience is not easy to perceive unless a person is aware of the things mentioned above. Therefore, a systematic approach to retail management is essential. Nevertheless, retailers should adapt to the latest technological innovations to improve the retail brand, consumer experience, etc.
Frequently Asked Questions
What is the Definition of a Retail Store?

People define retail stores as to where they can find goods according to their requirements. From groceries to fashionable items, you can find different retail stores. Along with the physical stores, the online store concept has also emerged. People can buy products sitting at their homes and obtain delivery of the products at their doorsteps.

How can you manage a Retail Store?

Managing a retail store involves multiple tasks for the store managers or owners. Some tasks are stock tracking, managing bills, planning expansions, assigning tasks to the employees, finding suppliers, and many more. The task can get easier using a virtual tool that brings all the functions to one place.

How can you promote the retail brand?

You can apply online and conventional marketing tactics to promote a retail store. Nowadays, online marketing has become even more crucial than traditional marketing. Online marketing involves SEO, social media marketing, PPC campaigns, etc. On the other hand, conventional marketing involves TV commercials, radio ads, flyers, posters, hoardings, etc.

Leave a Comment
---
Your email address will not be published.
Your comment is under review by our moderation team.