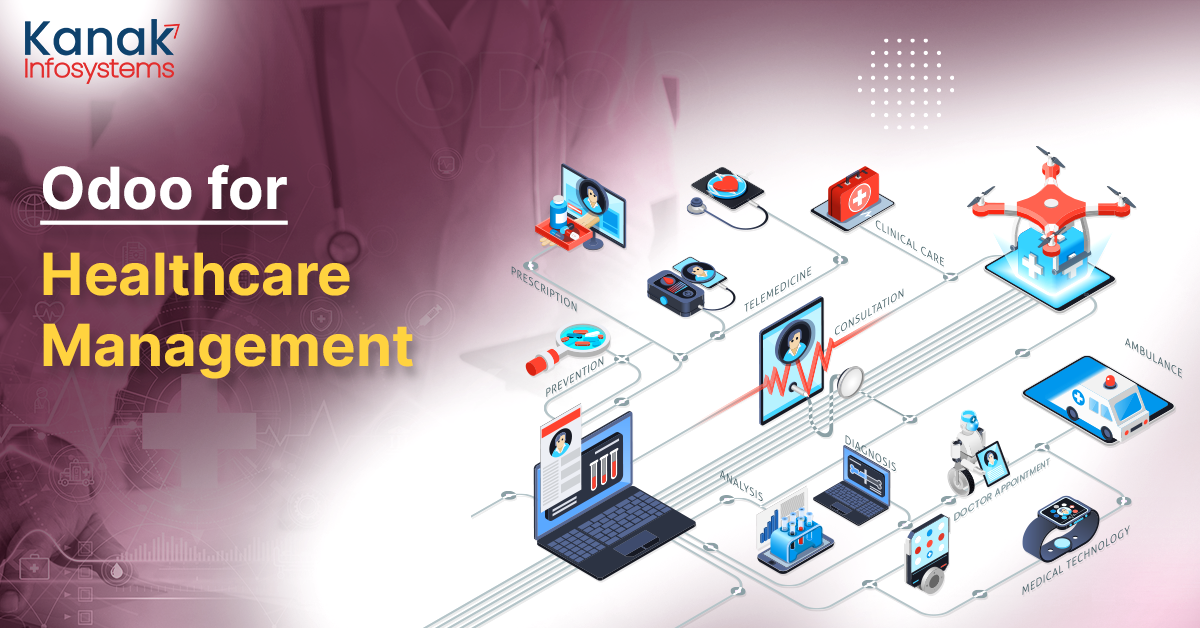 How Is Odoo Helpful For Healthcare Management?
With the increase in healthcare industries, the user needs to facilitate better service to patients. Healthcare management facilities can meet patients' needs and manage the services to maintain quality with the help of an ERP system. In this article, we will discuss the challenges and solutions to those challenges of ERP for healthcare industries. 
Odoo ERP development used for healthcare management is an ideal way for medical clinics and centers to improve assistance.
Apart from this, it would help to streamline their operations and effortless solutions to manage the growing influx of patients while delivering the medical facilities.
Here we will discuss the significance of Odoo ERP for healthcare management.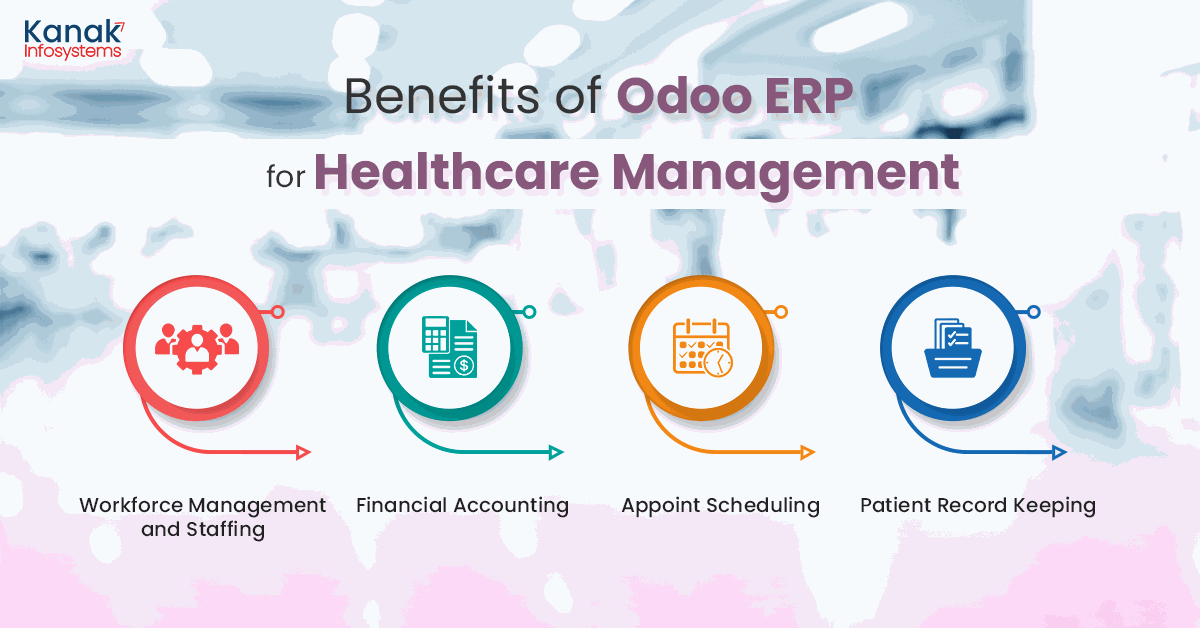 Benefits of Odoo ERP for Healthcare Management
This open-source ERP software offers full-scale enterprise solutions for cross-industries to manage business operations efficiently.
The healthcare module of Odoo offers the diverse needs of hospitals, clinics, healthcare institutes, and more.
"Subscribe to explore Odoo ERP customization, development, and tips."
Here are the key features and benefits of Odoo for the healthcare management module: 
⏩ Patient Record Keeping
For tracking patients' medical history and prior appointments as well as test details through the Odoo hospital management system.
In this case,
The medical staff can easily retrieve all the data and relevant information of the patient's medical information and maintain the records in just a few clicks. 
⏩ Appointment Scheduling 
The Odoo ERP module in healthcare management automates appointment scheduling.
It provides a self-service portal where patients can view the available time slots and remove complications.
The healthcare staff will get a notification for each new appointment that keeps the doctors apprised of their patient's appointments. 
⏩ Workforce Management and Staffing 
The staff requirements for a healthcare clinic, as compared to a hospital, effective workforce management is still important.
It offers to shift planning to task scheduling and attendance management.
Odoo ERP solution can efficiently manage the diverse force of workforce activities in the healthcare sector.
The Odoo healthcare module can help to manage the workflow operations, which are fully customizable and easy to scale as per the changing business scale needs. 
⏩ Financial Accounting 
Odoo ERP solutions for healthcare management systems is a dedicated module for accounting and financial management.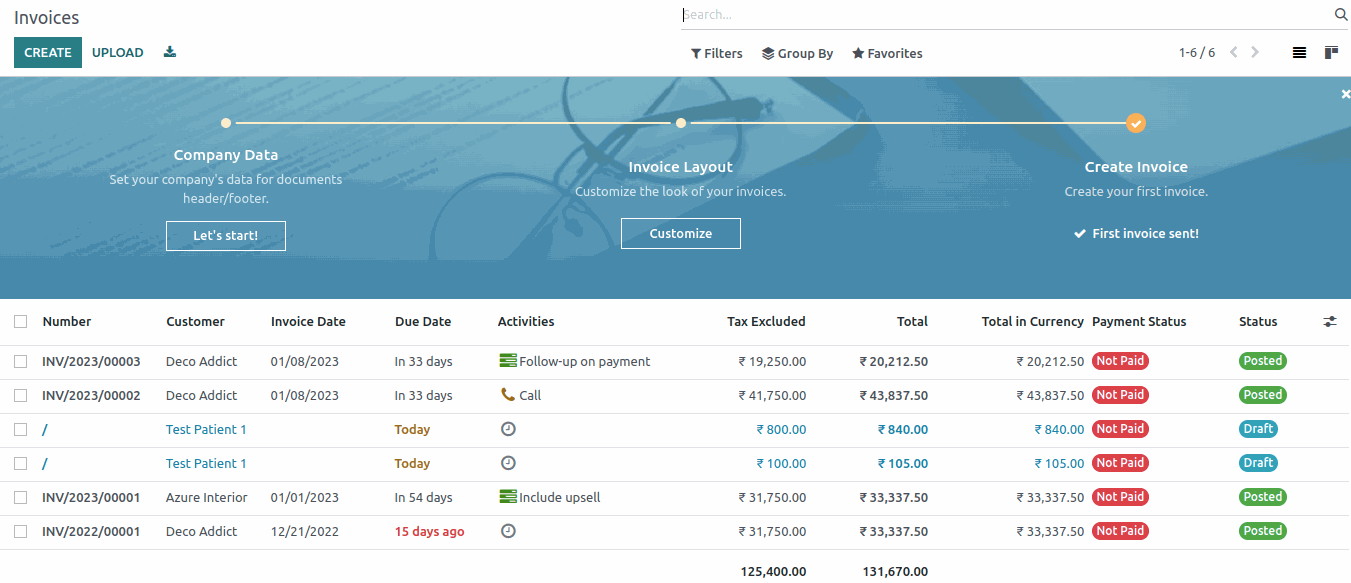 This will help the user to keep track of all transactions to maintain a record of the day-to-day financial activities.
Odoo has an accounting module to maintain all financial and bookkeeping tasks of healthcare management.
Including this,
The custom invoicing module with several templates that built-in templates facilitate faster invoice generation and various medical treatments. 
Unlock the potential of Odoo for healthcare management​. Schedule your Odoo demo today and transform your healthcare operations!
⏩ Hospitality Management
In Odoo software, for healthcare industries, cleanliness and containment are both essential aspects of hospital administration.

There should be regular service for cleaning, which is essentially performed on the floors, beds, wards, rooms, and equipment that maintain them clean and prevent diseases.

Odoo for hospitals helps to manage and monitor which is performed based on scheduling operations.
⏩ Ambulance Service Management 
In Odoo ERP system, the fleet management setup will allow the users to manage the fleet of ambulances available in the market.
You can register the vehicle information on this ERP platform, including maintenance details, insurance coverage, accident history, numerous permits that are accessible and their expiration dates, and more.
This platform guarantees that each vehicle service has a driver and a nurse assigned to it. It also notifies the user of various vehicle-related documentation and allows them to be assigned to a vehicle.
⏩ Sales and Purchases 
The pharmacy services are for certain instances, such as for patients or outsiders, and it is available for every hospital or clinic.
This platform of Odoo allows the user to manage the quotations and purchase orders for various medicines and equipment for availability of vendors.
The inventory management module helps you to manage the stock and maintain the records of product flow. 

⏩ Accounting and Invoicing
In Odoo ERP, the entire accounting operations can be easily managed, including tax reports and calculations, preparation of accounting charts, and monitoring them accordingly.
All accounting functions, such as payments, liabilities, equity, and more administration, can be easily managed with the help of the Odoo accounting module.
The invoice fiction of sales can allow the user to add the service charges, room rent, medical bills, and more with respect to the patient.
In the payment gateway option, you can also set up down payments or regular payments. Apart from this, the payment gateway is based on various online platforms via bank transfers or direct cash payments.
Also Read : Manage Accounting with Odoo
Watch How Odoo Simplifies Healthcare Management with All-in-One Solution!
Challenges in the Healthcare Industries 
Odoo healthcare management system is a fully integrated solution that manages several other departments on a single platform. But in some other cases, there are some challenges that the user may face in the healthcare industries: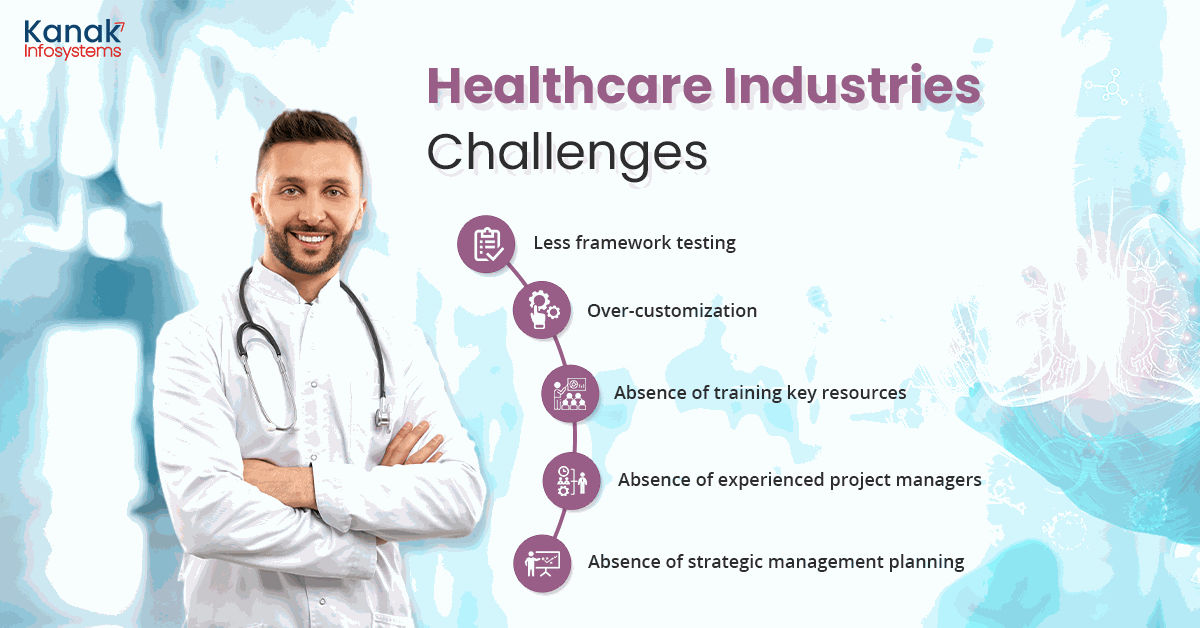 ➢ Absence of Strategic Management Planning 
The organization decides to manage the implementation of the ERP framework; in the first step, the user has a clear strategic roadmap, and other goals need to be met.
With a clear goal, you can characterize the money-related advantages, essential business forms, and advanced due dates.
One of the most essential issues that users may face with recognized ERP solutions. 
➢ Over-Customization 
Most organizations comprehend customizing their current ERP framework, which includes time, risk, and cost to the project.
Customization can be the main risk part of Odoo ERP implementation.
Despite this, it has been observed that organizations are not able to eliminate customization in their Odoo healthcare module. 
➢ Absence of Experienced Project Managers 
One of the most common mistakes that organizations face while getting resources from open-source ERP modules is to hire an experienced project manager.
Not any ERP experts can have the solutions for Odoo performance issues.
A person can manage the task as a part-time to their primary role and seamlessly conduct Odoo implementation. 
➢ Less Framework Testing 
One of the biggest reasons that users have to face Odoo performance issues is because they don't take the test process seriously.
At that point, when plans get tight, many business users don't realize the reason for testing of an Odoo ERP implementation.
Testing helps in checking whether the framework meets your business requirements and creates the yields you need. 
➢ Absence of Training Key Resources 
The other challenge that the user may face when they do not reap, Odoo results is required, when the clients are rushed into using products without sufficient training.
One of the key skills that Odoo implementation partners need to have in trained users.
In fact, leaving training towards the end of the project makes a difficult part for the clients to comprehend the framework and have a positive impression for doing the right thing in the same way. 
Final thoughts 
Odoo ERP for healthcare management is definitely a promising way to streamline the operations of your healthcare organization and build resilience for potential clients.
Odoo for healthcare comes in two variants i.e. free community version and the other is more advanced enterprise edition.
Thus, it brings significant cost savings to the table and helps you to build a rich enterprise solution without overspending.
If you require a way to overcome the challenges of Odoo ERP for healthcare management, then connect with Kanak Infosystems LLP. 
Find out How Odoo can Help you with Healthcare  Management: Get In Touch with Experts

Leave a Comment
---
Your email address will not be published.
Your comment is under review by our moderation team.