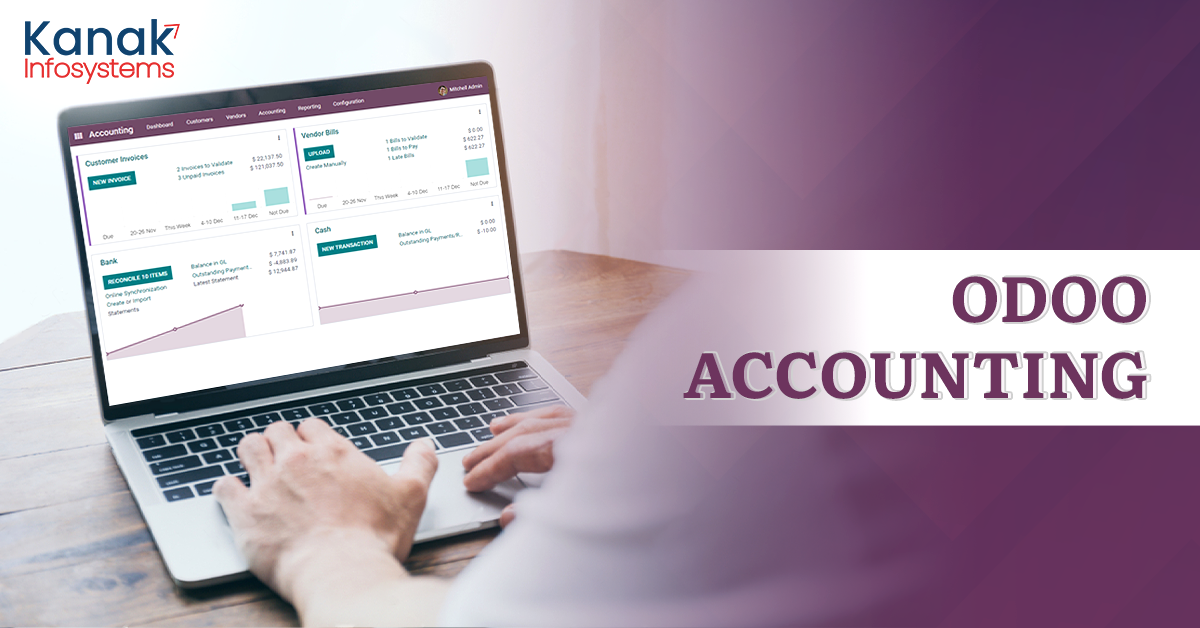 Manage Accounting With Odoo
What is Accounting?

Accounting refers to the entire cycle of measuring, processing and sharing all the financial information of an organization. it is the process of keeping maintained accounting books of financial transactions.
Digital Accounting is the process of creating, transferring, managing and storing financial information of your company in an electronic format. It basically works in a software solution to automate many of the manual processes accountants deal in your business.
Want to have in-depth knowledge about Odoo ERP and how it can help you, read our blog about Odoo Review.
Digital accounting will help you by providing accurate results, and you wouldn't be prone to committing errors. It is very important to ensure accuracy since your business relies on this data to make very critical decisions. A digital accounting system is also a hugely cost-effective way to scale your accounting process. 
Accounting with Odoo
Odoo Accounting is one of the most dynamic and efficient Accounting Management systems. It is well-equipped with multiple accounting operational functions.
You can define the fiscal years and tax groups in the configuration of the Odoo Accounting Module. You can set up information like initial balance, default taxes for sales and purchases & finally, connect your financial accounts.
After you are done setting up your bank account to your database, other operations are just a matter of a few clicks. 
Odoo Accounting and Other Modules    
Odoo Accounting is well integrated with other modules such as Sales, Purchase, etc. This would allow you to add up the features of management and will help you keep a smooth flow of coordination between all the processes of your business operations. 
Odoo-Customer Account Management
Odoo is a customer-friendly software. It strives to give you and your customers the best coordination experience. With the customer tab, Odoo would allow you to manage invoices, credit notes, payments, follow ups, debit and credit cards and your customer experience.
You can add customers to the customer list and then later on update the list as and when needed. This would allow you to send the bills and invoices to your customers through email in just one click.
Customizable Dashboard
Odoo gives you the opportunity to create your own dashboard.  You can do so by assembling custom reports. You can generate those reports for any time period. All the reports are completely dynamic which allows easy navigation. 
The interface is based on the Google Material Design Trend, which makes it extremely user friendly and a visual treat.
Odoo Invoicing
With Odoo Invoicing in Odoo Accounting Management, you would be able to set up your company's data in the header and footer of the invoice. Once done, you can opt to customize the look of your invoices. And just with that, you will now be creating invoices through your Odoo database. 
You would be able to visit these invoices in the Invoices window of your Odoo Accounting Module. The same window would allow you to add debit and credit notes to your invoices. 
From the invoice profile, you would be able to generate a payment link and send it to your respective customer.  The customer would be able to make that payment by entering the details like journal, amount, bank account, etc. and just like that the payment record would be added to your accounting book.
Financial Statements and Reporting
You can access the financial statements of your company by going to the journal and ledger entries in your Odoo Accounting Module. Here you would be able to access the journal entries of your sales, purchase, bank, cash, etc. Odoo Accounting will segregate the general and partner ledgers for you to have much more systematic operations. 
You will be able to manage the automatic transfer entries in your systems. You can even add a new automatic transfer entry. The accounting entries could be reconciled with just a few taps.
With Odoo Accounting, you would be able to create multiple budgets and assign responsibilities to different individuals in your organization. These budgets can be tracked periodically. Odoo Accounting would also allow you to manage the Company's Assets within the same database as well along with managing deferred revenues and deferred expenses.
Odoo Accounting allows you to generate analytical reports on these accounts. You would be able to compare the overall statements with the profit and loss statements in order to determine the growth of your business, along with taking them as a reference to make further decisions regarding the future of your company. Apart from that, the balance sheets, cash flow statements and executive summary could also be generated in your Odoo Accounting Module.
It also allows you to generate audit reports like General Ledger, trial balance, consolidated journals, tax reports, EC sales list, Intrastat reports etc.
Easy Account Reconciliation With Odoo
With Odoo accounting, you will be able to get reconciliation propositions automatically. The interface for manual reconciliation is designed in a way that you can generate both paid and open invoices.
Odoo matches approximately 95% of the invoices and payments automatically and the remaining 5% is done by the smart matching tool in the most efficient way.
You can get your bank statements synced with your account in the quickest way possible since Odoo Accounting helps you in efficient automated reconciliation.
You will also be able to generate payment for easy reconciliation through confirmed online transactions. And the best part is that they show up in notifications through the chatter for a quick and easy follow up.
Vendor Account Management
Odoo Accounting allows you to to set up your vendor accounts in the database as well.  Based on the purchase details like the quantity of products and delivered, you can generate the vendor bills. You could use the "refund option" in case of faulty delivery.
Odoo Accounting Module also allows you to manage the employee's expenses.
Apart from all these features, Odoo Accounting Module allows you to add bank accounts and also configure Reconciliation Methods. You can also synchronize your bank accounts.
It is safe to say that Odoo Accounting Module is a one-stop solution for your digitized accounting needs. Its efficient and user-friendly modules and interface make your business hassle-free so you can just focus on the growth of your business.

Also Read:  POS Table Order QR Code
Kanak Infosystems LLP. has been an Odoo Development and Customization company for over 10 years now. It surpasses all of the company benchmarks and meets all the client's requirements.
If Odoo tickles your curious nerve, contact us  immediately to book a demo, consult or just to resolve queries.
We are happy to help! 
FAQ's
Absolutely yes! Odoo Accounting includes features to manage Customer Accounts. You would be able to manage invoices, credit notes, payments, follow-ups and even debit or credit cards associated with the customers. Odoo Accounting will provide you with customer-friendly experience and would also allow you to send bills and invoices to the customers through email with just a click!
Odoo Accounting is considered to be the most comprehensive solution for digital accounting requirements. The key factors of making Odoo a preferred choice for Digital Accounting is its efficiency and user-friendliness which provides almost all tools for accounting operations.
Odoo would streamline the account reconciliation process by automatically providing reconciliation propositions. The Odoo interface would allow for both manual reconciliation and automatic matching of approximately 95% of bills and payments.
Leave a Comment
---
Your email address will not be published.
Your comment is under review by our moderation team.