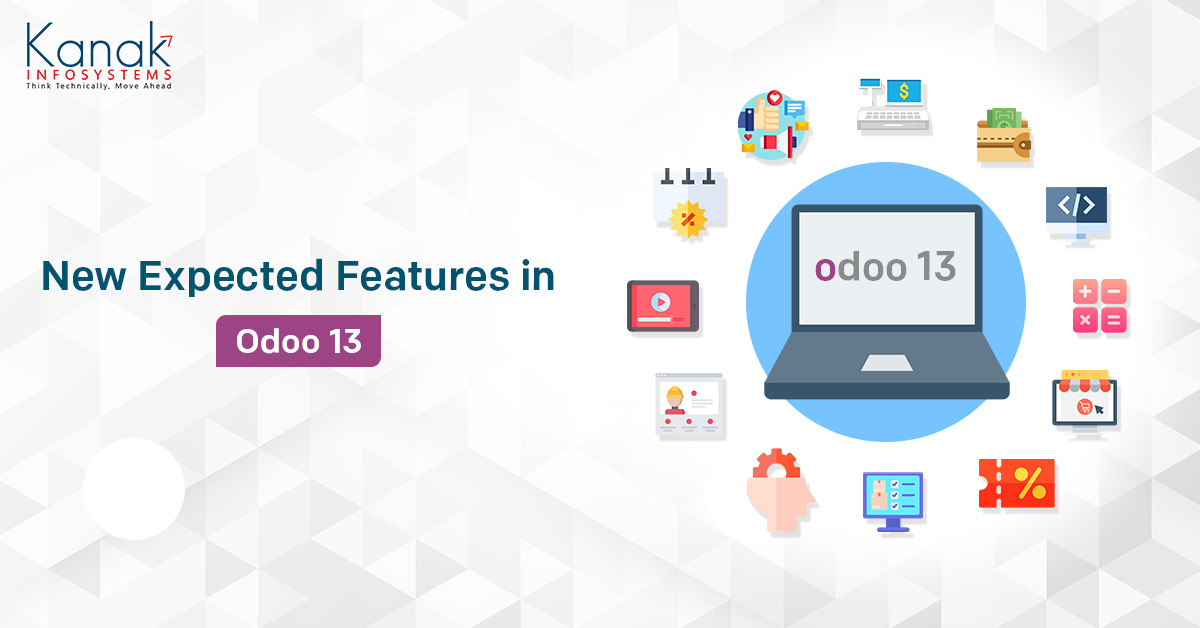 New Expected Features in Odoo 13
OpenErp or Odoo as we know it, stands for Open Enterprise & Resource Planning. It basically means that its source code is open to all. In this blog, we will discuss about odoo 13 new features.
Odoo was founded by Fabien Pinckaers in 2005. It provides various built-in useful modules like POS (Point of Sale), Accounting, Sales, Inventory, HR, Projects etc. to manage a complete business system. Apart from these internal modules, a large number of third-party modules are also available at Odoo App store for customization according to user preferences.
The latest version of odoo to be released is Odoo version 13. From IOT integration to Odoo Bank there are lot of new changes to the Odoo system.So, let us see what are some of the updates & changes in odoo 13.
First we'l l discuss the notable changes or updates of the Odoo 13 Community version which is free.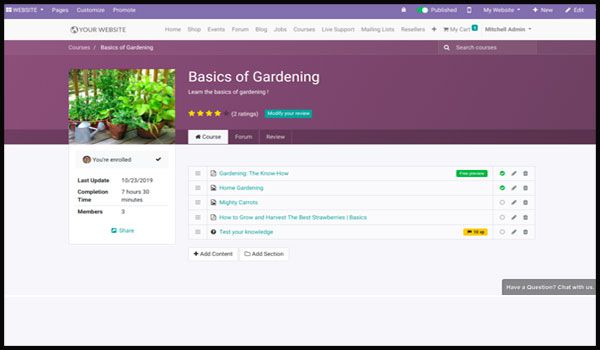 A new module is added to the Odoo 13 named E-learning. It is very useful module for creating courses on your website.User can add content and description for the course.User can also rate and add karma points on the basis of the course. It is overall a very useful addition to the Odoo 13.
2.) Skill Management Module:

This is also a new addition to the Odoo system. It is basically connected to the HR module of Odoo.
This module can be used to display the skills of an employee and ratings on the basis of the employee performance in that skill.
3.) Leaves renamed to Time-Off: The Leaves menu is now renamed to TimeOff in Odoo 13.

4.) Lunch Module UI is Redesigned:


5.) Ribbon Widget: A new widget is added to the form view which looks very good.


6.) Editing option added to the tree view.
A very useful menu is added to the tree views to display selected fields in the tree view.
The given below example is of tree views from sale orders & invoices.
7.) Coupon & Promotion Program added to the Community.
Providing discounts & special coupons & promotion on your store is now easier because the enterprise exclusive- 'Sales Coupons and Promotions Module' is now available for Odoo community version in Odoo 13.
8.) MRP Subcontracting: More often than not, companies outsource manufacturing of a part or parts of the product to achieve desired standards. The new feature in Odoo 13 introduces subcontracting for BOM.
9.) Website Form Builder: Another noticeable transfer is of the well known 'website form builder' module from enterprise to community which is very beneficial to the User.
10.) Extra Media to the Product: 
A new option to add Videos to the Product is also a very useful update. User can now add videos to the product on website. Providing information to such an extent would lead to better display of product.
11.) POS Categories Restriction: This feature can be used to restrict categories of a particular product in POS.

12.) Delivery Method renamed to Shipping Method in Sales.
13.) Preview renamed to Customer Preview: A smart button is added at the top for the preview of the order to the customer.

14.) Forecasted Inventory: A new menu is added to the Reporting menu in Inventory which shows Inventory Forecasts.

15.) SMS Marketing Added.
16.) Generate Leads: A new button to request to Generate Lead is added to the CRM.

17.) HR Payroll is removed from Community Version.
These were some of the Major Changes to the Community Version of Odoo 13.
Now we'll discuss some of the changes in the Enterprise Version of Odoo 13.
The Enterprise version is a paid version of Odoo. There are some of the noticeable additions to this version in Odoo 13.
18.) Social Marketing Module:
A new module for Social Marketing is added to the Enterprise version. Social networks are very important tool in today's world for any business. This module is very useful in displaying Social Feeds from a various social media platforms to Odoo.
19.) HR Payroll is now exclusive to Enterprise in Odoo 13.
20.) Rental Module: A new module is added to manage Rental Orders.

21.) Field Service App is added.
22.) Referrals Module Added.

23.) New updated UI for Lunch & Forum.
24.) Appraisal & Approval apps added for the Employees.
25.) Epson ePOS Printers in PoS app: Use Epson ePOS Printers without the IoT Box in the Point of Sale.

26.) POS Adyen Payment: Integrate your POS with an Adyen payment terminal.

27.) New Payment Gateways
-         PayuLatam Payment Acquirer
-         Alipay Payment Acquirer
-         Ingenico Payment Acquirer
28.) Product Grid Matrix View: Easy to Sale many items with multiple variants. it will available in the sale and purchase. 

Settings in products.
29.) Website Profile New Design: If Your User type is Public then everyone can see your profile like below and it's good design.
30.) 'Buy Now' Button in Ecommerce: The 'Buy Now' button is one of the most awaited new features in Odoo 13. It takes you directly from the product page to the Checkout page with the product in the cart. 

31.) Enable terms & conditions in Odoo eCommerce payment option.
32.) Partner map view introduced for contacts in Enterprise.
33.) Search panel in Employee Kanban view, also add this feature in other modules via odoo framework.
34.) Grouped list views are now editable.
After that select it will ask confirmation.
After applying the changes, the view looks like this.
35.) Calculator Widget: The new calculator widget in Odoo 13 works for line ids. For example, Prices can be calculated using calculator widget by performing arithmetic operations.
Along with the above features, there are some other new features in the latest update.
The new version of odoo opens up some new opportunities for better customization for user, thus, making it more and more user-friendly. If you want to migrate in odoo 13 or if you want some help related to odoo 13, then contact us at [email protected]

Leave a Comment
---
Your email address will not be published.
Your comment is under review by our moderation team.