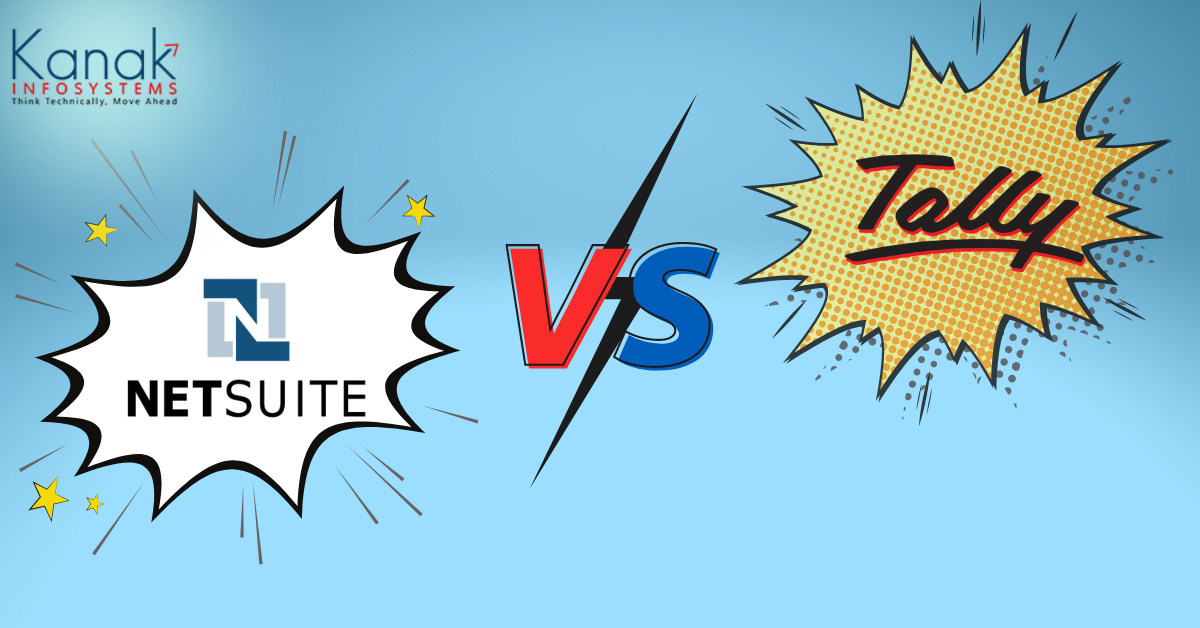 A Comparison Guide of NetSuite vs Tally: Which Software is Better for Accounting
Modern-day businesses are experiencing changes and challenges with the evolving landscape. With such digital transformation and business transition, they are looking for an advanced and improved accounting solution for robust financial management. Many businesses are deploying and counting on accounting software to drive fast growth and reap advantages. Here, we will provide a comparison between Tally vs NetSuite to help you make a judicious business decision.
Efficient accounting software solutions can aggrandize finance management and modify business scenarios. In this highly competitive era, we can come across many accounting software. Some of the leading players in the Indian market are Tally, Quickbooks, and Zoho. However, mid-market and enterprise-level companies have Oracle NetSuite, SAP, and Microsoft Dynamics at the top in their list of preferences for accounting solutions.
Tally ERP is an India-based accounting and undoubtedly, leading the market in India. However, many mid-market and enterprise companies using this ERP have found its functionalities incapable of fulfilling their key requirements. Small-sized businesses may find Tally the right fit, but NetSuite seems to be the choicest of all software solutions for all types of business enterprises.
A Brief Comparison Tally vs NetSuite:


| | | |
| --- | --- | --- |
| Advantages | Tally | NetSuite ERP |
| | | |
| --- | --- | --- |
| Cloud | ❌ | ✅ |
| User-Friendly | ❌ | Yes, UI is easy to understand and use |
| Data Reliability and Security | Limited | High |
| On-Premise | ✅ | Cloud-Native ERP |
| Browser-Based Access | ❌ | ✅ |
| Remote Access To Data | ✅ | Remote Data Access to Oracle Database |
| Document Access | Limited | Extensive Document Management |
| Integrations | Restricted | ✅ |
| General Ledger | ✅ | ✅ |
| Inventory, Task Management | Limited | Stock-Level Optimization |
| Taxation Management | ✅ | ✅ |
| Bank Reconciliation | Restricted | ✅ |
| Time Tracking | ❌ | Timesheet and Billing |
| Account Receivable/ Accounts Payable | ✅ | ✅ |
| Warehouse Management | ✅ | ✅ |
| Cross-Functional Report Generation | ❌ | ✅ |
| Analytics | ❌ | ✅ |
| Scalability | ❌ | ✅ |
| Customer Relationship Management | ❌ | ✅ |
| Workflows  | ❌ | ✅ |
| Resource Management | ❌ | ✅ |
| Advanced Revenue Management and Recognition | ❌ | Advanced Revenue Recognition |
| Demand Planning | ❌ | ✅ |
| Order Management | Limited | Product Availability and Robust Order Management |
| Invoicing | ✅ | ✅ |
| Multi-Currency | ✅ | ✅ |
| Bank Integration | Limited | ✅ |
| Role-Based Access | ❌ | ✅ |
| VAT, GST Reports | ✅ | ✅ |
| Financial Accounting | ✅ | ✅ |
| P2P Process | Limited | ✅ |
| Order To Cash | Limited | ✅ |
| Chart of Accounts | Limited | ✅ |
| Recurring Invoice | ❌ | ✅ |
| Saved Search | ❌ | Anytime Data Retrieval |
| Report Customization | Limited | ✅ |
| Product Upgrade | Annually | Twice a year and without any Cost |
| Business Intelligence | ❌ | ✅ |
| Mobile Support | ✅ | ✅ |
| Subscription | Onetime Payment | SaaS |
Is NetSuite Better Than Tally?
NetSuite: When it comes to NetSuite, it is the world's leading provider of cloud-based business management software and the most widely deployed cloud-native solution. This extensively engineered solution helps companies of all sizes manage key business operations with an integrated system.
Its Core Functionalities Cover:
ERP/Financials
CRM
E-Commerce
Inventory
Warehouse
Retail
Services and more
Tally: Tally has made a long journey after its inception. Businesses have been using this accounting solution for more than two decades and it cherishes a reputation as India's leading business management software product company. As per research, it is found that Tally powers approx 95% of businesses in India.
Tally vs. NetSuite-Which One is Low on your Pockets?
When you consider the real total cost of ownership of ERP software, it covers software license, subscription fees, software training, customizations, hardware (if required), maintenance, and support. Hence, it is important to unveil these 'hidden costs' and make a judicious business investment.
Here, we have come up with some resourceful pieces of information to help you access the two accounting solutions as per your budget.
For the most part, NetSuite ERP costs $99 per user per month. On a scale of 1 to 10 of ERP or accounting solutions on the basis of price, NetSuite is rated 2 that indicates its affordability.
On the other hand, there is no such availability of Tally-ERP 9 accurate pricing publicly. One can get it on a request.
Tally vs. NetSuite- An Overview of Features
Although we have gone through the fundamental comparison of Tally vs NetSuite, it's beneficial to comprehend an extensively orchestrated ERP Solution. This thorough outlook can help you pick an efficient accounting solution and reap business advantages on adaptive technology.
What is NetSuite?


It is an inventive cloud ERP solution, is orchestrated to streamline key operations and render inventive tools to solve mission-critical issues. With such capabilities, it allows companies to focus on their expertise and respond to the inventive market opportunities swiftly. Right from financials to supply chain management to billing, NetSuite ERP offers extended visibility and better control over key operations to the business administrators.
Recommended Blog: Full NetSuite Review 2021 - Details, Pricing, Features
We believe going through the comparison Tally vs NetSuite and comprehending the core capabilities of NetSuite will help you leave no room for robust accounting. With an accounting foundation, you can enhance finance operations extensively like never before. However, you need even more to keep better control and track all activities.
Fᴇᴀᴛᴜʀᴇs


NᴇᴛSᴜɪᴛᴇ


Tᴀʟʟʏ


Financial Management

You can integrate robust financial management with built-in business intelligence. By leveraging this elemental capability, driving smarter and instant decision-making will go as smoothly as silk for your finance team.

 

You can manage financial records, generation of statements, liabilities, and assets easily.

Financial Planning

 

While approaching robust financial management, it is essentially required to have a well-designed framework or plan. Additionally, it comes with intuitive planning, budgeting, and forecasting solutions to help business administrators cover every aspect of finance.

As per the comparison study of Tally vs NetSuite, you would have found that shorten cycle times and engaging business users are some of the key functionalities of NetSuite to enhance financially planning.

 

Order Management

 

You can expedite the order-to-cash process. This inventive cloud ERP enables finance leaders to integrate sales, finance, and fulfillment to pricing, sales order management, and returns management.

 

You can check across NetSuite Review and evaluate its capabilities for this particular operation. Here, you can consult with a certified NetSuite solution provider to understand the functionality and its benefits more closely.

This accounting solution lets you track order positions for a stock item. You can make the most of this to track goods arrival, on-time delivery, and location as well.

Production Management

 

Here, NetSuite delivers an integrated platform to help businesses get their products to market efficiently.

 

It provides real-time visibility into production management processes and helps manage finance through the same instance without a hitch. 

 

While comprehending Tally vs NetSuite, experts have found that organizations involved in any other industry than accounting, find it difficult to manage finance and accounting along with their regular operation. For instance, manufacturers might have to deploy two different systems for managing accounting and production respectively.

Supply Chain Management

 

NetSuite ERP offers all the essential tools and solutions required to define, execute, and support supply chain or distribution management plans. Interestingly, users can track and manage all the procedures from a single, collaborative platform.

For supply chain management, Tally is categorized as Invoice Management, Billing, and Inventory Control.

Procurement

 

With the deployment of NetSuite ERP and its planning and budgeting tool, you can increase the accuracy of procure-to-pay processes without much hassle. Moreover, you can make the most of this efficient software solution to optimize procurement for cost-certainty as well

Tally accounting solutions helps its users with purchase order summary to oversee transactions, stock group report, stock item report, purchase order group outstanding, and more. 

All-in-One Accounting

 

By deploying NetSuite for fulfilling your accounting requirements, you can grab real-time insights you're your business's financial metrics. These metrics may cover profitability ratios, inventory margins, liabilities, fixed assets, taxes, and cash positions.

If you go through the Tally vs NetSuite comparison, you will find that it requires multiple systems for multiple operations if the software is inefficient in delivering a unified platform. NetSuite ERP offers an integrated, single platform to perform all accounting processes and helps ensure compliance with accounting standards, Government regulations, tax codes, and internal policies as well. 

 

Automation

 

You can efficiently drive automation and eliminate repetitive tasks. These may include journal entries creation or account statements reconciliation. Also, it helps you save substantial time by eliminating the need to collect and normalize data from other departments manually. Your finance team can leverage automation across all such processes to ensure accuracy across data transfer as well. With this, they can focus on transaction details reviews, anomalies investigation, and trends analysis.

Manual entries in accounting, bank reconciliation, data transfer from one department to another take a substantial amount of time. Moreover, it invites unexpected risks that can drastically impact accuracy and efficiency.

Anywhere Access

 

However, cloud solutions offer the flexibility to access it anywhere, anytime, and from any device. With NetSuite, you can check your data, operations, or other details in real-time as your data is stored in the cloud and can be made available anywhere through an internet connection. With such capabilities, the accounting team, executives, operational teams, and employees of an organization can have the flexibility to work from anywhere, anytime.

While analyzing Tally vs NetSuite, you would have realized that accessing legacy systems is possible only when you have a physical connection with them.

Go Beyond Accounting

 

NetSuite is inventively orchestrated to let you overcome business challenges and steer high efficiency. NetSuite accounting software is a unified platform that seamlessly integrates with all the other verticals of the suite.

 

These may cover financial management capabilities, inventory and order management, human resources, customer management, e-commerce, and more.

It comes with book-keeping capabilities for all transactions, including creating and maintaining invoices. You can maintain bill-wise payment info, process banking transactions, and manage cost and profit centers.

 

It allows you to implement statutory and interest calculations, and oversee the balance sheets without much hassle.

General Ledger

 

By leveraging NetSuite's general ledger capabilities, your accounting professionals can avail of extensive flexibility and visibility, deploy richer reporting functionality, and enhance audit trails.

While going through Tally vs NetSuite, you would have realized that both the software provide General Ledger capabilities. However, with NetSuite, you can easily customize account types, transactions, and reporting segments to meet your unique business requirements.

Cash Management

 

With the deployment of NetSuite Accounting The solution, your finance team can grab the required visibility and reporting tools to optimize cash flows. NetSuite offers a complete view of the company's money flows and cash position on an integrated dashboard.

Bill receivable, receivable reports, reference number, party name, amount (pending or paid), due date, or overdue days, are some of the elemental capabilities to manage cash and comprehensively analyze it. 

Accounts Receivable and

Accounts Payable

When it comes to NetSuite, it readily automates and streamlines invoice delivery, payment processing, and collections management. This helps accounting managers increase liquidity to fund growth, shorten the credit-to-cash cycle, improve service levels, and unveil new investment opportunities.

Moreover, NetSuite ERP automates your accounts payable processes help save time and increase operational efficiency. You can ensure compliance with internal policies and avoid payment fraud as automated review and approval workflows are integrated part of account payables with this SaaS ERP.

 

If you look at the Tally vs NetSuite comparison chart, you would come to know that account receivable and account payables are part of both the accounting solutions.

 

Bid Farewell To Taxation Fear

 

NetSuite ERP lets you manage domestic as well as international tax via an integrated, easy-to-use solution. It helps generate detailed reports, and analyze transactions down to line-item tax details in real-time. With NetSuite Tax Management capabilities, you can handle local taxes across multiple subsidiaries without much hassle. Also, it allows for multiple tax schedules from GST to VAT, consumption tax, and general sales tax as well.

Goods and Service Tax (GST), Excise, VAT, TDS and Tax collected at source are features available with Tally for statutory and taxation. Also, it allows you to generate consolidated e-Way Bill by selecting the required invoices without a hitch.

 

 

Fixed Assets Management

 

NetSuite allows businesses to manage and control the entire lifecycle of depreciating and non-depreciating assets. Right from creation to disposal, you can make the most of this solution to track all such operations.

Tally vs NetSuite comparison indicates that NetSuite drives extensive flexibility to manage fixed assets and ensure greater profitability. Additionally, your finance teams can overcome the challenge of tracking assets across multiple facilities with a completely integrated fixed-asset accounting solution.

Pay Without a Hitch!

 

Whether you are providing invoices to your customers, billing their credit cards on a recurring basis or accepting payments online or at the point of sale, NetSuite bank payments and payment processing solutions let you do it without a hitch. It renders inventive tools to multiply collections and offer real-time financial data insights for better tracking of daily sales outstanding.

While comprehending Tally vs NetSuite, you can come across limited access to bank integration with the former solution. With this, you can make a diligent choice for your accounting requirements.

 

Warehouse and Fulfillment

 

Businesses functioning across Warehouse and Fulfillment can make the most of cloud ERP solutions such as NetSuite to drive scalability.

 

The comparison of Tally vs NetSuite accentuates Warehouse management in both the software. However, NetSuite's Warehouse Management capabilities have extended potential to help businesses drive the desired outcomes.

 

It enables the management of end-to-end inventory and inbound/outbound logistics in real-time which one may not find in a legacy system. Also, it helps reduce the total cost of ownership as well.
NetSuite Cloud Accounting Software
After comprehending NetSuite ERP, let's take a close look at its cloud accounting software. It will help you better analyze Tally vs NetSuite for accounting software and make a diligent business decision.
With the deployment of NetSuite cloud accounting software, finance firms can transform general ledger, optimize accounts receivables, drive automation across accounts payable, and streamline tax management without much hassle. This inventively orchestrated cloud accounting solution provides a 360-degree view of cash flow and financial performance.
Final Words
You can connect with official NetSuite Consultants, who can assist you in aggrandizing your business transition to the cloud and reap business advantages on highly scalable and inventively engineered accounting solutions. Their extreme efficiency and expertise can help you improve your accounting operations strategically.
We hope this comparison guide has helped you to make a decision about which accounting software is best for your company. If it didn't our team of experts at kanak Infosystems are ready to help with any questions or concerns you may have.
Related Blog:-
FAQs
Ans - It Is orchestrated on conventional Indian regulations and practices. It can handle basic accounting requirements but may seem outdated when it comes to meet advanced accounting requirements.
Ans - lt is leading the chart of technology competitors and comes up with everything needed to scale business operations. It serves organizations of all sizes and holds extensive capabilities to solve mission-critical accounting issues.
Ans - People have used it for invoicing, reporting and monetary operations. Beginners across accounting management in the future can use it to enhance their knowledge base and know the fundamentals.
Ans - NetSuite offers support and inventive tools to manage multiple operations through an integrated platform. It helps increase productivity and drop-down overall IT expenses. One can make the most of its customizable dashboards to meet unique according to requierments.
Leave a Comment
---
Your email address will not be published.
Your comment is under review by our moderation team.