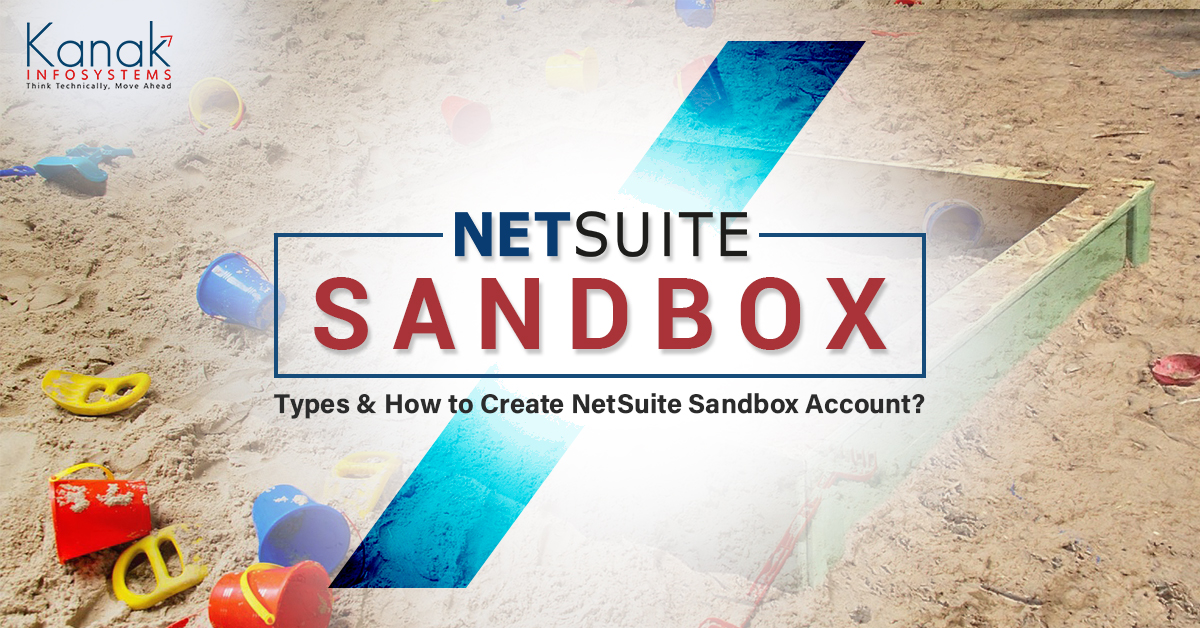 NetSuite Sandbox - Types & How to Create NetSuite Sandbox Account?
NetSuite Sandbox: As we mentioned in one of our previous blogs, that Today is the world of competition, no doubt in every field. Organizations are functional enough in revealing advanced, innovative, and cost-effective ideas to enhance their business and to fulfil the demands of their customer 24/7 globally. Competitors in the market are ready to grab every opportunity to catch new customers.
Hence, to face the competitive business platform and to survive well, organizations are updating themselves with the latest and fast technologies to serve their customers with better service.
NetSuite Sandbox helps organizations to find ideas so that they can expand their business and fulfil their customer services.
With the help of this blog, you can be aware of NetSuite, its benefits, how to assess Sandbox, Types of NetSuite Sandbox accounts, their advantages. Before we go further let's have a quick review of NetSuite:
What is NetSuite?
NetSuite in no. 1 cloud ERP that helps organizations to regulate all key components under 1 platform.
Companies use NetSuite ERP to regulate, manage inventory, finance, and host e-commerce store and strengthen customer relationship management (CRM). It is a distinct and influential application.
Considering this ERP for mid-sized businesses, NetSuite empowers unique, fast-growing companies to unlock their growth prospects. It can be used by everyone in the business, from top management to clerical staff. We can receive retrieve accurate information as compared to manually, which often leads to errors.
It helps to grow revenue, stay composed and nurture customer relationships. NetSuite earns Business intellect available to all users across the entire business spectrum.
Ready to discover how Oracle Netsuite can benefit your business? Schedule a free consultation today.
What is NetSuite Sandbox?
A NetSuite Sandbox is a distinct Testing Environment in which the users are allowed to test any program or software before implementing it.
In the Sandbox NetSuite application environment, the users can find the errors, and issues linked during the development of the business application.
Sandbox behaves as a copy of live testing without influencing the pre-existing method and figures out new features. It gives us a detailed functionality of the system to demonstrate how it will enhance your business.
In Sandbox, we can also perform the execution, and operation process without evacuating any effect on other running programs.
AS business management software is crucial as it contains integral information of a business organization. To avoid changes that might disrupt the flow of your business and provides the tools and test environment before its implantation.
NetSuite Sandbox provides development and Sandbox accounts that are safe, secure, and isolated platform test environments.
Some of the benefits which we can get from NetSuite Sandbox are:
Facilitates Experiment / Test customization before deployment process. It may save you time.

Try out the suits app or third-party integrated features.

Fix all bugs and issues with customizations.

Update forms, scripts, and searches.

Perform training sessions on existing and new business practices.

Test transaction entries, record deletions, and form customization.
How to create a NetSuite Sandbox Account?
NetSuite administrators are there to help you create a NetSuite Sandbox account. Once You have an account you need to place a request for a Sandbox refresh. After the automation process, it will be imparted record to an ample weary account from the NetSuite.
Each account consisted of an identical configuration, customization, and business data. You will easily integrate with your business process after your satisfaction with the performance of your virtual testing.
Types of NetSuite Sandbox Accounts?
There are three types of NetSuite Sandbox Accounts available for your aid:
Standard Sandbox Account
Development Sandbox Account
Premium Sandbox Account
Standard Sandbox Account:
The Sandbox account is not confined to only one account. It provides an environment for customization building as well but also includes business data from live accounts.
The Sandbox accounts allow software developers to work within a distinct environment. Here you can refresh data from your account and test individual customization.
Development Sandbox Account:
The development account holds with identical traits as your production account but is designed for third-party control. It does not contain any of your data or customizations.
In this process, outside partners can build and work on projects Within the account without gaining a record of your business data.
Premium Sandbox Account:
The premium Sandbox account is somehow similar to the Sandbox account, a platform that provides a safe testing environment.
This account, however, is peculiarly designed for high-volume – projects. This premium account is efficient enough to carry out a large amount of data and high-performance processes.
Now it is easier to understand why and how to use a Sandbox in NetSuite. Different Sandbox is available in the market; Among them, Oracle NetSuite Sandbox is no doubt impressively and effectively popular.
So, without any fix, design your customization and test the result. For this, integrate NetSuite ERP with your business profile now and enhance your business planning.
Wind Up
It is obvious that to capture new demands and to modify your business; organizations will have to welcome the latest technologies. Consumer satisfaction is one of the keys for organizations to fulfill their goals and targets.
NetSuite Sandbox is known to be a great feature and helps organizations in testing and training their employees. It endeavours as a niche to attempt new projects without influencing the actual production process. It also saves time and money and prevents losses in the production process.
For more information about the NetSuite Sandbox or any other queries you have about NetSuite, please feel free to get in touch with our NetSuite consultants at Kanak Infosystems LLP.
Leave a Comment
---
Your email address will not be published.
Your comment is under review by our moderation team.