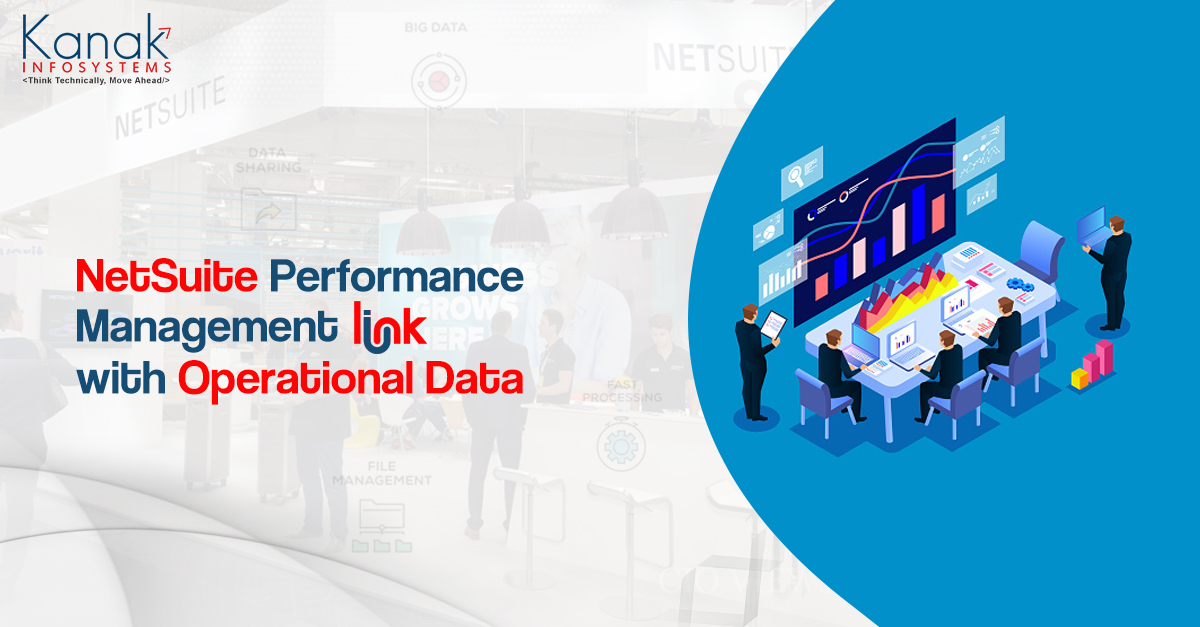 NetSuite Performance Management links with Operational Data
Delivering robust cloud-native business applications across multifarious industries, Oracle NetSuite has come up with a range of enhancements to its platform. The newly engineered functionality of the performance management application—Suite People, is equipped with inventive technology needed to measure accomplishments and achievements.
Recently, NetSuite made a move to link its Performance Management functionality with Operational Data. To comprehend and understand its business benefits better, let's take a look at the two capabilities closely.
|| Also Read: What is NetSuite? Full NetSuite Review 2021 - Details, Pricing, Features
Operational Data
This data is produced by any organization's day-to-day operations. It may include customer, inventory, and purchase data, and more. Operational data, as the name suggests, delivers key insights to leaders and managers and help them pay attention to resolving critical pain points of the business. Particularly, customer transactions, employee tasks, and multiple business processes are responsible for generating vast amounts of operational data.
Why Operational Data is Important?
There can be multiple reasons; some of the crucial ones are listed below:
• Administration of IT Assets of the Organization
• Improving the Productivity and Effectiveness of Business Operations
• To Measure the Effectiveness of Technology in Achieving the Goal
• To Understand Capacity Utilization and Scalability Constraints
• To Analyze the Cost of Services Provided to Users
• Security Assessment and Perform Risk Considerations of the Ecosystem
• To Ascertain that Performance and Service Levels Agreements (SLAs) are Executed
• To Scale Technology Cost Reduction by Optimizing Infrastructure
To understand this more closely, it can be said that Operational data delivers insights or a clear picture to optimize the role it plays in the context of the business organization.
Particularly, it helps identify the key opportunities to enhance overall performance as well as the risks that require attention.
 Stay ahead with NetSuite ERP insights! Subscribe our newsletter now.

NetSuite Performance Management
One of the most crucial tasks in a business organization is to keep the employees engaged and productive. Most of financial leaders and HR managers have come across such challenges that have prompted the inception of NetSuite Performance Management capability.
Some of its Key Business Benefits are:
• Business administrators can gain real-time and automatic updates of goal progress from other NetSuite applications.
• Creation, monitoring, and reviewing business objectives at a single instance.
• Inventive templates to deliver a fast and quick way for tailor-made performance reviews.
• Offers performance metrics along with the ability to create new metrics and customize these metrics as well.
• Comes with Approvals and Acknowledgements capability to offer a consistent and streamlined process for all employees within an organization.
Why linking Operational Data with NetSuite Performance Management is beneficial?
On a broader term, linking NetSuite Performance Management with Operational Data would help small and mid-market companies improve management and operations across the entire organization.
Moreover, SuitePeople Performance Management has come up with inventive capabilities, including employee onboarding, payroll, and performance management.
With the introduction of new onboarding checklists, HR managers can customize their programs according to a new employee's role and ensure greater productivity within the stipulated time as well.
Moreover, such enhancements to SuitePeople Payroll would be assisting organizations in managing retirement-plan deductions.
Business administrators can make the most of this NetSuite ERP solution using the action on compliance issues and automating employer and employee matches.
Performance Management Using Operational Data
This new approach to performance management is one of the most interesting enhancements in NetSuite Solutions. With this, businesses can witness a centralized administration of all the processes.
Particularly, the Performance Management tool helps businesses collaborate on objectives, priorities, and reflections to have more meaningful conversations to perform better.
Also, it allows employees to capture learnings and achievements with their manager to have a sheer discussion on the outcomes.
This initiative of linking Operational data with NetSuite Performance Management has leveraged the power of the application to connect the individual to the work they do and measure their productivity.
This would help companies beat the challenge of engaging their people with the whole process of performance management.
For instance, the data captured by a CRM system based on a salesperson's work, including opportunities and win rates, is incorporated into performance management.
It helps the individuals connect to the actual work they're doing and be held accountable for their performance.
Moreover, this newly introduced NetSuite software system is 'self-maintained', which states that both the managers and employees have the flexibility to access the same information before initiating any discussions.
Also, managers can pay more attention to training than collecting and reviewing data.
On a conclusive note, a simplified way of managing the performance of all the employees in real-time can let the business thrive in the modern business world with great efficiency.
It's time to turn challenges into opportunities, and being a certified NetSuite partner, we are all set to deliver the best-in-class service anytime!
Leave a Comment
---
Your email address will not be published.
Your comment is under review by our moderation team.