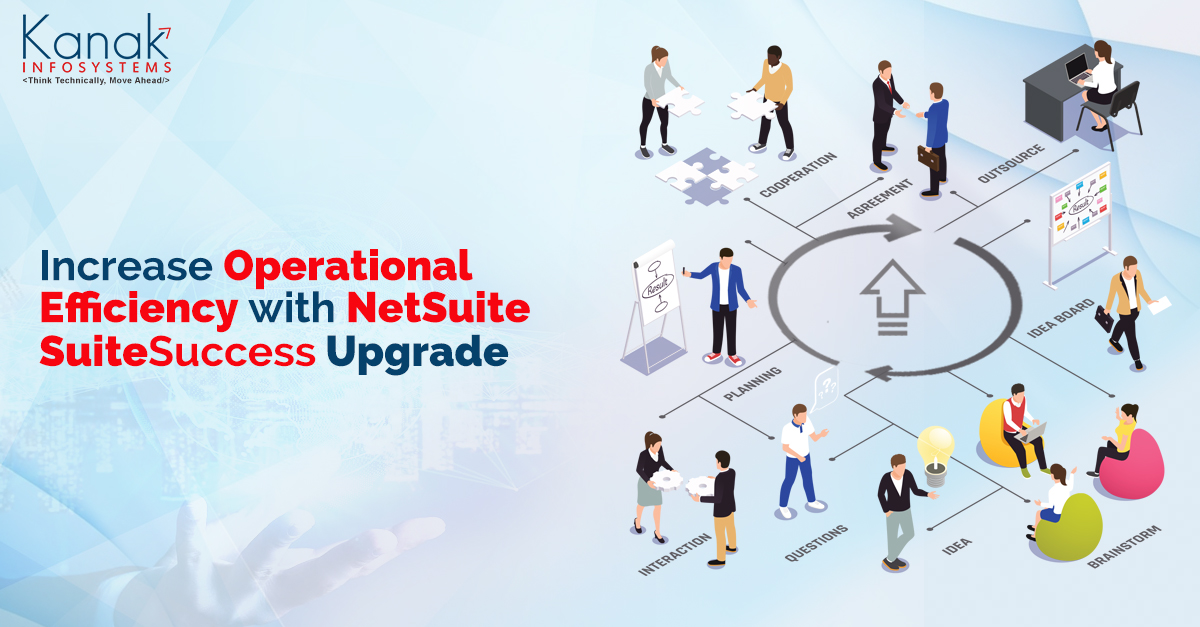 Increase Operational Efficiency with NetSuite SuiteSuccess Upgrade
Considering the current business scenarios, on-going trends, and technology advancements, Oracle NetSuite has announced the SuiteSuccess business management solutions upgrade, which would help small and mid-sized businesses with inventive, cloud-based features.
Before we dig down deep into the NetSuite SuiteSuccess upgrade, comprehending the application can help us have a clear picture of the business benefits via technology enhancements.
NetSuite SuiteSuccess
SuiteSuccess is specifically engineered to deliver a flexible pathway to small and medium-sized enterprises. It offers the agility to succeed by engaging with the business organizations throughout the lifecycle. 
Initially, Oracle NetSuite SuiteSuccess was developed to ensure complete integration of sales, product, delivery, and services teams. It aimed at helping the business synchronize their delivery and selling efficiently.
Moreover, this inventive business management software suite helps companies change the way we work and drive greater scalability. 
With SuiteSuccess, one can experience different delivery methodologies across building software, industry-specific practices, key business insights, delivering software and services, and relationship management.
 Don't miss out on NetSuite ERP tips and news. Subscribe today!

SuiteSuccess Upgrade
The major four enhancements made in the NetSuite SuiteSuccess are:
• Addition of SuiteAnalytics Workbooks to its Financial and Accounting.
• Addition of Financial First and a Manufacturing Mobile feature for Manufacturing Standard.
• Learning Cloud Support (LCS) pass with each SuiteSuccess edition for both new as well as renewing customers.
• SuiteSuccess vertical editions to include the new 2020 product features. Also, it will add adjustments to industry-leading practices based on user and field experience.
These upgrades would assist business organizations in managing core operations with greater efficiency and steer high scalability. For instance, SuiteAnalytics Workbooks would help businesses improve their operations using data insights. 
On the other hand, administrators looking after manufacturing processes can manage shop floor tasks remotely with newly orchestrated Manufacturing Mobile functionality.
With the inventive upgrade offered by NetSuite SuiteSuccess, businesses can witness substantial growth, gain adaptability to change, and prepare themselves for the future as well. Particularly, enterprises with limited resources can take their business to the next-level success and gain recognition. 
This exclusive business management solution is better known as an exemplary suite, which offers industry-specific solutions and best-practice functionality across industries, including wholesale distribution, e-commerce, finance, and manufacturing. 
To bring the benefits of cloud ERP to growth-seeking businesses, we, as an official NetSuite partner, are putting everything possible to make it happen successfully.
SuiteSuccess is easy to implement & run and offer extensive business capabilities to thrive in the modern business world. It offers organizations with a strong foundation to experience robust business transformation with pre-configured solution components. 
These components include role-based dashboards, key metrics within a company's worldwide operations, and inventive industry-native practices to steer holistic organizational improvement.
When to Go for An Upgrade?
Generally, an upgrade leads to less disruption as compared to a replacement. One of the most fruit-bearing situations is the survival of the integrations and customizations already created in the ERP system. 
Moreover, an upgrade drives a little change in the user experience and businesses are hardly required to partner with a new software vendor. 
However, this is a benefit only if the business organization is happy and satisfied with the quality and service of the current ERP solution provider. 
Similarly, if the business team is happy with the existing system and its advantages, an upgrade should drive lower change management obstacles.
In any case, project planning is most critical when it comes to upgrading the ERP system. It applies to replace an ERP system as well. As a business administrator, you can use this checklist to create a concrete plan, execute business vision, and track progress:
• Preparing a Project Team to handle the upgraded version.
• Building Business Case And Acquiring Management Approval.
• Identifying Key Business Requirements.
• Connecting To A Potential And Experienced ERP Solution Provider.
• Creating and Approving Implementation Plan with Actual Project Milestones.
• Executing Together Against The Plan.
• Performing Audits And Planning Next Operations.
• Making Informed Decisions And Choosing Diligently Between An Upgrade And Replacement.
NetSuite SuiteSuccess Upgrade would help businesses optimize their core operations, drive greater scalability with the industry-leading practices, evaluate partnerships, and add value to their efforts in making the most of the on-going business trends.
Learn how NetSuite SuiteSuccess can streamline your business operations. Click here to read the blog and embark on your journey to efficiency!

Leave a Comment
---
Your email address will not be published.
Your comment is under review by our moderation team.