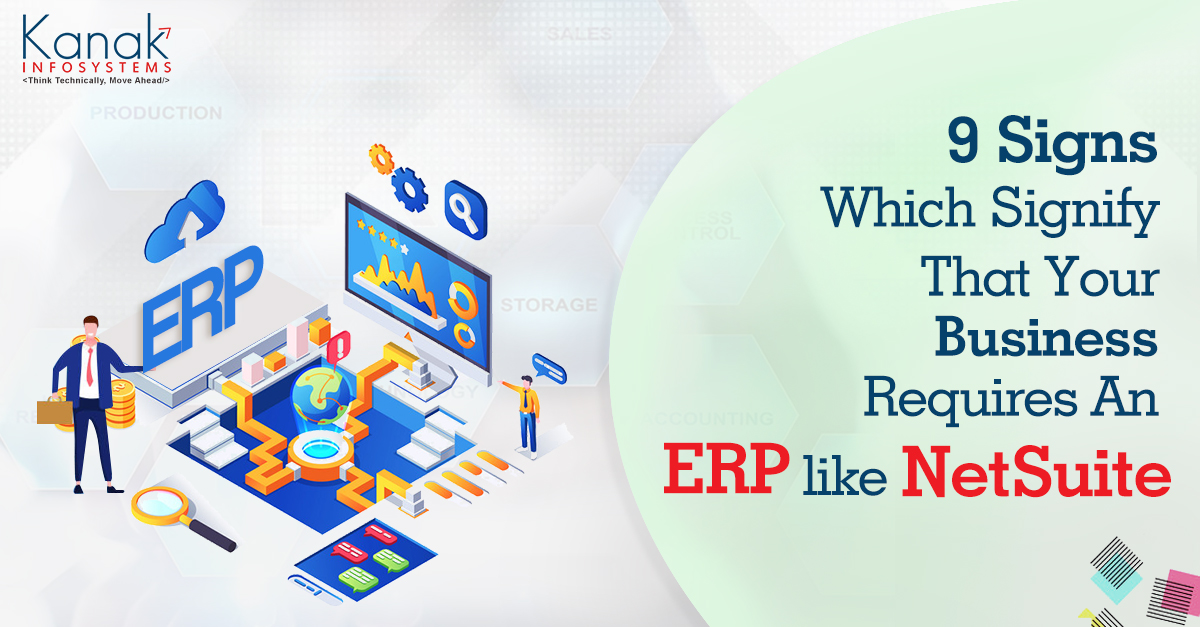 9 Signs Which Signify That Your Business Requires An ERP like NetSuite
As a business grows over time, so do the responsibilities of a business owner. To ensure the smooth running of a business, it is necessary to opt for a business suite that evolves and grows with the needs of your business.
Why You Need An ERP Like NetSuite?
Using a cloud-based ERP system that can be accessed via desktop, laptop or mobile offers you single-source data in real-time, ensuring that issues are efficiently handled on time. Irrespective of your location, you will remain well-informed and stay in complete control.
As all data is stored and tracked in a single platform, you will have a complete history of your interactions with each customer, sales transactions, reminders, scheduled meetings, etc. NetSuite offers a full ERP business software suite for managing accounts and finance, sales and marketing, CRM, etc.
(1) A Surge in IT Costs
If your company is using some other software to manage each business process, maintaining coordination in the workflow is almost impossible. It can be an IVR system for communication or CRM software. As communication between various departments is essential, this is a clear indication that it is time you should change your software for data management.
NetSuite reduces your dependence on in-house software, thereby doing away with the necessity for maintenance. Upgrades can be done for free, and you won't have to wait for the latest version.
(2) Difficulty Managing Reporting
You can improve collaboration between the different departments of your business by using customizable dashboards, thereby making it easy for each team member to access the data. It demands a quick decision from the administrator to run a business efficiently.
To meet such requirements, NetSuite is embedded with the facility of current, integrated data as well as on-demand reporting. It helps access real-time data, whether you are in the office or working remotely.
(3) Low Operational Efficiency
When implemented correctly, NetSuite helps a business to achieve efficiency in all operations related to the business process. It has the potential to boost productivity and ensured that your business runs efficiently. When your company doesn't have a NetSuite administrator, you are likely to be preoccupied with fixing issues, rather than tailoring your NetSuite implementation drive to boost efficiency.
(4) Your Accounting Software Doesn't Support Your Business Process or Workflows
As a business, the approval hierarchy becomes highly complex, as do their business processes for functions such as advanced manufacturing, supply chain, and warehouse management. These companies often have industry-specific accounting standards that have to be followed, such as healthcare, medical devices, transportation, and energy. 
Moreover, they require applications for functions such as CRM, online sales, and project management which need purchase, deployment, and integration with SaaS applications.
Once you upgrade to NetSuite, you can do everything which is mentioned above without having to opt for multiple services. NetSuite was specifically designed to meet industry-based requirements for various verticals such as financial services, energy, and healthcare. As your application interaction and transaction volumes, you can rely on NetSuite's data centres to ensure security and stability.
(5) You Want To Do Business With Overseas Clients, But Your Accounting Application Only Supports US Dollars
NetSuite allows growing businesses to work with multiple currencies, and manage multiple international subsidiaries or business units as you grow. There is no need to opt for siloed applications for each country.
NetSuite helps global business to handle assets, resources as well as customer transactions. Reporting can process business performance data across various locations, and make sure that your business complies with existing tax regulations and regulatory reporting standards no matter where you do business.
(6) You Need Configurable Reports With Real-Time Data To Show Performance of Interdepartmental
Are you struggling with fragmented QuickBooks reporting, and require better insights about your business is performing across functions such as customer satisfaction, inventory turns and cost of goods sold? An experienced ERP SaaS consultant can help implement a SaaS ERP solution with on-the-fly analytics that can help access the device of your preference so that you can drill down into details behind the dashboards.
QuickBooks is extensible with 3rd party add-ons and reporting tools, yet ERP such as NetSuite provides powerful business intelligence which is innovative. In case there some functional gaps in your existing ERP, then such apps can be customized, and add-ons can be made whenever necessary to do away with issues.
(7) Problematic Resources Management
You can deploy this robust business management solution NetSuite Cloud ERP to increase collaboration. It comes with customizable and configurable dashboards that make it easy for your team, customers, partners, and vendors to access adequate and appropriate information.
With the deployment of NetSuite Solutions, you can ensure real-time access and everything to run the business to all your employees, whether they are working in the office or remotely.
(8) Non-integrated, Slow Systems
When systems are disintegrated, it slows down everything and results in delayed operations. Moreover, it demands more human intervention then. In such a case, organizations spend a lot of time and money to manage multiple databases and cross-checking information, but that eventually goes in vain. Many businesses use a system of spreadsheets, accounting software, and notes that only a few members can make the most of.
NetSuite, being a single integrated ERP Solution, allows you to enhance overall operational efficiency without replacing your expertise and know-how. Moreover, it provides the team with one source of truth to help them increase their productivity and create a consistent user experience. Also, NetSuite ERP solutions are orchestrated to break down silos around the departments by enabling real-time connectivity.
(9) Persistent Issues with Production Scheduling
Most of the businesses dealing in the Supply Chain undergo difficulty managing production schedules. Unquestionably, production scheduling and a manufacturer's ability to make products on-time profitably are closely connected. Especially, while considering the rising costs of both the staff and machinery, misalignment on project routing and machine time allocation can result in substantial loss of business.
Leveraging the core capabilities of an ERP like NetSuite, you can avail of crucial planning functions based on actual supply and demand data, and forecasts, to deliver accurate production plans timely. 
Furthermore, this extensive cloud-based business management solution aligns data with direct scheduling in the right direction, relieving key staff from such stress.
 Don't miss out on NetSuite ERP tips and news. Subscribe today!

Why Should You Use NetSuite?
NetSuite has real-time dashboards that offer a clear, instant view of the major business metrics such as sales, finance, etc., allowing business owners to view and act on time. 
As a cloud management suite, NetSuite enables you to run core business applications without incurring additional costs for maintaining costs related to IT infrastructure and resources. 
It offers a single cloud-based platform for running and managing multiple business apps such as ERP, CRM, HRMS, etc. thereby doing away with costs associated with handling multiple applications for each business unit.
Leave a Comment
---
Your email address will not be published.
Your comment is under review by our moderation team.