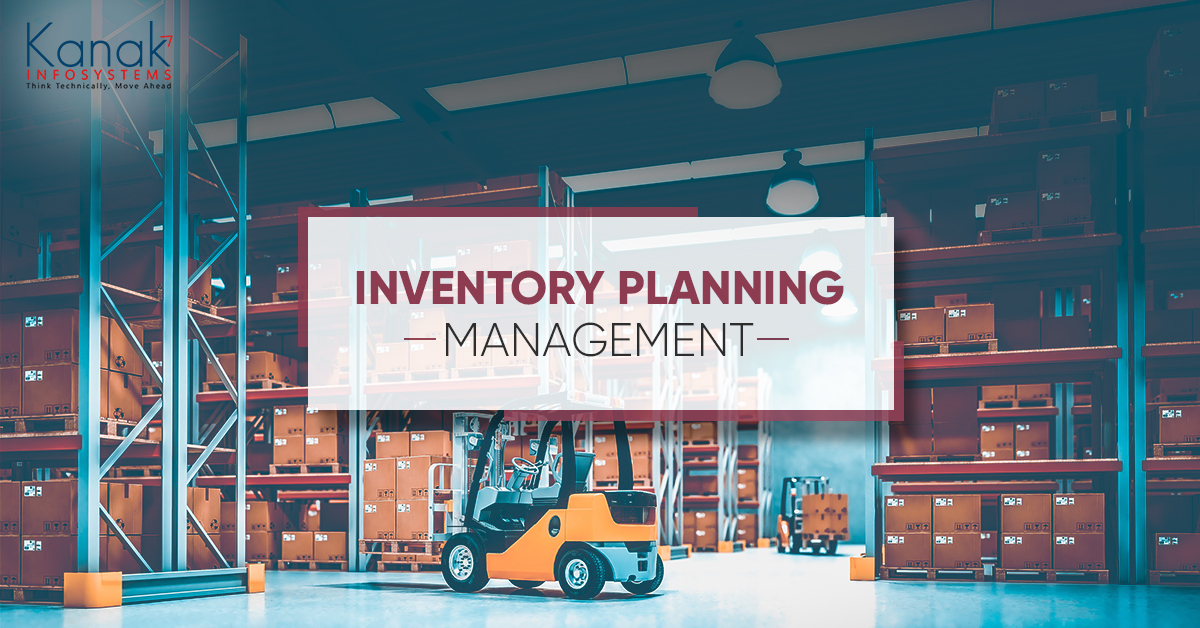 Why is Inventory Planning Vital in Business Growth and Scalability?
In general terms, we can understand inventory as stored materials that serve the current or forthcoming requirements. Manufacturing and production units grasp raw materials, finished products, or works-in-progress to incorporate into new items or products.
Meanwhile, stocking finished or processed items or goods to sell directly to customers is inventory in retail management. To ensure its high accuracy, inventory planning is something thriving businesses should avoid escaping!
In particular, every organization holds inventory. Along with manufacturing and retail, even service organizations keep inventory. For instance, hospitality businesses or software development companies keep maintenance, repair, and operations stock to support the business.
Some other examples of inventory for a non-production or non-retail company may include towels and soap, drain cleaners, light bulbs, pens, and timing belts for delivery trucks. Inventory stands out to be one of the largest assets on any company's books.
Also Read: ERP for Retail Industry
What is Inventory Planning?
Inventory Management Planning helps thriving companies purchase the right amount of stock and decide the time and amount to reorder. Robust Inventory planning helps drop down the costs of keeping items in the warehouse and ascertain that there is enough stock for sale and purchase.
Inventory planning is an essential and indispensable part of supply chain management. For the most part, it ensures that raw materials, work-in-progress items, and finished products move efficiently from the source unit or factory to the consumer.
Why is it Important to Hold Inventory?
Businesses hold inventory for many reasons. For instance, any production or retail unit would be keeping inventory to ensure that they operate continuously and independently. Also, they keep it to remain flexible in exceeding the variable consumer demand. For manufacturing businesses, particularly, inventory planning or keeping adequate inventory helps them scale in output scheduling. You can leverage bulk orders for discounts and drive substantial business benefits.
How To Follow Inventory Process Flow?
The process flow of inventory management or the lifecycle of inventory is uniform all around. Whether you are running retail, or manufacturing business, or involved in maintenance and service organizations businesses, the process flow of inventory management will be the same across all the verticals.
⚡PROCUREMENT
Organizations purchase inventory based on inventory planning research or on the best estimate of the company's requirement if the department or company is new. Although experts suggest avoiding excess inventory, organizations may overstock while stepping into procurement at the very initial stage.
⚡ STORAGE
Businesses should store or warehouse inventory in a clean and secure area. These organizations will incur holding costs to cover lighting and heating or refrigeration for stocks. Additionally, it's about dedicating time to research and inventory planning for convenient stock inspection and fetching from storage.
⚡USE
Most organizations take stock items from inventory to meet their intended purpose, including sales items, raw materials, or repair parts.
⚡ TRACKING
It is important to maintain production flow, cash flow, and happy customers whether track stock as organizations retrieve or consume it. It is tracking that forms a vital part of inventory planning and helps businesses anticipate what's in stock and when to reorder.
⚡REORDER
You can perform this both manually and with inventory planning software. This helps reorder or replenish inventory and exceed customers expectations. Here, connecting with a certified ERP solution provider can help you understand mathematical, management, and strategy models comprehensively. This lets you analyze the maximum stock level to maintain, the number of items or products to order, and analyze the frequency to order them.
⚡ FORECASTING
Both established enterprises and newer organizations that hold experience across a few inventory cycles can anticipate or forecast inventory requirements and timing. This inventive capability helps ensure the maintenance of optimal stock levels throughout the year.
What are the Essential Components of Robust Inventory Planning?
Inventory planning directly affects the cash flow and profits of any business organization. In particular, it prevents stockouts and helps administrators keep production running.
Also, it helps business leaders save money on costly last-minute procurement, and it enables discounts for bulk as well as regular orders. Potential and good inventory planning demands the right resources, process, and adaptive technology.
(A) Technology: You can harness the inventive capabilities of inventory planning software that signals orders to ensure you top off inventory to the appropriate level and avoid overstocking. Digital planning systems render historical data for forecasting and a complete view of current inventory levels.
With the implementation of the right software, scaling your business across inventory would be a cakewalk. Moreover, when it comes to technology, consider offering new methods of payments, such as crypto using a bitcoin calculator. In this case, you can use a crypto heatmap to check for changes and make better exchanges that will benefit your business.
(B) Roles and Responsibilities: Inventory planners go through the trends and deliver forecasts. Preferably, inventory planners adopt inventive inventory planning methods and make the most of these methods to work with supplier managers, purchasing & contract management leaders, supply chain financial analysts & production & quality control stakeholders.
(C) Policies and Procedures: In general, Inventory policies help businesses govern planning activities and follow step-by-step inventory maintenance processes. In such a case, business leaders must define and document their inventory planning processes and communicate their policies throughout the organization.
For the most part, they must circulate their inventory planning to the supply chain department.
These procedures can range from sales inventory operations planning to store and pick to enterprise resource planning (ERP).
These policies and procedures come with extensive inventory procedures and checklists that help you guide warehouse and distribution center staff in better inventory management.
As per inventory planning definition, it is advanced preparation of making the most of the resources available and anticipating replenishment as per the ongoing demands.
However, many organizations skip this important part of inventory management despite its wide range of advantages. When companies don't plan, experts in inventory planning come into the picture and assist thriving businesses in dealing with excess inventory or shrinking profits.
Why Do Businesses Need Inventory Planning?
Most organizations aim at customer satisfaction besides business benefits, scalability, and growth. When it comes to inventory, if the right item or goods in top-quality condition is unavailable at the right time, the customer may lose loyalty and trust within the brand.
Customer loyalty, to a great extent, decides the profits. In most cases, getting new customers costs more to the company than retaining the customers.
(1.) Forecasting: This can be called inventory estimation as it is a systematic process and strategic way of using a marketing plan to anticipate future sales and, thereby, future inventory needs. A forecasting counterpart is inventory control, it involves the process of counting and maintaining inventory items to understand the usage patterns of the customers. Also, one can use forecasting to uphold optimum inventory levels.
(2.) Controlling Costs: For the most part, holding costs cover the procurement of items, taxes, labor to receive and place inventory, insurance, security, and stock obsolescence. You can understand stock obsolescence as a stock that has run out of demand, is old, or is in excess. The key objective of inventory planning is to drop all these costs.
(3.) Efficient Storage: With well-designed storage facilities and recapitulating the layout and design over time, you can favorably impact business profits. The ensuing consumption of inventory, whether in manufacturing, production, or fulfillment, affects the layout. Here, the key point to consider is to arrange high-demand items and lower down travel time. In this instance, inventory planning can help you balance high demand with the number of items available.
Are There Any Challenges in Inventory Planning?
Planning inventory and demand planning comes with multiple challenges, whether it is for retail or manufacturing. Additionally, anticipating future requirements, sales, and assorted barriers often hamper forecasting.
Retail industry businesses sometimes obscure reasoned approaches to stock orders. Most customers love to buy new merchandise. However, many customers prefer using the same product every time, which may be due to its quality, cost, or utility.
In production, manufacturers frequently treat every product line the same, even when only one line is seasonal. Hence, manufacturers also produce in excess as they think it's important to keep service levels consistent at all times.
Factors That Can Complicate Inventory Planning.
🗲 Disorganized data across purchase history at inventory levels impact sales information.
🗲 Lack of automated processes impacts tracking and decelerates reordering capability. Also, it invites redundancy of manual intervention.
🗲 Inadequate or improper staff training may influence inventory planning quite dramatically. Moreover, poor master data management restricts data's usefulness and often results in miscalculated delivery lead times.
🗲 Perishable inventory, such as food and cosmetics, and some service items, such as restaurant tables or concert tickets, require a skillful effort to maintain service levels without ordering inventory. Here, inventory planning should be taken care of by experts who understand the industry and better go with the technological enhancement.
🗲 Technology alone cannot plan inventory. Connecting with an acclaimed ERP solution provider or inventory planner can help make the most of the technology and reap business advantages from their expertise as well.
🗲 Many a time, inventory planning gets overwhelming when there are multi-channel warehouses. Businesses frequently pull inventory from multiple locations, such as brick-and-mortar stores, distribution centers, or warehouses. In such a case, tracking diverse sources can be complex across both inventory management and order fulfillment. Furthermore, even if you fulfill orders from diverse locations, it elevates shipping costs and frustrates waiting for customers, too.
🗲 Improper picking processes can impact inventory planning. In general, an inefficient arrangement of stock can reduce productivity. The time an item is taking to travel from the inventory to the retail space or production floor should come with proper monitoring.
🗲 With no cross-functional communication, you may lose out on information across the departments that need it the most. Many organizations avoid talking about and sharing insights across R&D, procurement, production, and quality control about inventory requirements. With such, the potential issues remain for a long and drive unwanted business complexities later.
ERP Solutions That Upgrades Inventory Management:-
🔸ERPNex — ERPNext offers a simplified way to manage and plan inventory. Business administrators can leverage their inventive capabilities to maintain variants across different parameters. Use serial numbers and batches to track items and set defaults for automated pricing.
🔸Odoo— This ERP system is recommended for its double-entry integrated inventory and tracking system. It is an agile solution to enhance inventory planning with an advanced user interface and mobile scanning capabilities.
Also Read:— Odoo Inventory Management - Features, All Information You Need To Know
🔸Microsoft Dynamics 365— Business leaders can harness the power of Dynamics 365 Inventory Management software and make the most of analytics to plan around the inbound operation, inventory control, quality assurance, and outbound operations extensively.
🔸SAP ERP— One can plan inventory with SAP ERP as its renders extensive insights. By leveraging the elemental capabilities of this inventory planning software, one can handle pre-sales quotes, sales order creation, shipping, billing, and more.
Some more examples of tools to manage inventory:
Zoho inventory for small-sized companies or industries.
inFlow for B2B companies inventory planning and management.
Cin7 for its enterprise-level inventory planning capabilities.
Ordoro for E-commerce
Fishbowl, Megaventory for Manufacturing
Upserve for Hospitality


🔸NETSUITE INVENTORY MANAGEMENT
It is exclusively orchestrated to streamline key processes across inventory management and provide an integrated, real-time platform to check progress across all channels, locations, and subsidiaries. Inventory planning is one of the most important components of this SaaS-enabled solution, where it enables business administrators to optimize inventory levels and meet customer expectations using key insights and analytics.
For Instance,
You can make the most of the demand-based planning, where sales forecasts, purchase history, and occasional procurement can help you stock the inventory in the right amount.
This cloud ERP for inventory planning or management comes with intelligent fulfillment.
You can leverage the elemental capabilities of this solution to reduce expense handling and drop-down cost of shipping as well.
Additionally, NetSuite Cloud ERP comes with real-time, enterprise-level visibility across its management and planning.
You can check your inventory across warehouses, pop-up stores, retail shops, 3PLs, and drop shippers as and when you want.
You can harness the power of these extensive cloud capabilities and allow your customers to purchase from any location and at any time.
With NetSuite Inventory, you can get over inaccurate reporting, bid farewell to inefficient inventory use, minimize business complexities due to improper planning, and alleviate cost-incurring item handling.
Inescapable Advantages Inventory Planning.
With a robust inventory planning system or, say, good inventory planning, you can drive numerous business advantages. At a high level, it is important to have an understanding of what you have today, and it aids with forecasting for the future.
Planning ahead helps businesses retain in retailing and understand the evolving marketing landscape. Inventory planning is not only a deal-breaker but helps businesses steer higher efficiency, even if they hold limited human resources. For the most part, the most important number to focus on is the targeted ending inventory for each month of the plan.
As early you adapt to extensive inventory planning, as sooner you can reap the business benefits of planning. We have enlisted some of these business advantages below:
🟠  It reduces or eliminates stockouts.
🟠  With inventory planning, you can reduce or eliminate overstocks, which drive profit margin.
🟠 You can optimize stock to easily spot slow-moving items you need to discount by harnessing the core capability of an inventive and comprehensive inventory planning software.
🟠  It helps rotate stock to front displays to clear obsolete or perishable items.
🟠 You can come across increased cash flow through inventory flow. Inventory planning is important for small-sized and medium businesses as they anticipate fast turnover.
🟠 Business administrators can easily bring back items from the warehouse or stockroom.
🟠 You can alleviate theft and abuse. Raw materials and goods, which are uncontrolled, can easily go missing.
🟠 It helps you remove redundancies or an excess of the same product and avert inactivity. You can also eliminate those items from inventory that remain too long.
Conclusion
You can connect with an acclaimed and accredited ERP Solution provider who holds rich experience and expertise in inventory management and planning. They can help you overcome inventory complexities within the stipulated time and witness high profits with scalable solutions.
These service providers closely monitor the issue and introduce you to the inventive tools to improve efficiency at present, be future-ready, and lead the competitive edge. Advanced strategy and support can help you scale and grow without much hassle.
Leave a Comment
---
Your email address will not be published.
Your comment is under review by our moderation team.