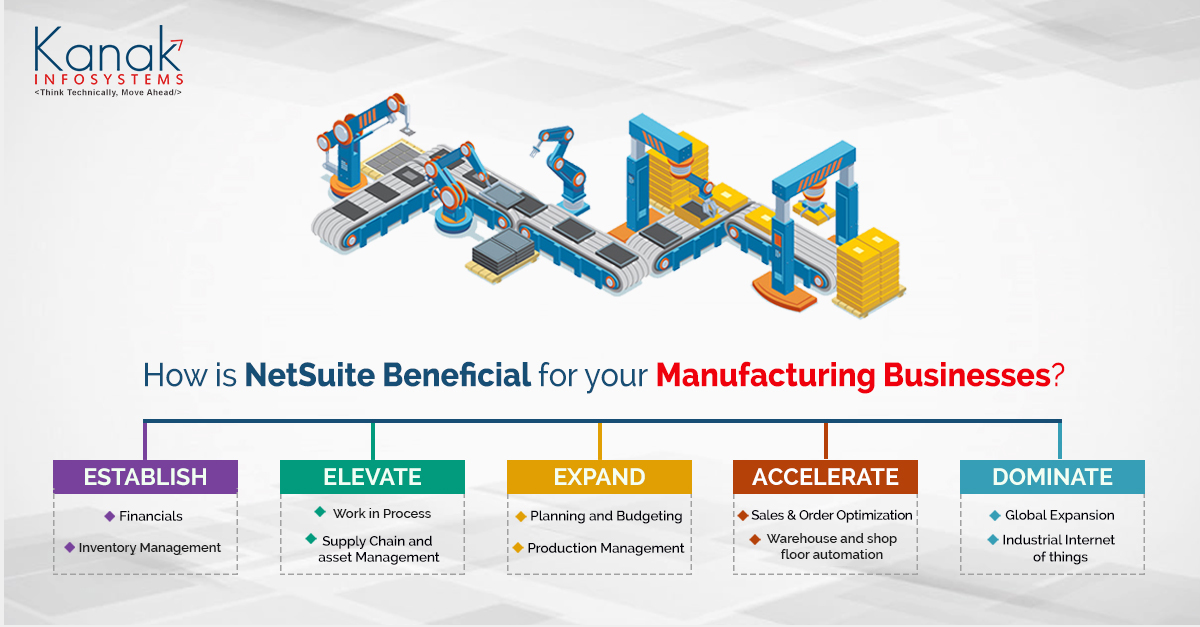 How is NetSuite Beneficial for your Manufacturing Businesses?
NetSuite cloud-based ERP and omnichannel software is a comprehensive solution for manufacturers. It has amazing functionalities, including CRM, HCM, eCommerce management, financial management, and much more. It provides manufacturers with various advantages to run their manufacturing business. If you manufacture products and looking to grow your business and boost profits for your company, then the NetSuite manufacturing module serves you with a great benefit for your business.
From dynamic replenishment to production planning, costing, customer, and partnership management, NetSuite lets you manage your entire manufacturing business with its one integrated suite delivered with great functionalities. 
It helps to lower your total cost for on-premise servers and license fees as well as all expenses for site-to-site IT support. This amazing open architecture will enable easy system integration with your supply chain.
We all know that the business processes of modern manufacturing companies are becoming complex with time. In order to manage this complexity in the manufacturing business, manufacturers make the use of different systems that are not fully integrated with each other. 
But with the use of NetSuite ERP software, it has become easy for manufacturing companies to manage their business with its advanced comprehensive functionality. With the use of NetSuite, these businesses get an advantage to seamlessly integrate customer as well as order information with warehousing, financials, production, and much more. 
With a large number of advantages manufacturing companies get with NetSuite, we have listed some top benefits out of them. This seamlessly integrated software has proven to be the best for managing your manufacturing business. 
 Stay informed about NetSuite ERP innovations. Join our newsletter!

Let us focus on how NetSuite will help you to improve your manufacturing process.
Benefits of NetSuite for your Manufacturing Business
With its powerful functionalities, NetSuite allows you to maximize your sale and to eliminate expensive quotes and order errors. It will help to increase your workflow and streamline your sales process to gain maximum profits. 
Here we have discussed some awesome benefits you will get while using NetSuite for your manufacturing businesses. Let us get started with these benefits:
BOM Management
BOM refers to the bill of raw materials, sub-assemblies as well as components and quantities that are needed to manufacture assembly. The NetSuite manufacturing requirement planning engine makes the use of industry-proven algorithms. It will be preceded from BOM starting with the top-level and review the demands and safety stock requirements netting out the inventory stock supplies.
With the help of NetSuite's multi-level BOM functionality, you can easily manage the components required for a single assembly as well as a particular work order. Since every building process requires BOM that will help to outline the components that will be required for a finished product, therefore NetSuite tightly couples BOMs with both work orders and assembles. So, make use of NetSuite to get lean manufacturing production and just in time processes.
Costing Analysis
In this new era of technology, where flexibility in product configuration, design, and customer options is paramount, keeping up with cost analysis is a must. Therefore, NetSuite provides you with the functionality of the continuous updates for the cost of materials and a detailed analysis of manufactured item cost structure.
It will also help in providing extended capabilities for inventory control tracking as well as costing of items in project-controlled environments. So, simplify your costing management with the help of NetSuite.
WIP Operations
You can leverage NetSuite 360-degree visibility to gain more control over work in progress and manufacturing operations. Its WIP and routings capabilities will give the company the advantage to define routing for the manufacturing process along with the expected time and cost required.
This will give you finite control over when and how the order is released to production. Manage the life cycle of the work order and routing with NetSuite powerful functionalities with real-time status updates and seamless data capture.
Manage Work Centers
Work centers are important in manufacturing as they can be used to manage the assembly of finished products. The group of people or machines that performs a specific part in the manufacturing process is known as Work centers. Once you define a work center group, then that will be assigned to cover a specific manufacturing process.
NetSuite's well-built manufacturing routing and work center features will enable you to schedule or record manufacturing operational activities against complex work orders. You can easily use this amazing platform to record quantity assembling completions, team resource costs as well as process overall costs against individual work order operations.
Better Forecasting
No one can deny the fact that NetSuite enables manufacturers to automate the entire marketing process across different channels. This will provide them a better alignment of campaigns and programs with sales efforts.
NetSuite enables manufacturers to proactively manage inventory and help them understand planned versus actual costs for better planning and forecasting.
Quality Management
A consistent quality product is central to improving warehousing efficiency and effectively managing inventory levels. This holistic approach needs a company-wide commitment. With the use of the NetSuite Quality management solution, you can easily deliver the highest quality products with minimal overhead.
You can quickly and easily define the tests you want to perform and apply to relevant operations to receive in-process testing. This amazing platform will automatically tell you what to test and collect the results for workforce dispositioning. From automatic prompting of inspections to data collection, NetSuite serves all your quality management needs.
Conclusion
NetSuite is a powerful suite that offers you with several powerful capabilities and core functionalities to manage your manufacturing business. From intricate processes to product configuration, it serves to be a great solution for all your business needs.
Here we have listed some top benefits you will get while using NetSuite for your manufacturing business. We at Kanak Infosystems have intuitive cloud-based software that will help you to reduce work errors and handle most complex products and pricing matrix. With this amazing software, you can easily manage work orders, improves sales performance, and also elevate the productivity of your manufacturing business.
Leave a Comment
---
Your email address will not be published.
Your comment is under review by our moderation team.