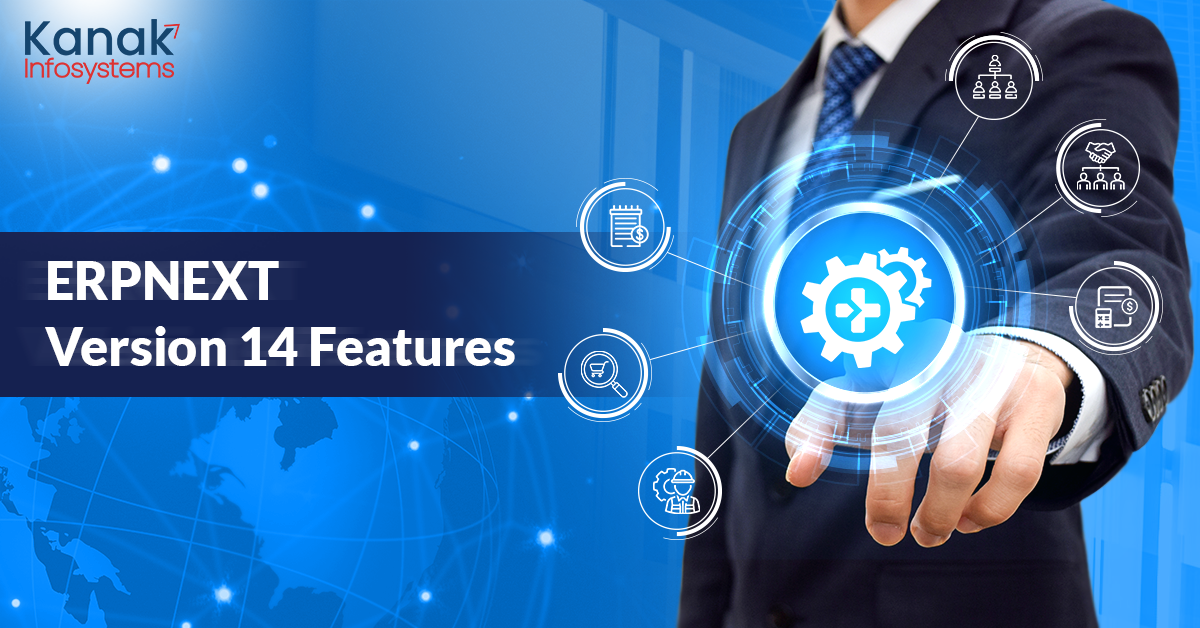 ERNext v14: New Features 
In the modern era, when no one has time to complete tasks manually, ERPNext Software is really useful. ERPNext Software optimizes processes, increases output, and uses data instantly.
Small- and medium-sized (SMB) organizations can use the ERPNext Software as a company management tool. It is an open-source ERP and is excellent for firms looking for a foundation to create a unified tech stack for their enterprise.
Each Open Source ERP system module is designed specifically for given business activity. Businesses can manage their accounting, billing, sales, support, purchasing, payroll, asset management, inventory management, manufacturing, and retail POS with the help of the modules of the ERPNext Software.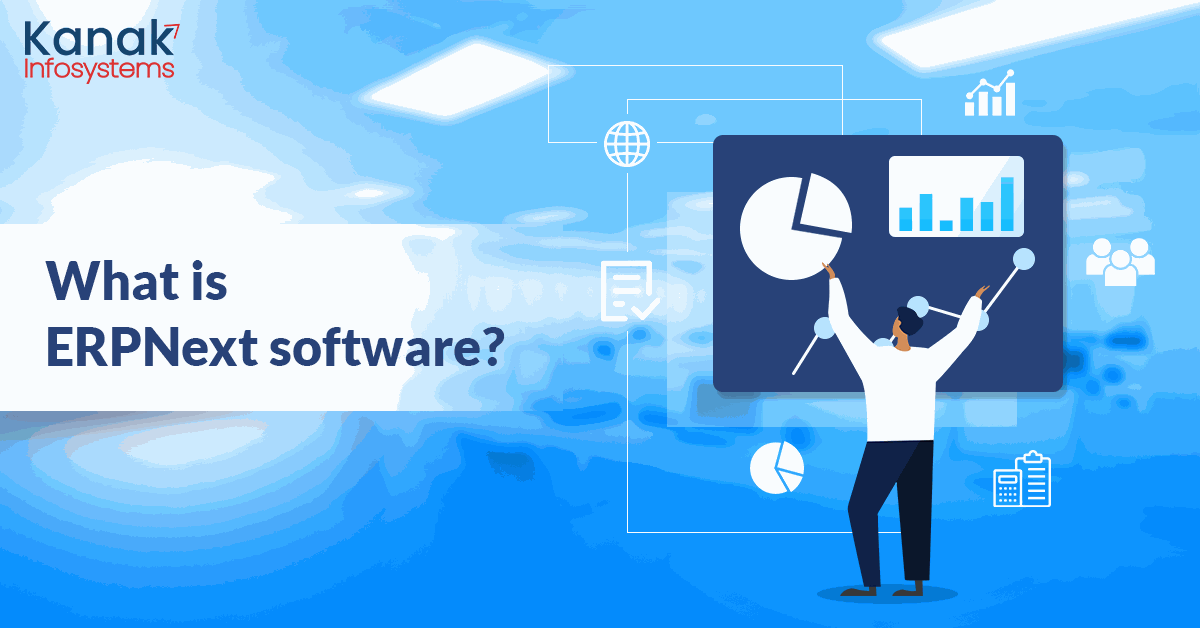 What Is ERPNext Software?
A business process management system, also known as enterprise resource planning (ERP), allows an organization to manage its operations through a network of linked application systems. It automates many back-office tasks relating to finance, technology, services, and human resources.
Every aspect of an organization, including product planning, development, production, sales, human resources, and marketing, is often integrated by ERPNext Software. A single database, application, and user interface contain all this information. ERPNext is unmatched in terms of usability and data security.
ERPNext Separating Modules From New Apps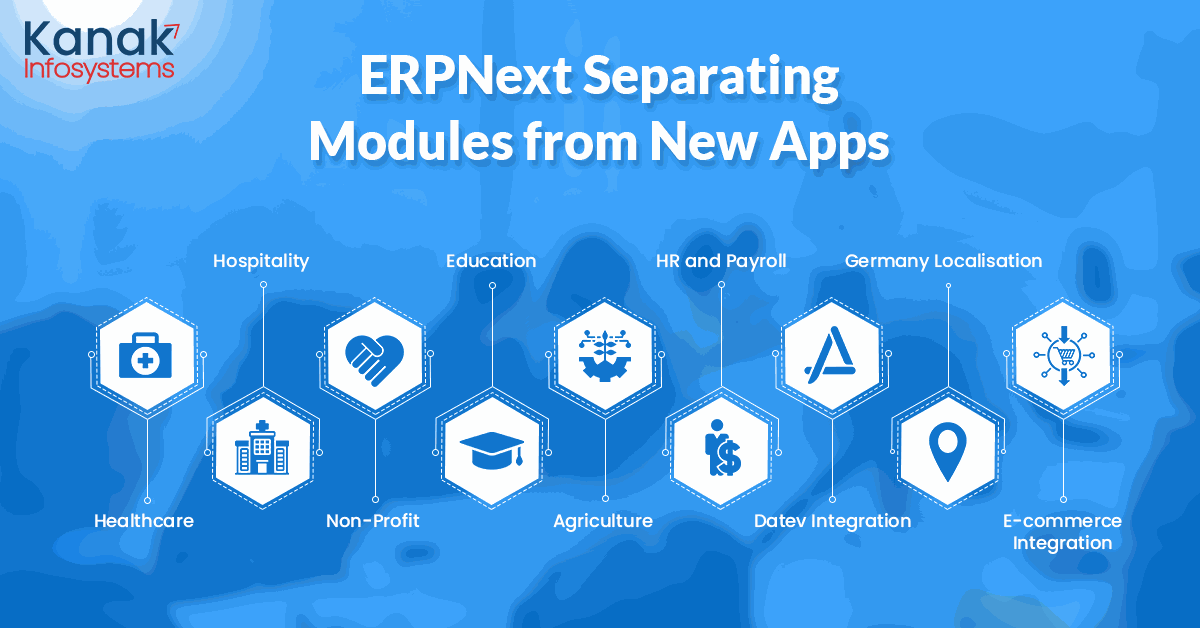 The monolithic architecture of ERPNext in version 14 divided the following parts into new apps, as was revealed at the ERPNext Conference the previous year:
• Healthcare
• Hospitality
• Non-Profit
• Education
• Agriculture
• HR and Payroll
• Datev Integration
• Germany Localization
• E-commerce Integration
How Does This Modification Impact You?
This modification will not impact you if you are not currently using any of these modules. However, if you use any of these modules, you will need to install the appropriate Software on your bench to upgrade to version 14.
There won't be any difference from the user's perspective, and no functionality will be lost. Any new bugs or pull requests must be submitted to the appropriate repository rather than the ERPNext repository if you want to submit them.
ERPNext v14 Updated Features
1. New subcontracting module
The Standard Buying cycle was used until version 13 to control the subcontracting feature. In contrast, a new module called Subcontracting was added in version 14 to maintain the functionality. Subcontracting Order and Subcontracting Receipt are two additional papers added to the workflow. 
To finish any open purchase orders for subcontracting, the existing users have also preserved the previous procedure. However, you must adhere to the new workflow for the new subcontracting orders (PO – Subcontracting Order – Subcontracting Receipt). d patch, and cost center allocation records will be created based on current distributions.
 2. E-commerce Search
Users can rapidly search for Website Items or Item Groups on all Product Listing pages using the Search bar. Furthermore, it saves recently performed searches you can access and use again. 
By default, ERPNext performs a simple DB search, but you can optionally choose to use RediSearch for a super fast search instead. 
3. Payment ledger
Introduced a new document called Payment Ledger in version 14 to keep track of the connections between invoices and payment entries. In the past, we kept the data (Against Voucher Type and Voucher) inside the GL Entry document, which was a bottleneck for the GL Entries' immutability. Additionally, it will speed up the processing of Accounts Receivable/Payable reports and improve Payment Reconciliation performance. 
GL Entry document has not yet had the information removed, but it will do so in a few months. Therefore, if you created (or intend to create) any report or functionality using that data, please use the new Payment Ledger.
4. Organizational Charts
An organizational chart illustrates relationships between various employees along with their titles, picture, and name. This reveals the organizational structure. 
People can engage with the organizational chart and learn about the hierarchy through the faces and other details in massive organizations where it might be challenging to remember names. 
5. CRM enhancements
The CRM module has had a lot of improvements. Since communications and activities are the two most crucial CRM features, those two have their tabs: activities and notes. To keep the company's information, it has also introduced a new document called Prospect. This document compiles all relevant leads, opportunities, and communications in one location. 
The following significant changes are made throughout this process: 
• The fields for the Next Contact Date, Next Contact By, and Ends On have been eliminated from Lead and Opportunity. The new Events functionality will now control it. Based on the available data, it has generated Events for Next Contact Dates set within the last month. 
• The designation field has been changed to a job title. Renamed converted_by field to opportunity owner. 
• When a lead is transformed into an opportunity, it is automatically disabled. 
6. Common Party Accounting 
Accounting for uncommon operations like raising a Sales Invoice against a major Supplier is a part of ERPNext's Common Party Accounting. Assume that an ERPNext user has been creating purchase invoices against a supplier and now wants to create a sales invoice against the same supplier and adjust it against one of the prior purchases.
By turning on Common Party Accounting, the aforementioned is possible.
7. Cost center allocation
This feature allows the GL Entry for a cost center to be shared among several cost centers. The Cost Center Allocation document can specify allocation percentages for the child cost centers. The system posts several GL Entries against each cost center by this arrangement. 
The Distributed Cost Center feature, available in version 13, allows us to specify the distribution percentages between several cost centers. We used to generate various financial reports depending on the allocation, but this had no impact on the real GL Entries. 
It has some shortcomings, such as the fact that it ignores how the distribution varies over time. Since cost center allocation fluctuates over time in the real world, the system should book income and expenses by the most recent allocation rather than calculating it in real time. Existing data will be migrated using an addon.
8. Ledger Merger
The goal of Ledger Merge is to make the process of combining many accounts under one root as simple as possible. Open each account, click the button, enter the name, and then merge is the current workflow. 
With the help of the new doctype introduced in this PR, users can easily link several accounts.
9. Taxjar Integration
Utilizing the addresses of clients, businesses, and delivery sites, TaxJar integration enables ERPNext users to automatically calculate taxes. 
10 Payment Terms Status report
Based on the corresponding bills filed against the SO, this report seeks to provide the most current status of the payment terms.
All bills related to sales orders are retrieved and given terms using the FIFO approach. The report's statuses are computed at runtime and have no bearing on the database's state.
Using a chart, it is possible to see the payment and amount paid for each term when Individual SOs are chosen
ERPNext v14: Enhancements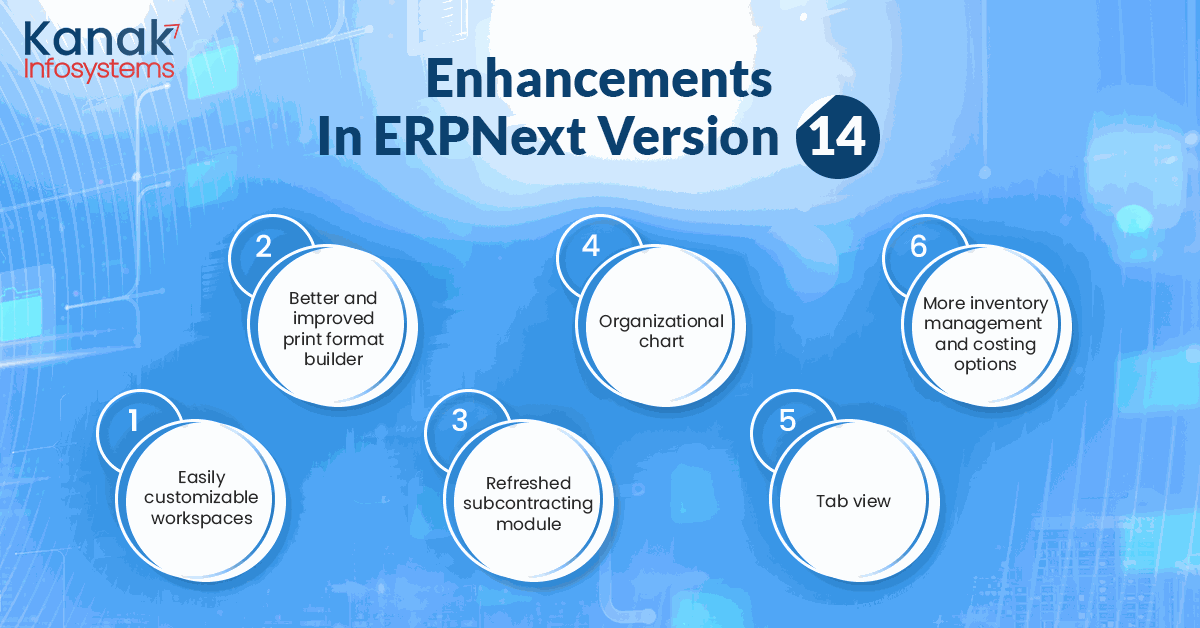 1. Easily customizable workspaces 
Components in your workspaces can be moved and customized to suit your needs by simply dragging and dropping them. 
2. Better and improved print format builder
Simple section and field definition, inline label editing, adding a custom font, and many other features. 
3. Refreshed subcontracting module
Utilize the new, dedicated Subcontracting Order and Subcontracting Receipt documents to manage your subcontracting orders. 
4. Organizational chart
Utilize the new organizational chart to learn about your company's structure, interact with it, and export the chart in PNG format. 
5. Tab view
Take advantage of the new Tab view to navigate documents more efficiently.
6. More inventory management and costing options
For those who like it differently, a new LIFO valuing approach. With UOM-specific barcodes, you can scan and add UOM-specific objects without worrying about manually updating the UOM. 
FAQ's
MariaDB is required for ERPNext. MariaDB is an open-source relational database management system (DMS) that is a compatible drop-in replacement for the widely used MySQL database technology.  It is also used to store its data, which is written in Python and based on the Frappe Framework.
ERPNext is based on the Frappe framework and built on theMariaDB database system. This ERP software is an open-source web-based system that is aimed at small and medium-sized businesses. It helps in business operations accounting, human resource management (HRM), sales, purchase,inventory, and more. 
Linux is recommended OS for installing ERPNext software. Linuxis an operating system that manages the entire hardware resources associated with your laptop or desktop. It also helps in maintaining the communication between the software and hardware.
Yes, we can try ERPNext without installing it and the latest version of ERPNext is v14.
Leave a Comment
---
Your email address will not be published.
Your comment is under review by our moderation team.