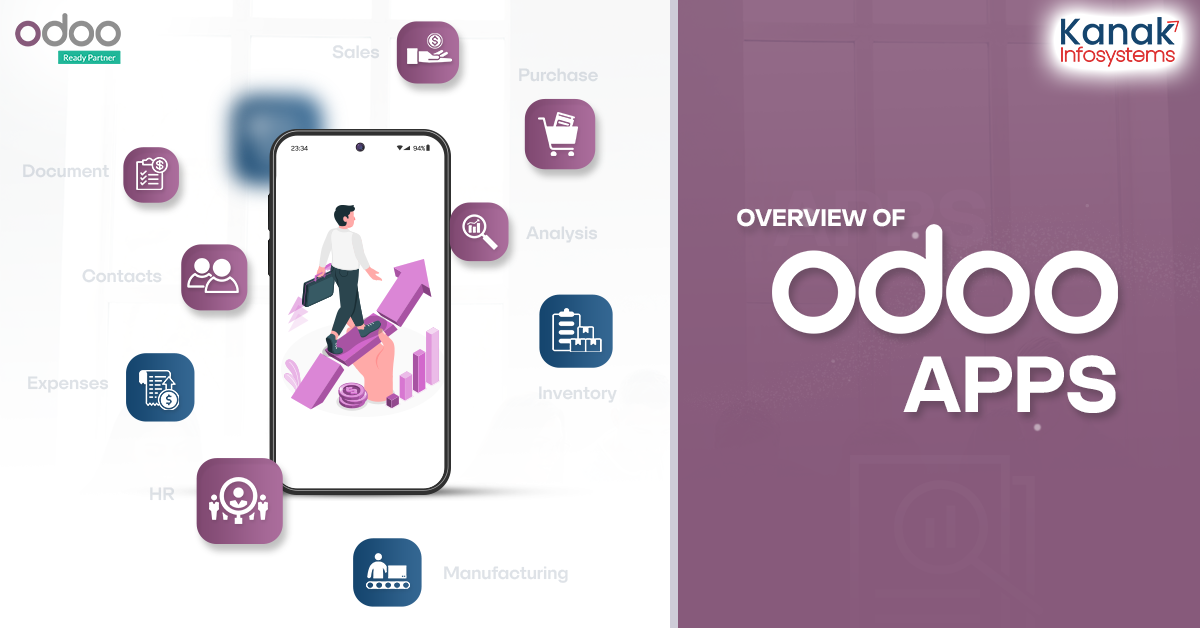 Odoo Apps: Empowering Businesses for Optimal Performance
Introduction for Odoo Apps
Odoo is one of the most popular open-source business management and automation software that helps the business owners manage their operations more efficiently and in more detail. 
Odoo Apps are individual modules which can be brought through Odoo App Store and installed within your Odoo Database to add more and specific functionalities to handle your processes. 
These Odoo Apps are developed by the Odoo Partners who help you implement Odoo along with providing you technical and functional support.
Benefits of Odoo Apps For Business
Odoo Apps provides the following benefits to the business users: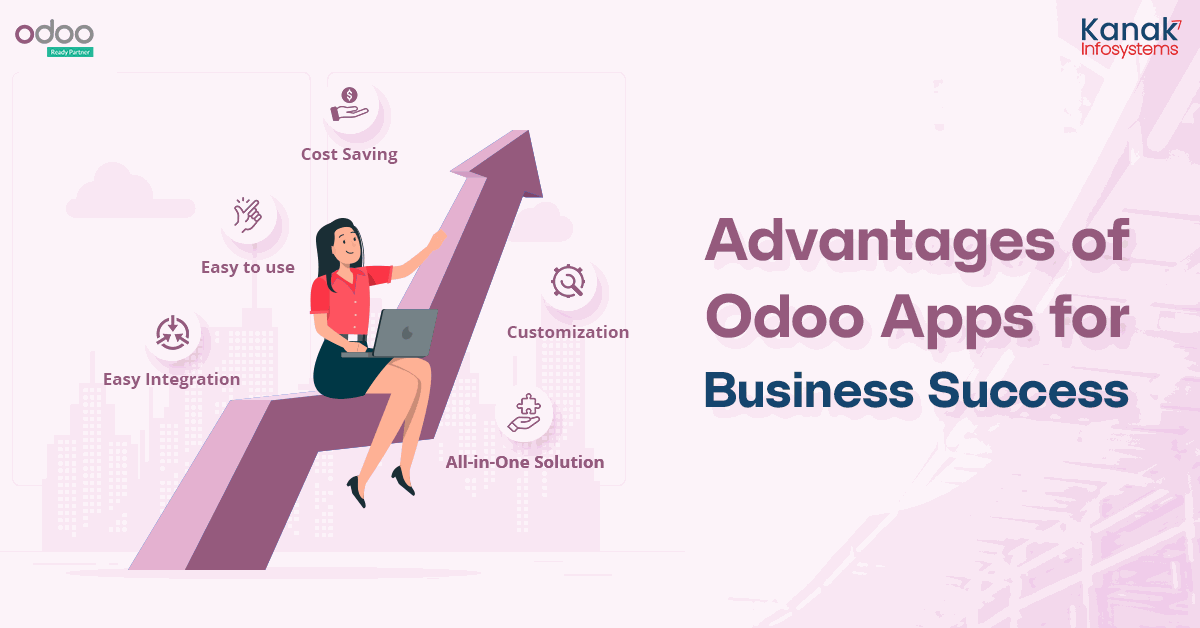 1. Cost Saving - Odoo, being an Open Source Software, can help businesses save up the licensing costs which may come along with any other proprietary software.  Also, using Odoo Apps, you can streamline and automate the operations of your business which will eventually save up your operations cost.
2. Easy Integration - These are designed in a way that they are seamlessly integrated with your operating database and with each other to provide you with maximum functionality. This integration would allow the data to be easily shared and managed across multiple departments.
3. Easy to use - Odoo is known for being super user-friendly. Same goes with the Odoo Apps- being user friendly are their USP. These apps come with an intuitive interface which would be super easy for your employees to learn and use.
4. All-in-One Solution - Odoo is a one-stop shop for all your needs. The app store is your saviour when it comes to adding any, and we mean it- ANY, functionality to manage your operations. In other words, you  wouldn't have to toggle between multiple softwares.
5. Customization - These apps could easily be customized as per your needs and requirements. Which, in a larger sense means, that the system could be tailored according to your exact and unique business flow and operations. 
Custom Odoo App Development
Kanak Infosystems LLP. is one of the leading Odoo Development Company which specialises in Odoo Development, Integration, Implementation, Support and Customization. Our team of expert developers will work closely with you to understand your business processes and requirements to then develop the app which is optimized for your operations.
We, at Kanak Infosystems LLP., have a wealth of experience in developing custom Odoo apps for our clients which are spread across various industries. 
Choosing Right Odoo Apps for Your Business
Choosing the right and most appropriate app for your business is very crucial to ensure the investment made in the system is justified. When choosing the app,  consider the following factors:
1. Industry - Different industries have different requirements and different workflows. When selecting the Odoo Apps, Pick the apps which are specifically made for your industry.
2. Size - The size of your business is another key factor that determines the selection of an Odoo App. Smaller businesses may not require all the features of the software and can benefit from the tailor made apps.
3. Specific Needs - Identify the specific areas you need help with and then choose the odoo apps which caters to those needs. 
As Experts, let us give you some Tips to choose the right apps: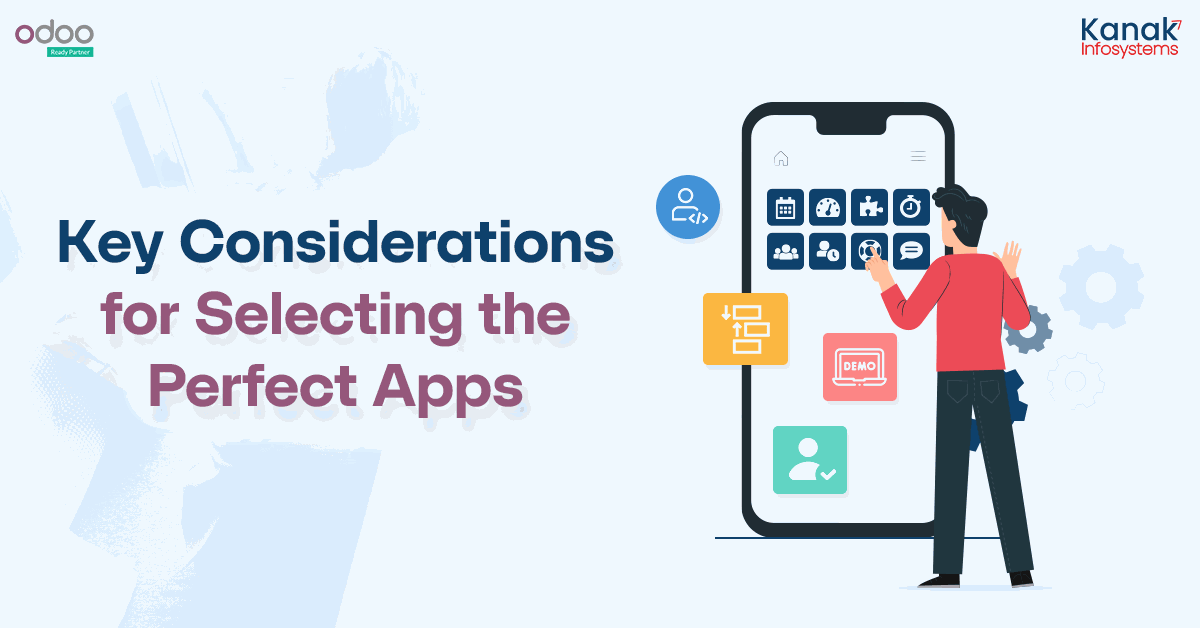 1. Prioritize your Needs - Identify the pain areas where you need assistance and prioritize those while selecting the Odoo Apps.
2. Take Advantage of Demos - Request demos and trials for Odoo Apps before paying. A demo will help you determine if the chosen app is the right fit for your business. 
You can reach out to Kanak Infosystems LLP. to get a free demo now!
3. Check User Views - Look out for reviews and ratings. This will give you an idea of how the app is already performing for people. This will also help you in avoiding the apps which aren't made for your business.
4. Choose the Right Developer - Work with well-versed and experienced developers. Kanak Infosystems LLP. has been working with Odoo for more than a decade and the efficiency and capabilities of our developers are still unmatched.
While it is important to know what all to keep in mind while choosing the app, it is equally important to know what all to avoid. Refer to the points below to know what are the common mistakes you are supposed to avoid:
1. Overloading the Software - Don't burden your software with many useless apps. Instead, keep your software minimal and robust with the necessary and relevant apps.
2. Ignoring User Adoption - Pick the apps which are user-friendly and easy to use. This will help your team adopt new software smoothly.
3. Not Considering Scalability - While selecting the apps, make sure they can scale with your business as it grows. This will eventually help in avoiding the need of constant software updates and expensive migration costs. 
Odoo App Training and Support
Kanak Infosystems LLP. provides comprehensive and in-depth training and support services for its Odoo Apps and Implementations to ensure that our clients get the maximum benefit of the software. Following are the some of our ways of providing Training and Support: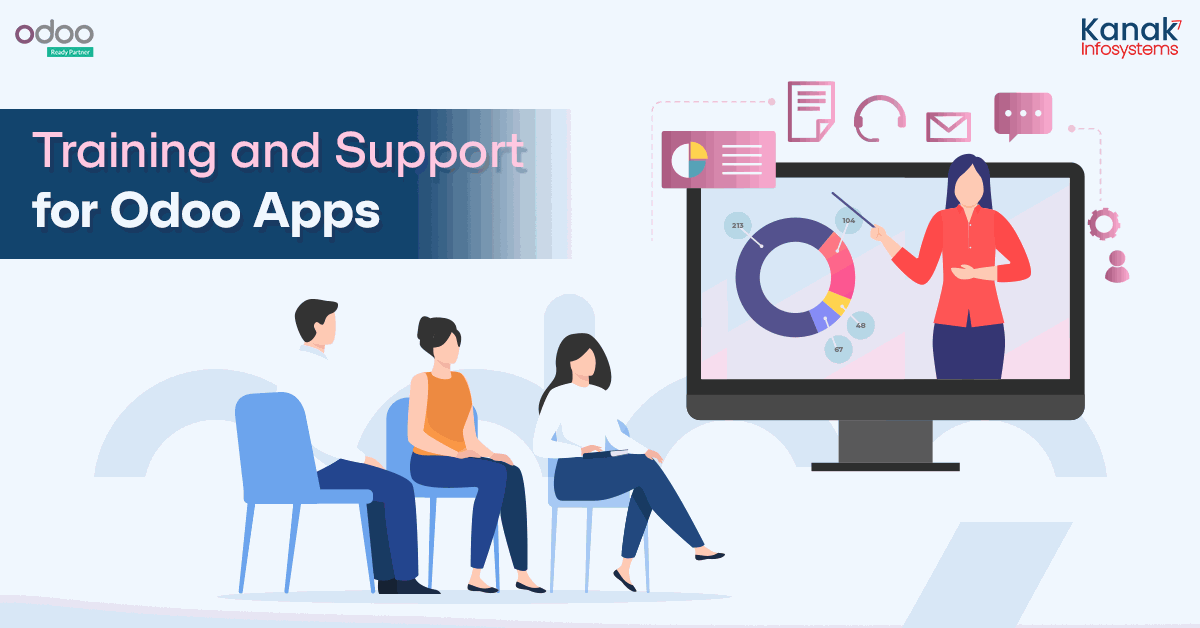 1. User Guides - We are known for providing detailed user guides for our apps. These guides would cover all the important features and functionalities of the apps.
2. Video Tutorials - We also provide Video Tutorials. These tutorials are designed to be pretty easy to understand and also cover all essential parts of the app.
3. Helpdesk Services - We offer Helpdesk Services for our apps. Clients can contact us via the helpdesk for assistance with any issue that they may encounter. 
Why are Training and Support important? How do they maximize the benefits?


1. Effective Utilisation of the Software - Training and Support generally helps users to get the maximum features and functionality out of the software.
2. Reduced Downtime - With hand-on training on the software, users would be able to solve minor issues that they may come across while using the software.
3. Improved Adoption Rates - Training and Support services would help in increasing the adoption rate amongst the users. When users will get to know how to use the software effectively, they are likely to incorporate it everyday in their work.
4. Stay up-to-Date - With adequate training and support, users can stay up-to-date with the latest features, versions and functionality of the apps.
Integrating Odoo Apps with Other Software
Kanak Infosystems LLP. is known for its ability to perform seamless integration of Odoo Apps. Our expertise lies with API Integrations/ Custom Integrations/ Third-Party Integrations of Our Odoo Apps.
Now let us tell you about the benefits of integrating Odoo Apps with other software:
1. Improved Data Management - Integrating Odoo Apps with other softwares that you may be using would allow you to streamline your Data Management process. Real-Time Data synchronization between systems will help you ensure that all of your systems have access to the latest information.
2. Streamlined Processes - Integration of Odoo Apps with other softwares will streamline your business processes, reducing extra human-effort and maximizing efficiency. 
3. Enhanced Customer Experience - Integrating Odoo Apps with systems like CRMs and Payment Gateways will improve the customer experience for your clients.
Following are some of the most popular Odoo Apps, grouped by Category: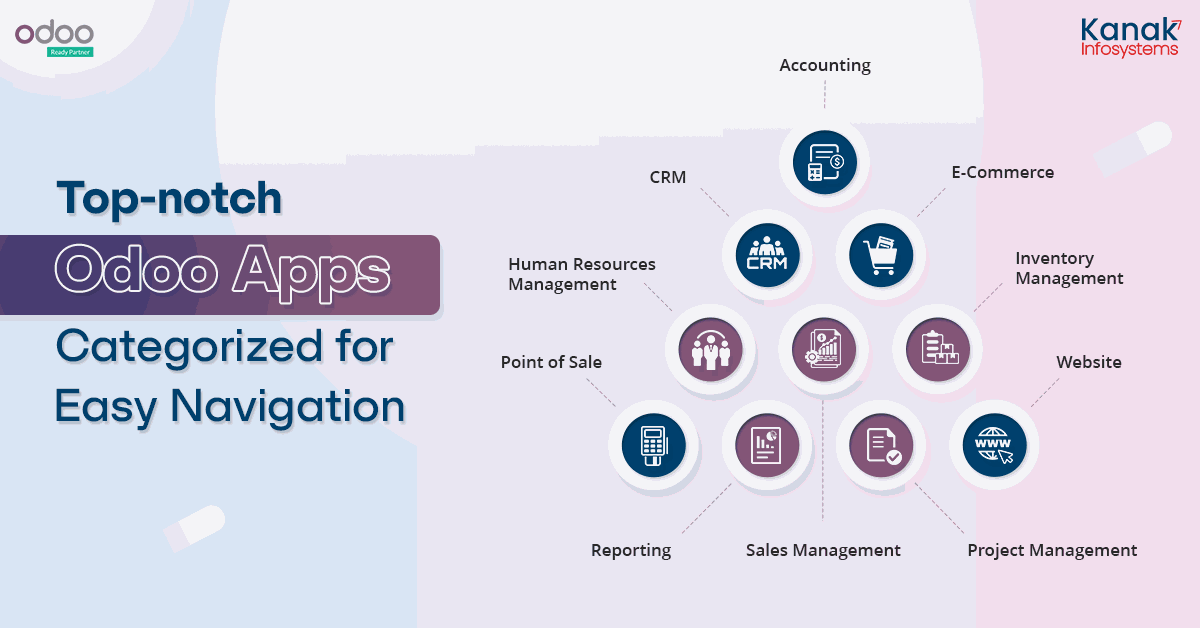 1. Accounting - Odoo offers the most comprehensive accounting apps that covers each and every aspect of financial management, which also includes accounts payable, accounts receivable, general ledger, and financial reporting. The accounting module also includes features like bank reconciliation, multi-currency and automated billing. 
2. E-Commerce - Odoo's in-built e-commerce app enables businesses to build and manage online stores, which is inclusive of  product catalogues, shopping carts and checkout processes. Other features also include customizable themes, product reviews and ratings.
3. CRM - Odoo has an in-built CRM app which provides businesses with a complete solution for managing client relations which would also include lead management, pipeline management and customer support along with features like lead scoring, email integration and task management.
4. Human Resources Management - Odoo offers a robust HR Management app which would enable your business to manage employee information, time off requests, performance evaluations along with employee self-service, payroll integration and attendance tracking.
5. Inventory Management - The Odoo Inventory Management is the complete solution for managing your inventory, overlooking stock levels, replenishment and tracking. Odoo Inventory also includes features like barcode scanning, serial number/ lot scanning and automated order fulfilment. 
6. Point of Sale (POS) - Manage your Sales Transactions, Order Entries, Payment Processing and Inventory Management with Odoo POS. Get the maximum benefits out of features like loyalty programs, offline mode and multi-store support.
7. Project Management - Manage your Projects from start to finish inclusive of Task Assignment, Time Tracking and Team Collaboration. You would be glad to know that Odoo Project Management also includes Gantt Charts, Document Management and Agile Methodologies.
8. Website - Develop a strong foothold online with Odoo's Website App. The website app includes custom web pages, blogs, forums along with SEO Optimization, live chat and website analysis. 
9. Reporting - Odoo offers a Robust Reporting Module. It will help you create custom reports based on the data you have entered in other Odoo Modules. It also includes features like customizable templates, filters and charts.
10. Sales Management - Odoo's Sales Management Module provides a complete solution to manage all of the Sales related activities. From lead tracking, opportunity management, and order processing to email integration, customizable pipelines, and automated workflows.
Wrap Up
In conclusion, Odoo offers a wide range of apps that can help you manage your business operations, starting from Inventory to Sales to even Marketing. By selecting the right apps for your business you can transform your business operations 360 degree and have a stronger and efficient hold over your workflows.
Doesn't it make you curious that Odoo apps can bring so much of efficient functionality to your odoo database? Now imagine, there are hundreds of such add-ons which Kanak Infosystems LLP. has introduced for that very purpose! Visit our website now to explore all of these add ons!
Transform your business with an Odoo Developer. Take the next step and hire now for seamless integration, customized solutions, and accelerated growth.

Leave a Comment
---
Your email address will not be published.
Your comment is under review by our moderation team.