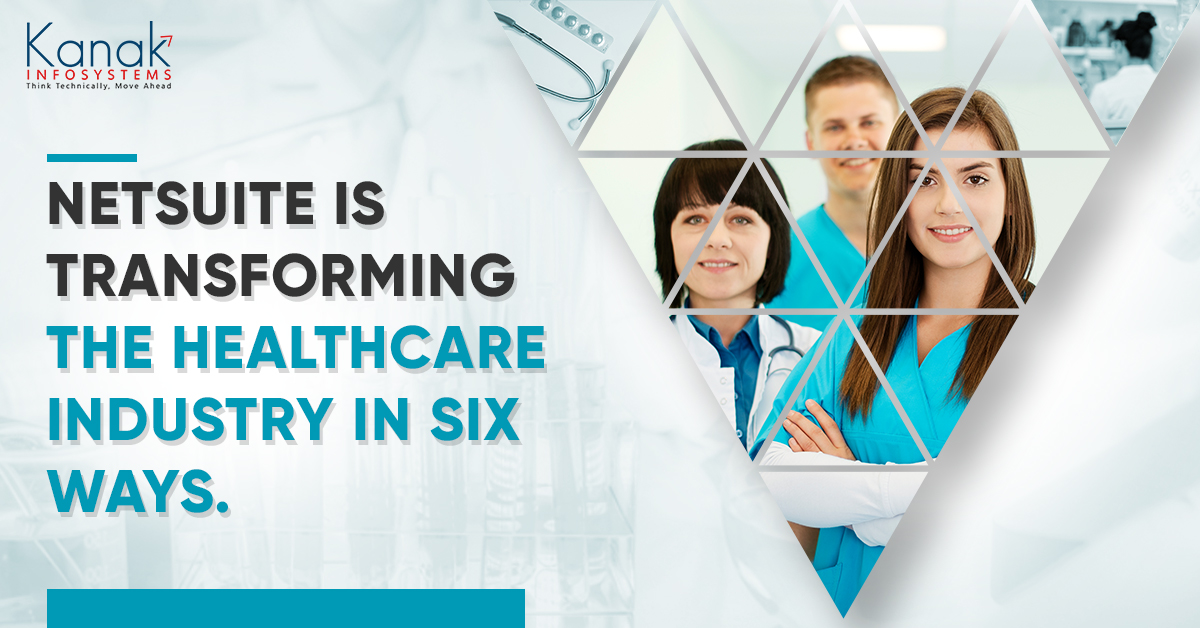 6 Ways NetSuite is Transforming Healthcare Industry for the Better
The healthcare industry is constantly experiencing many dramatic changes that positively impact many hospitals, diagnostic centers, and pharmaceutical organizations. To provide better patient care and high satisfaction levels, the healthcare industry needs to digitally transform basic business operations.
From managing medical records to creating strong patient relationships, the healthcare industry needs to embrace the latest technologies, efficient ERP platforms, and software products to stay ahead in the competitive landscape.
Healthcare organizations need to adapt to the recent advancements in the industry to fulfill customer requirements and meet government-industry regulations. A uniform, advanced healthcare system that provides quality services and healthcare products has become critically important to ensure patients' health and safety.
Whether it's curative, preventive, rehabilitative, or palliative care, it is important to embrace advanced software and apps to improve the medical processes. Thanks to NetSuite, a cloud-based ERP platform that helps healthcare organizations to provide optimal and personalized patient care and satisfaction.
From inventory management to financial regulatory compliance, industry-specific compliance, real-time reporting, and multiple entity management and consolidation, it includes all the basic features healthcare organizations need to perform their day-to-day operations smoothly.
Let's discover how NetSuite can help healthcare organizations and make significant changes in the healthcare industry.
1. Seamless Financial Management
NetSuite ERP platform provides robust financial management solutions for hospitals, laboratories, and diagnostic centers to stay on top of their finances. In addition, the highly advanced ERP financial capabilities enable marketers and sales departments to expedite daily financial transactions.
The real-time financial reporting and auditing tools allow you to check the financial performance of your organization. It can also be used for budgeting, billing, revenue recognition, and financial consolidation. The most significant advantage of deploying NetSuite to your healthcare organization is easily integrating with different business applications.
Whether it's inventory management or revenue management assets management, NetSuite helps you run all the financial processes smoothly with a single solution. If you want to automate complex financial processes, make the most out of NetSuite's financial management features.
2. Manufacturing Quality Healthcare Products and Medical Equipment
For many medical equipment manufacturers, managing their business processes and ensuring the quality of healthcare products quality, supply chain, and logistics is a difficult task. However, to provide optimal patient care, every healthcare organization needs to ensure high-quality medical equipment and products. This way, they can fulfill customers' demands and take their healthcare business towards new heights of success.
With NetSuite manufacturing management software, the manufacturing and supply chain processes can easily be controlled. For example, it ensures the inventory is in the right place and monitors work orders during the production process. NetSuite can also manage vendors and purchasing processes to deliver you quality products at the best price. In addition, you can create inspection plans, quality criteria and monitor results in real-time.
3. Medical Record Management
NetSuite ERP platform is exclusively designed for healthcare and surgical facilities to manage patients' medical records better to improve their efficiency and provide excellent care to patients. Its electronic medical records feature enables healthcare organizations to document patients' medical history, lab reports, diagnostic tests, and every information related to the individual.
NetSuite seamlessly integrates patient data with electronic health records that help medical professionals, surgeons, and attending doctors to access the data when required quickly. Hospitals and clinics should implement NetSuite into their business processes and harness the power of the cloud for excellent patient record management.
Now, there is no need to invest your time and efforts to extract patients' data manually. With a single, centralized cloud-based NetSuite ERP platform, hospital management can easily record and monitor unlimited records, which can be easily accessed from multiple devices. This high level of scalability makes NetSuite a great choice for healthcare organizations while allowing them to invest in their resources and time in advanced development processes.
4. Automate Healthcare Processes
NetSuite offers a customizable dashboard that helps medical professionals to make timely business decisions. Whether it's the sales and marketing department, administration department, or billing department, you can provide highly efficient and personalized services to your customers with NetSuite. Every information is linked to a centralized database, making it easier to access information, identify errors and solve them in a timely manner.
5. Reduces Operational Cost
When healthcare companies use NetSuite, cloud-based ERP, it makes it easier to make well-informed and timely business decisions. It is because of the high level of transparency across many business processes and the ability to share and access information from a centralized place. Besides increasing productivity and efficiency, NetSuite can significantly reduce operational costs.
The overall cost of a single, unified cloud-based solution is comparatively lower than multiple IT systems. When one single system efficiently manages software and hardware, servers, and other IT-related requirements, it will significantly lower the overall spending on the IT budget. Healthcare businesses that use cheap dedicated servers also experience a significant increase in their profits as it is a cost-effective way to access the resources of an entire server.
6. Real-Time Visibility
NetSuite ERP platform is helping hundreds of thousands of healthcare companies to improve transparency and streamline business processes. The system automates core business processes and efficiently manages financial performance.
You can manage accounting, inventory, supply chain, production, operations, distribution, patient records, and other essential business processes with a single software. In addition, it gives organizations complete freedom and clear visibility to access data in real-time for more control.
The customized dashboards, reports, and analytics summarize important processes, saving time and freeing up resources. In addition, it enables them to put their best efforts into embracing innovation, identifying new medical technologies, and staying ahead in the competitive healthcare landscape.
Final Thoughts
NetSuite plays a vital role in growing the healthcare industry by providing innumerable benefits to doctors, patients, medical equipment manufacturers, and pharmaceutical companies. NetSuite is packed with many amazing features and functionalities exclusively developed to improve healthcare processes and procedures.
The cloud-based ERP platform enables medical centers, healthcare companies, and hospitals to change the healthcare landscape by reducing costs and improving visibility. Clinics, surgery centers, diagnostic imaging clinics, Lasik centers, and other healthcare companies can capitalize on NetSuite's amazing features to grow their business faster.
If you're interested in learning more about how Netsuite can help you, please send an email to [email protected] or call us on  +91 9818108884.

Don't miss out on the opportunity to harness the potential of NetSuite for healthcare excellence. Contact Kanak Infosystems today!

Leave a Comment
---
Your email address will not be published.
Your comment is under review by our moderation team.