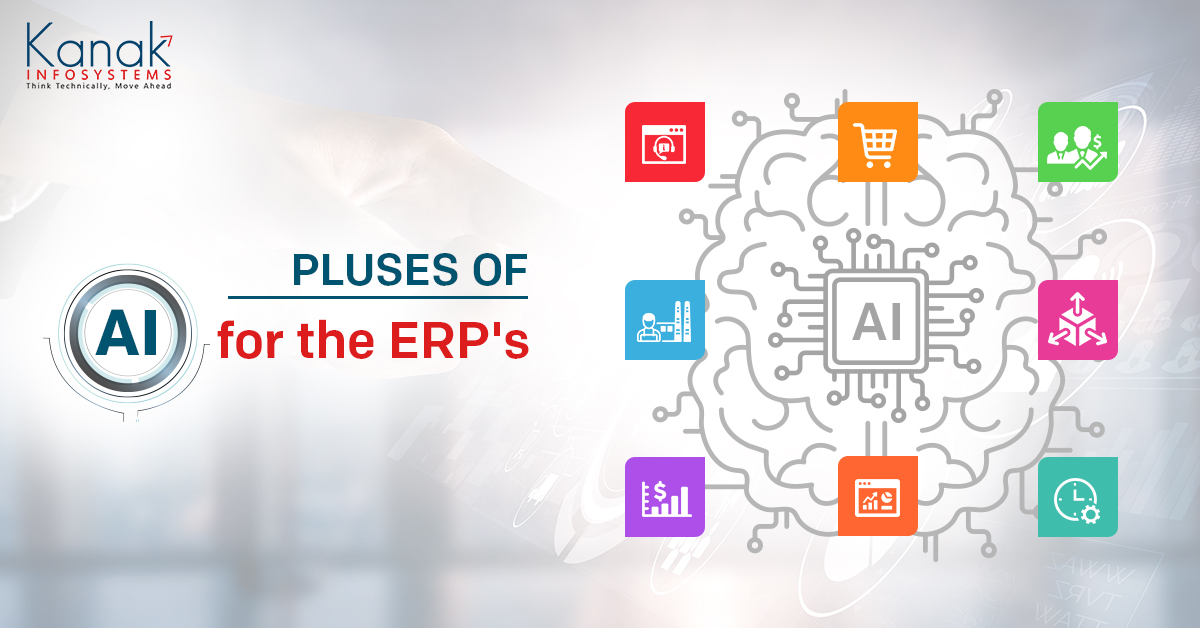 Pluses of AI (Artificial Intelligence) for ERPs
Wouldn't it be great if you could receive expert advice based on your company's history, industry best practices, and customer sentiment before making an important decision for your company?
If you are already using an ERP for your company, adding AI capabilities will unlock the digital expert that has the potential to make your organization more productive, effective, and profitable.
Despite being a relatively new technology, Artificial intelligence or AI is proving its worth in the software market.
Gartner - the world's leading research and advisory company - predicts that by 2021, 80% of all emerging technologies will rely on AI as a core module of their infrastructure.
AI combined with ERP will be able to provide actionable insights that would enable companies to improve their operational efficiency.
Need of AI for ERP
"You hear a lot of hype about companies sprinkling AI across their applications, but it's important to focus on what tangible value it will actually provide customers." - Malin Huffman, Senior Director of Product Management for Oracle NetSuite.
Without a doubt, AI will have a profound impact on ERP software in the future. AI-enabled ERP solutions would impact an organization's day-to-day operations affecting people, processes, and technologies at the same time.
Since ERPs such as Oracle NetSuite, SAP, Odoo, Dynamics 365, etc., are constantly improving, they are giving rise to a wealth of data.
✍ Visit the link provided below if you want to learn more about ERPs.
Odoo Review: Features, Pros, and Cons of the ERP Platform
What is NetSuite? Full NetSuite Review 2021 - Details, Pricing, Features
However, ERPs continue to struggle with converting this data to meaningful information that would allow companies to make informed decisions and take critical actions.
Hence, Artificial Intelligence (AI) is a natural extension of ERP software as it helps companies to convert the already existing data into meaningful insights.
 Subscribe our Newsletter for AI & ERP tips, technical insights, and more!

Pluses of AI for ERP
Deeper Insights Into Your Data
A massive software such as an ERP generates tons of data. Among such massive data sets, there are lots of patterns and correlations that aren't directly observable by a human. Using machine learning and Artificial Intelligence, businesses can easily identify these seemingly invisible trends to generate meaningful insights.
For example, an AI-powered system for a manufacturing company can help you find a correlation between a manufacturing defect and the overall sales of a product. It might also help you find a relation between the rate of production and the rate of delivery.
An AI can also analyze the buying behavior of different categories of customers, enabling you to tailor your products or services to the needs of a specific audience.
There are tons of applications that one can use Artificial Intelligence on. The primary advantage is that AI enables one to analyze business operations at an even granular level and create accurate forecasting and make informed business decisions.
Improved User Experience and Customer Service
Regardless of the business type and scale, customer service and customer experience have always been a challenge for businesses. In this digital era, customers not only expect but demand that they have personalized services instead of generalized services and updates.
Customers don't prefer digging through manuals or following a step of generic instructions. Instead, they want someone to guide them step-by-step through the entire process and solve any queries as and when they appear.
AI-enabled ERP software equips businesses with the latest chatbots that can assist as well as interact with customers in real-time. Chatbots engage with your customers round the clock with prompt responses based on data that has been gathered over time.
These AI systems learn from legacy data to deliver responses that are highly customized to provide a great user experience. Coupled with flexible Help Desk Software, you can easily sort out multiple queries and offer a satisfactory experience to your users.
If your company does field service, AI can use information about performance evaluations and employee qualifications to schedule service calls and assist with planning.
Advanced Forecasting
For any retail business, demand forecasting is a must if they want to be ahead of their competitors and grow beyond the market challenges.
Using advanced technologies such as sentiment analysis and analysis of historical data, AI-powered ERP can make very accurate predictions.
These tools and technologies quickly identify seasonal patterns in your business, evaluate customer sentiment, create predictions, and offer suggestions on whether you should increase or decrease your production/efforts/resources.
Using Artificial Intelligence in your toolbelt, you can significantly reduce the risk of overproduction or underproduction and manufacture just the right amount of inventory.
AI-powered ERP such as NetSuite helps businesses understand their Key Performance Indicators (KPI) and forecast business growth. They collect data from disorganized systems and process it to convert raw data into actionable steps.
Automate Routine Processes
Machines have been created to ease human life so that humans can focus on more creative and intellectual tasks while machines take care of repetitive processes. When using a simple ERP system, human beings are following a set of steps (a.k.a algorithm) to reach the desired outcome.
These routine tasks can often be expressed in mathematical terms and can be programmed into software to make it "smarter". These sets of rules can be applied to a specific data set to enable AI to make intelligent decisions faster and more accurately than a human.
Such automation can make routine tasks such as accounting, and payroll management effortless. In essence, it is an advanced form of process optimization that frees up human brainpower to be utilized on higher-level tasks and processes that a machine cannot handle reliably.
Final Words


Even though AI technology is relatively new and is in the infancy stage, AI-enabled ERP solutions hold immense potential and rewards.
Using AI in your ERP reduces the cost of production, automation, and manual labor. It improves the quality of your business processes, employees, customer experience, forecasting abilities, and much more.
The applications of AI for ERP are countless and only limited by the data you capture and the kind of insights that you want to generate.
To take full advantage of AI for your ERP, you need AI experts such as Kanak Infosystems LLP. that will guide you through the entire process. To get your company audit for AI implementation, reach out to us at [email protected] or visit Kanak Infosystems.
Leave a Comment
---
Your email address will not be published.
Your comment is under review by our moderation team.