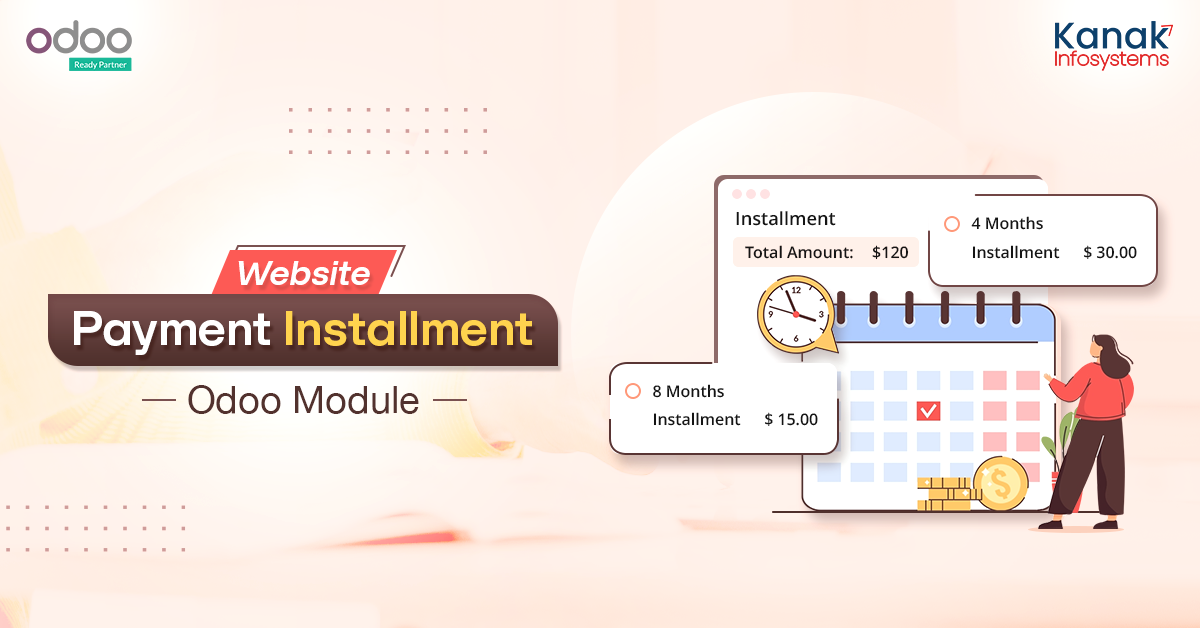 Website Payment Installment Module in Odoo: Simplify Your Payments
In today's ever - changing business landscape, it's important to be able to offer customers flexible payment options. That's why we've come up with a custom Website Payment Installment module for Odoo to help businesses make that possible. A way they can provide their customers the convenience of paying in installments through the website. 
On top of that, it simplifies the payment process and makes customer satisfaction skyrocket which will also result in more success for your business.
 Key Features of Our Website Payment Installment Module
1. Versatile Installment plans:
The module is tailored to meet your customers financial preferences so you can give them the freedom to pick from multiple installment plans. This feature can be a game-changer in particular for high-value purchases because it'll make them feel comfortable enough to commit.
2. Easy Online Payments:
By cutting out communication and physical visits, customers can manage their installment payments directly on your website. This gives them a smoother and efficient shopping experience.
3. Specific product installments:
Our module allows you to offer a variety of payment plans for each individual product from the backend. These include monthly, quarterly, or whatever plan you can come up with, to be enabled for a product. 
With this kind of customization, your business will be able to meet any customer demands and market desires, by offering payment installment option for only a particular set of products of their choice.
4. Invoice Management:
On top of the installment options, our module also provides invoice management features. Customers will be able to reach all their invoices and pay them off on your website. This will ease down administrative burden.
5. Increase Customer Satisfaction:
In conjunction with managing invoices, customers would be encouraged to keep coming back if they have choices and accessibility found on your site.
Looking for tailored Odoo solutions? Contact us for expert customization and implementation services to supercharge your business.
 How our website payment installment module works
1. Flexible Payment Selection:
When customers go to make a payment, they're given the option to choose a plan.
2. Invoice Generation:
Once a plan is selected by a customer, and the order is placed, you can start making invoices from the backend, for the customer to start paying for the installments via the portal.
3. Online Payment Convenience:
Through their website portal, customers can review and settle all their invoices and make payments online. All payment methods are supported, ensuring secure and seamless transactions.
4. Payment Tracking:
With your website acting as a mediator, customers and your business will be able to find payment statuses and invoice details with ease. Not only does this build trust, but it also leaves very little room for inquiries about payments.
 Subscribe for Odoo tips, technical insights, and more!



 Product Configuration
• Configure Installments for the products in the "installment" tab.
• Navigate to Product -> Select any Product -> Open Installment Tab -> Add Product Installment.

 Installment Contract
• Create installment contract for customer-owner-product agreement.
• Go to Sales -> Configuration -> Installment Contract -> Create Contract. This will be shown on the website when clicking on ' More Details '.

 Website Payment Installment Workflow
Customer Point of View
• On the shop's payment page, there will be a toggle button called Pay with EMI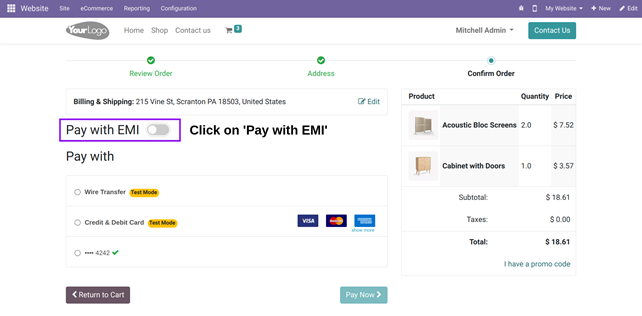 After clicking on the Pay with EMI button, it will display a view containing all the installment plans for the products.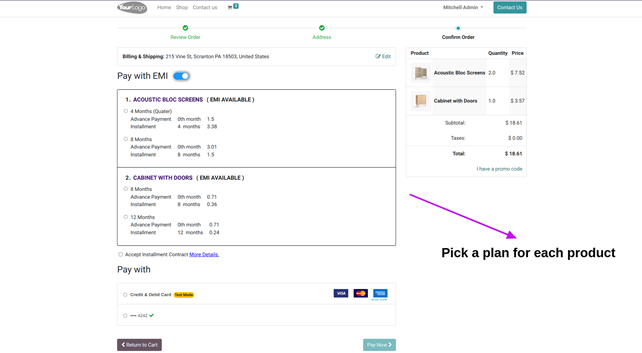 After picking a plan, customers must check the Accept Installment Contract Checkbox.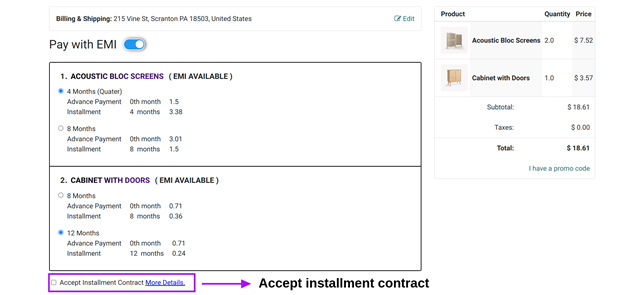 Customers can also see more information about the installment contract by clicking on More Details
• This can be set via the backend as shown earlier.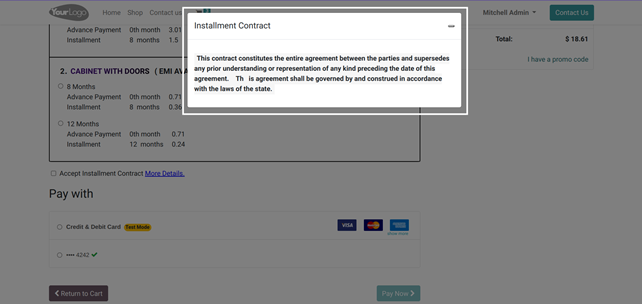 When the customer selects the plans, accepts the installment contract, selects the payment method (Wire / Stripe / Any other), and clicks on the Pay Now button, a different sale order will be created for each of the installment products.
• The customer will only pay the advance payment for the sale orders.

The user must validate the delivery and create an invoice for each sale order (from backend).
• After creating the invoice, the customer will be able to see the invoice and pay it.
• The portal invoices will be displayed as shown below.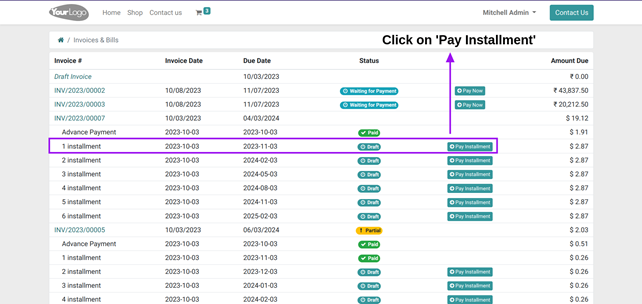 Customers can pay for each installment by clicking on the Pay Installment button, and the payment will work according to the odoo default website payment.
• When the customer pays for the invoice, it will be reflected in the backend invoice as well.
Experience the benefits of our Payment Installment Module. Book a demo today and discover how it can revolutionize your payment system.

Purchase Website Payment Installment Odoo Module
Conclusion
We take pride in delivering solutions that will enhance your business's capabilities. With our module, you'll be able to offer flexible payment options and streamline the process of making payments. Ultimately this will lead to stronger customer relationships and contribute to the growth and success of your business. 
In the world we live in today, competition is everything. Even having convenient ways to dish out payments can set you apart from others and create loyalty in customers that lasts forever. That's why we provide you with tools to do exactly that.
Leave a Comment
---
Your email address will not be published.
Your comment is under review by our moderation team.