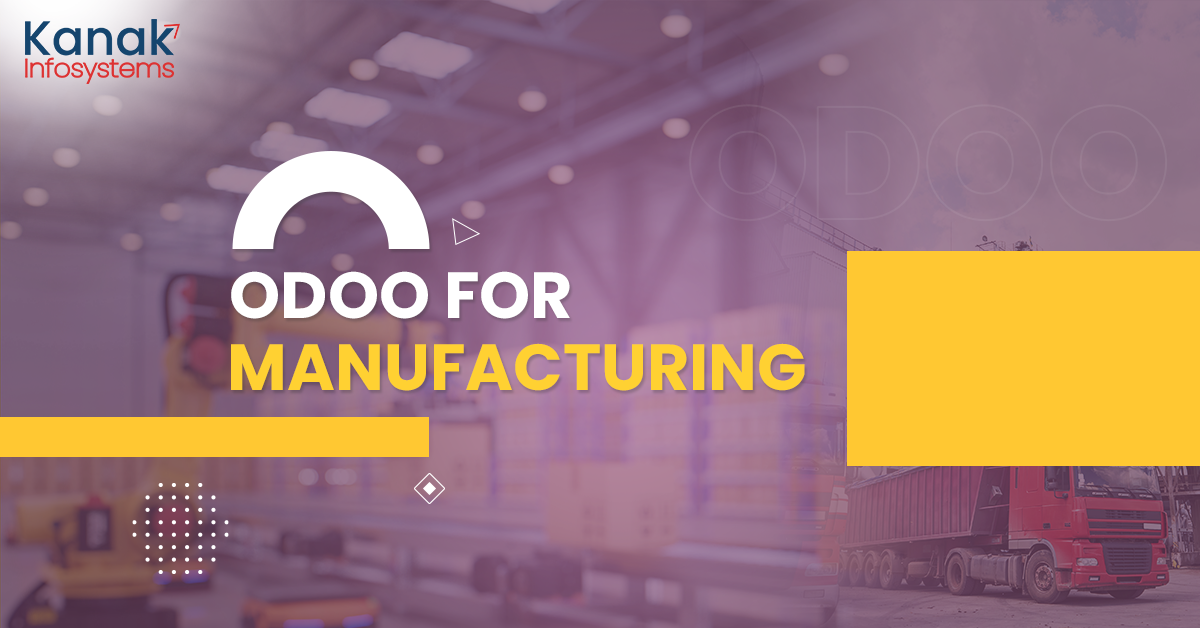 Manufacturing refers to the process of converting raw material to a finished product or commodity. And for a business that would handle a process like that in a large number, it is very important for them to have a well-set up system that would overlook and record that process at every stage. With a fast-paced and scalable ERP, a business would be able to efficiently manage the manufacturing process without any fuss.
An Open-Source ERP called Odoo comes up with a lot of advantages to help up your manufacturing business. Odoo ERP Manufacturing Module helps the user to handle complex operational processes like Production, Manage Invoices, Plan and Manage Manufacturing Orders, and Track Work Orders and even the Purchase Order of Raw Materials.
If you wish to dive deep into the details of Odoo ERP, check out our Odoo Review Blog.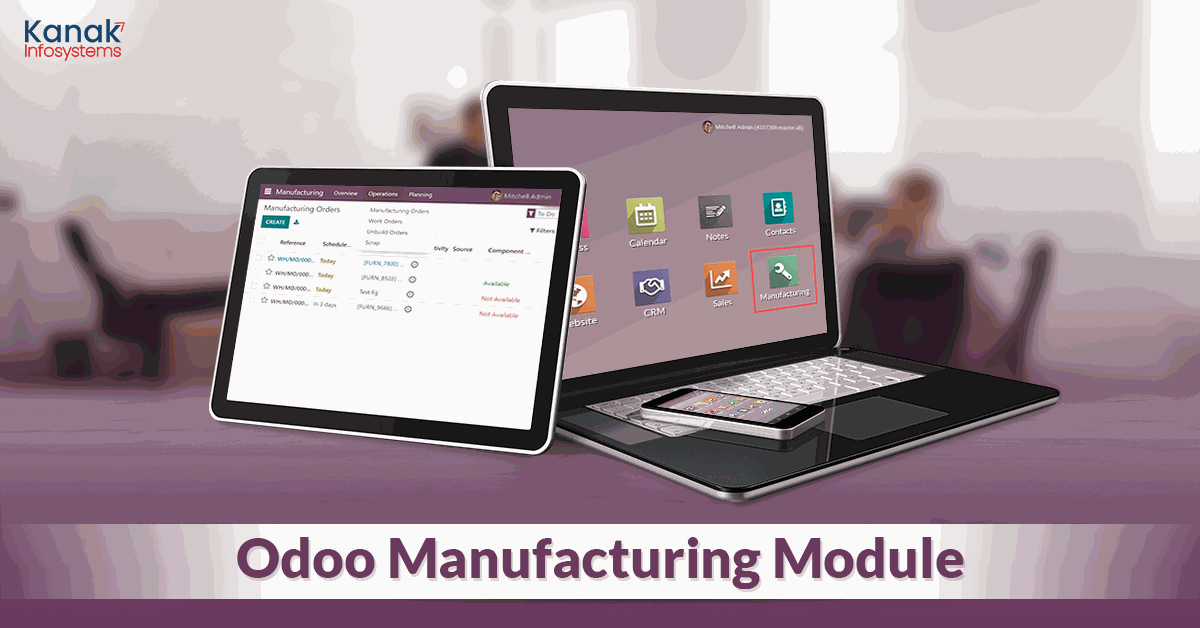 The working flow of the Odoo Manufacturing Module is pretty simple. It would allow you to build a manufacturing order and follow it throughout the process of production and even delivery. And with Odoo being the most dynamic ERP out there, it would be so easy for you to customize and personalize the Module as per your Operational Processes in the business, and it would work as per your company's workflow. 

Now we all know we have to deal with a lot of scraps while working in the Manufacturing business. And we can unanimously say that it sure is one of the most stressful parts.
Well, your stress has been taken care of by Odoo, you can easily manage them at any stage of the production procedure, and you can unbuild a manufactured product if that is what is needed.
Along with this, you can assign your best-skilled staff to different stages for them to overlook the production process efficiently. This would segregate the work pressure and would also make sure the production processes are being run efficiently and effectively.
Now, Odoo may have the basic features that any ERP may offer, but it also has its own personalized features that make it way more convenient to use.
For example, features like backward scheduling, production calendar, kanban view, single BOM for multiple product variants, routing facility, and byproducts are only Odoo's specialty, and you wouldn't be able to get these features in any other ERP platforms.
Odoo also has the advantages of features like Equipment Management, Work Instructions on  Work Orders and Maintenance Requests.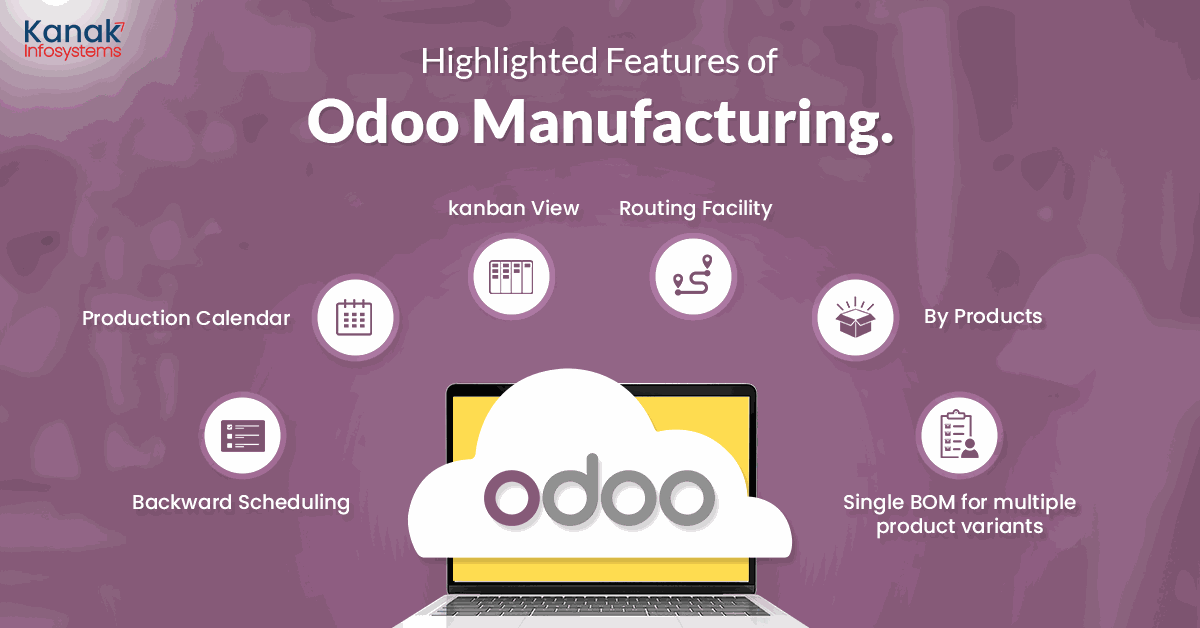 The entire Management is the biggest feature for the Manufacturers in Odoo. It helps them to access the business and all of its information under just one umbrella. It would help the admins to monitor and manage all of the business insights and put them to use towards the growth of the business.
You can manage your Manufacturing Orders to manage your products by segregating them in assembly lines or manual assembly. You can look after your Work Orders by launching the production of items needed in the final assembly of the products. You would also be able to manage your repair orders to provide the services under the warranties and guarantees.
Scheduling and Planning is another distinctive feature that comes up with Odoo. It helps the Manufacturers to have a very structured control over the components like Inventory, demand-based planning, definition production scheduling, and a well-integrated and managed with smooth coordination of distribution channels. This would ensure the timely delivery of your products. 
If you are a mass- manufacturing company, your inventory would be filled with the products in and out. To make it less of a fuss, Odoo Inventory Management helps you with tracking all of that movement by their characteristics, lot numbers and would even help you manage your multiple warehouses.
Routing is the method of creating the product using the materials outlined in the Bill of Materials. And it is very important for a manufacturing business to define the routing before the manufacturing process starts.
This would involve multiple stages and multiple working locations. And Odoo Manufacturing will help you create a multi-level Bill of Materials. It would also help you in creating new routing routines for work orders to have a structured production. Even while creating orders, it will allow your products to evolve and add configurable options. 
While being in a manufacturing business, you cannot compromise on the quality of your products.
Odoo Manufacturing helps you integrate Quality- Checks for the purchased materials throughout the process of beginning production, in the middle of the production, and on the final products.
And if an error occurs, it would also help you to track down the reason for the issue, which would help you to improve the quality of the product before it reaches your clients and hence saving the brand name.
You would be able to automatically start the quality checks for the manufacturing process. And the kanban view will help you easily organize and report it well.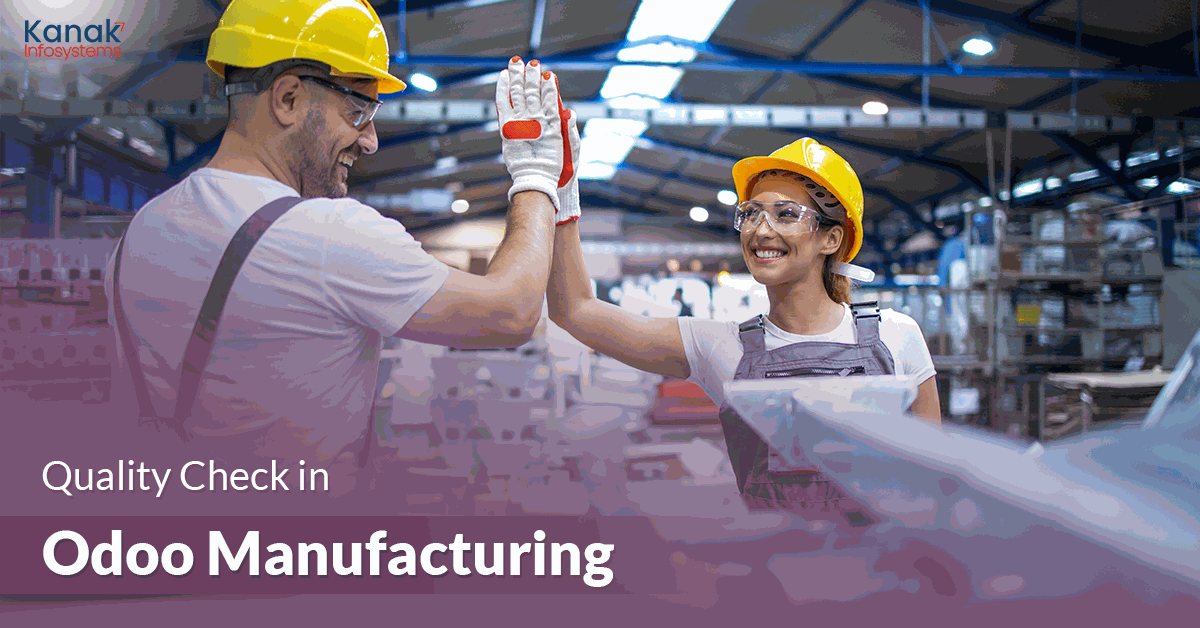 Odoo Manufacturing would also help you manage Maintenance Orders for repairs or other such fixes. Odoo will help the users to put up requests for such features, and then those requests will be assigned to the maintenance teams.
It would also help you set up automated preventive maintenance by computing data such as average time to failure. It would include features like preventive maintenance and corrective maintenance.
In a nutshell, you would be able to register productions, scan the products based on their lot and serial numbers, and manage multiple warehouses and shipping methods; your employees will be able to manage their worksheets, you will be able to manage your scrap materials, create quality alerts and checks and act on them.
Odoo Manufacturing would give out well-balanced and detailed reports of your entire Manufacturing Process. With this, you would be able to maintain the quality of your products, deliver them on time, ensure utmost customer satisfaction and run all of the processes smoothly.
Does that tickle your curious bone? Do you wish to try it out for your business? Do you have questions? Do you wish to discuss this further?
Well, Kanak Infosystems LLP. is an Odoo Development and Implementation Company with a decade of experience. And we are just one click away.
Contact us now for all your queries, consultations, and demos.
FAQ's
Yes. Odoo is an Open Source ERP which makes all of its modules customizable to any extent. You can personalize the Manufacturing module to align with your company's specific workflow and process. The module would adapt to suit your manufacturing processes and make it work seamlessly.
Odoo is one such ERP that provides you with the ability to manage scraps and unbuilf manufactured products if it is required. This distinctive feature of Odoo will help you streamline the manufacturing process and would ensure efficient Scrap Management.
Odoo enables tracking of errors and helps in identifying the reasons behind them, further allowing you to improve product quality and safeguard their brand reputation.
Leave a Comment
---
Your email address will not be published.
Your comment is under review by our moderation team.