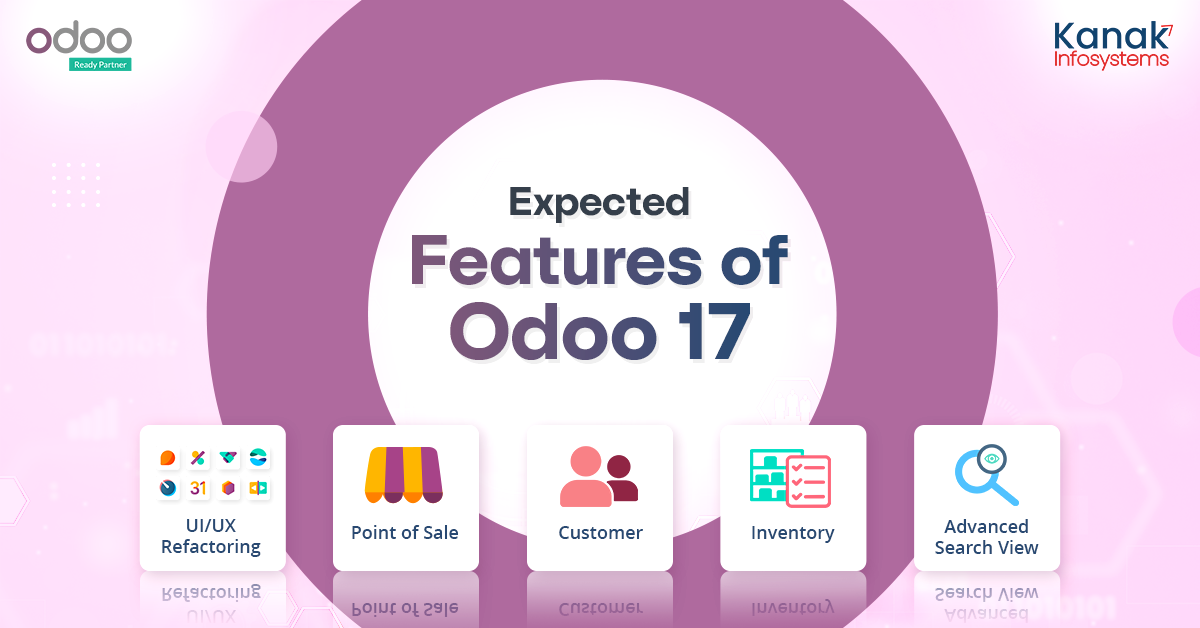 Odoo 17- What All to Expect? ( Roadmap)
Odoo is known to be one of the most preferred Open Source ERP systems. It is widely popular for its flexibility and the range of functionalities. Odoo has been constantly evolving and keeps coming up with new versions every year to bring innovative and improved features.
With the forthcoming release of Odoo version 17, users and developers can expect a whole new spectrum of new features and functionalities which promises to streamline operations, boost productivity, and provide a much enhanced user experience. 
List of Expected Features in Odoo 17
Let us take you through some of the expected features shared by the developers at the House of Kanak Infosystems:
1) New and Improved UI
Odoo 17 is expected to transform the UI for the enterprise users. The icons are said to have changed completely.
2) Add the Catalogue
In the all new Sales Module, A Sales Catalog feature to be added for Quotation and Order.
4) Search Article
You can now search Articles directly to seek help from existing documents.
5) To-Do's
In version 17, we now have a new default app "To-Do's"
6) Separate Menu for Every Operation Type
Now we have a separate menu for every Operation type under Inventory > Operations, earlier it showed all records in the same menu "Transfer".
7. More Info button in POS 
This button in POS would connect the user to the Customer's Backend info.
8. Departmental Organizational Structure Charts.

9. POS- Restaurant and Bar- You can now see the preparation status.

10. Popups are now Draggable.

11. 5-digit unique code in POS receipt
     Using this  5 digit unique code in POS receipt, customers have the option to request for Invoice from the portal.
12. Advanced Search
The search feature in Odoo is now more advanced with many more options and upgraded UI.
13. Raise Hands in Meetings
Odoo would now allow you to "Raise your Hand" in Odoo meetings.
14. Select Multiple Records from a Single Click
You can select multiple record from a single click >> select a record form list , to add more- use Shift+ upper arrow , and to deselect- use Shift + down arrow.
Wrap Up
To wrap this up, We will just say that Odoo 17 strives to empower businesses using the comprehensive set of its features which further aims to enhance the experience for its users and drive more automation.
Odoo 17, without any fail will help you take data-driven decisions, promote collaboration and provide unmatched mobility. 
Odoo is committed to come up with multiple innovations with every new version which roots from their customer-centric approach.
Explore other related blogs which you don't want to miss out:- 
|| Need Odoo customization or implementation services for your business?  ||
Leave a Comment
---
Your email address will not be published.
Your comment is under review by our moderation team.