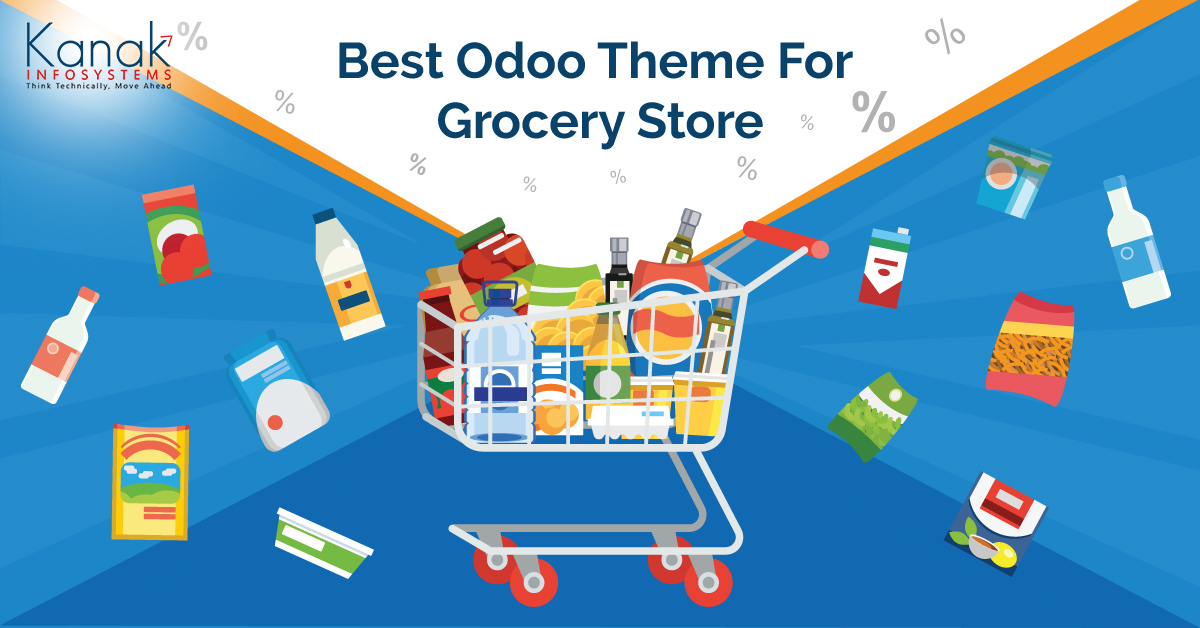 Best Odoo Theme For Grocery Store
Odoo supports freedom & creativity. Freedom for the designer to go further and creativity for the user to customize everything according to their imagination. Choosing a theme for your website can be overwhelming. Especially on a platform like Odoo where you have a variety of options to choose or select from.
Odoo ecommerce is equipped with a lot of great features and functionalities that help you in building your ecommerce store online. 
Odoo's ecommerce provides all the facilities needed for projecting your ecommerce store online. The biggest advantage of using Odoo's Ecommerce is that it helps increase your online reach without any limitations.
So, Why is the theme important for a website? A Theme defines the overall design and structure of your website. In simple words, Theme is the essence of your website. It provides a different feel to your website. 
The color combinations, styling, and layouts form the base of your theme. And your theme is the representation of what you truly are and what your brand represents. So, having an impactful theme is very important for great user experience and customer attraction.
To gain maximum attraction for your website should be easy to use for users and free of technical problems. The basic things that are customized in your theme are your fonts, your background colors, font sizes, color schemes, and layouts.
In this blog, we are going to discuss about one of the most attractive themes for Ecommerce website in Odoo, the Theme Grocery.
Theme grocery is a well-groomed theme for making your online ecommerce website impactful. It has some stunning design layouts. Theme grocery also provides us with many other dynamic features like:
●   Customizable Categories
●   Quick Banner Links
●   Display Trending Products
●   Display Offers on Banners
●   Sidebar Widgets
●   Display your latest Blog Posts
●   Various Product Filters
●   Detailed Product Features and Compare Widget
●   Display Product Reviews
●   Display Customer Testimonials
And one of the most awaited and amazing features is the full RTL support.
 Subscribe our Newsletter for Odoo tips, technical insights, and more!
So, let us discuss these features step by step in details:
Customizable Categories:
Any ecommerce store has various types of products which are categorized into separate categories.

You can display all the categories that you want to display here on your homepage.

Sliders:
You can display various images as a slider to give an impressive layout to your website.

Quick Banner Links:
Display various size customizable banners with links embedded to it for redirecting to a particular URL on your website.

Display Trending Products:
Informing your customers which products are most useful and are trending currently provides a very great customer experience.

Theme grocery provides you with the option to display your trending products upfront. There are other options also like adding your latest products or featured products.

Display Offers on Banners:
Providing various offers on your website helps in attracting more and more customers and increasing your sales.

Theme grocery provides you with the option to display various offers on banners with embedded links for ease of use.

Sidebar Widgets:
Various sidebar widgets like displaying your bestseller products makes your website look very dynamic.
Display Customer Testimonials:
Displaying reviews from customers helps in building other customer's trust in your website.

This section is very useful to display user reviews about your website and allows you to display their experience with you.

Display your Latest Blog Posts:
You can display your various articles and blogs upfront for your customers to read.
Product Filters:
One of the most important features of any website is the ease of browsing and searching for users. Sometimes the user finds it difficult to find that one specific product.
Applying necessary filters helps the user and provide a great user experience.

Users can search for the products they need faster by applying specific product filters.

Detailed Product Description and Add to Compare Widget:
It is very important to let your customers know about all the features of your product and make them aware of each and every detail. Theme grocery provides a very detailed description section for displaying the product's information.
There is a specifications column below for a detailed description of your product.
You can also check out your recently viewed products.
Theme grocery also provides a very useful 'Add to Compare' Widget to compare your products.
Users can select the products they want to compare by clicking on Add the compare button and they can compare the products to select the best option for them.
Display Product Reviews:
It is very important to know what your customers think about your products. It also helps others to choose which product they should buy.
This theme provides a very interactive product reviews section.
Apart from all the features discussed above, there are other stunning features that come with this theme.
One of the most challenging features is to increase your website reach by providing multi-lingual and multi-currency support to your ecommerce website.
Theme grocery provides you this awesome feature of changing your website's language and the currency of your prices in just a single click.
There is a customized search bar at the top which helps customers searching for their products category wise.
This theme provides one of the most useful features for arabic language, the RTL (Right to Left orientation) support.
All the layouts, fonts, colors, and the above features mentioned are completely responsive in RTL mode also.
Categories, best sellers, banners, and every other feature work perfectly in RTL orientation.
So if you want to display your ecommerce website in RTL orientation, feel free to choose Theme Grocery.
The headers and footers column is also very well customized in this theme.
In today's world, the comparative number of users are more on mobile in comparison to desktop. Everyone wants to access everything on their mobile. The same goes for ordering groceries sitting at home.
These are some of the screenshots from the mobile view of Theme grocery.
As you can see the mobile view looks as amazing as the desktop view.
Theme Grocery is a fully mobile responsive theme. It is compatible with all sizes of screens.
Are you interested in our Grocery Odoo theme featured in the blog? Experience its features firsthand! Click the link below to book a personalized demo now. Our team will walk you through the theme's capabilities and answer all your questions.
So your website looks as stunning on your mobile as it looks on your bigger screens.
Now, after seeing all these amazing features of Theme Grocery, the next thing that comes to your mind is, Is this Theme Worth it??
Well, there are plenty of good-looking themes available but we shouldn't judge a book by its cover. Poor coding, slow speeds, and bad user experiences still exist.
That's why you should choose Theme Grocery because it is well developed in its coding aspect, the Theme is fully responsive and fast in loading. And with its multiple user-friendly features, it leaves you and your customer fully satisfied with great browsing and shopping experience.
Our skilled developers have worked on this theme with utmost dedication to provide a reminiscent user experience for the customers visiting your online ecommerce store.
We have this theme available in the all odoo versions and can be customized for the latest version of odoo erp.
If you are interested in customizing your website according to your preferences and if you want to build your dream website and customize the theme of your website.
All you need to do is contact us. We'll design your website exactly as you want.
Leave a Comment
---
Your email address will not be published.
Your comment is under review by our moderation team.