View Demo
URL: http://v12.kanakinfosystems.com/web?db=odoo_inbox
Username: admin
Password: od@kanak
Notes: This module is not integration of any email gateway. its just UI of your odoo emails replacement of odoo Discuss(Messages).
---
Release Notes
Date: 31 Jul 2020 (version: 1.6)
--------------------------------
1. [FIX] When Click On Import Button throw the Error it was Fixed. 2 [IMP] Select2 JS Latest Library Updated. Date: 27 Jul 2020 (version: 1.5)
--------------------------------
1. [IMP] Performance Improvement.
2. [ADD] Tag User wise Different Create edit and delete.
3. [ADD] Folder User Wise Different Create edit and delete.
4. [FIX] Issue fixed Multiple Snooze not working.
5. [IMP] Summer-note JS Latest Version with emojie which used on Replay and Compose Message.
6. [FIX] Some CSS is Applied on Website so it was Only Apply one Odoo Inbox pages fixed.
7. [FIX] Pagination is not looks Good in so it was also fixed.
8. [IMP] When that Left top corner burger icon Click then small burger then not showing the Counting that was also showing the counting both small and full.
9. [IMP] Refactor code.

Date: 10 Jul 2020 (version: 1.4)
--------------------------------
1. [FIX] Read previous inbox message which have bold text
2. [FIX] Read Inbox previous notification (Notification no. Should be removed)
3. [FIX] Starred message should be removed from starred menu
4. [FIX] Message should be delete from trash menu
5. [FIX] Click on delete icon of any send message not remove
6. [FIX] Click calender icon in snooze pop-up not open calendar
7. [FIX] Select multiple messages and click on unstarred from dropdown menu.
Selecte message should be removed in starred menu.
8. [IMP] Sidemenu hide/show
9. [IMP] Compose Mail button move to left side top
10.[IMP] Datetime format make sorter
11.[IMP] UI Modification and minor bug fixes
Mailbox: Bold color text Unread messages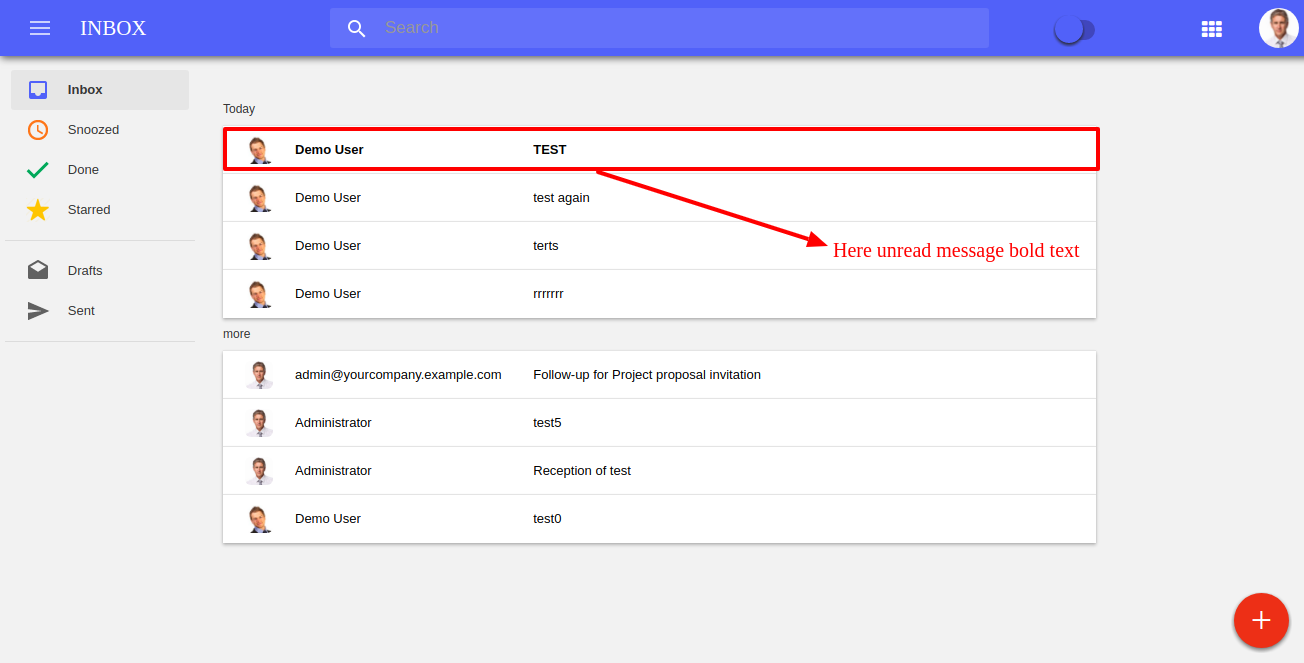 Mailbox: Click here to reply to the message above.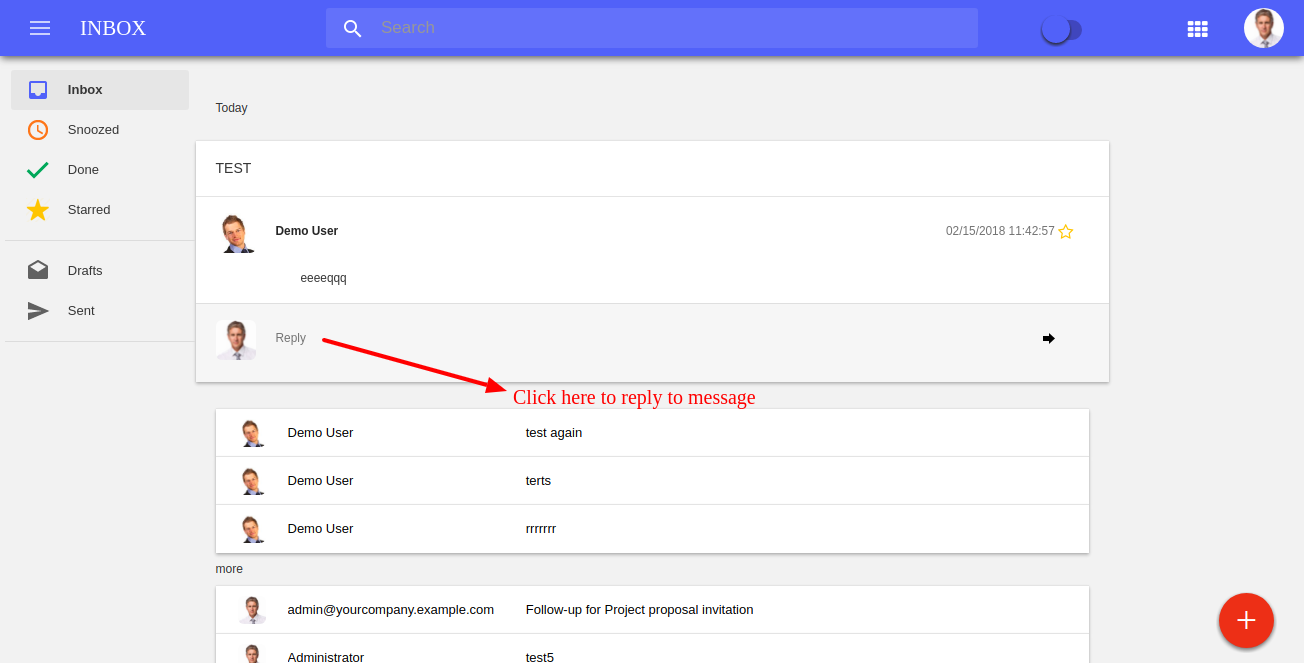 Mailbox: Opened user reply content.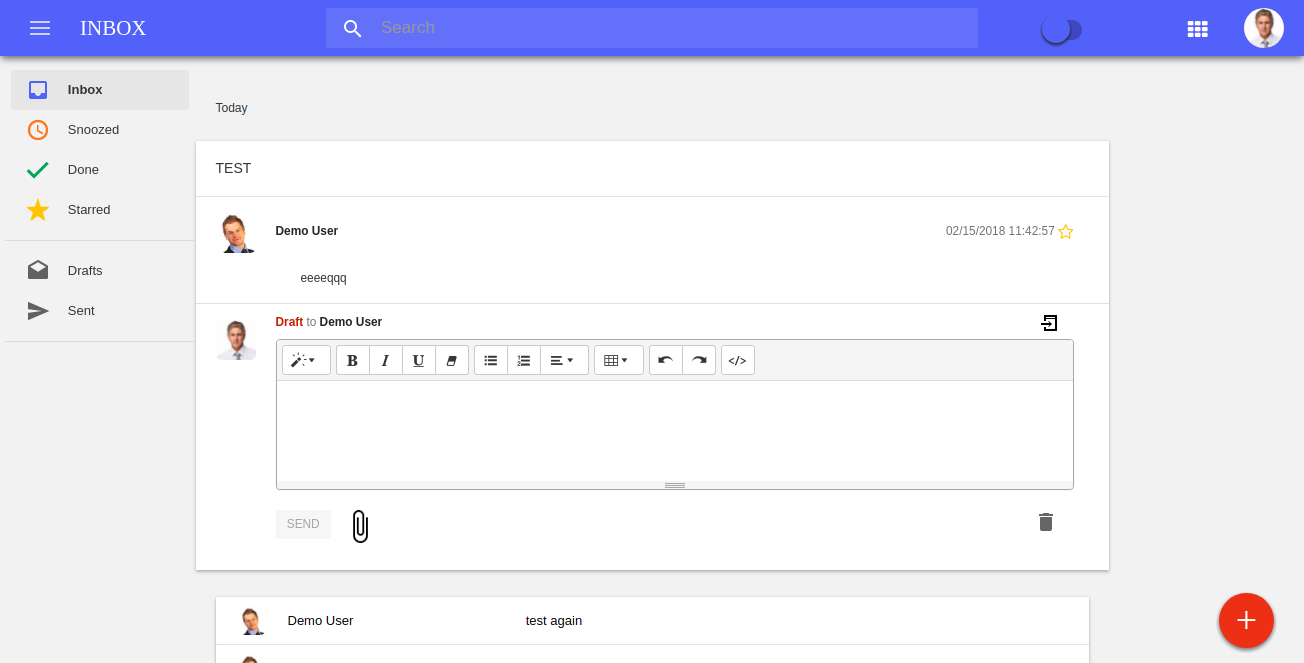 Mailbox: Sended multiple attachment's.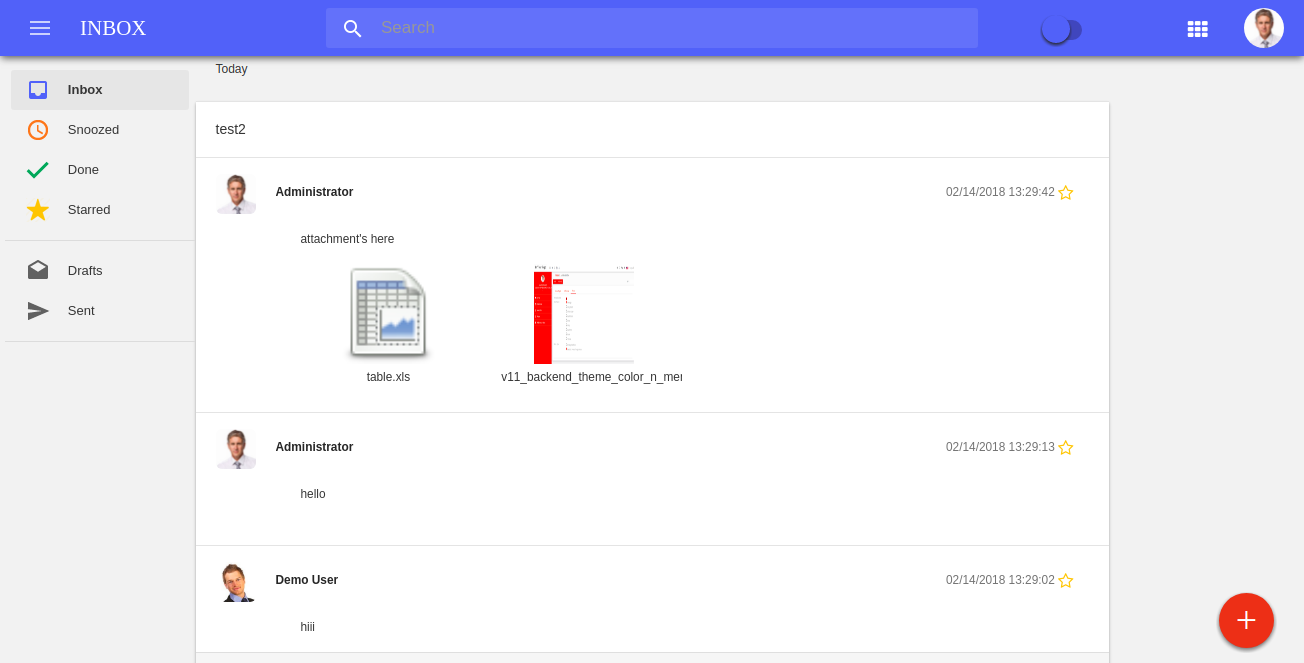 Mailbox: Multi types of file attachments.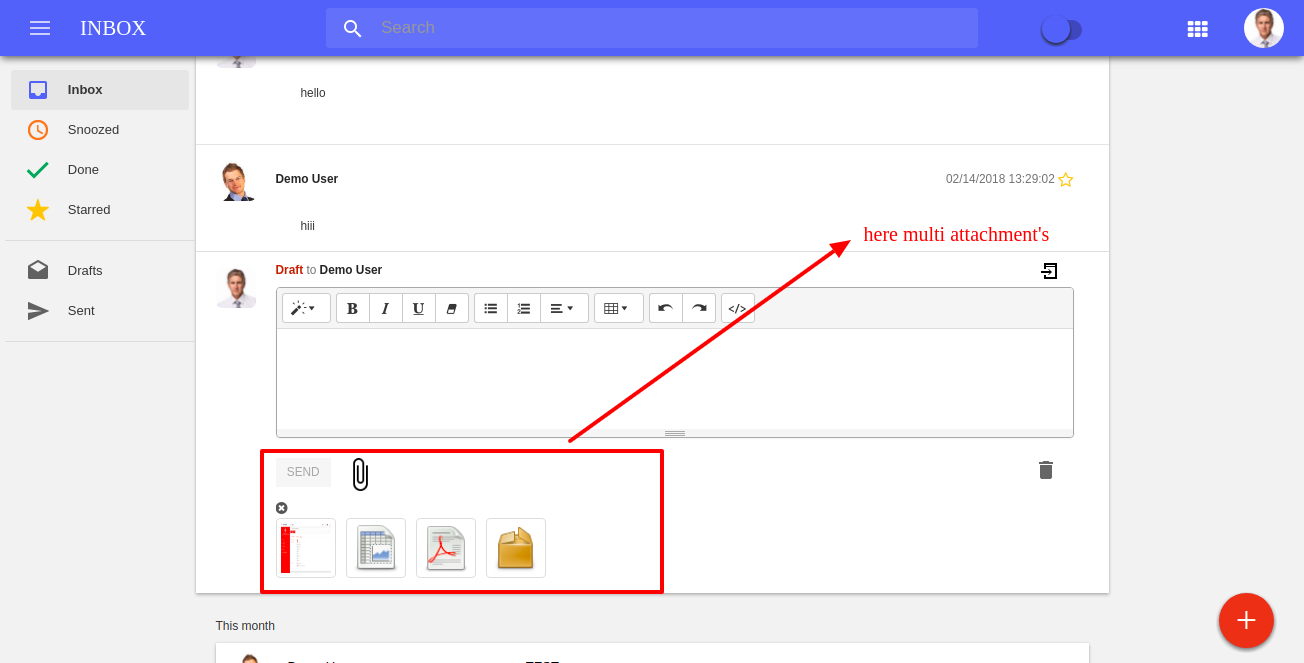 Mailbox: Messages in Grouping.(Today, Yesterday, This months and More)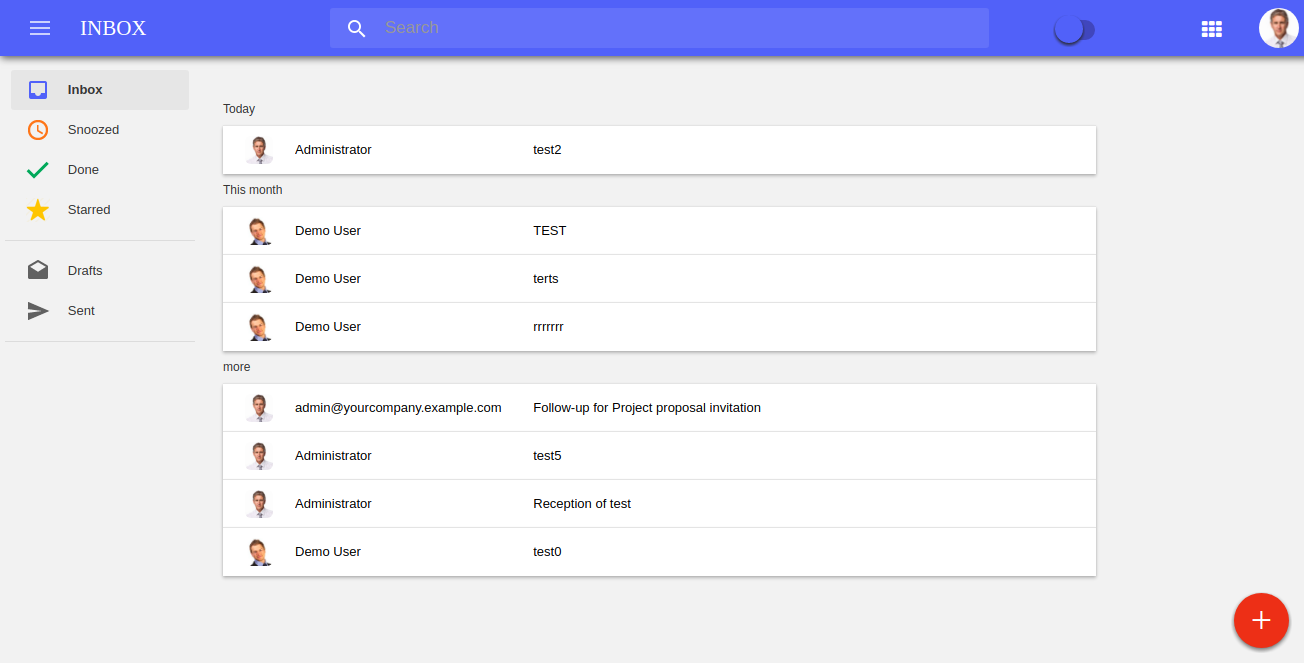 Mailbox: Compose Message Popup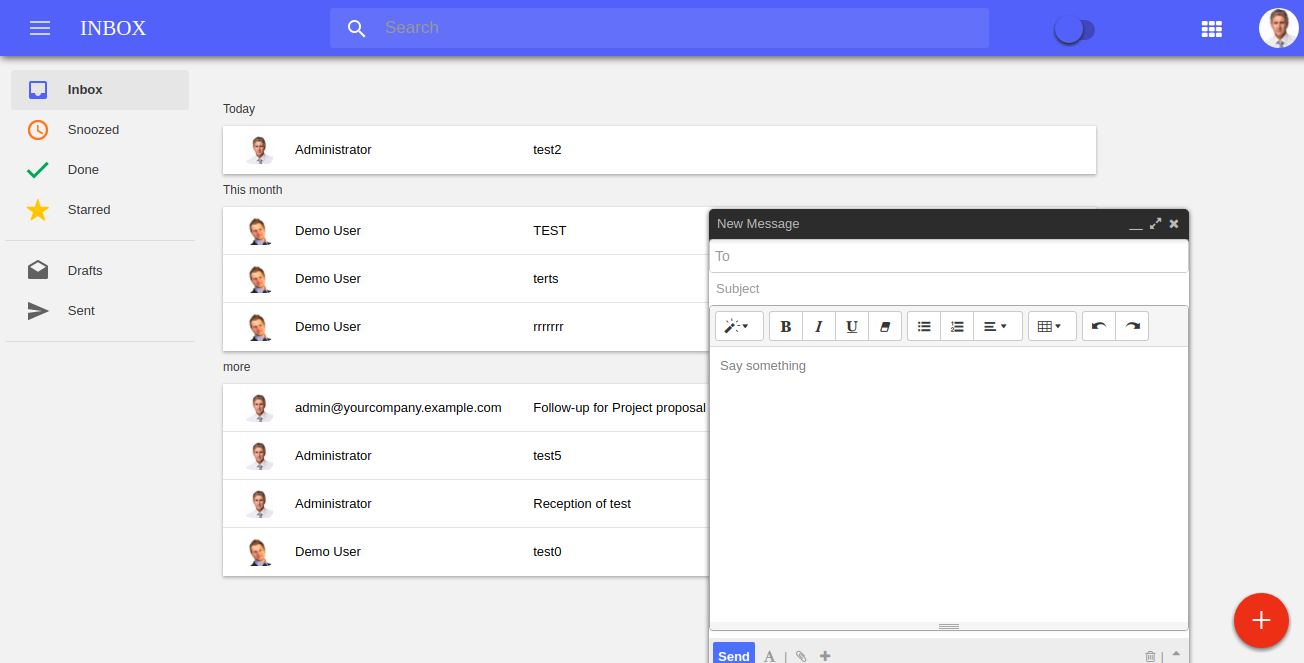 Mailbox: Select multiple users in compose message.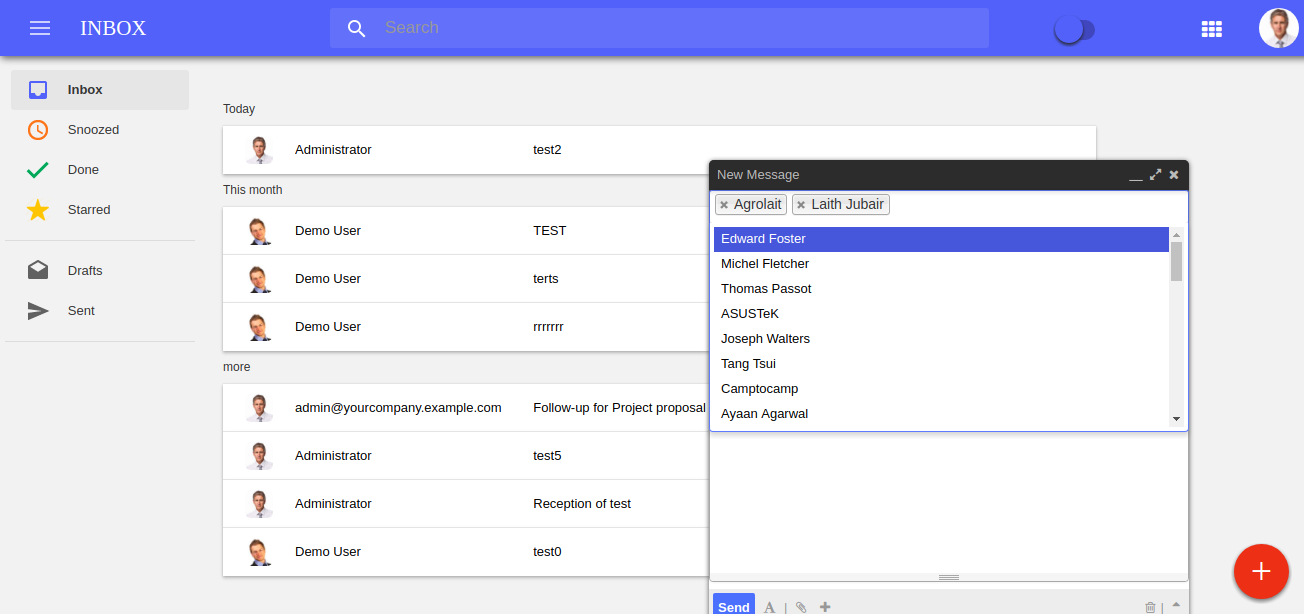 Mailbox: Starred Message in Starred menu.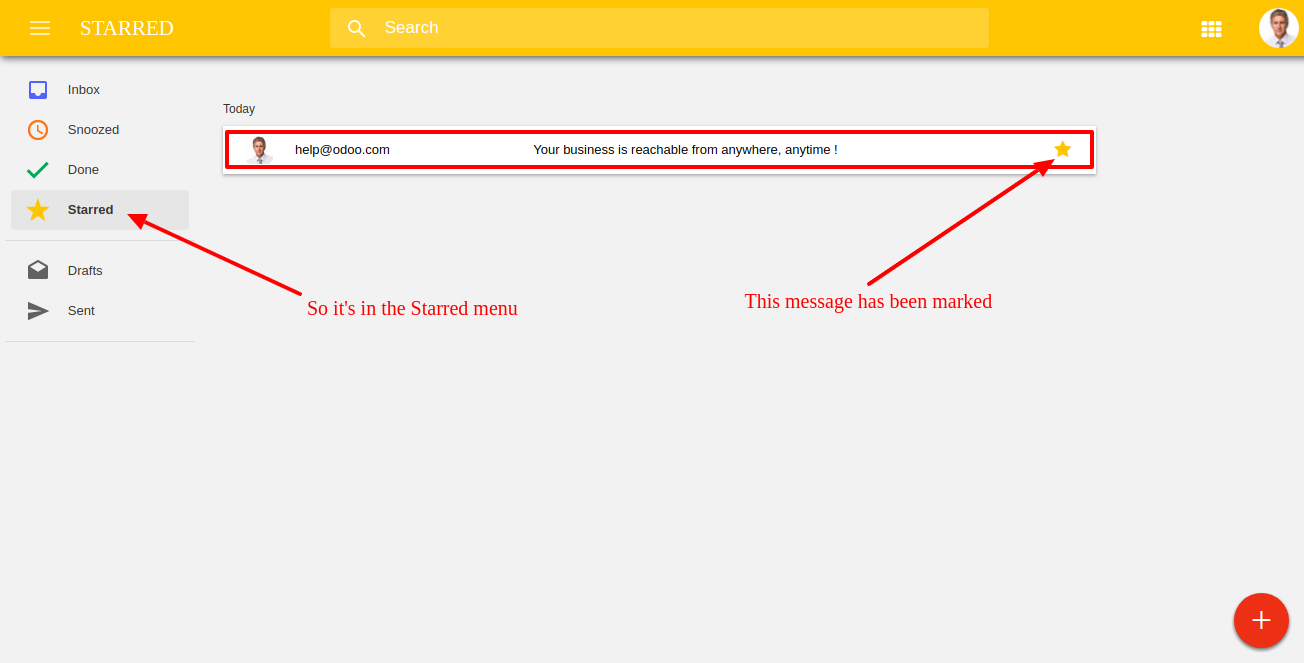 Mailbox: Done Message in Done menu.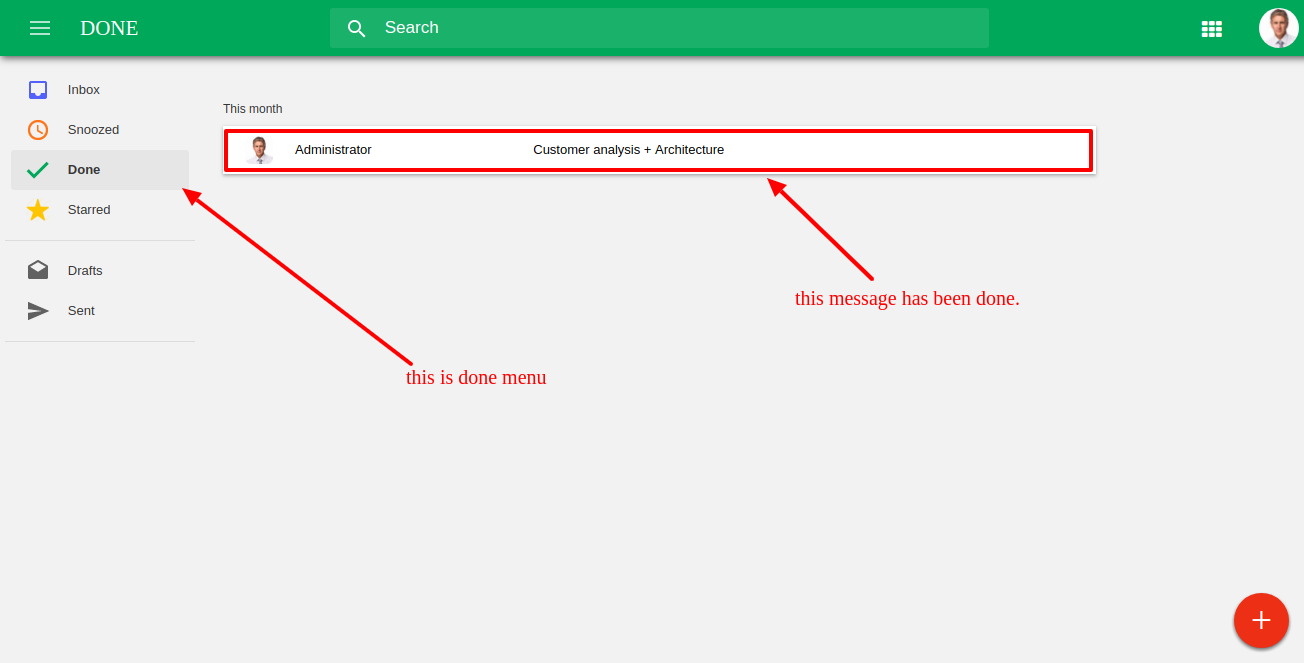 Mailbox: Go to Backend click Dropdown menu.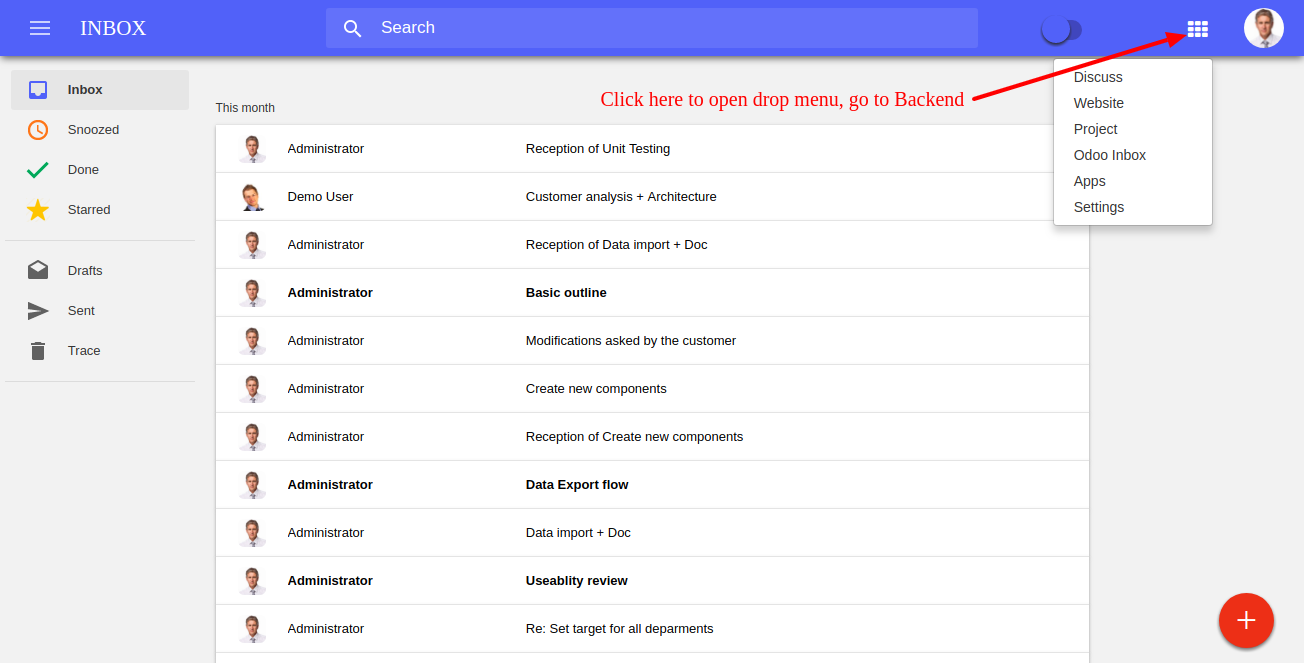 Mailbox: Deleted messages in Trash menu.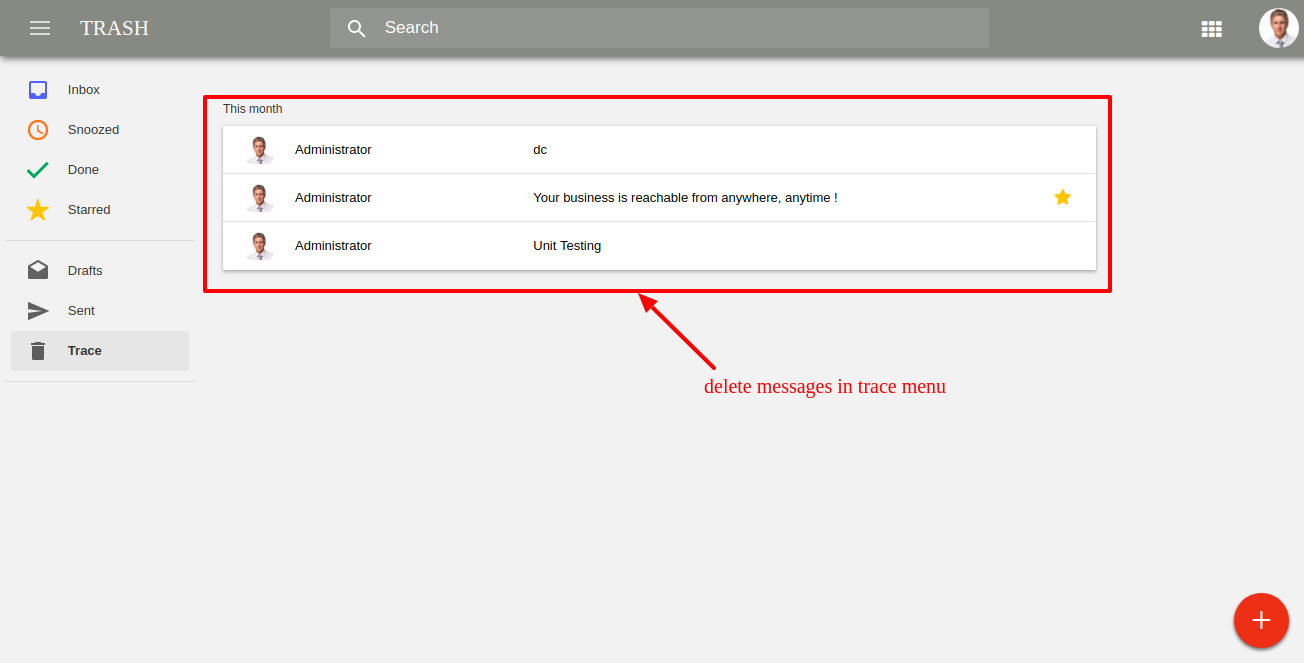 New Updates of Mailbox
Assign Tags, Move to Folder, Advance Search and FIlter by Tags and Folders and Create A new Contact from Mail Compose.
Messages Tags
Mailbox Assign Tags and Filter by tags.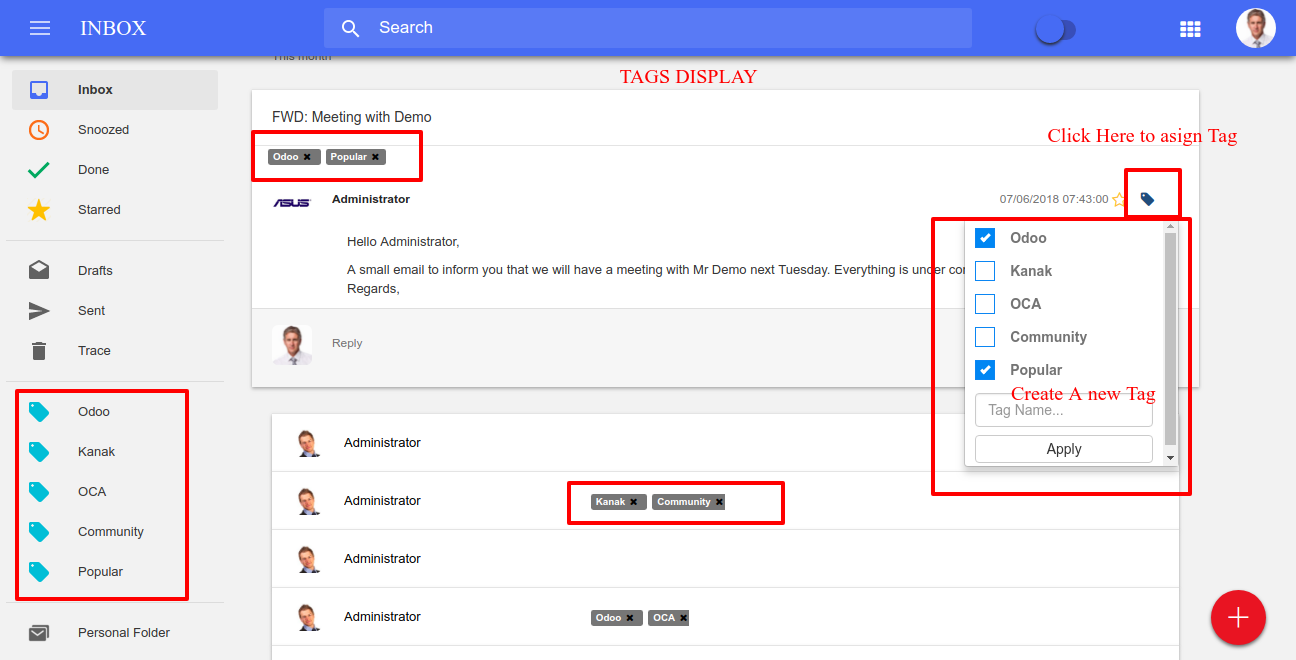 Messages Folder
Mailbox move to folder and Filter by folder.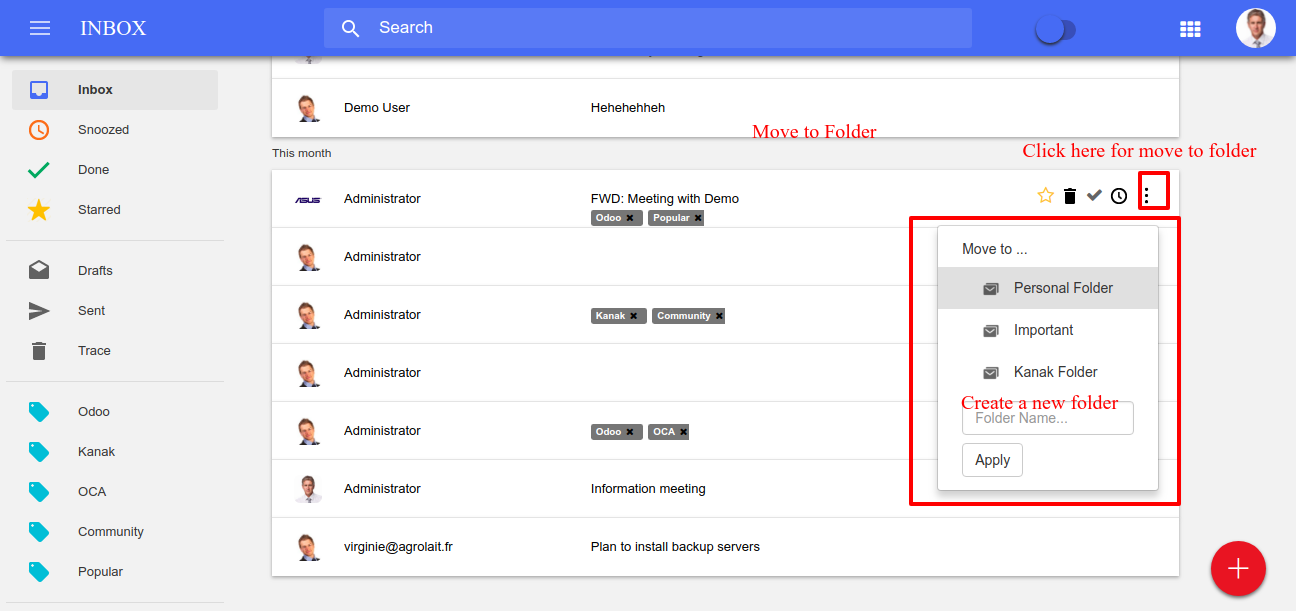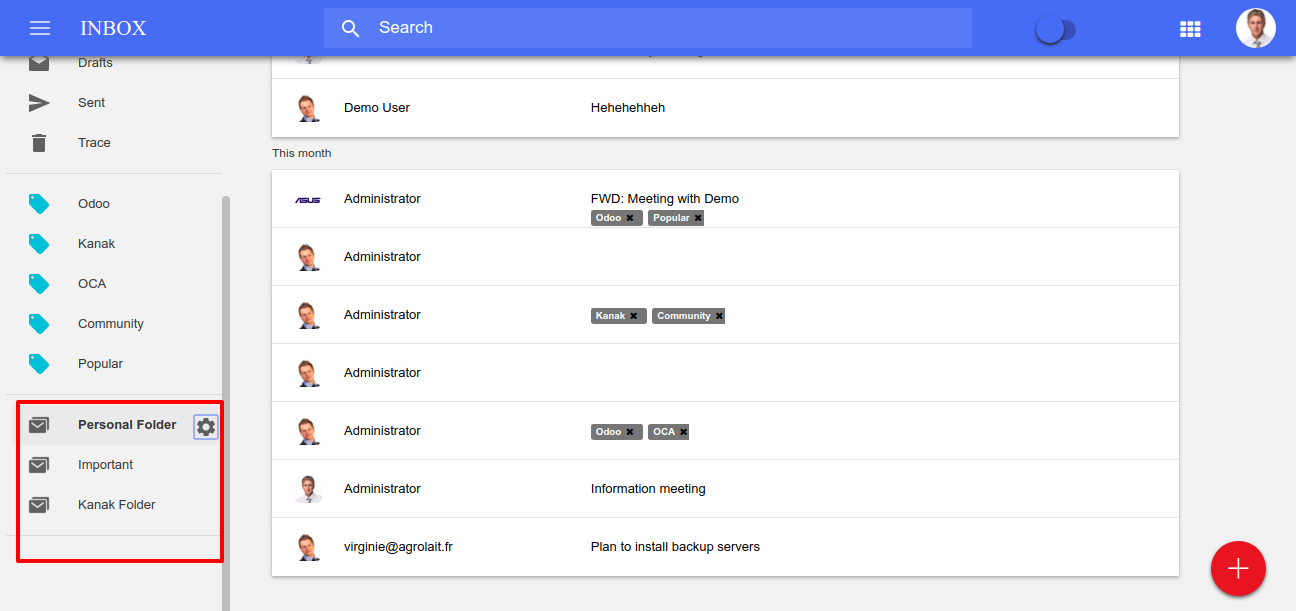 Folder and Tags Edit and Delete functionality
Mailbox move to folder and Filter by folder.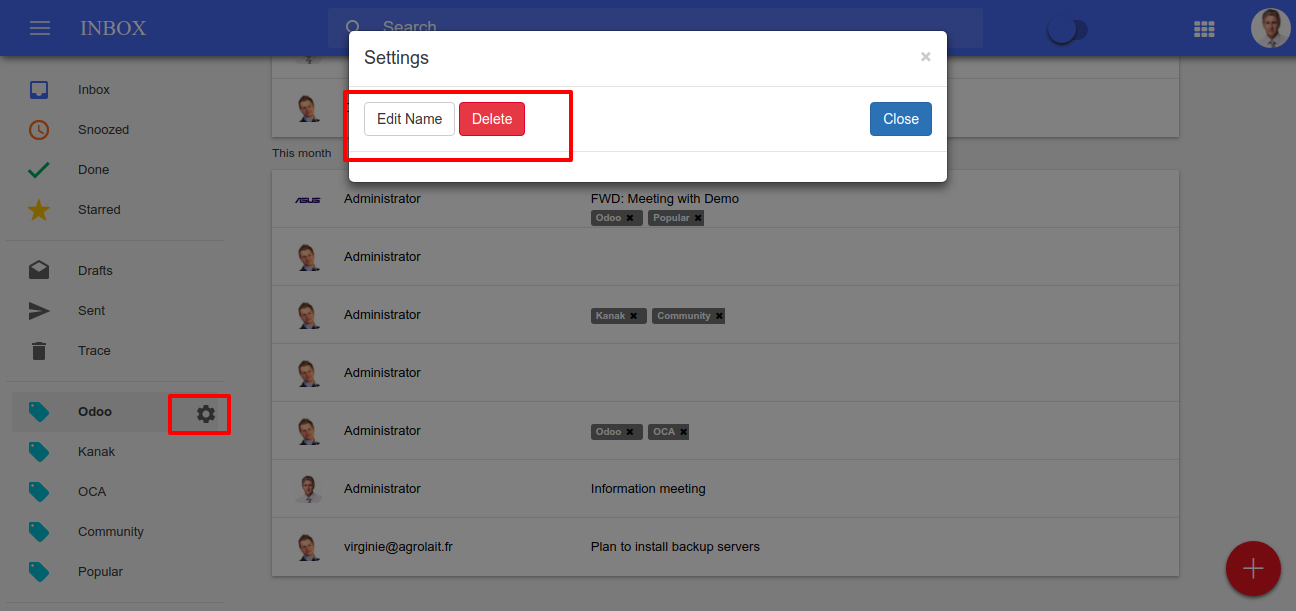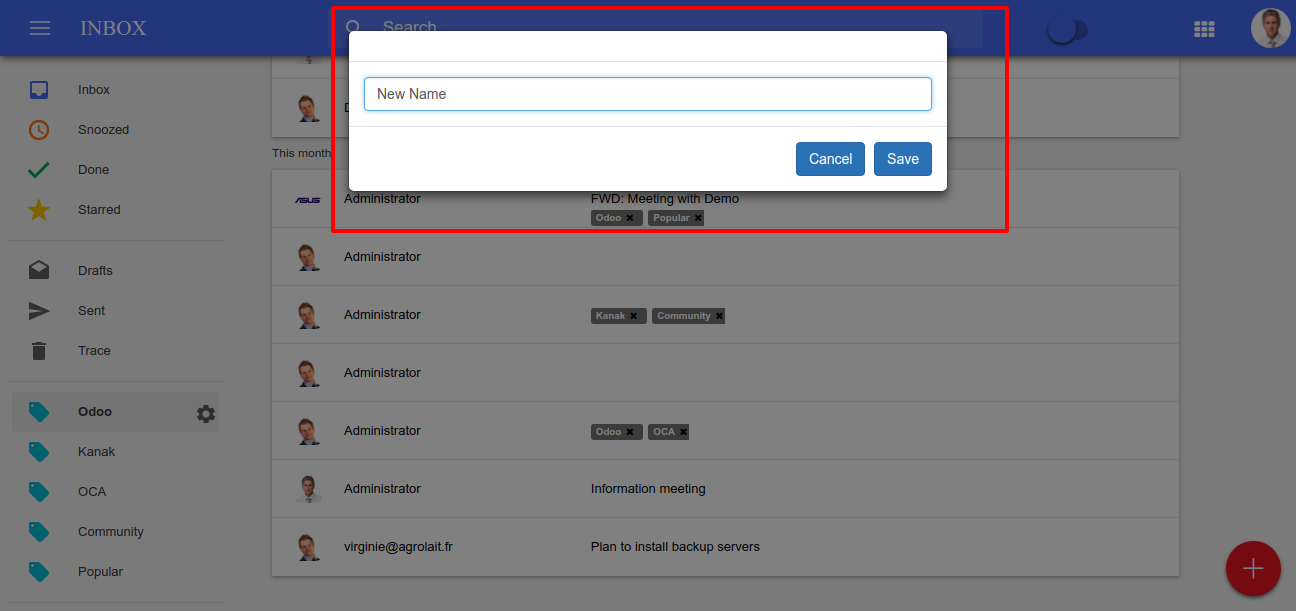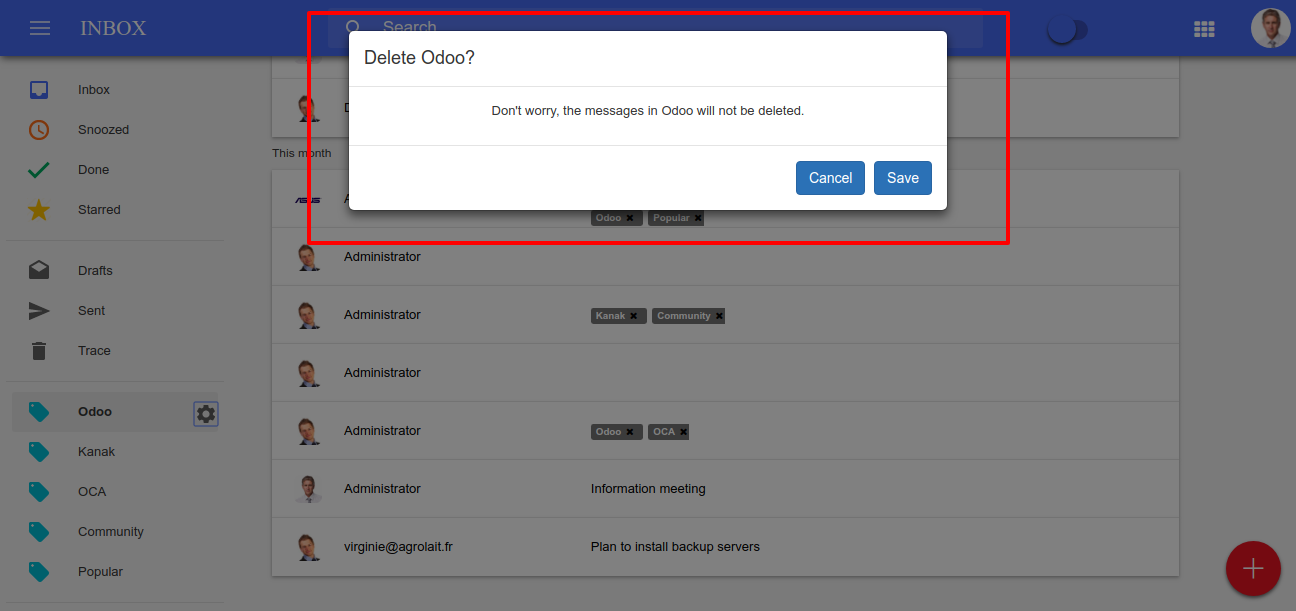 Contact Create by email
if Contact is not exist then Directly Create by email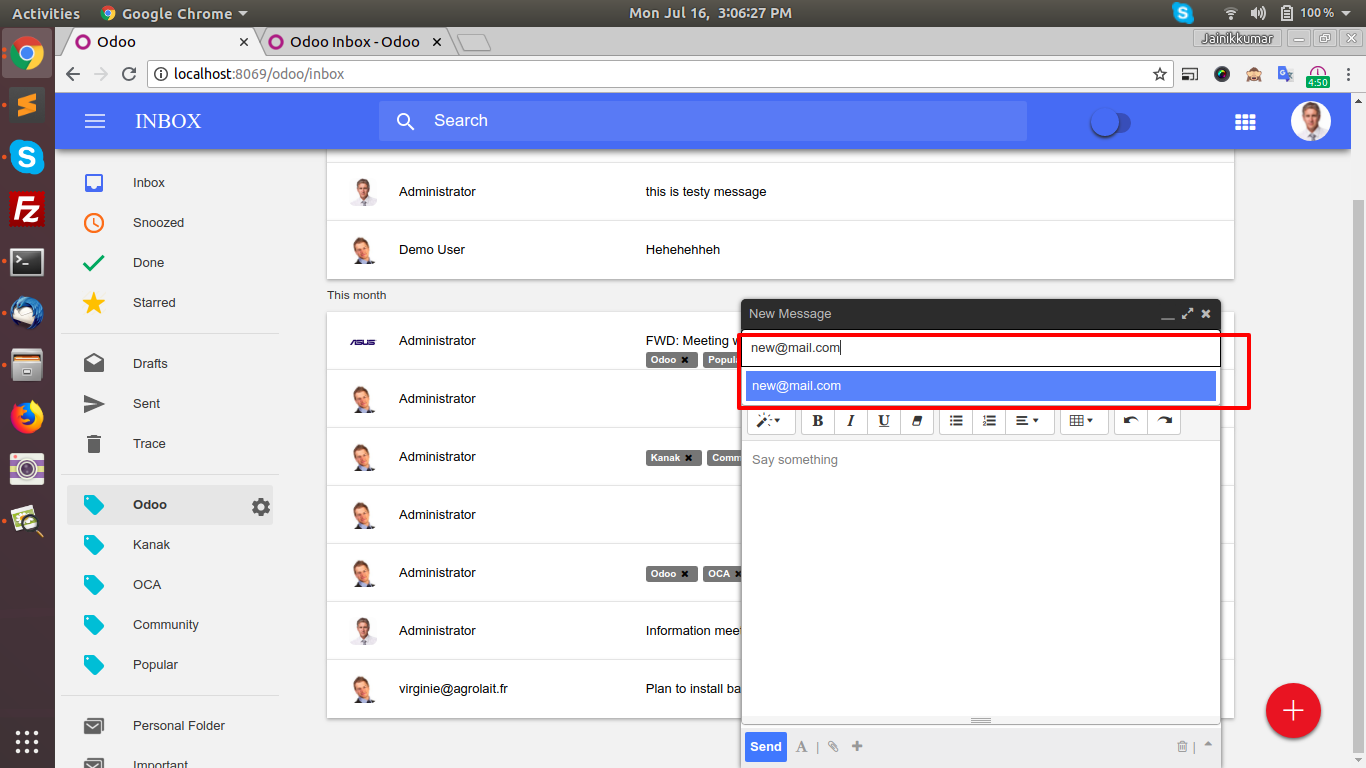 Unread messages Counter
Unread messages count in All menu's.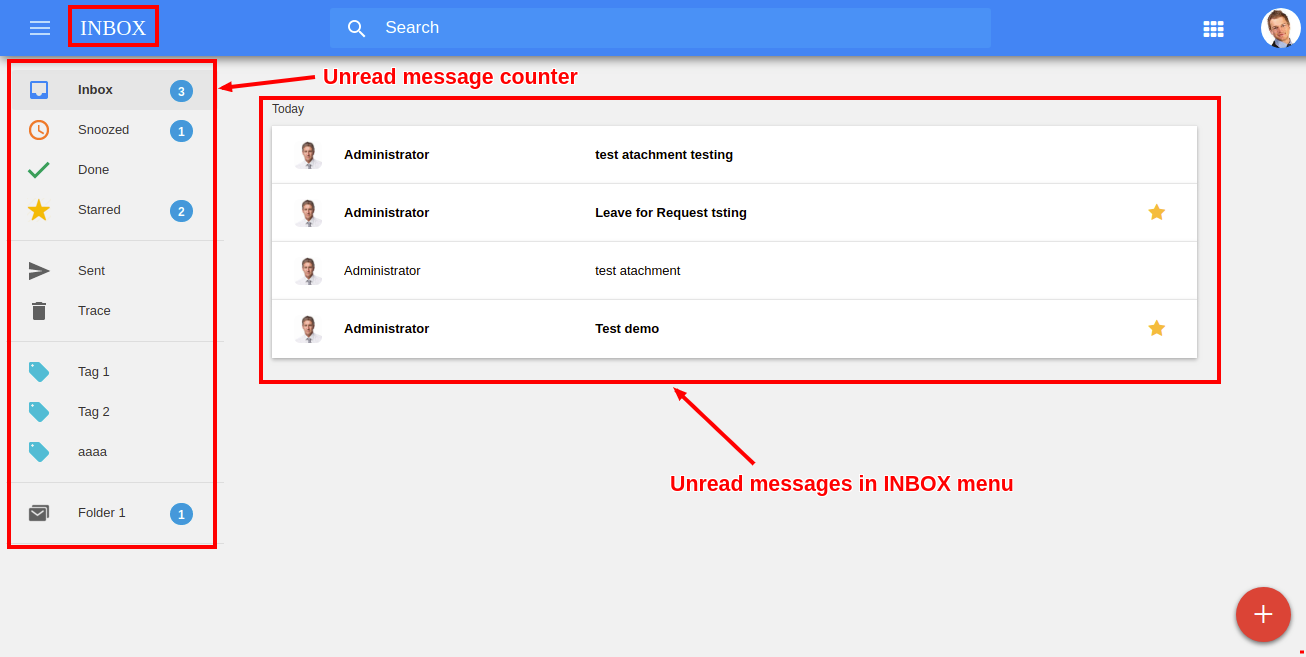 User Details Popup
User details popup like: mail from, to, date and subject.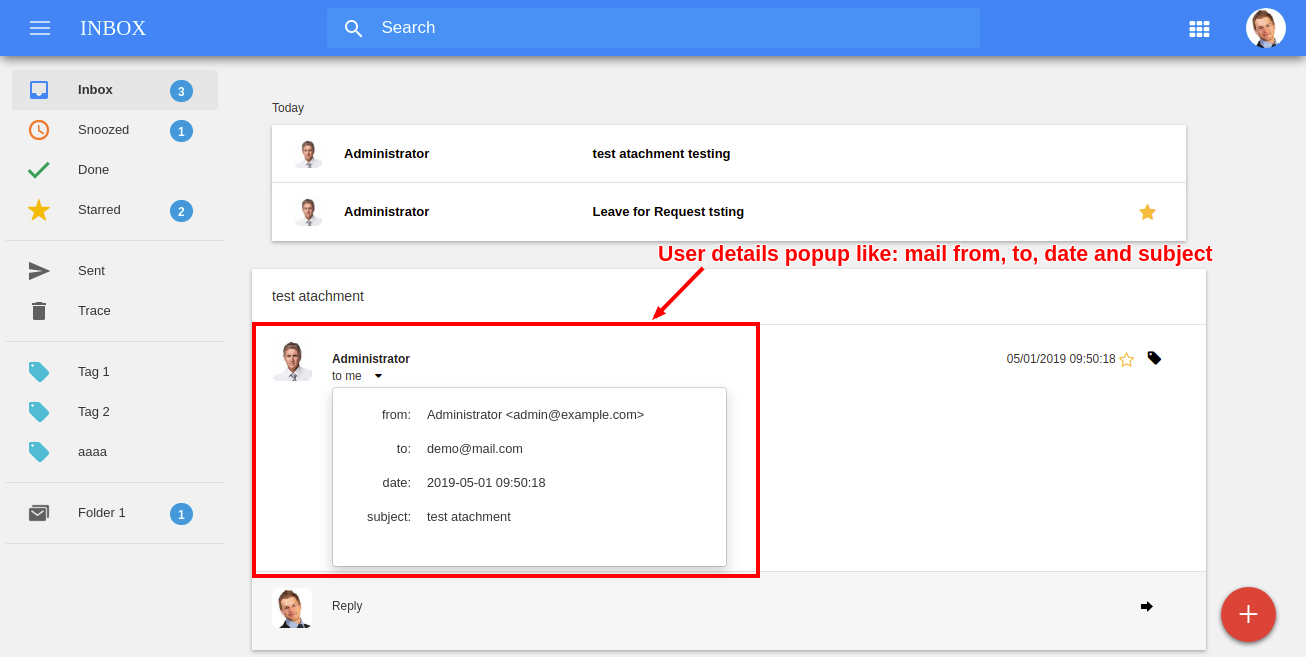 Duplicate Contact will not be created
if Contact is existing then Search it that Contact else Contact is not exist then Directly Create by email and Duplicate Contact will not be created.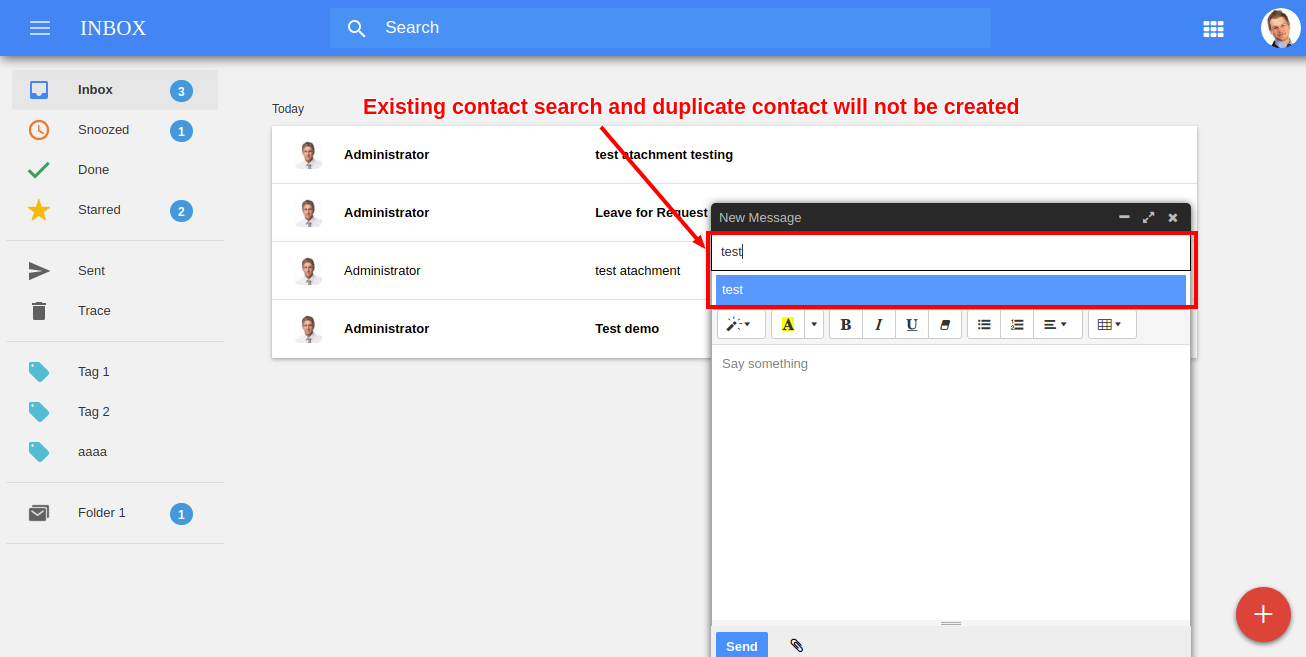 Multiple-mssg Starred
Multiple-mssg Unstarred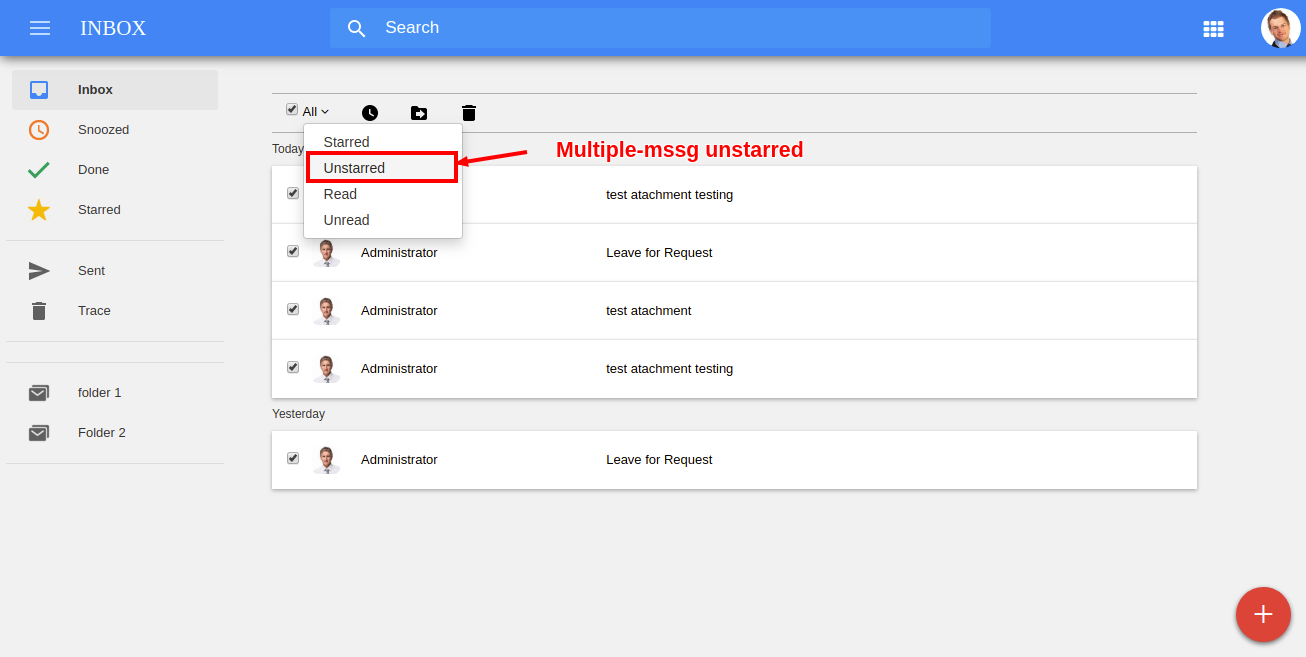 Multiple-mssg Read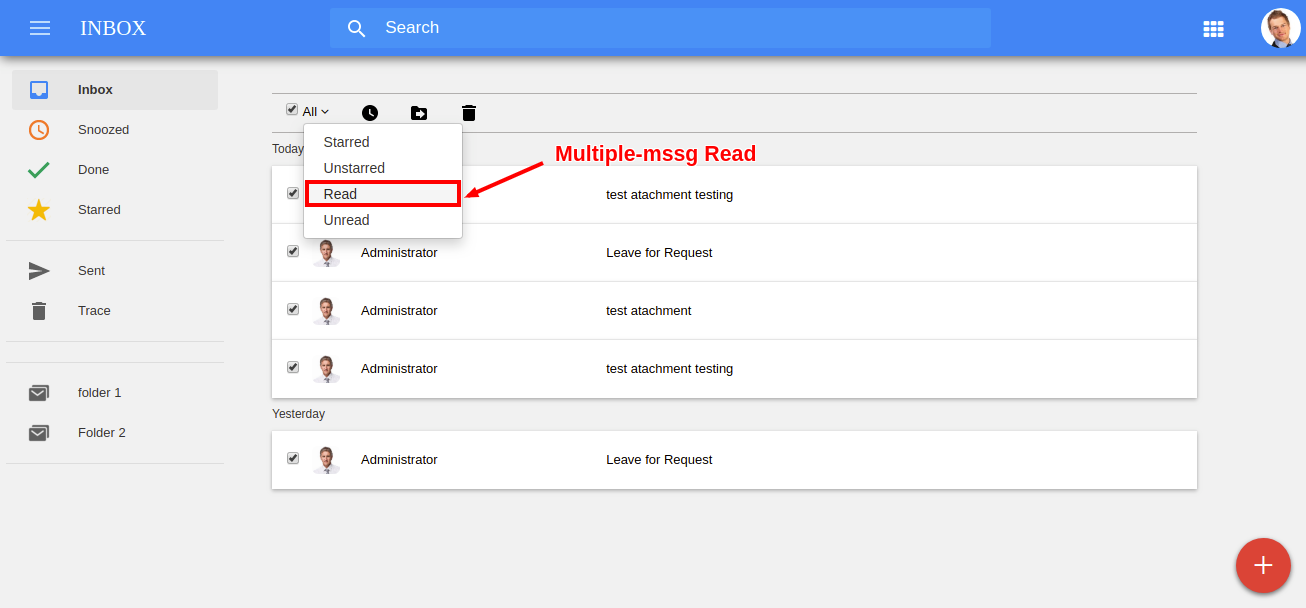 Multiple-mssg Unread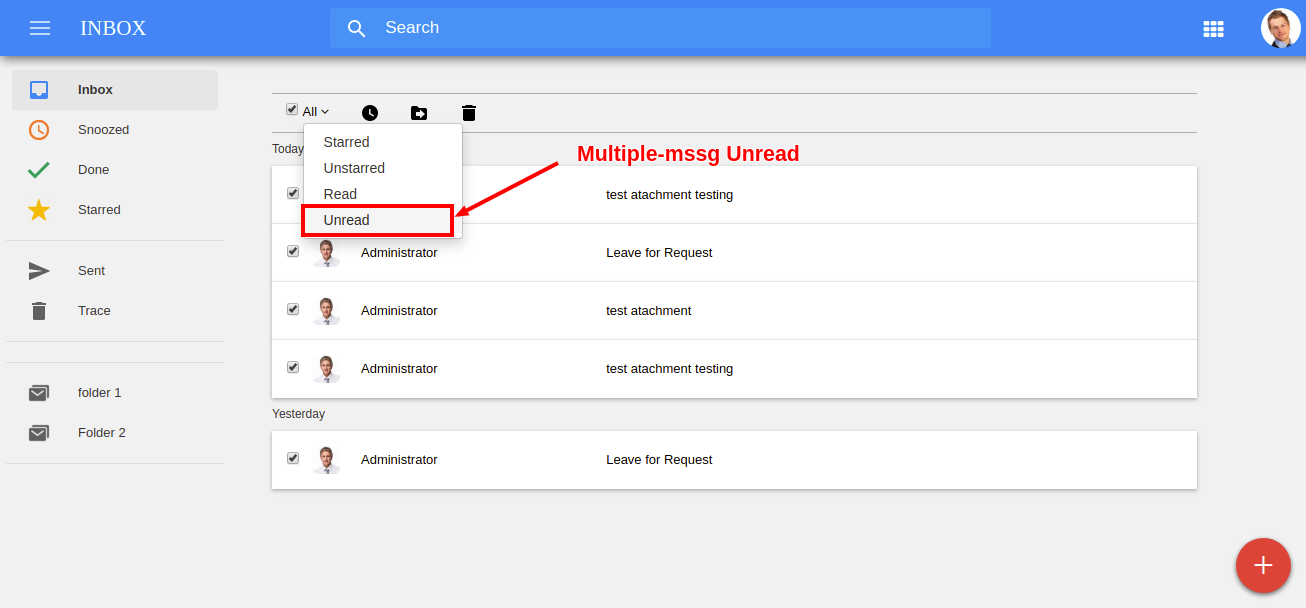 Multiple-mssg Snoozed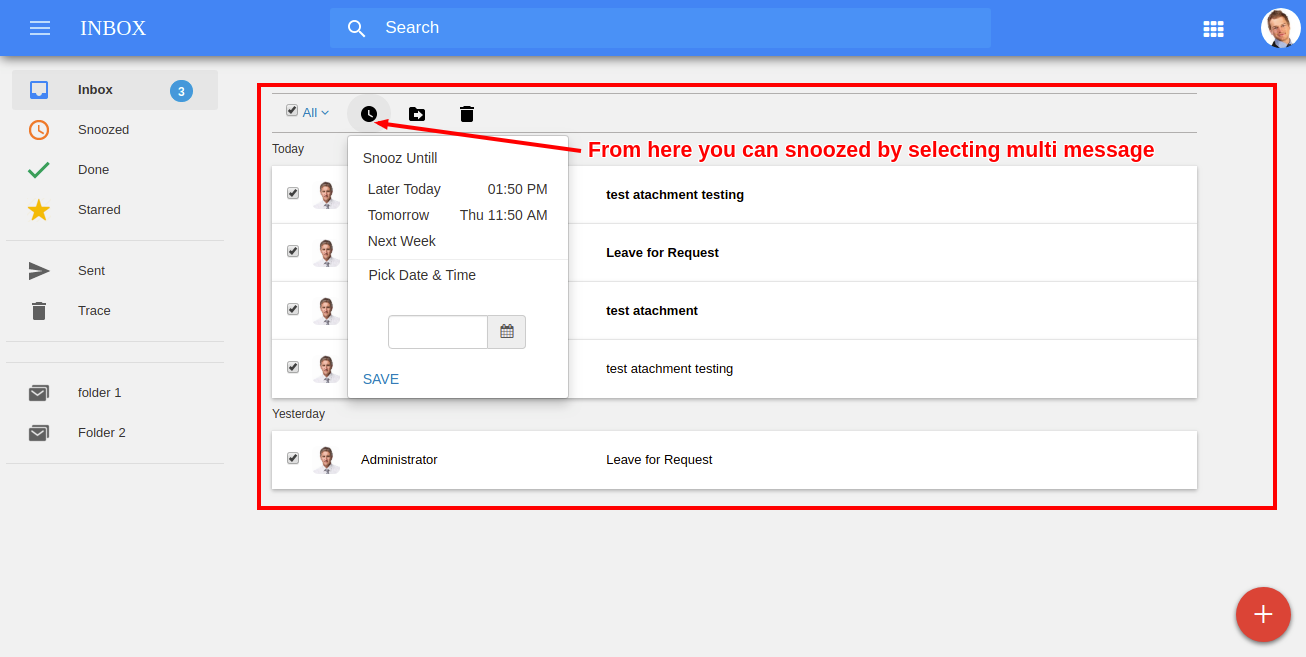 Multiple-mssg Move to Other Folders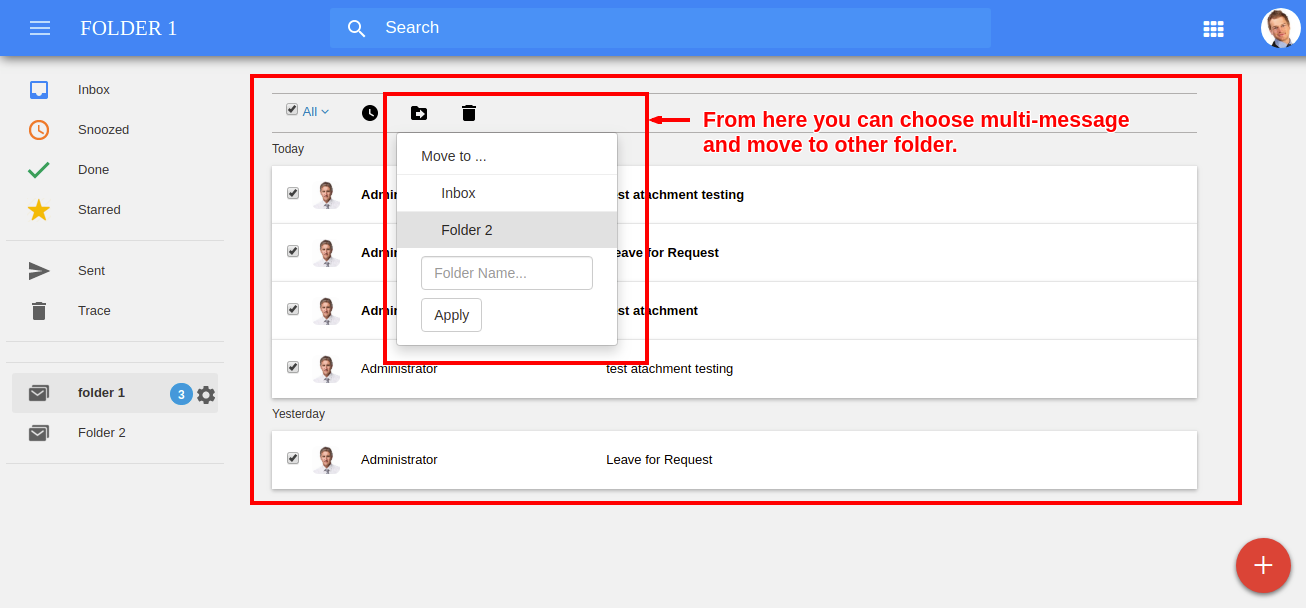 Multiple-mssg Delete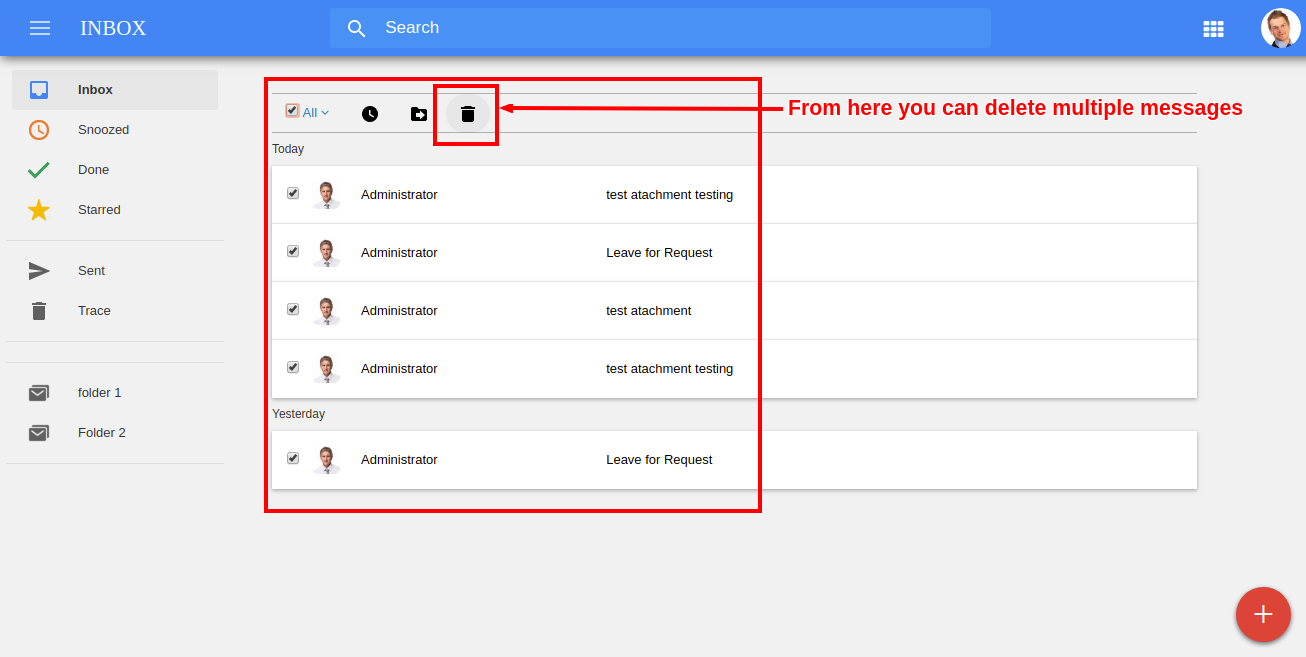 Message Forward
Forwarded Message Open Popup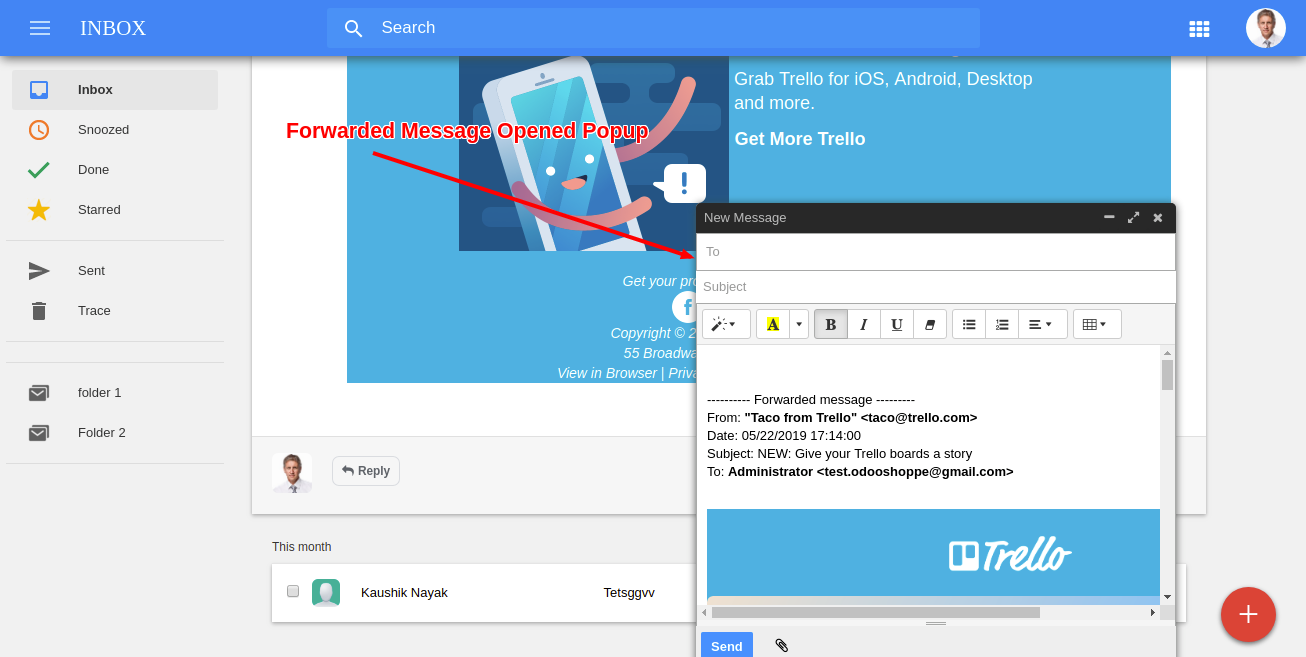 Pagination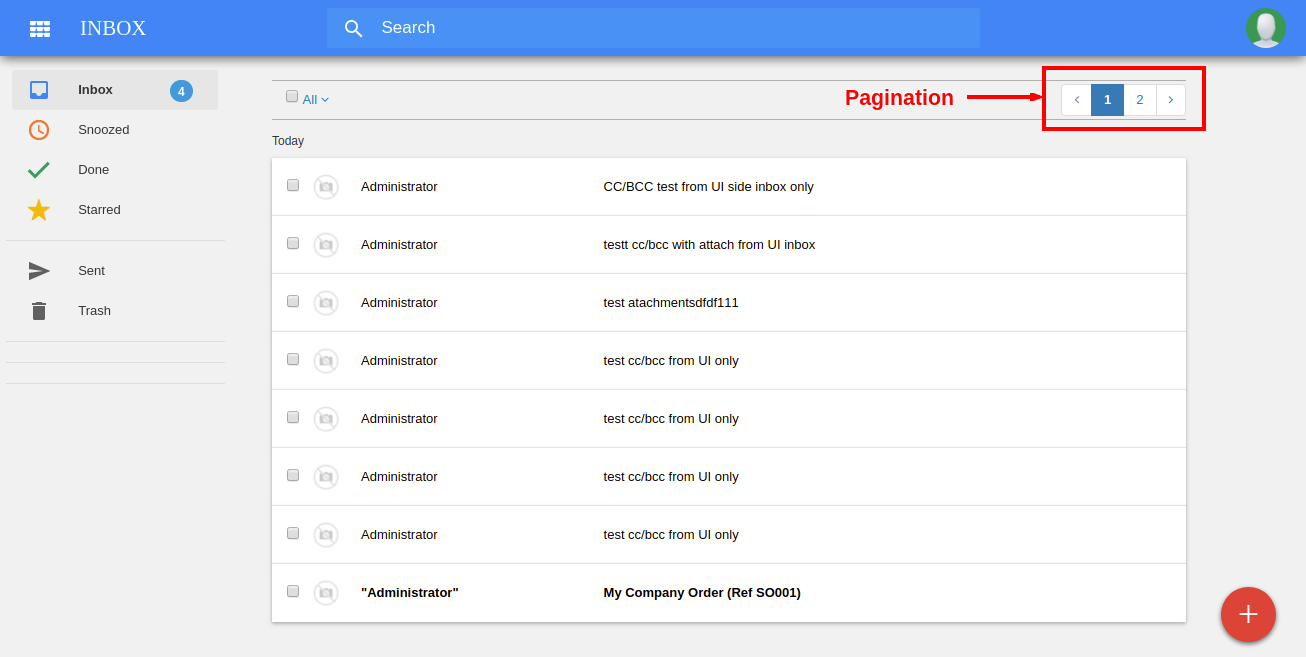 Email Cc/Bcc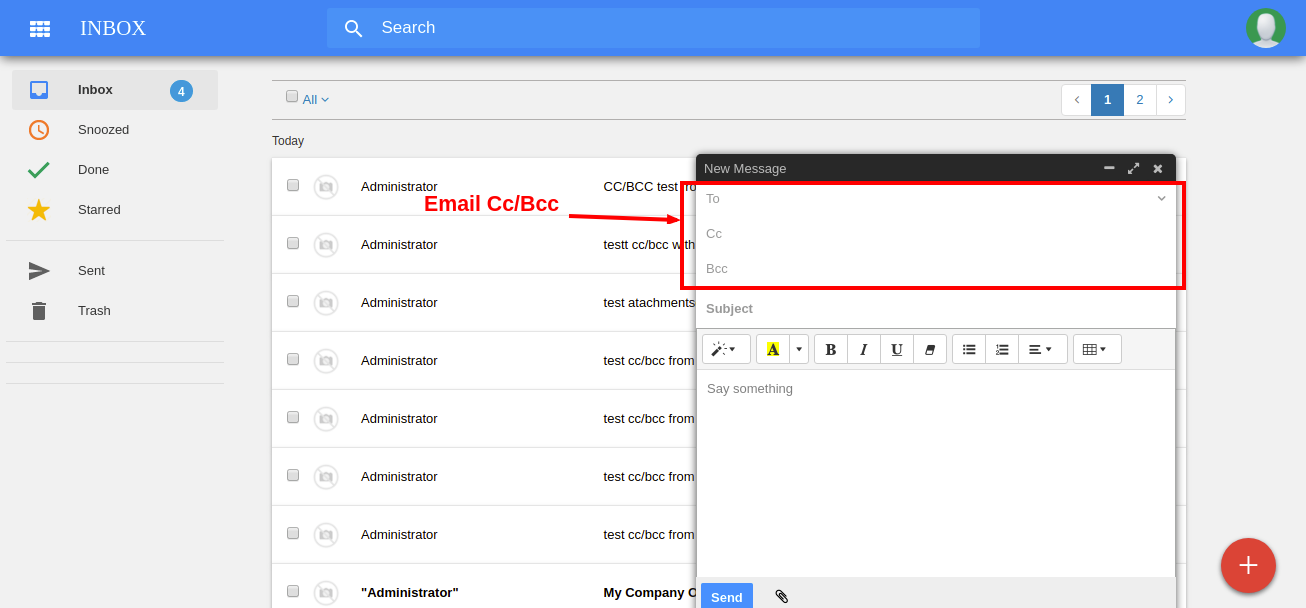 ---
---
Odoo Proprietary License v1.0

This software and associated files (the "Software") may only be used (executed,
modified, executed after modifications) if you have purchased a valid license
from the authors, typically via Odoo Apps, or if you have received a written
agreement from the authors of the Software (see the COPYRIGHT file).

You may develop Odoo modules that use the Software as a library (typically
by depending on it, importing it and using its resources), but without copying
any source code or material from the Software. You may distribute those
modules under the license of your choice, provided that this license is
compatible with the terms of the Odoo Proprietary License (For example:
LGPL, MIT, or proprietary licenses similar to this one).

It is forbidden to publish, distribute, sublicense, or sell copies of the Software
or modified copies of the Software.

The above copyright notice and this permission notice must be included in all
copies or substantial portions of the Software.

THE SOFTWARE IS PROVIDED "AS IS", WITHOUT WARRANTY OF ANY KIND, EXPRESS OR
IMPLIED, INCLUDING BUT NOT LIMITED TO THE WARRANTIES OF MERCHANTABILITY,
FITNESS FOR A PARTICULAR PURPOSE AND NONINFRINGEMENT.
IN NO EVENT SHALL THE AUTHORS OR COPYRIGHT HOLDERS BE LIABLE FOR ANY CLAIM,
DAMAGES OR OTHER LIABILITY, WHETHER IN AN ACTION OF CONTRACT, TORT OR OTHERWISE,
ARISING FROM, OUT OF OR IN CONNECTION WITH THE SOFTWARE OR THE USE OR OTHER
DEALINGS IN THE SOFTWARE.

Comment on this module. Please Login