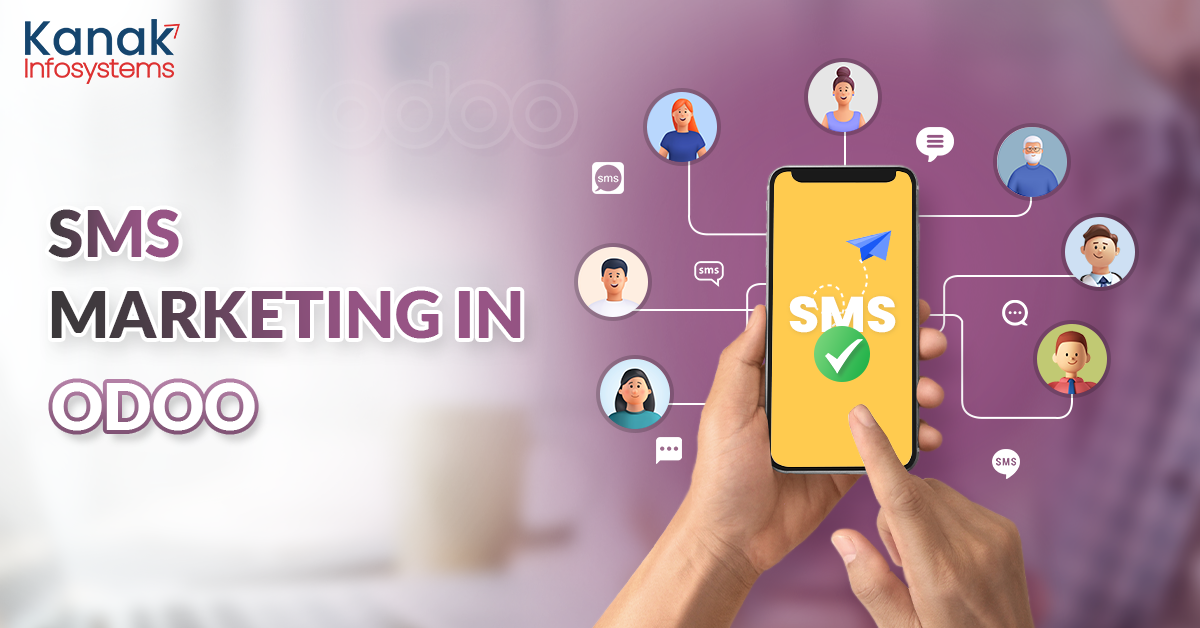 SMS Marketing In Odoo
SMS Marketing refers to the process of sending promotional campaigns through text messages for marketing purposes. These messages mostly contain time-sensitive messages, updates, offer and alerts to the audience who has subscribed to your SMS Marketing Address Book.
Initiating and maintaining a healthy relationship with your customers is a huge task. You can't just sit and wait for your customers to reach out to you; the communication with your customers begins with you. And with that, email and social media is something they don't constantly keep up with.
That is where SMS marketing plays its role. With text messages, WhatsApp, and push notifications, you can notify and connect with your customers on the go.
Odoo ERP makes this easy marketing technique easier for you by further easifying the process. Odoo comes with a built-in SMS Marketing Module.
This module will help you in efficiently carrying out your marketing campaigns. It offers a super user-friendly interface and easy ways to manage the marketing campaign.
⏩ To create a new campaign, click on the "Create" button, and a configuration tab will open up. You can create the entire campaign from here. Add a subject line, to begin with.

⏩ Choose your recipients. You can choose the recipients from the drop-down. You have a categorized list of your uploaded recipients, so you can pick the right target audience to send out your message.
⏩ Once you have picked the recipients, you further get an option to filter out the list even more.
⏩ You can further filter your target audience on the basis of a filter you choose from the drop down list.
⏩  Now, write the content you need to send through the SMS marketing campaign. Make sure you add your website or contact information in the text so that your audience can reach out to you. The SMS charges may vary from country to country.
⏩ To know about the SMS Charges and rules related to charges, you can click on the "information" icon,  to know the details on pricing.
Here you will see that SMS Marketing is credits based. The number of credits used per SMS varies from country to country.
⏩  From the "Setting" tab, you can choose who will be responsible for the campaign from your team.
⏩ You can then save your campaign by clicking the "Save" button.
⏩ Or you can send it right away or choose to schedule it for a specific time.
⏩ You can even use the "Test" option to test the campaign.
⏩ You can access your "Mailing Lists" by clicking on the "Mailing List" tab on your dashboard. 
⏩ You can configure a new list by clicking on the "Create" button.
⏩ You can also get insights and check how your campaign is doing by clicking on the "Reporting" tab on your dashboard. You can choose how you want to see the reports- graph view, pie charts, bar charts, or line charts.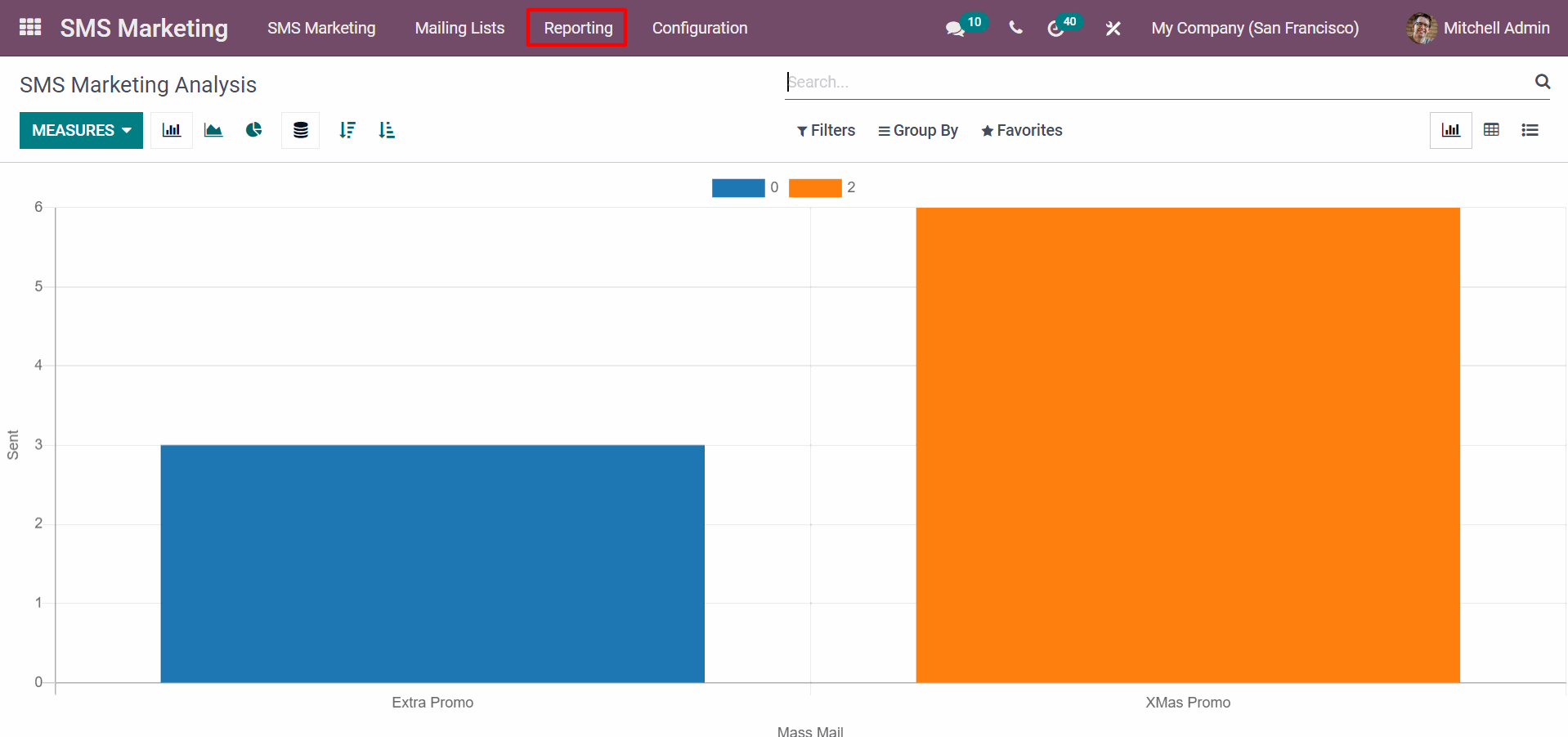 Apart from the basic SMS Marketing Module that Odoo offers, Kanak Infosystems LLP. has come up with apps that you can integrate into your SMS Marketing dashboard to enhance your marketing experience.
1. Smart2Group SMS Gateway- this module allows you to send SMS with Smart2Group SMS Gateway in Odoo. This module is specifically designed for the following countries- Kuwait, Saudi Arabia, United Arab Emirates, Qatar, Bahrain or Oman.
2. Twilio SMS Gateway- This module allows you to sign up through your mobile number using an OTP. it allows you to create SMS templates, and you can even activate or deactivate them. It allows you to send the SMS through the Twilio Gateway.
3. SMS Gateway- This module allows you to send the SMS for your campaign through multiple Gateways. You can choose whichever suits you.
4. KwT SMS Gateway- This module allows you to set a default gateway.  It also allows you to have two groups of contacts- Odoo Contacts and Other Contacts. You can also track the SMS status with this app. 
5. ClickSend SMS Gateway- This module allows you to schedule your SMS Marketing Campaigns. You will also be able to generate keywords for the SMS with this app.
6. Odoo SMS Gateway- With this module, you can send an SMS to multiple contacts. You can create a channel to send messages at one time. You just have to sign up with your number to get started.
We hope that this information was useful for you and definitely made you curious to use Odoo in order to simplify and manage your Marketing Techniques. If it does tickle your curious bone, book a demo with the experts from Kanak Infosystems LLP.
Leave a Comment
---
Your email address will not be published.
Your comment is under review by our moderation team.