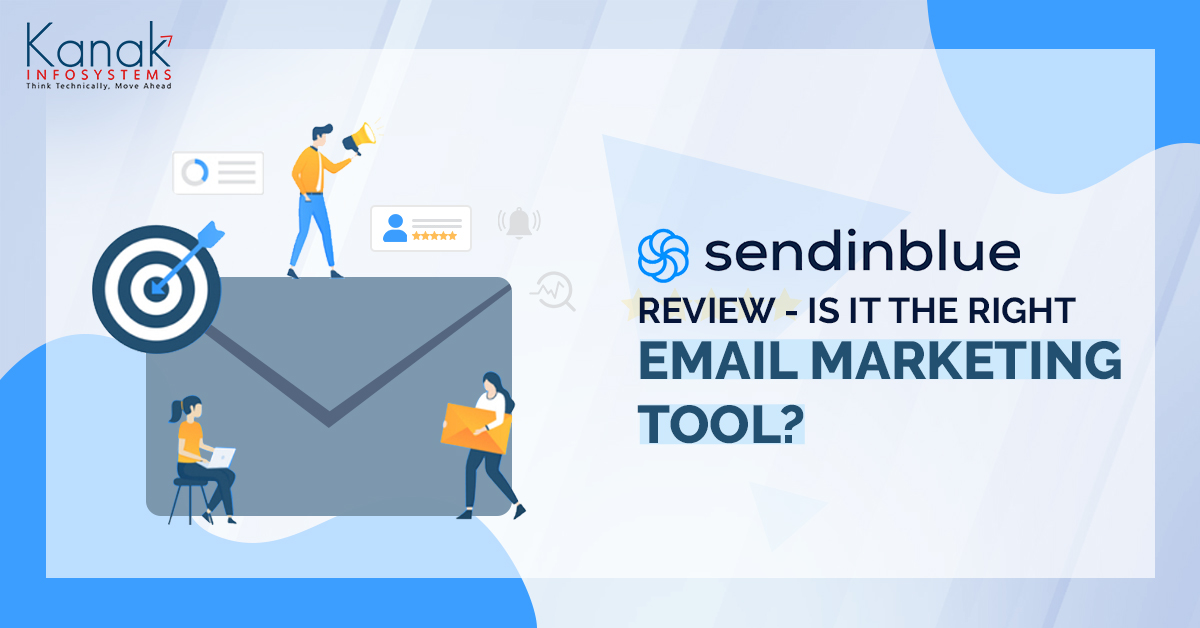 Sendinblue Review – Is It the Best and Affordable Email Marketing Tool?
Connecting with potential or current customers via email is the way modern businesses are leading the competitive edge. Email marketing helps in educating your targeted audience and retain their engagement in the long run.
Sendinblue, an email marketing tool, is inventively developed to simplify email automation on a budget. Companies of all sizes, particularly, small and medium ones can make the most of it to respond to the evolving business world.
Analyzing this Sendinblue review will help you make judicious business investments and let your business thrive in the modern world like never before.
Of all, it is a comprehensive set of features that includes a CRM, marketing automation, transactional emails, SMS, landing pages, and Facebook ads and at its extremely competitive pricing. This demonstrates its solemnity to this historically underserved market.
Since its inception in 2012, over 80,000 users have used it to send 100 million emails per day. It is a significant lead for a relative newcomer. Sendinblue has a very popular email plugin for WordPress, too.
Interestingly, another similar-sounding platform, SendPulse, appeared around that time, serving as a worthy competitor and providing marketing automation features like email campaigns, chatbots, or SMS promotion. 
⭐Sendinblue Review: What Do We Look For?
Well, it offers marketing automation, phone support (for the first 60 days), and up to 300 emails per day in its nicely-featured free plan. You can avail of advanced automation with web tracking and lead scoring as well.
Unlike other email marketing tools or email programs, they charge as per the number of emails you send rather than the number of persons added. Interestingly, this Sendinblue review would help you pick this tool more likely.
Let's dig deep and see if this tool lives up to a user's expectation and be of its kind email marketing solution.
⚙️Sendinblue Features - Best Email Marketing Solution
Before you plan to proceed with Sendinblue email marketing, let's go through this Sendinblue review off by looking at its key features:
🡺 Email marketing campaigns and broadcasts.
🡺 Email marketing automation.
🡺 Transactional email and SMS.
🡺 Social media marketing.
Sendinblue offers everything expected to automate email marketing and exceed its users' expectations efficiently. For the most part, you can create an email blast and send it to your list of contacts. Also, it offers an easy-to-use visual interface or email builder to create straightforward messages.
Interestingly, you are getting this at standard Sendinblue pricing that would let you expand and reap business advantages without burning a hole in your pocket.
✒️Sendinblue Editor - Most Powerful Way to Send Out Newsletters
When you do Sendinblue login, you will find its editor that works with drag and drop. It has some ready-made blocks for all types of content that people most commonly send via email.
Additionally, it is completely mobile compatible and anyone can check mails on such devices without a hitch. Moreover, it allows you to import your email template in raw HTML form.
📌Key Components


Design Tools
Sendinblue reviews let you explore everything across its features and components. For instance, there is a whole template library with a handful of categories to design your emails.
Not only it helps speed up your task but lets you share attractive emails to hold the receiver's eye. All those emails look quite nice, making them a great base to build upon and personalize further.
Templates
As most administrators or marketing managers would expect, it comes with a whole separate section for contact management. It enables you to group your contacts into lists, segment those lists, edits single contacts, and check engagement stats with your newsletters.
Contact Details
Next, it possesses an inventive email automation feature. You can reap your business advantage on this feature as automation is not a standard capability among the other tools in the market.
Particularly, Sendinblue allows you to set specific triggers and email messages that will be sent when those triggers go off.
Moreover, you can do the following with this:
Send an email to all those who visited a given page on your website and show them more info on the topic.
Send an email to someone who abandoned his/her shopping cart.
Send a whole welcome sequence of emails to those who have just subscribed.
Send birthday, wedding anniversary, or work anniversary wishes.
Send an email to all those who clicked on a specific link to enquire or explore your site.
There are endless possibilities and we've only just unveiled the upper film in this Sendinblue review. Best of all, not only one-off actions that you can trigger but you are given extensible features to design whole sequences of automation and gain the competitive lead.
💰Sendinblue Pricing - Automating Sending and Managing your Email Campaigns
While going through the Sendinblue review, price is something everyone wants to take a look at. Before you dig deep, know that this tool charges 'per email sent only. It doesn't charge on the size of your contact list.
You can go through the plan, select one, and start email marketing:
| | | | | |
| --- | --- | --- | --- | --- |
| Free | Lite | Essential | Premium | Enterprise |
| $0 | $25 | $39 | $66 | Get Quote |
| Trial  | New Marketers | Thriving Businesses | Professional Marketing | Advanced Requirements  |
| 300 mails/day | No limits on daily sending | Advanced Statistics | Landing Page | All Features of Premium Edition |
| | | Remove Sendinblue Logo | Facebook Advertisements | Setup and Priority support |
| | | | Chat | Account Manager |
| | | | Automated Marketing  | Infrastructure |
| | | | Multi-Users | SSO |
In case, you have just started email marketing and you are sending emails between 100 to 500 people, then a free plan will work best for you. However, rates are different for sending emails to different countries.
🙌Sendinblue Alternatives (2021 -2022)
Like Sendinblue, there are other email marketing tools available in the market. This confirms that it is not the only tool available.
The most common Sendinblue alternatives are:
MailChimp
AWeber
MailUp
Convertkit
Bronto
Twilio SendGrid
Active Campaign
Constant Contact
However, you should consider user interface, social media integration, personalization, and pricing while searching for Sendinblue alternatives.
👊Sendinblue vs. Competitors - Check Out Sendinblue Alternatives Pricing
You will find Sendinblue among those few email marketing tools that charge you for the number of emails sent. To analyze the Sendinblue review more closely, you can go through the following cost-based comparison. It will help you make a judicious decision and invest in email marketing wisely.
| | | | | |
| --- | --- | --- | --- | --- |
| No. of Contacts | Sendinblue | Mailchimp | GetResponse | Convertkit |
| Up to 100 | $ 0 | $ 0 | $ 15 | $ 29 |
| 500 | $ 0 | $ 0 | $ 15 | $ 29 |
| 1,000 | $ 0 | $ 0 | $ 15 | $ 29 |
| 1,500 | $ 0 | $ 0 | $ 25 | $ 49 |
| 2,000 | $ 25 | $ 0 | $ 25 | $ 49 |
| 2,500 | $ 25 | $ 51.99 | $ 25 | $ 49 |
| 5,000 | $ 25 | $ 79.99 | $ 45 | $ 49 |
| 10,000 | $ 25 | $ 105 | $ 65 | $ 119 |
| 50,000 | $ 39 | $ 320 | $ 250 | $ 379 |
After reading this comparison, you can see Sendinblue would cost you low if you are stepping into email marketing. Also, it would be cheaper than its competitors once you cross 5,000 persons in your contact list.
✅PROS: Why would you Pick Sendinblue Newsletter Service?
If you are still puzzled to pick Sendinblue and pondering if it is the right newsletter service for you, here's a chance to clarify all your doubts.
👉 This Email Marketing Tool is recommended if:
✔ You Want to Send Transactional Emails and SMS
Sendinblue is one of the most convenient tools for prompted and convertible emails. You can make the most of its automation workflow to create campaigns set off by clicks, opens, and even webpage visits.
Moreover, its dedicated transactional section allows for messages including password resets, and sign-u, and purchase confirmations. You can opt for sending SMS as well!
✔ You Need A Pocket-friendly but Advanced Tool
You would be reluctant to believe but it's true that this email marketing service is low on the pocket and easily fits in the company's budget as compared to other tools if you wish to send few emails to a group of people at regular intervals.
If you are looking for a value-driven, low-on-pocket service with automation, advanced segmentation, live chat, and dynamic personalization, Sendinblue is the apt solution right in front of you.
✔ You're Running An Ecommerce Business
Undoubtedly, this extensively engineered tool is well-equipped to serve e-commerce and drive optimized outcomes. Customizable activations based on purchase data, import customer orders functionalities, and tailor-made KPIs are some of its key features that streamline your e-commerce marketing without much hassle.
Also, Sendinblue API allows robust integrations with popular e-commerce platforms like Shopify, WooCommerce, and Magento.
❌CONS : When Sendinblue Serves No Purpose?
If business leaders are looking for multiple logins and different user access levels, they would find it to no purpose. They can avail of set up logins for multiple users on Premium and Enterprise plans of Sendinblue.
Sendinblue Rating Full Details 
(⭐Rating: 4.6/5)
CRITERION

COMMENTS

Usability

The user experience is quite good as it has menus that are easy to navigate.

Also, there's a well-organized campaign-production flow that is easy to follow.

Newsletter Creation, Editing

Like other efficient email marketing tools, Sendinblue offers a drag-and-drop email editor. It is both fast and smooth. Also, it comes with a handful of pre-set elements to choose from. 

Personalization

You can simply add one of the 'attribute conditions' by clicking on the personalization button. Also, they offer conditional content that enables you to display certain elements of the email to specific contacts. This may include discount offers to VIP customers and dynamic lists. It allows you to include dynamically updated content, including items purchased in a customer's order.

Types of Emails

This email marketing tool offers Newsletters, auto-responders, transactional emails, A/B tests, and SMS. 

Preferences and Flexibility of Template Designs

It renders an array of templates to pick from, and they are all responsive. You might find some templates having the same design but with a different layout. The designs can be made most modern and creative with an update; following the trend. 

Email Automation

It delivers some extensively impressive automation options. Its workflow editor enables you to create some prompted campaigns, based on a list of contacts, engagement through emails, online behaviour, and e-commerce affairs.

It gains bonus points for lead scoring, and for testing workflows before launching them. Also, its unique transactional email offering enables marketing managers to send messages such as purchase confirmations and receipts via SMTP.

Using Sendinblue, you will find a handy 'Best time' feature. You can come across automatic shoot of emails at the ideal time, based on foregoing campaign performance. Not only you can save on your pockets but your watch as well!
List Management

You can create 'filters' that serve as segments, based on contact field criteria and behaviour, including email, opens, and clicks. This tool lets you set up automated workflows to create new lists based on demographics, behaviour, and lead scores.

Registration Forms/ Opt-in & Opt-out- Process

Surprisingly, the forms available with Sendinblue are quite advanced. Also, these forms come with some attractive customization features. You can help your subscribers choose the list(s) that they want to be opted into. For instance, it can be based on interest or industry.

Also, you can enable Captcha verification. In such a case, you can pre-populate the form fields with the data if the users are coming to a form via email. Also, it gives the option to choose between single and double opt-in.


Deliverability

You will experience expedited delivery while deploying this email marketing service. Eventually, you can come across active customer engagement with fast and proficient delivery. 

Reports and Analysis

You can avail of all the reports you might need, such as a click-map, geo-tracking, and Google Analytics integration with this email marketing tool. Also, you can have an access to conversion data.

Languages

The website and help center is available in 6 languages, namely English, Spanish, Portuguese, German, Italian, and French. This would let you attract audiences across the globe. 

Spam- and Design-Testing

It has an efficient in-built previewer for checking how emails will display in different email clients. However, there is No spam testing is available. 

Bounce Management

It automatically blocks or blacklists hard bounce. Sendinblue delivers a list of both hard and soft bounces.

Blacklist

You can possibly export your blacklist from the tool with this tool. 

Storage

It comes with unlimited storage for data and images. One cannot any limit the total amount of images or individual image sizes.

Authentication

SPF, DKIM, and DMARC- Available if you purchase a dedicated IP with Sendinblue or if you have a higher-level plan with this included. It would let you host your landing pages on your domain without the dedicated IP.

Levels of Account Access

This exclusive service is only available on Premium and Enterprise plans.


Integrations


Sendinblue offers a number of integrations. However, more are yet to be added. Moreover, Sendinblue is part of Zapier's library.


Landing Page Editor


A Very Elegant and modern landing page editor is available for those on the Premium and Enterprise plan. On an honest note, this landing page editor is better than the email editor with a normal plan!

You can choose some nice templates or the option to build one from scratch.

Support


You can find a universal help button. It enables you to go through Sendinblue's knowledge base, leave a message, or access their consultants via live chat.

Many times, the Help button will show you different support options, which can be confusing (and frustrating!). However, its Live chat is responsive and the knowledge base is thorough. So, anyone juggling with any kind of trouble can make the most of it. Also, you can go through the Sendinblue Academy that helps email marketing beginners increase their efficiency.

Conclusion
Overall, Sendinblue can be called a complete digital marketing tool that comes with extensive features to guide your business with the right marketing approach.
It is actually a great tool from an investment perspective. Its features are quite advanced and you won't be getting this package lesser than the standard Sendinblue pricing. Many users want to go through Sendinblue vs MailChimp to know which one they could pick.
Believing this Sendinblue review, you can go ahead; it will very well serve your email marketing needs. Most importantly, you can try it for free, work smart, and get back to earn business value from your investment.
FAQs - Sendinblue Review
This cloud-based email marketing tool is used for marketing automation, sending transactional emails or messages, and email campaigns.
This tool offers an inventive, easy-to-use interface to help its users identify its key features. You can easily scroll through its menu and direct to your campaigns, automation, and contact management without a hitch.
Well, this tool is used by over 180,000 businesses across the globe for email marketing and automation. Evidently, it has delivered better customer relationships through cohesive communications and so this range of customers is relying on Sendinblue to expand their business.
Leave a Comment
---
Your email address will not be published.
Your comment is under review by our moderation team.