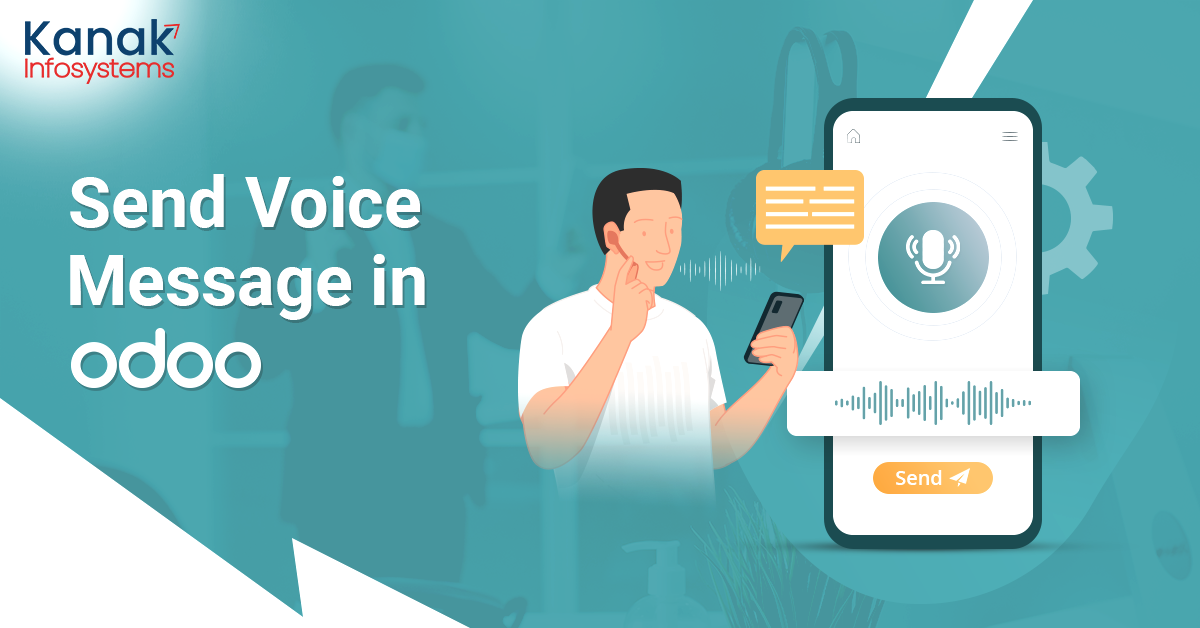 Send Voice Message - Odoo App
It is so helpful that odoo provides us with an option to add attachments along with email messages in the chatter section. You can attach any piece of information in any format you wish to attach. Be it any audio, video, or doc. Now imagine, how cool would that be if you could send your voice recordings as an attachment, right?
Well, that is why Kanak Infosystems LLP. has come up with a chatter voice recorder module for you. 
This module will let you record and attach voice recordings then and there in the mail chatter section. Your recorded audio will be in wav format, so, it will take less space and thus you can add as many recordings as you wish. You also get audio controls to play, pause, voice adjust, and download your recordings.
You can buy this module by Clicking on below button
Send Voice Message Odoo Module
Key Features of Send Voice Message Odoo Module:
1. Voice Recording Button: Firstly, the module will take the system's permission to access the mic. Then you need to press and hold the button and the recording will get started. When you release the button recording will be stopped and you will get the recording as an attachment in the attachment section. 
2. Audio Controls: You can play, voice control, download and delete your voice recording. 
1. Recording button in the chatterbox.

2. After the recording is created, an attachment will appear.

3. You get the option to delete the attachment as well.

4. When you send the attachment all the recordings, along with the message and other files will be sent too.

The use case of this module is very easy and quick. You just record your voice and it will get created as an attachment in the chatter section. Now with this module, you can easily send your emotions and reactions through your voice along with the message. This module will bring people a little closer and you will feel a personal touch in one's messages. 
Ready to learn more? Hit play and let's dive In.
Leave a Comment
---
Your email address will not be published.
Your comment is under review by our moderation team.