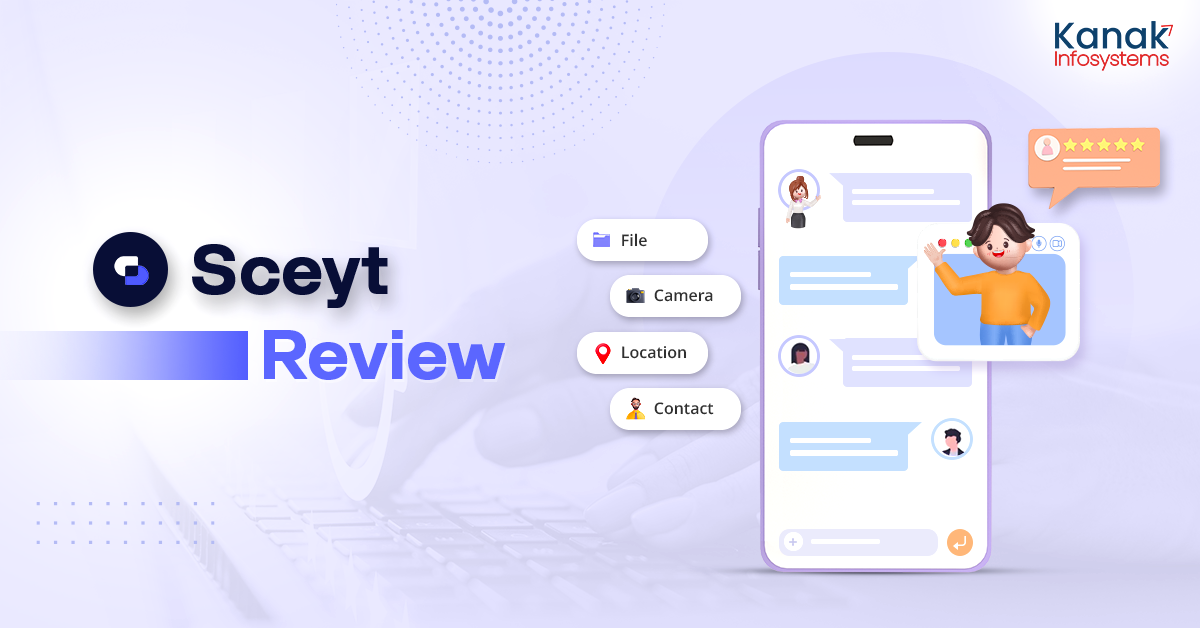 Sceyt Review - Can It Become Your Best Customer Support Instrument? 
Customer support is the key to customer satisfaction and engagement. That's why every app owner, webmaster, and marketer needs to have their own set of tools to enhance customer support.
Sceyt, an easy-to-use in-app Chat API, can be an excellent solution for E-commerce Stores, Customer Service Teams, Real Estate Agents, and almost everyone who wants to enhance their website's customer satisfaction.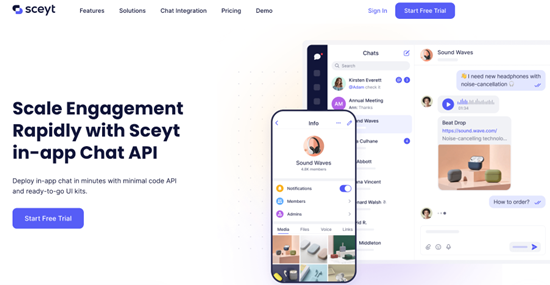 This Chat API was created for people with minimal coding skills to integrate chats in a few minutes. It allows both big group chats and one-to-one conversations within the app. 
Moreover, Sceyt is a very safe-to-use and private instrument with several privacy features. Your chats are guaranteed to be secure. 
Sceyt features - All of the Helpful Characteristics in One Instrument
Let's delve into the rich features of the fastest Chat API and understand what it can help you with. 

1. Engaging chat style: These days, most people are used to Social-Media chats. That's why you'll get Social Media-style chats with Sceyt Chat API and SDKs. That will be very easy to navigate and engaging for users. Users can delete and edit messages, share images, audio files, and videos, retain messages, and so on. 
2. Large group channels: Each channel allows up to 1000's of users in a channel. You can even create a one-to-one chat that will make the conversation easier. 
3. Manageable chats: For more effortless organization, you can enable control for channel participants depending on their roles. You can set admins and moderators to maintain a positive environment. 
4. Secure data: With Sceyt Chat API, you will receive the highest security and data protection possible. The Sceyt team constantly performs in-depth security analysis and penetration testing.
5. Chat Integrations for iOS, Android, and Web: Sceyt is the ultimate Chat API for Android, iOS, and web applications. With its unique chat features and fully customizable UI Kit, Sceyt can be an excellent solution for different platforms.
Sceyt Pricing - Affordable tool with a free trial
Sceyt offers a free 30-day trial, where you can try all of the chat's features. There are four pricing plans as well:
| | | | |
| --- | --- | --- | --- |
| Starter Plan | Growth Plan | Standard Plan | Enterprise Plan |
| $59 per month | $179 per month | $799 per month | Custom |
All of the pricing plans allow every prominent feature of Sceyt. The differences are in the number of monthly active users, monthly file storage size, and support response hours.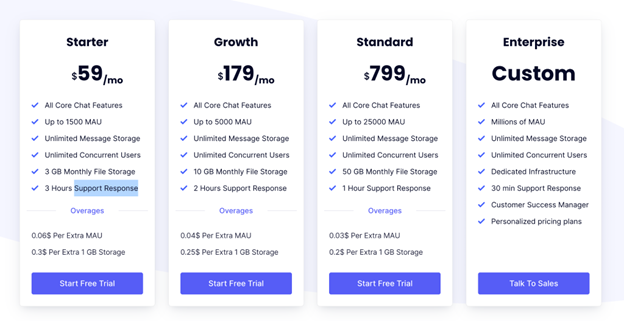 Sceyt Competitors - There are dozens of helpful chat APIs, but the main Sceyt competitors are CometChat, GetStream, and SendBird. 
The main differences between Sceyt and CometChat: Sceyt surpasses CometChat with several features that CometChat doesn't have. 
● Sceyt can support an unlimited number of users in one channel without requiring additional fees.
● As a CometChat alternative Sceyt offers a feature to set custom member roles.
● Finally, contrary to CometChat, Sceyt allows a message-forwarding feature.
The main differences between Sceyt and GetStream: Some differences between these two chats must be mentioned.
● You can customize the appearance of chat to meet your unique demands with Sceyt's improved performance and more contemporary UI kits.
● Unlike GetStream, Sceyt's chat folders help users stay organized by grouping chat interactions into several categories.
● Thanks to the on-device thumbnail creation characteristic, Sceyt users can view shared files without downloading them. This functionality is yet to be available on GetStream.
The main differences between Sceyt and SendBird: A number of helpful chat features are available only with Sceyt:
● In comparison to Sendbird, Sceyt uses a quicker text data transfer format.
● Sceyt users can erase and unsent messages, which is crucial for enhancing security and safeguarding sensitive data. This is another feature that is available only on Sceyt. 
● You can archive chats with both Sceyt and SendBird. The difference is that Sceyt allows more archiving features, like data retention choices and multi-level archiving.
Cons: What kind of flaws are there?
Sceyt is a relatively new Chat API, and it doesn't have as many users as competitors, who have been in the market for a long time. Besides, it is made especially for apps. You cannot integrate it into a website. 
(⭐Rating: 4.9/5)
Pros: Why you should use Sceyt?
Sceyt is a cost-effective tool, considering all the others in today's market. It is a valuable customer support instrument that offers an accessible solution for many users. 
One standout feature is the platform's commitment to privacy and security, ensuring that all chats remain confidential and protected. Sceyt's feature set is impressive, providing Social Media-style chats that users find engaging and easy to navigate. The ability to handle large group channels and manage chats effectively adds to its appeal.
Sceyt receives an overall score of 4.9/5 due to its affordability and comprehensive feature set, making it an effective instrument for boosting customer service and engagement in numerous digital situations.

Leave a Comment
---
Your email address will not be published.
Your comment is under review by our moderation team.