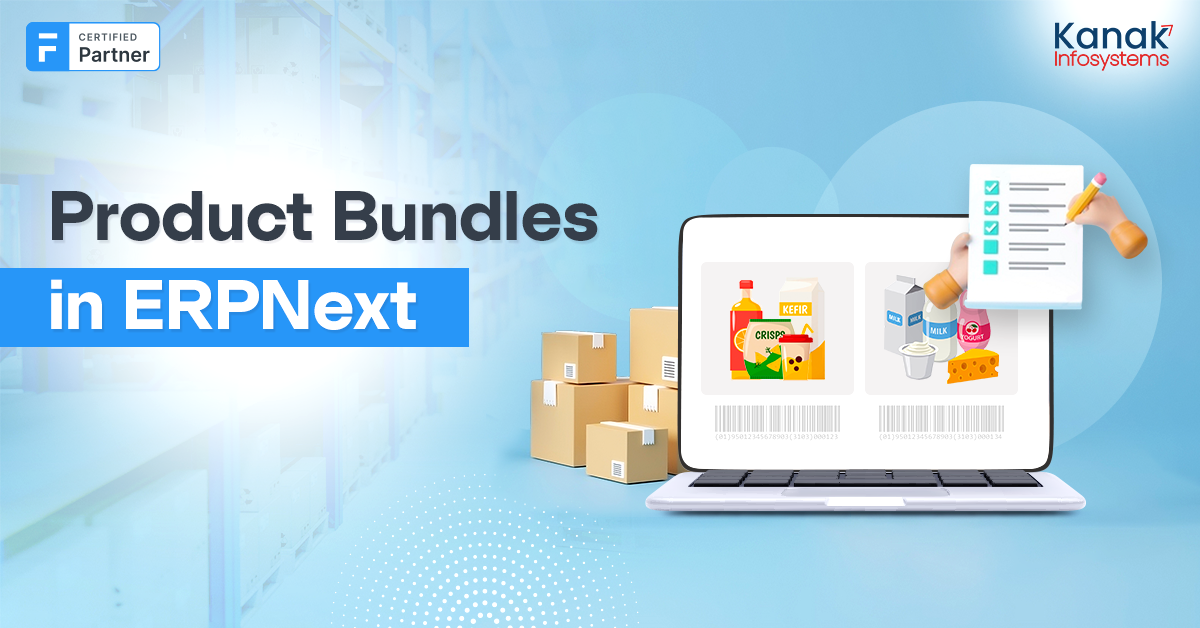 Create Product Bundles In ERPNext
ERPNext is a robust open-source Enterprise Resource Planning (ERP) Software that equips the businesses with a wide range of integrated modules in order to streamline and automate the business operations. ERPNext encompasses various business functionalities into modules, for example- Inventory Management, Sales, Purchase, HR Management, etc.
Similarly, businesses also get the opportunity to manage Product Bundles as well in ERPNext.
Product Bundles is the grouping of multiple products which are sold together as a unit. ERPNext allows you to create a single item code for the bundle, which can be sold and managed as a single product in your inventory. 
In other words, a product bundle means a collection or a group of products that are sold or managed together as a single entity i.e., multiple products bundled up into a single item and you can sell them as a package or set. 
This feature is useful for businesses that sell kits, packages, or pre-configured sets of products. For example, Beauty Kits selling Facewash, Night cream, face pack and Day cream altogether and these items are also being sold individually.
Now let us take you through a step-by-step guide on how to manage the same in ERPNext:
Pre-requisites for creating Product Bundle:
● Item (need to create items first to create/group as product bundle)
To create a product bundle in ERPNext, following are the steps which are needed to be followed:
1.) Go to Product Bundle Master and select the Parent Item which is a virtual item (non-stock item) as there is no stock maintained for it and it has no impact on inventory however it may influence the child items (stock items) selected under parent item as part of Product Bundle. 
2.) The "Parent Item" is just virtual (Beauty Kit in our example must be listed as parent item).
3.) In the Item table, select the items which form the package and will be shipped/delivered to the Customer and are the part of the packing list (Child items). Now these are the items for which we maintain the stock and checked the option "maintain Stock" in item master form.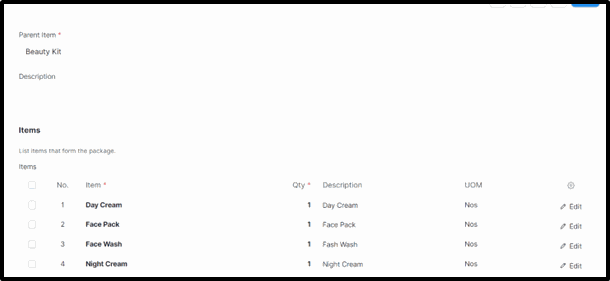 Note:  The "Parent Item" must be a non-stock item which can be created by unchecking the "Maintain Stock" option in Item master form.
Product Bundle in the Sales Transactions
While creating a Sales Order or any sales transaction the Parent item can be selected however under the packing list table, the child items will get auto fetched. 
The Serial number can also be specified for child items if they are serialized items. 
Similarly, on submission of the transaction, the inventory of child items under the packing list table will be reduced. 

To wrap it up, we can say that ERPNext provides a comprehensive solution to manage the product bundles. By allowing the creation of a single item code for bundled products, you can effectively sell and manage these bundles as a single unit from your inventory. 
If you're looking to efficiently manage and streamline your business processes, consider exploring ERPNext and its comprehensive suite of features. You can contact us to get a free demo and answer to all your ERPNext-related queries!
Frequently Asked Questions?
To create a product bundle in ERPNext, Simply go to the Product Bundle list, click on new, select a virtual parent item/product, and now add the individual products which make up the bundle. Always remember to create the Parent Item as a non-stockable item whereas the Individual products are to be created as stockable items.
Creating Product Bundles can boost your sales, simplify the inventory management, enhance customer satisfaction and would provide you an edge for your business in the market since by making product bundles, you are encouraging your customers to buy more items.
Watch Video to Learn More
Leave a Comment
---
Your email address will not be published.
Your comment is under review by our moderation team.