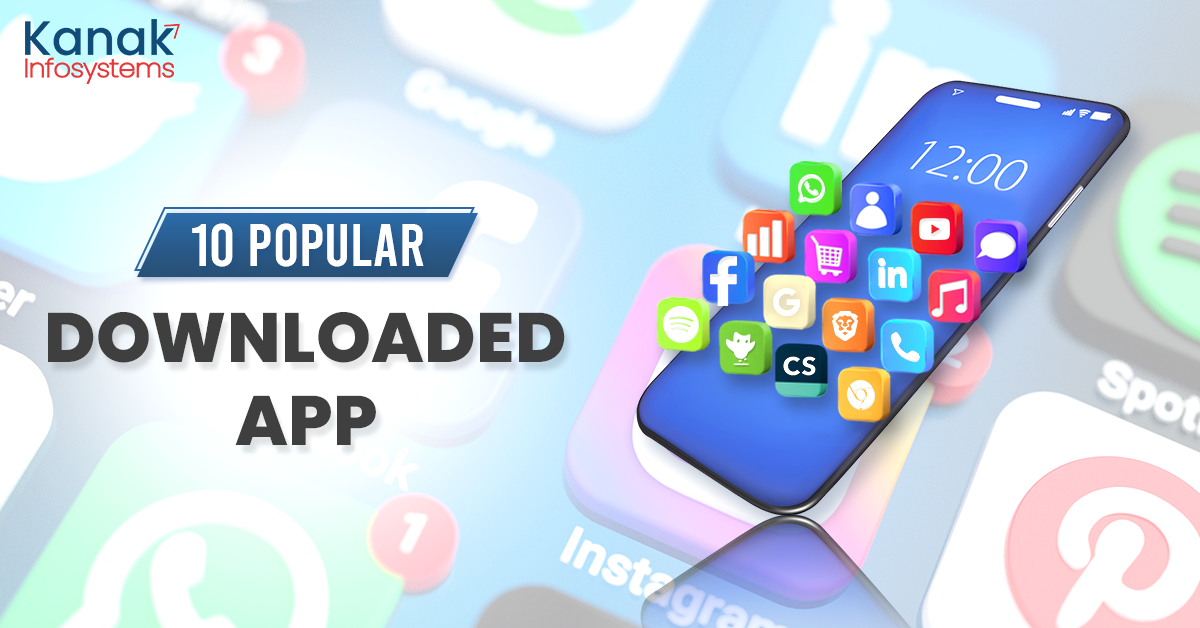 Top 10 Popular Downloaded Apps of 2023
In this era of technology, the gadget that has become the single most important part of our lives is the smartphone.
Whatever task is to be done in our day-to-day lives, it more often than not requires us to use our smartphones. This dependence on smartphones got me thinking, what would be the best way to make full use of these amazing machines that fit in our pockets?
In our opinion, one of the best ways to do that is to have the best set of apps on our mobile phones which not only perform the tasks more efficiently but also perform some of our tasks on their own.
Hence, we have compiled below the most comprehensive list of apps that can be downloaded on our smartphones for free from their app stores to make our lives better.
The Google App
If we talk about technology, it is impossible not to include the Giant Google. While Google has various apps for the Android ecosystem, the first and foremost is the Google app, which is essentially a search engine with loads of other features.
It includes features such as image search through the Google Lens and voice search and interaction with the google assistant. These come in handy to fulfill almost all the kinds of curiosities that you have about the world.
The app is found on all Android devices because it is one of the core features of the google AOSP project. Using it is also really simple; you either type whatever you want to know about or click the search button for the results.
For example, if you want to know something about a picture, you can use the lens feature, which is just next to the search button and allows you to take a picture at the moment or search for a pre-existing photo.
One more way is to click on the mic and just speak out the thing you are curious about, and it will search it for you.
 Don't miss a beat in​ app development. Subscribe today for top-notch tips and news!

YouTube
It is impossible not to suggest a video streaming platform if we talk about smartphone apps. One name that automatically comes to mind is YouTube when we talk about video streaming.
YouTube was started as a desktop video streaming website in 2006. It later released its app with proper development of android. Most of the world's video content is always first released on YouTube.
Be it informative, entertaining, or any video content, it always comes on Youtube first. YouTube is currently considered the biggest video streaming platform in the world; hence, it must be installed on anyone's smartphone, be it android or IOS. YouTube is often and mostly in android provided as an in-built app that can not be uninstalled.
YouTube was initially made as a video diary website by two of its creators. Still, it later became public, with people demanding access to upload videos on the world's first official video streaming platform.
Currently, YouTube is owned by Google's parent company Alphabet. However, YouTube is a free platform where any and most content creators of the world can upload videos and in fact, earn from it. Besides being a video streaming platform, YouTube has become a profession for many.
People with some top creators earning millions. YouTube comes as an in-built app along with other Google apps, and using it is really easy, making it people's first go-to app for video streaming.
Whatsapp
With the rise of text messaging and the internet, the demand for a cheaper text messaging platform increased in the early 2010s. This also led to the rise of WhatsApp.
WhatsApp was earlier an app with only your activity status to be displayed, such as if you're at the gym, or you might be unavailable etc. Later, a text messaging feature was added when the demand for this feature to be added increased.
WhatsApp is now a massively used app owned by Facebook or its parent company Meta. Everything is done on this app, from informal texts to friends, family, and relatives to formal text interviews.
Even though later bought by Meta, the usage of WhatsApp keeps on increasing.
Google Chrome
When we talk about any smart device, web browsers are one of the most important categories of apps. They give you unlimited access to the knowledge pool of the internet at the click of a button.
While the list of browsers available for you to use is unlimited, one that stands out from the crowd is the browser from Google itself, Google Chrome. It has a whopping 10 billion plus downloads, placing it at one of the most downloaded apps on android. This should not be a surprise as chrome is one of the core apps in the android AOSP code.
You can use this app to gain access to all the types of websites on the internet, be it the website of your company to a simple shopping site. All you need to do is open the apps and type the URL of the website or webpage that you would like to access, and click enter.
You can also use any popular search engines like Google, Bing, DuckDuckGo to search for anything on the internet inside the Chrome app.
If you wish to surf the internet privately so that the information about your browsing is not stored on the device, you can use the Incognito mode, which enables you to do exactly that.
TrueCaller
Truecaller is an extremely useful app for keeping properly organized data of all the calls you may make or receive.
TrueCaller not only allows you to save your contacts but also helps in finding out personal details about these contacts, such as the location of the sim and the name under which the sim is registered.
It also has some amazing additional features, Such as call-blocking, flash-messaging, call-recording, Chat & Voice by using the internet. It was developed in 2009 and is currently available for Android and IOS.
True Software Scandinavia AB developed it. Even though claiming to be secure, the TrueCaller's servers were allegedly hacked multiple times by different forces, such as the Syrian Electronic Army. But revealed no credit card or password information in any of these hacks.
In 2020 Truecaller launched a special covid hospital directory in India, keeping in mind increasing cases of Covid-19 in India. Through this directory, anyone could immediately contact their nearest covid hospital.
DuoLingo
If you ever plan to settle in another country for better opportunities or would like to visit it once, one of the most important things to do is know their language. If not that too, learning new languages can be a really fun and rewarding exercise.
One of the best apps to learn any language is the Duolingo app. This app can be found on the Play Store, with 100 million plus downloads. The play store has also awarded it the Editors Choice award for its impeccable style of teaching people various languages.
The app is really easy to operate; all you need to do is tell the app the language you would like to learn and up to what level. It will build a unique learning trajectory for you, and you will be assigned daily or weekly activities that are intuitive and help you learn the language well.
This app could be your gateway to being better in languages you know, like English. If you feel that you can improve your English speaking skills, this app can help you with that too. First, you must choose the level you presently stand at and the level you would like to elevate yourself to.
CamScanner
CamScanner is a scanning app that allows you to scan your documents and convert them into a soft copy pdf format.
However, you might sometimes need to upload your documents online in pdf format. In such situations, CamScanner stands as your savior, allowing you to scan documents and upload them online whenever you want instantly.
When it comes to such scanning apps, even though there are multiple such scanning apps, CamScanner stands on top of the league in the app with the best scanning quality and better flexibility and features.
Not only does it allow you to convert your image to pdf or to scan your documents to make a soft copy, but it also allows grayscale adjustment.
Furthermore, CamScanner provides many amazing additional features such as grayscale adjustment, color grading adjustment, and whitening of any unrequired area allowing you to manipulate your documents according to your desired amount and need. It is available in both IOS and android and was developed in 2011 by INTSIG Information Co. Ltd.
LinkedIn
If you notice the corporate world around you, you will notice that the ones who build the most contracts are the ones that climb up the corporate ladder the fastest.
One of the best ways of using your phone to your advantage for this is by using the Linkedin app. It can be found on the play store and has been downloaded over a billion times. The play store has also given this app the Editors Choice accolade.
Linkedin, at its core, is a communication tool that can find like-minded people in the professional world. Maintaining an updated Linkedin profile is also one of the basic requirements of growing your career these days.
All you have to do in this app is make a profile that consists of all of your basic information, experience, and professional accomplishments. If you are active on this app, you may as well be noticed by the best companies out there who are looking to hire the best talents.
It also has a separate section where you can look for the jobs you are interested in and apply to them with one click of a button. You can see all the information about a company in this section.
Brave Browser
If you need a browser that's safe and secure and also knows how to hide your IP address publicly, Brave is the perfect free browser that can download from other browsers for absolutely free.
Brave provides all the features you would expect from a good browser and is very safe and secure. It also gives users a choice to remove their ad block and view ads for which users are paid in the form of Basic Attention Tokens (BAT), a cryptocurrency.
These tokens may be used to tip, support, and donate to content creators over Brave or can be used for keeping. In December 2021, Brave had more than 50 million users.
Brave was developed as an inspiration from the Chromium browser by Brave Software Inc. Brave was launched in 2016 and continues to top the list of secure browsers even until now.
Spotify
Music is what brings peace into the chaos in our heads. It is one of the best ways to take the steam off after a hectic schedule or tiring task.
Music can help lift up the mood and sometimes motivate us to do our work better. Our smartphones can be used to listen to all the kinds of music we like through various music apps.
The market leader in this segment of apps is none other than the European Giant Spotify. It is trendy on the play store, with its total number of downloads exceeding the one billion mark.
It has an intuitive software interface where you are asked to create an account and add your favorite music.
Once you finish this initial setup, you can straight up the search for your favorite music and stream it on Spotify. While you listen to different songs, the AI and machine learning of the app learn your preferences and further suggest similar songs you may like.
 Elevate your business with a custom mobile app. Get started with our mobile app development services today.
Leave a Comment
---
Your email address will not be published.
Your comment is under review by our moderation team.