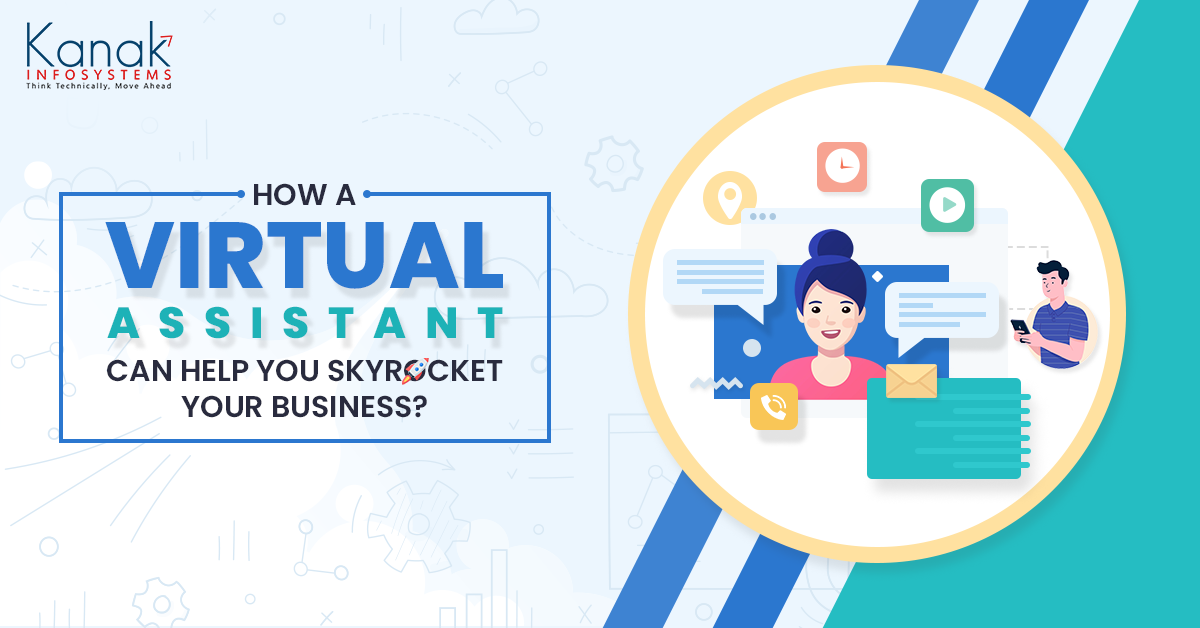 How A Virtual Assistant Can Help You Skyrocket Your Business?
"Deciding what not to do is as important as deciding what to do" - Jessica Jackley
Growth is the most prominent thought on any ambitious entrepreneur's mind.
However, for a small business, it's impossible to scale when just one person is in charge of handling all operations. Backend and daily administrative tasks keep you from focusing on the big picture. We understand that running a small business has financial constraints, due to which having a full-time team is a luxury that not all business owners can afford, especially given the unpredictable financial times.
That is where virtual assistants come in. Hiring a virtual assistant is an exciting opportunity for business owners to connect to a global pool of talent and maximize their efficiency, all without putting a dent in their wallets.
Why Outsourcing Is The Best Choice For Entrepreneurs.
As an entrepreneur, the pile of daily tasks, chores, and errands is never-ending. So it's only natural that as a business grows, the responsibilities grow.
While a constant income of orders and clients is always a good sign of a successful person, not having time to focus on growth or the resources to employ full-time staff can hurt your company. It will lead to decreased productivity, and the quality of work will decrease, as you will not be able to give your all to everything you do. In addition, the overwhelming workload will lead to exhaustion and leave you feeling physically and emotionally drained.
According to Fortune 500 entrepreneur Eli Broad, "the inability to delegate is one of the biggest problems I see with managers at all levels." Unfortunately, a lot of business owners tend to confuse delegation with laziness. On the other hand, delegation is a sign of smart entrepreneurship, as you can utilize your newfound free time on high-management tasks that only you are qualified to do.
Why Choose a Virtual Assistant?
Even with all the perks of delegation, you might be wondering why you should opt for a remote assistant instead of a full-time in-office employee?
There are multiple reasons why a virtual assistant is the better choice for budding entrepreneurs and small businesses.
They are affordable - Small business owners and budding entrepreneurs starting with limited capital need to prioritize their expenses. Therefore, they may not have the means to hire staff as required in their initial stages. As a result, hiring a virtual assistant on an hourly basis is the ideal solution for small businesses.
Scalability - In the current financial market, it's impossible to predict the future. There will be hectic months and some months that are slow as well. With virtual assistants, you can increase and decrease the size of your team as per your requirements since there's no long-term contract. The same agreement cannot be negotiated with full-time employees.
Flexibility - Unlike traditional office employees who work a regular 9-5, with a remote assistant, you have control over how many hours they work and when they work. That is especially helpful if you work with international clients in a different time zone.
Global Talent - As remote work eliminates physical and geographical barriers, hiring a remote assistant allows entrepreneurs to work and collaborate with international talent from all over the world. That is something that is not possible with in-office employees.
What Can I Delegate To My Virtual Assistant?
Virtual assistants come with many different skills and qualifications. If you choose to hire from virtual assistant services like Wishup, you can discuss your requirements beforehand to be paired with the best-suited remote assistant for your business. Some of the many tasks you can outsource to your VA are -
Administrative Tasks
The majority of virtual executive assistants have had some experience with office management. Therefore, they are highly qualified to assist you in a multitude of administrative tasks such as -
Scheduling your calls and meetings.

Make sure your calendar is regularly updated.

Organizing and clearing out junk from your inbox.

Organize your files and documents in a refined system.

Booking flight tickets and handling hotel accommodations.

Making restaurant reservations.

Reception-related work.

Basic and advanced data entry tasks.
Project Management Tasks
If you're running a business, there must be at least a dozen different projects running simultaneously, and it's often difficult for one person to stay on top of these tasks and coordinate them. A virtual executive assistant can assist you with project management-related work such as -
Assigning tasks.

Make sure deadlines are met.

Coordination with various departments.

Streamlining communication.

Creating detailed reports of project progress.
Customer Service Tasks
One of the most important aspects of running a business is providing excellent customer service. Sometimes, even though you may have the time, you might not have the required skills to manage customer service efficiently. A virtual assistant who has relevant experience can help you out in the following tasks -
Answering calls.

Responding to emails.

Replying to online queries.

Setting up client appointments.

Following up on bookings.
Social Media And Content Tasks.
Social media is an integral but often overlooked part of running a business. It's the company's modern-day face and should be treated accordingly. In the case of e-commerce businesses, especially, a lot of the client base comes from social media and the company website. Therefore, they should be regularly updated with relevant content. A social media assistant can help you with tasks such as -
Scheduling posts.

Research.

Proofreading content.

Writing e-books.

Guest Post writing.

Website maintenance.

SEO research.

Creating targeted ads.

Email marketing.

Making landing pages.

Writing newsletters.
Marketing Tasks
Creating marketing campaigns for different social media platforms. A marketing virtual assistant can coordinate various marketing tasks such as -
Planning and executing campaigns.

Social Media Strategy.

Making communication plans.

Designing ads, brochures, and fliers.
Event Organizing Tasks
You'll be surprised to know that your virtual assistant can help you plan events without being physically present at the venue. While they can't be there to distribute exotic drinks and snacks. They can help with other essential tasks such as -
Planning Events.

Creating guest lists.

Planning the decor.

Coordination with vendors.

Booking caterers.

Write the speech.
Financial Tasks
Having a virtual assistant to help you with bookkeeping tasks can take a considerable burden off your shoulders and leave you with lots of time to focus on priority tasks. a bookkeeping assistant can assist you with work like -
Day-To-Day Operation Tasks
A great virtual assistant knows great computing and cloud integration tools that make keeping business operations easy. For example, using ERP tools like Kanak's ODOO Development Services can streamline business processes and make them more accessible and efficient.
"You can do anything, but not everything" - David Allen
Realizing when you need to step back, reassess your business priorities, and decide to delegate is a sign of a successful entrepreneur. Support can only help your business and take it to new, bigger heights. We hope you found this article helpful and consider hiring a virtual assistant to help you with your business needs.
Leave a Comment
---
Your email address will not be published.
Your comment is under review by our moderation team.