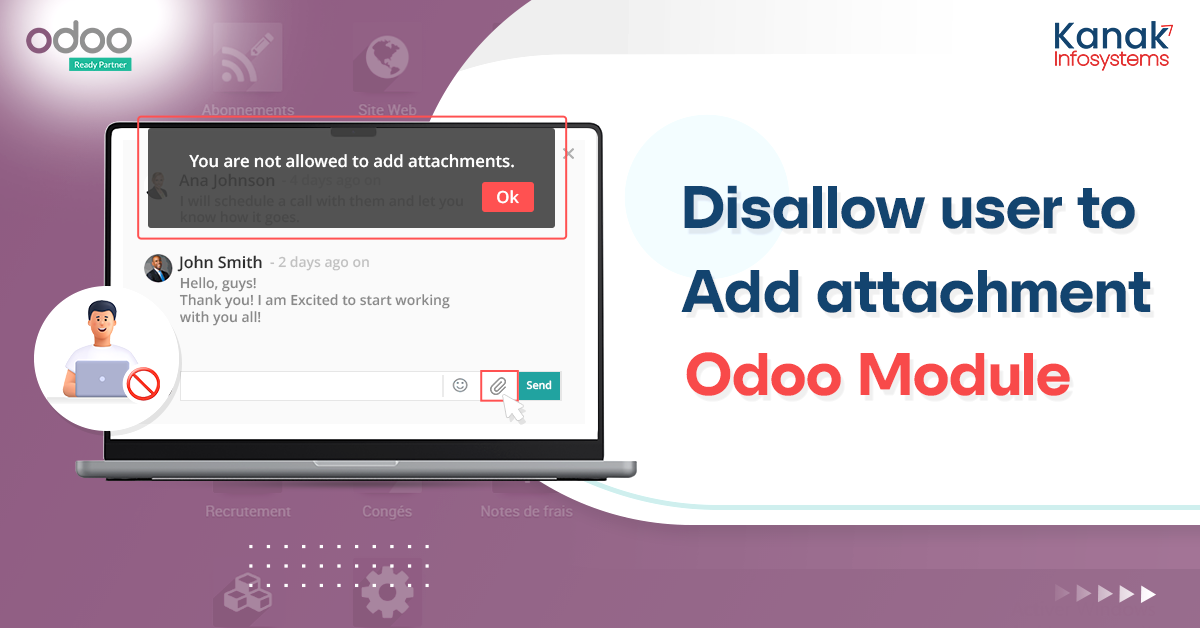 Disallow User to add Attachment In Odoo
Odoo allows users to send messages in the chatter section which also lets the users add attachments along with those messages. Sending emails and messages with attachments makes communication easy to understand.
This feature lets anyone add any amount of attachments which makes the database heavy. Kanak Infosystems LLP. bring you the "Disallow User to Add an Attachment" odoo app to solve that problem. This module will help you forbid the users from adding attachments. 
Now being superior you can control who can add attachments and who cannot and your database will remain lighter and faster. 
Key Features  of Disallow User to Add Attachment:
● The users will not be able to add attachments in the chatter part by any means.
● The user will not be able to create attachments explicitly or implicitly.
How does the Disallow User to Add Attachment Module Operate?
1. Go to Settings → Users and Companies → Select User → go to the technical section  → Select/Deselect 'Disallow Add Attachment'.
2. If the user is not allowed to add attachments, the user will not be able to see the Add Attachments or Attach File button.

3. If the user adds an attachment through the drag-and-drop process, a popup will appear on the screen for disallowing attachment adding.

Thus, using this module you can easily select the users you wish to have the functionality of adding and sharing attachments.
Get the Disallow User to Add Attachment Module from the Odoo App Store today
Watch the video to witness the module's functionality in action now!
If you have any questions or are interested in implementing this solution, reach out to Kanak Infosystems LLP.  

Leave a Comment
---
Your email address will not be published.
Your comment is under review by our moderation team.