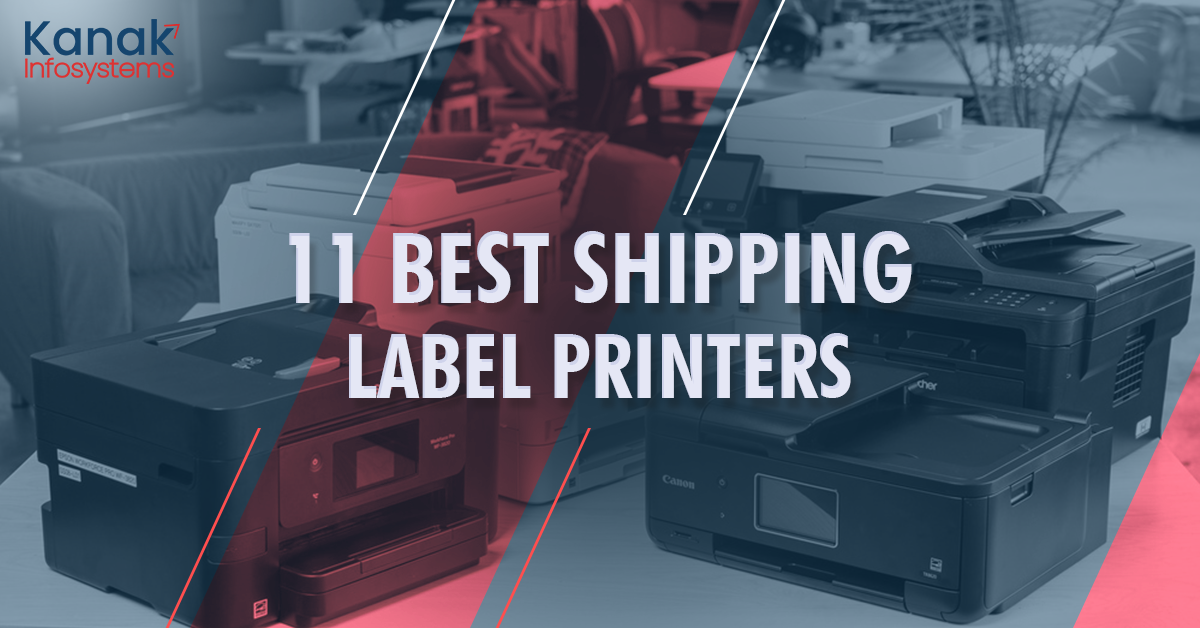 11 Best Shipping Label Printers [2023 Best Sellers]
In a single month, billions of items are transported, and the worldwide transportation community must keep up with the demand. The industry would be in chaos if there were no way to trace each package properly. This is where shipping labels play a role.
They ensure that every item gets to the right place and is an essential part of the supply chain. They must be robust, long-lasting, and, most importantly, precise. 
However, the quality of a printer's output is critical to the success of any shipping label. Despite its importance, it is never the first thing that springs to mind when thinking about it.
As a result, we'll examine the best shipping label printers in this article. While this list isn't extensive, you can count on these top picks to dependably deliver high-quality label prints.
Pertinent Points


● In 2024, the global label printing industry is expected to reach $49.90 billion.
● Label printers are versatile printers that can print shipping labels with your name, address, weight, tracking barcode, and other information.
● There are a few factors to think about when choosing the best label printer for shipping for your modest eCommerce business.
Small businesses might benefit from shipping label printers since they can expedite the packing and shipping. Label printers can print shipping labels with your name, address, weight, tracking barcode, and other information.
Whether you're a merchant running a high-volume online store or a small business owner trying to keep track of your inventory, using the finest shipping label printer can make your job easier as you organize your workload. Label printers also allow you to focus on growing your business by saving time and money.
 Stay ahead with NetSuite ERP insights! Subscribe now.

Evaluation Methodology for the Best Label Printers in 2023.
Before choosing an essential office gadget, it is crucial to consider several factors. Here are some things you should know before purchasing a shipping label printer.
➲ Compatibility


When buying a shipping label printer, look for the device and shipping compatibility. Each shipping label printer works with many distribution systems and platforms, including USPS, UPS, Amazon, Shopify, Etsy, and others. It's critical to understand which shipping service your platform favors and select a printer that can provide you with the discounted shipping rates your company will most likely require.
➲ Connection


You'll want to use a Wi-Fi printer if you're printing labels while walking through aisles of products in a warehouse (or your basement turned home business shipping center). A less convenient USB connection will save you money if you have a low volume of shipments.
➲ Print Color


Black and white shipping labels are the most common. However, if your business utilizes the printer to produce customized tags, logo stickers, or banners, a color printer can help you save money by preventing the need to purchase additional hardware.
➲ Label Size


A one-size printer will suffice if all you're doing is printing shipping labels. Look for a printing solution that prints multiple layouts and sizes if you need some diversity, such as barcode or QR Code labels for your Amazon business or file folder labels.
Top Shipping Label Printers: A Recommendation List.

1. iDPRT Thermal Label Printer


iDPRT is a well-known brand in the thermal printing business, specializing in producing various thermal printers. The SP410 is one of the brand's best-selling items, with high-speed printing perfect for e-commerce needs.
● The high-speed printing capabilities allow up to 72 labels to be printed each minute, which is a remarkable feat in and of itself. It will save you time and is extremely useful in time-sensitive circumstances.
● It also boasts one of the most durable constructions and is built to last.
● Considering the thermal printer's unique print head, you may produce up to 160,000 standard labels in no time.
● The intelligent paper return mechanism, which allows exact automatic positioning of the paper, is one of the printer's most striking features.

2. Dymo LabelWriter


Dymo's 1755120 LabelWriter is a thermal label printer for shipping that focuses on making online selling on numerous platforms easier. The ability to print extra large labels for various reasons sets this product apart from the competitors.
● The Dymo LabelWriter 4XL is a welcome breath of fresh air in an industry where most manufacturers develop equipment for small labels.
● One of the few thermal printers that can produce XL-size shipping labels is the 1755120.
●This printer also allows you to choose from more than 60 professional label templates, giving you a lot of flexibility. Furthermore, the free Dymo program can assist in the customization of graphics and text for shipping labels.
● We were also blown away by the label printer's ability to print labels directly from popular platforms such as Amazon, eBay, Etsy, and others.
● Dymo also offers original labels in various sizes that may be used with this printer in addition to this wonderful product.

3. Arkscan Shipping Label Printer


Arkscan is a leading American maker of a variety of office equipment for those who are unfamiliar. It sells barcode readers, scanners, table mounts, and printers, among other things. The 2054A Shipping Label Printer is a high-end product that delivers a terrific experience.
● The thermal printer has a sturdy and long-lasting design that makes it suitable for heavy use.
● Simply put, the printer can produce labels with a length of up to 30,000 meters.
●The Arkscan 2054A is a multi-function printer that can produce shipping labels, barcode labels, product labels, and more.
● It also supports roll paper and fanfold paper for fast printing various labels.
● You also get free software for designing labels on the Windows platform, including all the regularly used functions and complete design capabilities.

4. Rollo Label Printer


This printer prints monochrome shipping labels and is highly convenient. It's one of the most popular label printers and is available in black and gray. It creates clean and clear labels using commercial-grade thermal printing technology that various businesses may utilize. This printer works with Amazon, eBay, and Etsy, among other shipping and e-commerce companies.
● Rollo can generate consistent outputs at a speed of 150 mm/s by utilizing thermal technology (millimeters printed per second, which is the industry standard for measuring printer output).
● This unique printing technology has also been used to replace toners and ink.
● The output complies with FedEx, UPS, USPS, DHL, and other shipping companies' established requirements. This means you may now print these labels without having to deal with the headache of paying for labels given by the company.
● There are no label length restrictions, as with other printers in this range, and label widths range from 4.1′′ to 1.57′′.
● This printer is simple to set up on various operating systems, including Windows (up to XP) and macOS.

5. Munbyn ITPP941 USB Label Printer


Most shipping firms, including Amazon, FedEx, UPS, and the USPS, are compatible with the Munbyn printer. It's commonly used to print labels for warehouse indexing, freight shipment, food nutrition, and FBA labeling, among other things. Munbyn's printers have some of the best evaluations, and the company promises a one-minute installation time.
● The printer is simple to set up on Windows and Mac OS X, but not Linux or Google ChromeOS.
● This printer can produce over seven standard-sized labels per minute at a top speed of 150 mm/s.
● The automatic cooling pause is an excellent function that helps keep the machine from overheating.
● The printer is designed to print 700 sheets in a row before stopping to cool down for 5 minutes.
● To ensure proper cooling, it employs an industrial-grade heat dissipation system.
● This printer also has automatic label size recognition, improving the system's efficiency.

6. Aobio X4 Shipping Label Printer


The Aobio X4 is a modern device that can handle vast volumes of standard print labels and uses thermal printing technology to reduce label printing expenses. It features a ROHM printhead from Japan, preventing paper jams and delivering consistently clean output.
● With a weight of about 720 grams, it is one of the most petite printer models available.
● It works with Windows and Mac OS X and is connected with a regular USB cord.
● The X4 produces 203 DPI prints and has a top output speed of 180mm/s, faster than most thermal label printers' standard rates.
● In addition, the device features a unique design that dissipates heat and prevents overheating.
● The X4 has a continuous active time of 12 hours and can print up to 700,000 sheets before requiring a primary service.
● It's long-lasting and can print 50,000 labels in a single pass before needing to cool down.
● The X4's clever label identification technology ensures that the printing covers every space on an inserted thermal paper, which is a decisive selling factor.

7. BESTEASY Shipping Label Printer


If you're looking for a printer that can save you time, this one is an excellent option because it can be used for a variety of tasks and is compatible with both PC and Mac platforms.
● This printer is one of the best thermal shipping label printers available because it also includes 100 4 x 6 inch folding labels.
● The HIGH SPEED and STABILITY of the BESTEASY Shipping Label Printer are likewise well-known.
● BESTEASY may make your packages look more professional by improving the print quality.
● It can create warehouse, mailing, ID, and barcode labels with widths ranging from 1.57 to 4.1 inches with no length restrictions.

8. Brother QL-800 High-Speed Professional Label Printer


You may print labels straight from your devices with this printer, which is very versatile. Additionally, it works with PCs, Macs, and Android smartphones.
● You may print labels in a variety of sizes with this device.
● If you need to print a lot of labels quickly, the Brother QL-800 high-speed printer is the best option for you because it can produce up to 93 labels per minute, as its name says.
● In terms of print quality and color, this printer only prints in two colors: red and black, with a relatively high resolution.
● Overall, this printer is well-liked by many users and is regarded as one of the best shipping label printers available.

9. ZEBRA GK420d


The GK420d from ZEBRA is an excellent shipping label maker. It makes high-quality mailing, address, barcode, and file-folder labels in a short amount of time. Rolls having a 1" core and a maximum width of 4.25" can be used with this printer.
● This print will produce about ten prints per minute, which is a bit slower than the other options on this list.
● However, because the printer is Energy Star certified, you'll save money on energy expenses without sacrificing print quality.
● This label printer for shipping is virtually plug-and-play: All you have to do is connect it to your computer via USB, follow the installer procedure, and start printing once it's finished.
● Unfortunately, this ease of use is only available to Windows users, so if you prefer a Mac, you may want to look at the other printers in this "best thermal shipping label printer" list.
● This printer does what it says it will do and does it well for an extended period.
If you are Odoo User, read here "How you can work with Odoo to print ZPL labels directly to Zebra Printers.READ HERE

10. Micmi Shipping Label Printer


On this multipurpose label printer, shipping, product, barcode, and mass mailing labels can be printed. It can print labels in a variety of sizes.
● Thermal and folder thermal rolls, as well as other printing materials, are supported by this printer.
● It prints at a speed of 2 to 5 inches per second and is compatible with PCs and Macs.
● It does not work with iOS or Android devices.
● All major distribution and courier systems are compatible with this printer.

11. Logia Thermal 300 DPI Label Printer


The Logia thermal printer is among the best offers on label printers for business use. It can handle significant label outputs, has a top printing speed of 127 mm/s, and comes with various accessories to help novice users get up and running quickly.
● It is commonly used for labels such as shipping stickers, barcodes, product information, warehouse labels, tracking IDs, and so on.
● The gadget is compatible with Windows and Mac OS and is simple to set up using the included instructions manual.
● Printing labels is not limited in height; however, it does have a width range of 1.57" to 4.1".
● Thanks to the thermal printing technique used by Logia, you can be sure of constant clean prints without the possibility of fading, smudging, or ink bleeding, thanks to an output resolution of 300 DPI.
● The Logia Thermal printer, like most other shipping label printers, is compatible with shipping companies and e-commerce sellers worldwide.
● Finally, the printer includes a label holder for feeding stack and roll labels. When not used, it may be quickly stowed away without much space.


Conclusion
Printing and creating shipping labels promptly and efficiently is critical for online selling firms.
Using the appropriate printer for your business's needs is critical for achieving the required outcomes. We've now come to the end of our in-depth look into label printers, and we expect it's been useful in assisting you in selecting the right equipment for your needs.
Before we sign off, we'd like to highlight a few of our personal favorites from this list. The iDPRT Thermal Label Printer is the best shipping label printer overall. If you're searching for a small and portable gadget, the Rollo Label Printer is the way to go.
FAQs
(1) Is it cheaper to use a shipping label printer?
This is determined by the number of labels you create daily. If you're delivering a few parcels, printing them on a primary home printer may be the most cost-effective alternative. When manually printing labels becomes too time-consuming, however, investing in a shipping label printer will be well worth it.
(2) What printer should I buy for shipping labels?
The ZEBRA GK420d, for example, is ideal for producing a variety of different-sized labels. The DYMO LabelWriter will speed up the printing process by allowing you to print directly from Amazon, Etsy, or eBay, while Rollo's Thermal Label Printer is a fantastic solution for those on a budget. Finally, for individuals seeking a Wi-Fi printer, the Brother QL-1110NWB is a tremendous pick.
Leave a Comment
---
Your email address will not be published.
Your comment is under review by our moderation team.