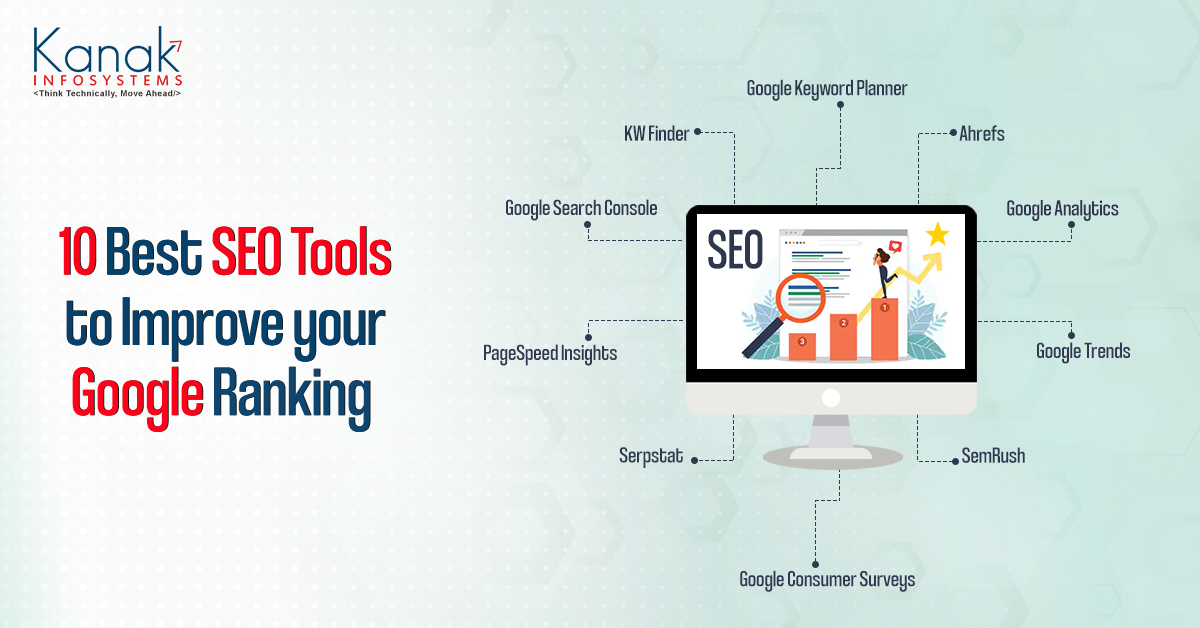 10 Best SEO Tools To Improve Your Google Ranking

If you have a website or blog then you can do SEO for your website by creating an account on Google with the help of these tools. To improve the ranking of your website on search engines like Google go through the tools mentioned here, to know the health of the website can be useful to monitor the performance of your website.
In this post, We tell You about Best SEO Tools You Must Try. These SEO tools will help you a lot in Google
Search Engine Optimization
. If you want to get success in blogging, you must use the SEO tool. These SEO audit tools are very important to rank your content on Google's 1st page.
Here I am going to tell you some amazing 10 SEO tools. Which will help you in Keyword Research, Competitor Rank, Rank Tracking, and Link Building, etc? If you use these tools properly then you will get a higher rank in Google.
Best SEO Tools to Improve Google Rankings
Every website and blog dreams that its blog or website is the top rank in Google but for this SEO tools are very important. In SEO, you have to use different tactics such as Keyword Research, Competitor Analysis, Rank Tracking, Link Building, etc.
Apart from this, you must have SEO basic knowledge along with SEO tools, so that you can optimize your website or blog according to the search engine and get a higher rank in the search engine.
So let's look at the list of best SEO tools.
1. Google Keyword Planner
Google Keyword Planner is the Best SEO tool provided by Google. We used it for Keyword Researching, and CPC checking and there are many important functions that you use. Mainly it builds for Advertisers to check the rate of that particular keyword. But we also use this for Keyword Researching. It's one of the Amazing Free tools for use.
If you use this tool you will get many features such as:
a) You can do Keyword Research with this. It is absolutely free, there are no hidden charges.
b) You also get many related keyword suggestions for your main keyword.
c) You can also get Traffic analytics of that keyword.
2. KW Finder
I use KW Finder personally because it provides awesome features. From this feature, if we use it properly we rank our website easily. KW Finder provides us with Tools like Keyword Suggestion Tool, by this we get related keywords of our main keyword. It is not only a Keyword Suggestion Tool, but It has also given information such as Keyword difficulty, Search Volume, and many other SEO tools. You can also get various options for keyword research like local keyword research, Longtail keyword research to find the best keywords for our website.
3. Google Search Console
This Tool also is known as the Google Webmaster tool before May 20, 2015, but the name changed and now it is known as Google Search Console. This tool tells the indexing status of any website and optimizes visibility. With the help of this tool, the site can submit and check the sitemap, and also check the list of internal/external links of the website, set the crawl rate, check Googlebot statistics, along with a lot of other SEO-related the task can be performed by with the help of Google Search Console.
4. Google Analytics
Google Analytics is a free web analytics tool, with the help of this tool we can check and monitor website/blog traffic like from where it coming from, which activity provides best results than others, in which country or audience is more engaging /visit our website. With the help of Google Analytics, we can able to track or monitor our performance and make changes accordingly. After acquiring Urchin Software Corporation in 2005, Google launched the "Urchin on Demand" product as Google analytics.
5. Ahrefs
It is also a great tool that provides some awesome features. Ahrefs is one of the most popular SEO tools. Ahrefs is used by big SEO agencies because it provides many important tools that help us to rank our website easily. There are mainly three important tools -Site Explorer, Content Explorer, and Keyword Explorer. With proper use of these three tools, you can easily rank your website in less time. Ahrefs is a paid tool.
6. Google Trends
If you want to know how people search your brand? When does spike do? What is the status of your competitor's keywords? All these answers can give you by Google Trend because the Google Trends tool tells consumer search behaviours by checking the real-time search data. Google trend is a base service on Google Search, which shows how specific search-term has been searching across all the languages in the entire term. Visit Google Trends at www.google.co.in/trends
7. SemRush
Semrush is also a good tool for SEO because it provides us with great value. Semrush also has features like keyword analytics, backlink checker and many more. It is a great Local SEO tool and by this, we can also rank our site easily if we work on it properly. So if you have a Good budget then use it. It really helps you to rank your website. It is a paid tool, but also available to use free with limited results.
8. Google Consumer Surveys
It plays a very important role in the growth of a market research business for any business. With this thought, Google designed Google Consumer Surveys, a market research tool that helps you create online surveys. The result of a survey conducted by the market research tool and its help can help you with a business decision.
Google's Google Consumer Survey Tool offers a free option for website synthesis. In this tool, you can create some free default question surveys but for a more specified survey, you have to pay. Visit - Google Survey and Google Survey Plans.
9. PageSpeed Insights
Google once announced in the update of its algorithm that site speed would be an important point of website ranking. Anyway, the speed of any site is an identity of the good website. To test this, Google's PageSpeed Tool, which gives you more valuable data along with the speed of your website's innovative pages - Visits it - Google PageSpeed Insights.
10. Serpstat
SerpStat also a Great tool which provides you almost all features of SemRush and Ahrefs. As you know these 2 tools are paid but if you use SerpStat then it gives you those features for free. You will also see ranking keywords of your website for free. Yes! I really like this tool because it provides values to the customer for free.
We Hope that you like this post. So if you have any query feel free to ask us in the comment section.
Leave a Comment
---
Your email address will not be published.
Your comment is under review by our moderation team.