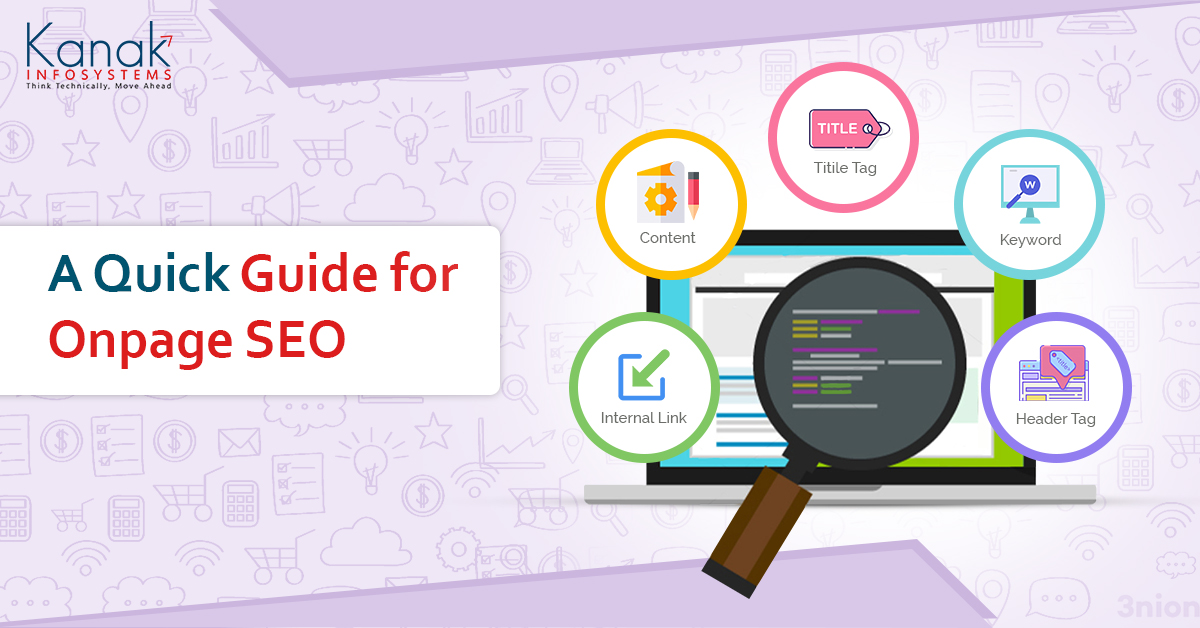 A Quick Guide for Onpage SEO
What is Onpage SEO & how to do that?
As MOZ says, On-page SEO is the practice of optimizing individual web pages in order to rank higher and earn more relevant traffic in search engines. We believe that the right approach for Onpage SEO can reduce a lot of efforts & can provide more tremendous results what anybody think.
in this blog, we tried to create a right On-page SEO approach named as "A Quick Guide for Onpage SEO". This SEO Guide will definitely help you to achieve your SEO goals.
Let's start to understand the processes of Onpage SEO with a brief & focused description. The Steps used in the Onpage SEO are as follows:
1). Title Tag Optimization: The Title Tag is the first tag which defines what your web page holds. Below are the key points to optimize this:
·        It should be Precise and focused.
·        Use Focused keywords in the Title Tag.
·        Length of this tag should be 50-60 characters to display clearly in SERPs.
2). Meta Description: This Tag is used to provide a brief description of a webpage. It appears in the search results below the Title tag. It helps the user to understand what the page is about. So it should follow the following rules:
·        You should write a brief description of your page & Use relevant keywords in it.
·        Length of this tag must be between 120-160 characters.
·        Use unique descriptions for each page.
3). Url Optimization: The website's URL is essential. Visitors and search engines are negatively affected by an unclear and confusing URL. A well-optimized URL is simple for users to remember and for search engines to crawl. Website pages receive a boost to rank highly on search engines thanks to keyword-rich URLs. Here are some things you should keep in mind when doing URL optimization.
·        It should be small & concise.
·        It should be easily readable(User- Friendly).
·        using the main keyword in the URL can be very helpful in improving rank.
4). Heading tag Optimization: Heading plays a major role in each web page. A content writer usually uses heading several times to improve content quality & readability. And the Google bot also uses headings as an important segment of the page. So no doubt that using targeted keywords in headings will be very helpful to increase page rankings in SERPs (Search Engine Result Pages). So go through this segment to learn how to optimize headings:
·        Headings should be between 15- 65 characters.
·        Use should only use one H1 heading for each one.
·        Using keywords at starting of heading tags is the best way to highlight your Major keywords.
5). Image Optimization: Image optimization is the process of adding relevant alt text in image tags so that crawler can understand what the images are about of. When a user writes a search query to find images then, these alt tags help crawlers to find relevant images easily. You should add an alt attribute to each image of a webpage & should write relevant texts for each image.
6). Internal Linking: Creating internal links with the right approach helps to improve the website quality. Internal linking helps the user to go through the whole website easily & efficiently. It creates a chain between the web pages which improves the User Experience and also increases the session time of a user, which leads to a down in bounce rate and improves the rankings as well.
Other Techniques/Activities: 
Duplicate Content Analysis: Finding duplicate content also falls in Onpage Activities. It's a vital part of Onpage SEO. A website having duplicate content is known as a spammy website and Google banned them from search results. There are some tools available online to find duplicate content. Recommendations for them are as follows: Copyscape & duplichecker.
Keyword Density: Using keywords many times, as well as irrelevant places, is known as keyword stuffing. And this kind of over-optimized website also falls in the spam category. We recommend you to use 2-5% of keywords for not to get spammed.
Balancing Website speed, page loading time, & mobile friendliness also falls under Onpage SEO activities. We hope that this blog will help you a lot in the Onpage optimization process, and if you'll work with the above-mentioned parameters then you will definitely get a ranking hike in Serp's.  Visit our SEO service packages page to get the best Onpage & Offpage SEO services at a very affordable cost.
Leave a Comment
---
Your email address will not be published.
Your comment is under review by our moderation team.