Required Apps
• point_of_sale
• pos_sale
• payment_installment_kanak
• account

Technical Name
pos_payment_installment_kanak
License
OPL-1
Also available in version
v 16.0
You bought this module and need
support
?
Click here!
Supported Editions
Community
Enterprise
Odoo.sh
Pos Payment Installment module enables the creation of installments or down payments for an order, as well as the ability to make payments for those installments and down payments directly from the POS screen. Users can effortlessly add products, choose installment plans, include or exclude down payments, and automatically generate quotations, all without needing to close their POS session. Additionally, the user can conveniently access and review all the installments associated with existing orders directly on the POS screen. They can effortlessly make down payments or pay for installments seamlessly.
Key Features
Keeps track of all your installment orders.
You can conveniently choose the installment plan and down payment(s) via the POS, enabling you to swiftly generate a flexible installment order, along with a backend Quotation and Invoice.
The POS displays all the orders, including installment orders, for easy visibility. With a simple click of a button, each installment can be effortlessly paid.
Payment Method Configuration
---



Navigate to configuration -> payment methods and create a new method with 'Mark as payment installment' enabled.
Now open POS settings and add your new payment method.
Check Default Products Configuration
---



Navigate to configuration -> Sales and check the installment and down payment products. These should be set by default.
Note : Please make sure that these products are marked as 'Available in POS' under 'Sales' Tab.
Enable Installment On Sales
---



Go to Sales Settings and enable 'Installment On Sales'
Create Installment Plans (Optional)
---



Go to Invoicing, click on configuration and select 'Payment Term' Heading. Here, you can create your own installment plan as shown below. Enable 'Is Plan' to make the plan appear on the POS.
POS Payment Installment
---
Create New Installment Order
Start a new pos session and add products, click on 'Payment'
Now select 'Payment Installments' Method.
Click on the plan you created.
All default down payments for the selected plan are displayed


Click on 'Add Down Payment' button to add a new down payment.
Enter the new down payment line details.


Click on 'Confirm' Button.
Select Customer


Press 'Validate' button.
Pay for a Down Payment / Installment
---



Click on 'Quotation / Order' Button
Click on new quotation order
Pay for the first Down Payment / Installment
The Down payment or Installment that you clicked on is automatically added to cart. Now just click 'payment'.
Now select a payment method and validate the order.
Go back to the quotation order and you will see that the down payment / installment is paid.
Backend Quotation and Invoice created
---



A quotation for the payment installment order is automatically created via the POS


Open the quotation for the order we created
In the 'Installments' tab we can view all the down payments and installments in detail.


The first 'Advance Payment' is paid via POS.
Invoice for the quotation is automatically created as well


The advance payments / installments can be paid via the invoice, as well as the POS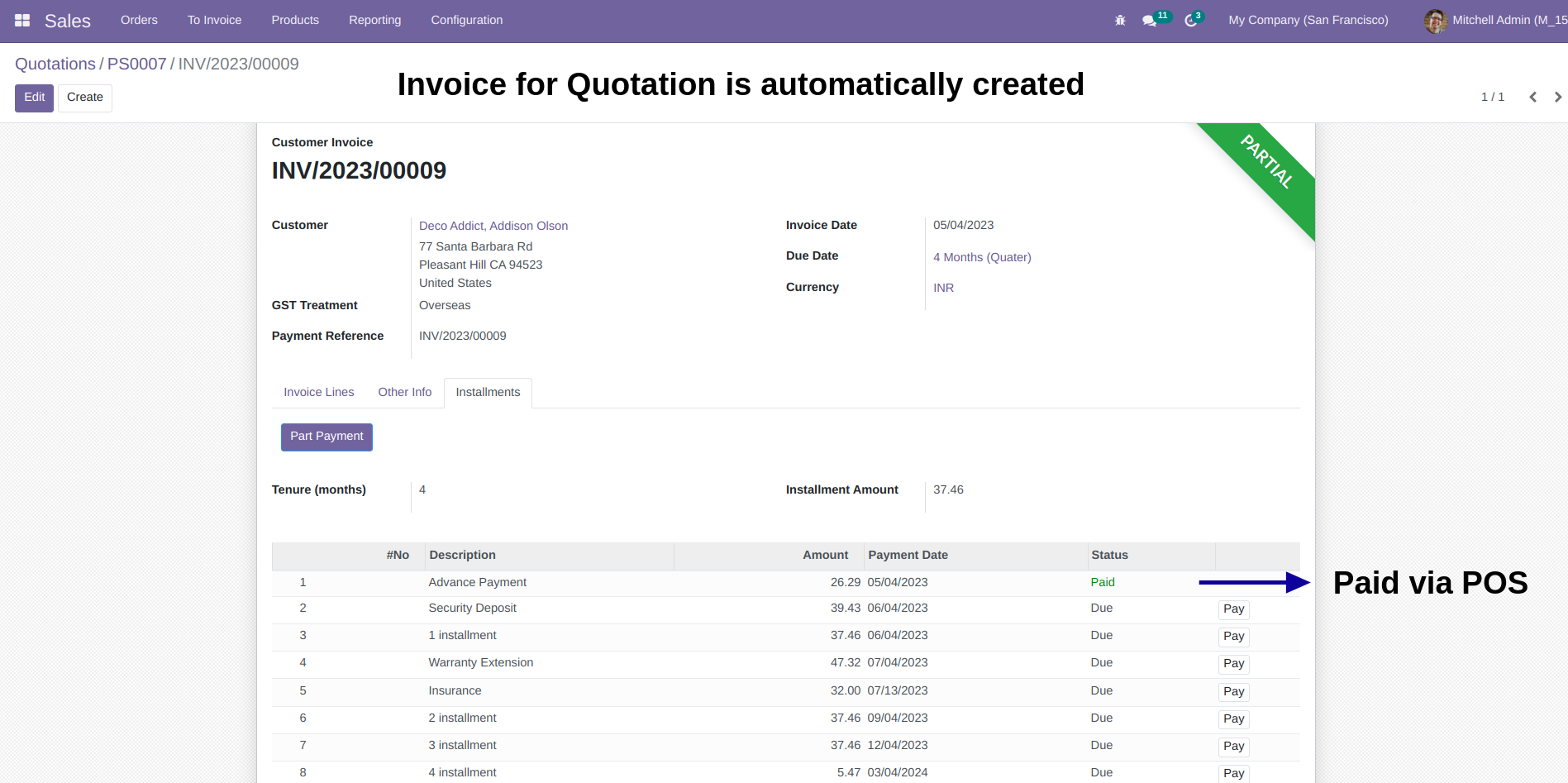 28th July, 2020
Latest Release 1.0
First version to release.
Frequently Asked Question:-
FREE 3 MONTHS SUPPORT
Kanak Infosystem will provide free 3 months support for bug fixes, any doubts or queries, installation, configuration support or any types of issues related to this module.

NOTE:
This module does not required extra configuration.
kanakinfosystems
+91 9818108884
Odoo Proprietary License v1.0

This software and associated files (the "Software") may only be used (executed,
modified, executed after modifications) if you have purchased a valid license
from the authors, typically via Odoo Apps, or if you have received a written
agreement from the authors of the Software (see the COPYRIGHT file).

You may develop Odoo modules that use the Software as a library (typically
by depending on it, importing it and using its resources), but without copying
any source code or material from the Software. You may distribute those
modules under the license of your choice, provided that this license is
compatible with the terms of the Odoo Proprietary License (For example:
LGPL, MIT, or proprietary licenses similar to this one).

It is forbidden to publish, distribute, sublicense, or sell copies of the Software
or modified copies of the Software.

The above copyright notice and this permission notice must be included in all
copies or substantial portions of the Software.

THE SOFTWARE IS PROVIDED "AS IS", WITHOUT WARRANTY OF ANY KIND, EXPRESS OR
IMPLIED, INCLUDING BUT NOT LIMITED TO THE WARRANTIES OF MERCHANTABILITY,
FITNESS FOR A PARTICULAR PURPOSE AND NONINFRINGEMENT.
IN NO EVENT SHALL THE AUTHORS OR COPYRIGHT HOLDERS BE LIABLE FOR ANY CLAIM,
DAMAGES OR OTHER LIABILITY, WHETHER IN AN ACTION OF CONTRACT, TORT OR OTHERWISE,
ARISING FROM, OUT OF OR IN CONNECTION WITH THE SOFTWARE OR THE USE OR OTHER
DEALINGS IN THE SOFTWARE.

Comment on this module. Please Login